Thailand is a popular tourist destination and is one of the most visited countries in Southeast Asia receiving over 30 million visitors per year. Among the attractions that you can see in Thailand are archaeological sites, museums, floating markets, Buddhist temples, and World Heritage Sites. This is not to mention the buzzing nightlife Thailand is known for.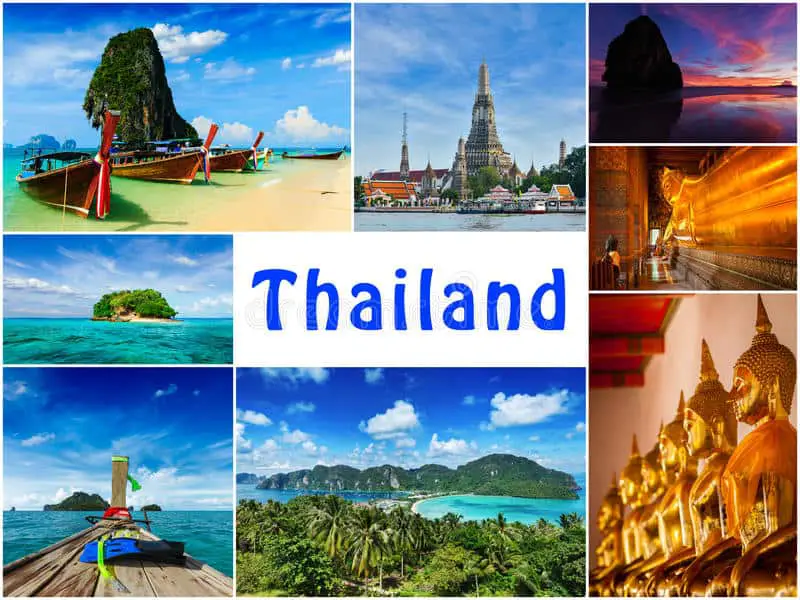 While the land-based attractions are considered a gem for its local economy, the underwater habitats of Thailand are considered a hidden treasure attracting scuba divers from all parts of the globe. This is due to its geographic feature where it has 1,430 islands and each of them has a diving spot. And it is not just about the number of dive sites as Thailand has some of the best diving in the world.
Diving Conditions in Thailand
Diving in Thailand is possible year-round. However, the diving conditions can be affected by the monsoon season. From May to October, the southwest monsoon is prevalent where warm air moves in from the Indian Ocean, while the northeast monsoon (that runs from October to February) brings in cold and dry air from China. With this, November to March is considered the best time to scuba dive in Thailand. During these months, parameters are highly conducive for diving where the waters are calm, warm with water temperature ranging from 26-28°C (78-82°F) and clear with visibility reaching 30 meters (100 feet).
Since most of its landmass is landlocked sharing borders with Laos, Myanmar, Cambodia and looking at the Thailand dive sites map, the dive sites are concentrated on the southern coast. It is divided into 2 major destinations, namely: the Andaman Sea on the west that is primarily influenced by the Indian Ocean and on the east is the Gulf of Thailand (or Gulf of Siam, Siam is the old name of Thailand) which is influenced by the Pacific Ocean.
Diving Conditions in Thailand: at a Glance
| | |
| --- | --- |
| Ave. visibility | 20-30 meters (60-100 feet) |
| Ave. water temperature | 26-28°C (78-82°F) |
| Current | Low to Average |
| Experience | For all levels of certification |
| Exposure Suit | 3-5mm |
| Type of diving | Wall diving, drift diving, deep diving, cave diving, shore diving, boat diving and wreck diving |
| Marine life | 210 species of corals, leopard sharks, whale sharks, manta rays, blacktip reef sharks, bamboo sharks, guitarfish, blue-spotted stingray, anemone, clownfish, hawksbill sea turtles and green sea turtles |
| Corals | Some |
| Wrecks | Some |
| Liveaboard | No, but recommended for Similan Islands |
| Best time to visit | November-March |
| Main diving area | Koh Samui and Koh Tao in the Gulf of Thailand and in the Andaman Sea particularly in Phuket, Ko Lanta, Phi Phi Islands, and Similan Islands |
Best Dive Sites in Thailand
The Gulf of Thailand: Home of the Whale Sharks
With a maximum depth of only 85 meters (279 feet) the Gulf of Thailand is a shallow marginal body of water in the Western Pacific Ocean. Since it is an inlet, water exchange is low causing nutrients to be trapped within the Gulf. In effect, its waters are nutrient-enriched that support an array of marine life like hard corals, soft corals and the biggest fish in the world – the whale sharks.
Ang Thong Marine National Park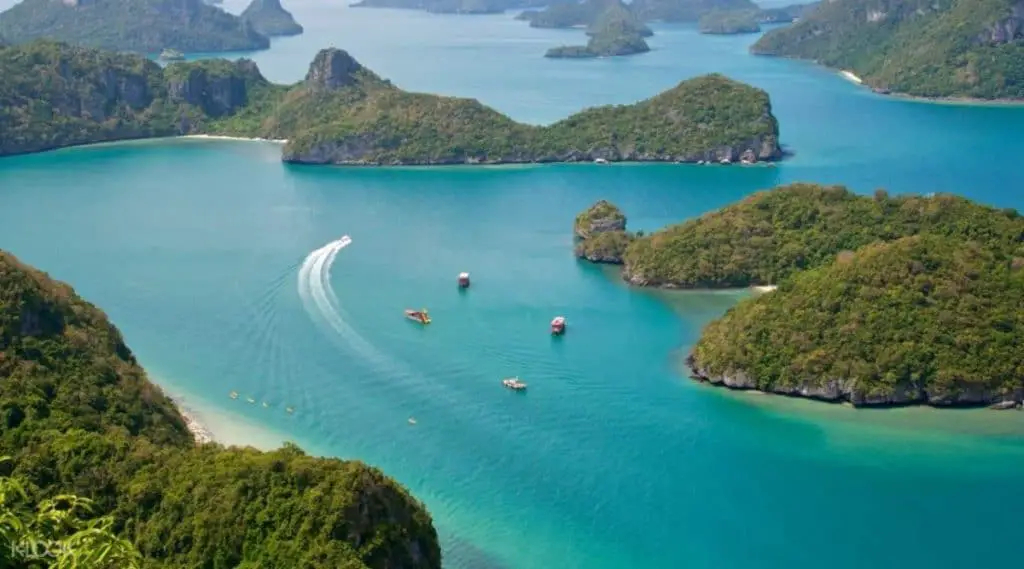 Established in 1980, Ang Thong National Marine Park is composed of 42 islands that feature jungles, limestone mountains, waterfalls, hidden coves, white sandy beaches, and stunning dive sites.
Hin Bai
Locally known as Sail Rock, Hin Bai is naturally marked on the surface by a huge rock towering 7 meters (23 feet) above the water and resembles a sail, thus its name. Your entry point is usually a few meters away from the rock. You will initially descend to the shallow part of the reef starting at 6 meters (20 feet) deep. The reef gently slopes down until it reaches the vertical ledge that goes all the way down to 22 meters (72 feet). While the reef is encrusted with hard corals and houses a healthy population of reef fish like angelfish, moray eels, anemonefish and scorpionfish, the main highlight of your underwater adventure in Hin Bai is swimming with the biggest fish in the world – the whale sharks. Your interaction with the whale sharks is often situated near the ledge where they pass. When they pass by near the reef, you will observe that they are accompanied by other fish. In most instances, they are joined by a school of jacks and remoras clinging to their body.
Sidetrip: Ang Thong Marine National Park offers plenty of non-diving options like visiting Buddhist temples. Not only they are sacred, but these temples also have an amazing view of the surrounding environment.
Koh Tao Scuba Diving
Situated in the western shores of the Gulf of Thailand is the small island of Koh Tao. It primarily promotes scuba diving in Thailand for beginners. Koh Tao diving conditions include calm, clear waters with reefs that are generally shallow. In fact, based on Koh Tao diving reviews, it is one of the most preferred places in the world to get a scuba certification and has taken the 2nd place in terms of the most number of scuba certifications issued. The peak for Koh Tao diving season runs from July to August where 90% of the people you will meet on the island are into scuba diving. Discover scuba diving Koh Tao is also popular with non-certified divers where they can go on a shallow and short dive under the close supervision of a dive professional.
Chumphon Pinnacle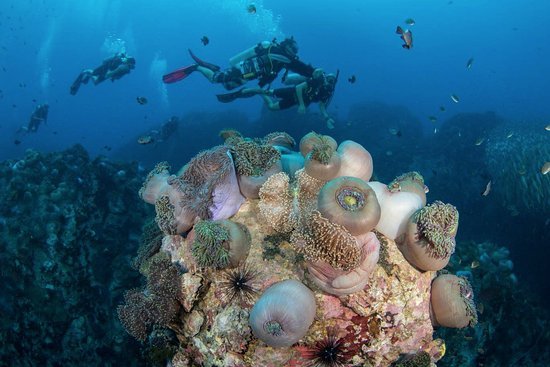 Situated on the northwest coast of the island is its famous dive site – the Chumphon pinnacle. It has a unique underwater topography where you can see not just one pinnacle, not two, not three, but 4 pinnacles arranged in such a way that you can pass by all of them in just a single dive.
Since each of the pinnacles is small in size, you cannot see them from afar as they are surrounded by schooling fish like snappers, batfish, barracudas, jacks, groupers, and fusiliers. As you go near the towering structure and your view is cleared as the fish swims out, you will see that the pinnacles are fully encrusted with corals, sponges and sea anemones. Whalesharks are also seen passing by the pinnacles, especially if you are diving anywhere from August to October. Chumphon Pinnacle is also one of the best sites to go diving in Thailand in November.
HTMS Sattakut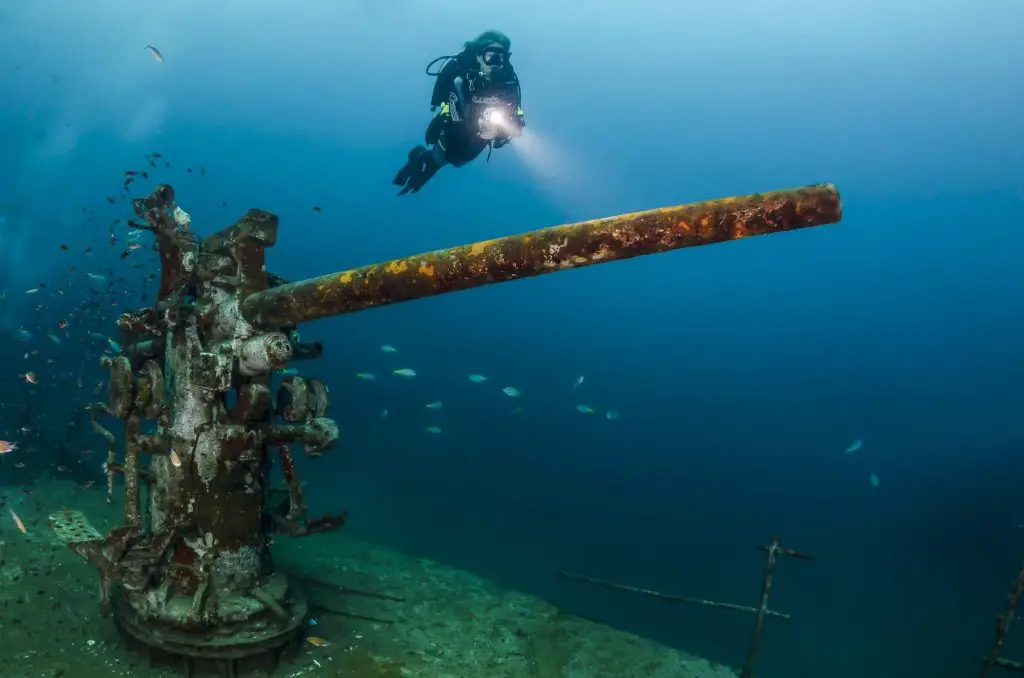 The HTMS Sattakut is a 49 meter (161 feet) long Thai Navy gunboat that was intentionally sunk in 2011 to become an artificial reef. Her remains rest at 29 meters (95 feet) deep and have a perfect upright orientation. This wreck diving Thailand is popular in conducting the wreck diver certification course where candidate divers can explore several parts of the ship at various depths. The shallowest part of the wreck is the Captain's Cabin that lies 18 meters (59 feet) deep, while the cannon gun at the bow is at 21 meters (69 feet) deep.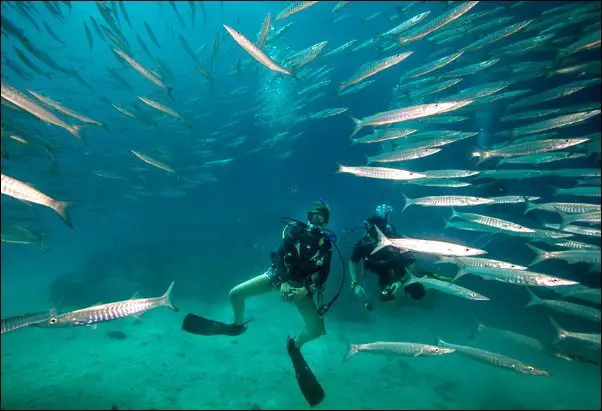 Other noted diving spots in Koh Tao are the barracuda laden reefs of South West Pinnacle, the night diving preferred reefs of White Rocks and the highly intact 60 meters (192 feet) long cargo vessel named Unicorn.
The Andaman Sea
Situated on the west coast of Thailand is the diving paradise of the Andaman Sea. It has a long list of diving sites that are often listed as one of the Top 10 best diving sites in the world. The province of Phuket is your gateway to the numerous dive sites that are often situated on an island.
Shark Point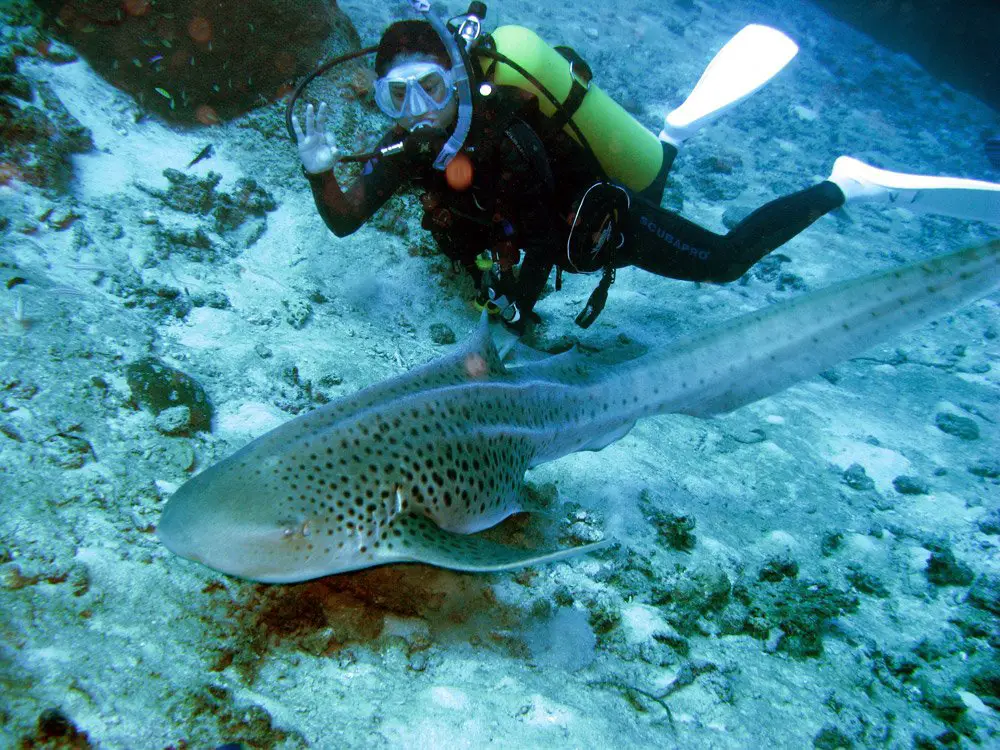 Located in Koh Phi Phi, Shark Point is a combination of reef, deep, drift and shark diving. Exploring this popular site will take you to a large pinnacle that has a relatively huge reef flat and a vertical wall that goes all the way down to 22 meters (72 feet) deep. While the top portion of the reef is shallow at 6 meters (20 feet), most of the dive profile in Shark Point will take you to swim along the reef slope following mild to moderate current until you reach the ledge. As you descend further, you will see that the solid wall structure of the pinnacle is partially encrusted with corals, sponges, sea fans and its base is surrounded with white sand where leopard sharks are often seen.
Home Run Reef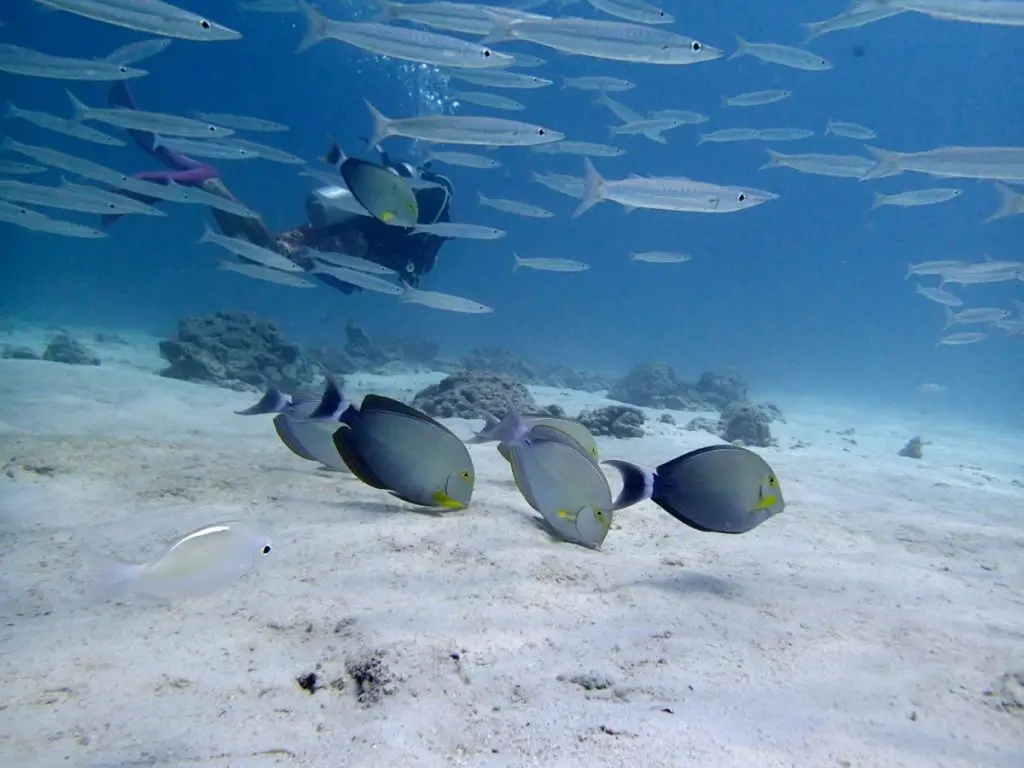 If you are looking for a combination of reef and wreck diving, then head out to the east coast of Racha Yai Island where Home Run Reef awaits your presence. Instead of a vertical ledge, Home Run Reef has a gentle coral slope. Your entry point is the shallow sandy area with hardly any coral coverage. You will follow down the gentle slope where corals start to appear as you go deeper. As you swim along the slope, barracudas, and surgeonfish (while munching bits and pieces from the sand) will usually accompany you and your dive group. The end of the slope is at 22 meters (72 feet) deep where the remains of the Andaman Explorer wreck can be found.
Hin Daeng and Hin Muang
Situated within Ko Lanta Marine National Park are the neighboring dive sites of Hin Daeng (also called Red Rock) and Hin Muang (Purple Rock).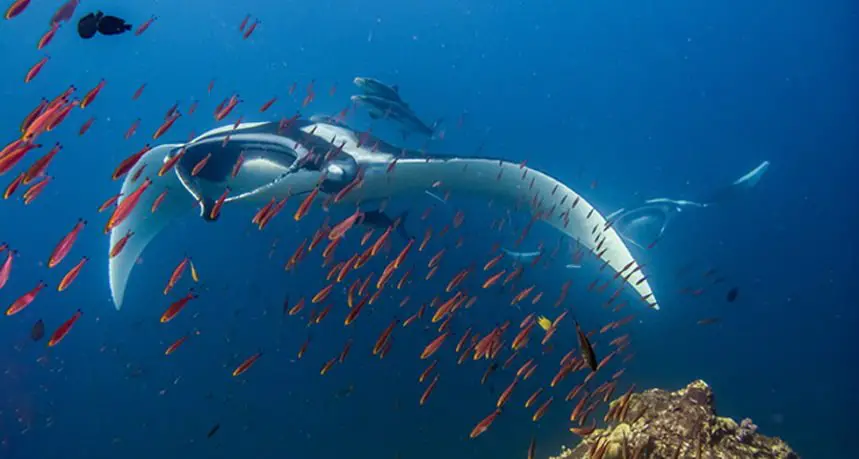 Hin Daeng is usually the first site to be explored due to depth considerations. Your entry point in Hin Daeng is on the southwest side of the reef where you can go wall diving following a vertical limestone wall that drops down to 60 meters (197 feet) deep. With this, we highly suggest staying within the maximum depth limits set by your certification level or as planned during the dive briefing. While the scenery of Hin Daeng's wall is also stunning courtesy from the healthy population of soft corals, the main attraction is the large marine vertebrates where whale sharks and manta rays often pass by from the deep.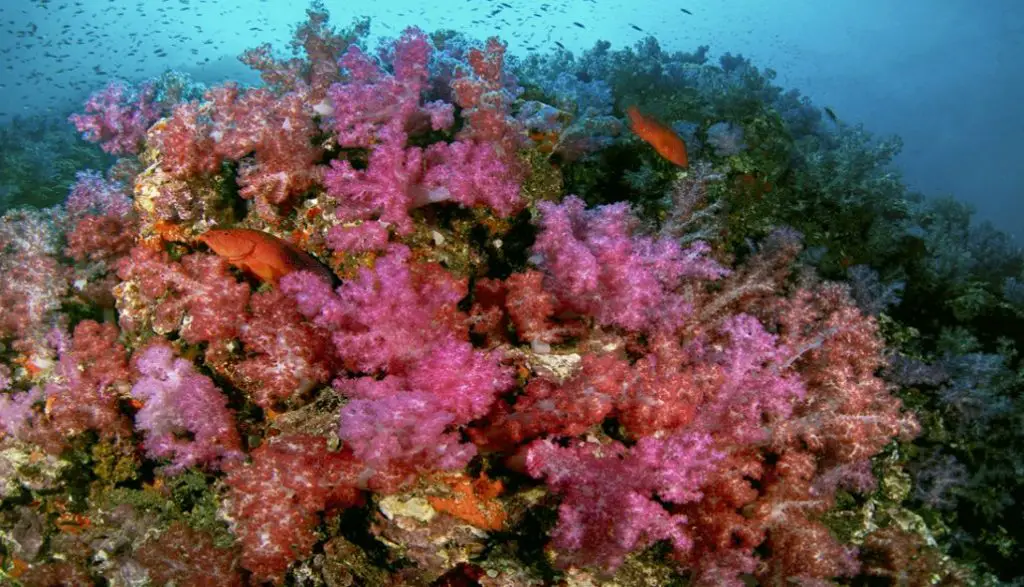 After your dive in Hin Daeng and taking your surface interval, you will then explore Hin Muang which is located a few hundred meters away. Although Hin Muang is a long rocky ridge, it has a similar underwater topography with Hin Daeng where diving will usually take you to a vertical wall. While the topography is similar, it totally differs when it comes to the marine life that thrives on it. Descending down to its reef starting at 6 meters (20 feet) then drops down to 20 meters (66 feet) allows you to see a bed of purple soft corals that are interspersed with sea anemones.
Diving in Similan Islands
Yes, we know that you are looking for this site and this is the reason why we are saving the best for last. Frequently included in the Top 10 Best Dive Sites in the World, Similan islands diving Thailand is a National Marine Park that is composed of 9 islands, all of which has diving conducive parameters and holds an immensity of marine life.
Elephant Head
Elephant Head is an iconic site where its beauty is exhibited both on the surface and underwater. At the surface, you can easily identify this site since the protruding rock resembles a semi-submerged head of an elephant. Underwater, it is a maze of swim-throughs, swirling granite boulders and channels. Your entry point is the south side of the rock. Take note in advance that this is a drift diving site and you need to enter the water as a group, do a negative entry while riding mild to moderate current until you reach the reef at 12 meters (40 feet) deep.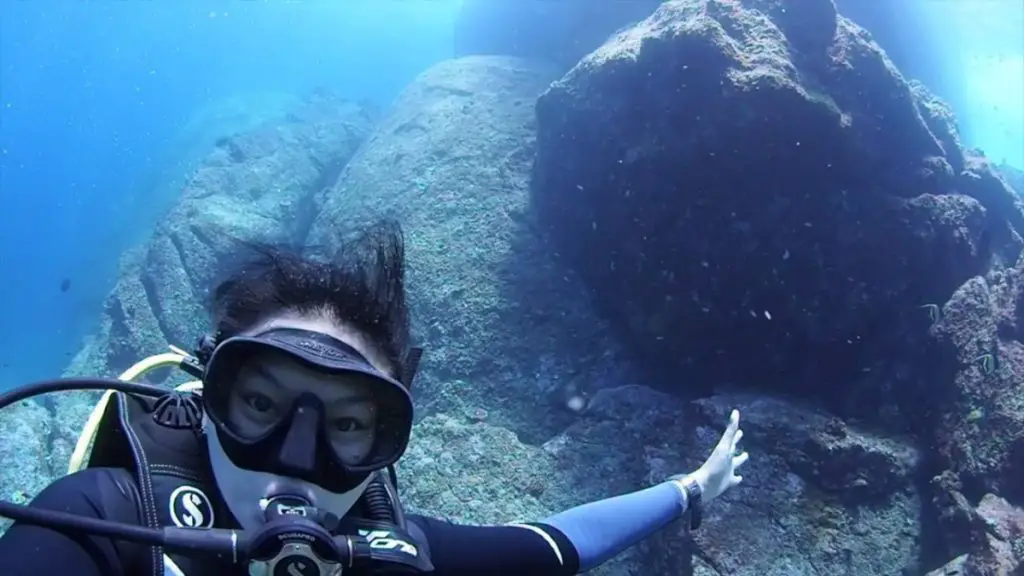 Typically, when you reach the reef, you will take cover in one of the protruding rocks, pause for a few minutes while having a glimpse of the underwater scenery. Afterward, the current will take you heading eastward to a channel at 18 meters (60 feet). The reef in Elephant Head is loaded up with marine life where you can see nurse sharks, blue-spotted stingrays, jacks and moray eels.
Koh Bon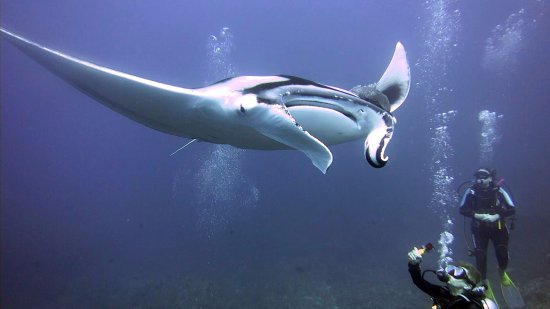 Koh Bon is a popular dive site to see manta rays in Similan. It is preferred as a mid-morning or late-afternoon dive since it is the time when manta rays come to the reef, either to feed or to be cleaned up my small fish. Similar to Elephant Head, the south side is your entry point and you will usually ride along mild to moderate current. The current will take you to the ledge that is covered with soft corals (colors varying from blue, yellow and purple). The ledge is also the cleaning station for manta rays and this is the perfect spot to see them up close and personal.
Richelieu Rock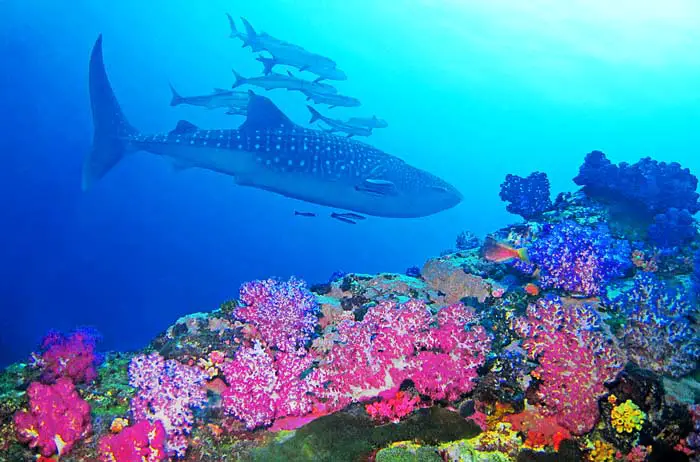 Located on the island of Surin is a horse-shoe shaped pinnacle known as Richelieu Rock. It has a dive profile similar to Elephant Head and Koh Bon where your entry point is the south side and you will go drift diving along with mild to moderate current. While drifting, you can see all sorts of marine life like small critters such as the ghost pipefish, harlequin shrimp and tiger-tail seahorse up to the biggest fish in the world – the whale sharks. While they can be seen year-round, the peak for Richelieu Rock whale shark season runs from February to April.
Best Thailand Liveaboard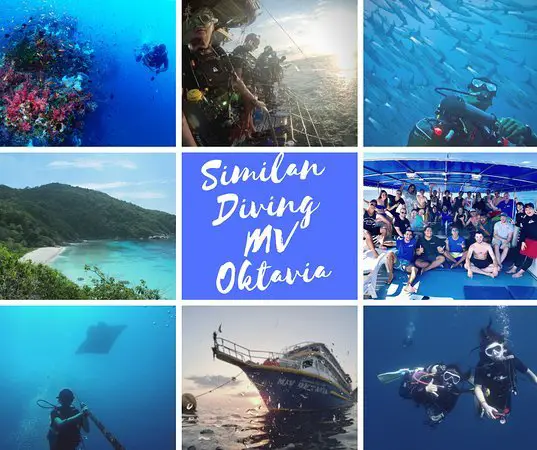 Similan Islands is an offshore site. While it is composed of several islands, there is no dive shop in Similan and the only way that you can be serviced (both in diving, food, and accommodation) is by signing up with a liveaboard vessel. These custom-built ships will usually take you to a 5-day dive safari adventure where everything is taken care of, from equipment, tanks, food, and cabin assignment. To give you a tip: choose a liveaboard where its itinerary includes exploring at least 20 dive sites around Similan.
General Information about Thailand
Capital city
Bangkok
Currency
Baht (THB)
Official language
Thai
Visa Required
No. But passport must be valid six months after entry for US citizens
Electricity Standards
220 V
Time Zone
GMT+7
Official tourist information website
www.tourismthailand.org
Points of Interests
Ko Samui and Koh Tao (Gulf of Thailand): visit the Big Buddha, Angthong National Marine Park (private coves, waterfalls, lakes and white sand beaches), Secret Buddha Garden, Wat Plai Laem Buddhist temple and Ko Tao sea kayaking

Andaman Sea: visit the beaches at Ko Lanta National Park, visit Ko Phi Phi Lee, nature Safaris in Kaho Lak- on elephant back, sea canoeing in Pang Nga Bay