When we talk about Fiji, what immediately comes into our mind is a tropical dream holiday. Yes, that is true and get ready since the 333 islands of Fiji will take you into a quintessential South Pacific paradise vacation.
With the volcanic origins and geographical setting in the southern corner of the Pacific Ocean, Fiji has distinct landforms that include mountainous terrain covered with rainforests and coastline dotted with beautiful beaches. The natural beauty of Fiji has become a major tourist attraction, especially for a family vacation, honeymooners and scuba divers.
Given that Fiji is composed of over 300 islands, it is easy to find a dive spot that will suit your level of certification. And what is common among these dive sites is the abundance of soft corals where Fiji has been considered as the Soft Coral Capital of the World. In fact, 2 of its over 300 islands (namely Viti Levu diving and Vanua Levu) already houses about 87% of its soft coral population.
Diving Conditions in Fiji
The weather in Fiji is classified as a tropical maritime climate with winter (or the wet season) from May to November and summer (or the dry season) from December to April. For the best diving conditions, April to October are considered to be the best months to go diving in Fiji. During these months, water temperature is warm ranging from 28-30°C (82.4-86°F) and clear with visibility from 15 – 30 meters (50 – 98 feet).
Based on the Fiji dive map, the main sites for diving are concentrated in the areas of Taveuni, Kadavu, and the Koro Sea. In particular, Taveuni Island is well known for large pelagics, Kadavu for both hard and soft corals and the Koro Sea, including the adjacent Bligh Water, is a popular route for Fiji liveaboards.
Diving Conditions in Fiji: at a Glance
Ave. visibility
15 – 30 meters (50 – 98 feet)
Ave. water temperature
28-30°C (82.4-86°F)
Current
Low to strong depending on the area and season
Experience
For all levels of certification
Exposure Suit
3 – 5mm
Type of diving
Reef diving, shore diving, boat diving, drift diving, and cave diving
Marine life
Over 400 species of corals and 1,500 species of fish like clownfish, lionfish, grey reef sharks, whitetip reef sharks, scalloped hammerhead sharks, Spanish mackerel, dogtooth tuna, giant trevally

28 endemic fish species like the Fiji sponge goby, bicolor Foxface, twilight fang blenny, Fiji coral brotula, and Marjorie's wrasse.
Corals
Famous for its corals
Wrecks
Some
Liveaboard
Yes particularly in Bleigh Water and Koro Sea
Best time to visit
April-October
Main diving area
Taveuni, Kadavu, and the Koro Sea
Best Dive Sites in Fiji
Since Fiji has over 300 islands and covers a large span of area, we will assign the main islands of Viti Levu (where the Capital City of Suva is located) and Vanua Levu as our reference point.
Taveuni: A US Divers Magazine Top 10 Dive Location
Situated 109 kilometers (68 miles) east of Vanua Levu, Taveuni is the third-largest island in Fiji and has the most number of dive sites. The island is a massive shield volcano that rises from the floor of the Pacific Ocean. While it is known as the Garden Island of Fiji for its abundant land flora, the same can be applied underwater since the Somosomo Strait on its west coast houses almost all the soft coral species that can be found in Fiji. 
Rainbow Reef and the Somosomo Strait
Located on the west coast of Taveuni, Rainbow reef is a series of reef systems that have created several diving sites that are nourished by the flooding and ebbing of Somosomo Strait.
Great White Wall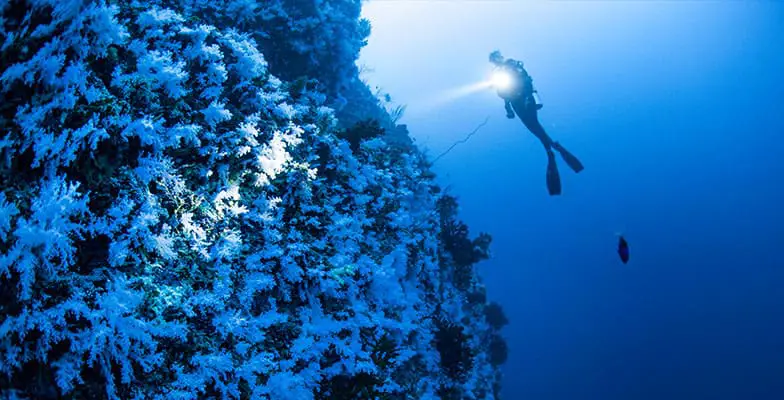 Listed as one of the Top 10 Dive Location in the World by US Divers Magazine, the Great White Wall is a unique dive site. Exploring this site requires you to descend to the top part of the reef at 8 meters (26 feet) deep that leads to a vertical drop. On the wall, all the limestone structure are covered with white-colored soft corals that goes all the way down to 40 meters (131 deep).
Drift Diving in Purple Wall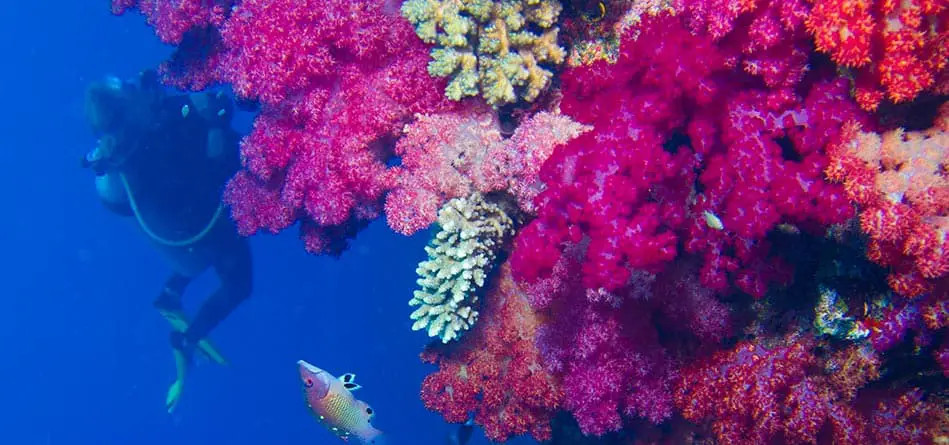 Further west from the Great White Wall is another soft coral dominated reef that takes a different shade on the spectrum of colors. Exploring this site will initially take you to a shallow reef at 7 meters (23 feet) deep while riding along with the mild current. The current peaks up as you reach the ledge that leads to a vertical drop. As you cruise along with a moderate current, you will notice that the limestone structure is completely covered with purple-colored soft corals that goes all the way down to its bottom edges at 28 meters (92 feet) deep.
The Zoo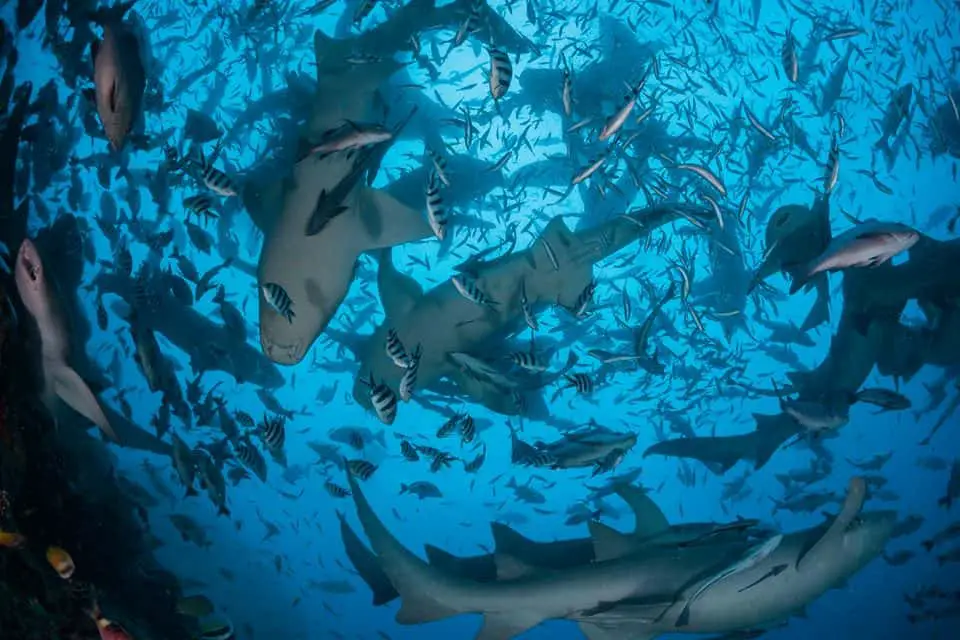 If your kind of diving involves large pelagics, then we highly suggest you visit the Zoo. This part of the Rainbow Reef is believed to receive the highest nutrient concentration in the area, thus supporting a vast array of large-sized marine life. With an average depth of 10 meters (33 feet), the Zoo is considered pelagic heaven where you can see a thick school of barracuda, jacks, moray eels, groupers, whitetip reef sharks and manta rays. Small and medium-sized tropical also abounds in the Zoo like butterfly, angelfish, fusiliers, and parrotfish. If you explore during an incoming tide, then the possibility of seeing bronze whaler sharks is high as they are often seen during this particular tidal state.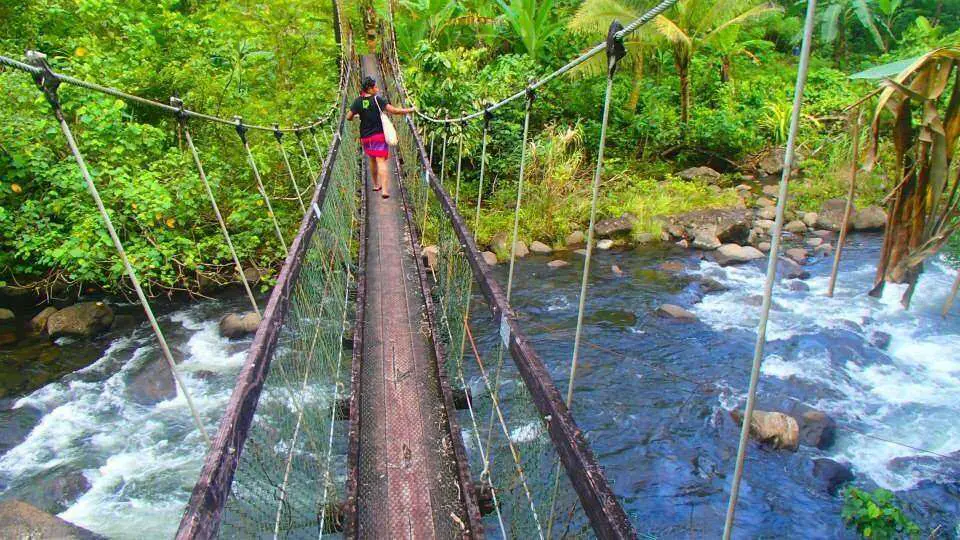 Sidetrip: Taveuni is covered by rainforest that has natural trek paths. The Lavena Coastal Walk is a great trail to hike together with the Tavoro Falls in Bouma National Heritage Park. For bird watching, we recommend Des Voeux Peak. If you are looking for scuba gear rental, certification courses or dive trips, we highly recommend you visit Taveuni Dive Resort.
Kadavu: World's 4th Largest Barrier Reef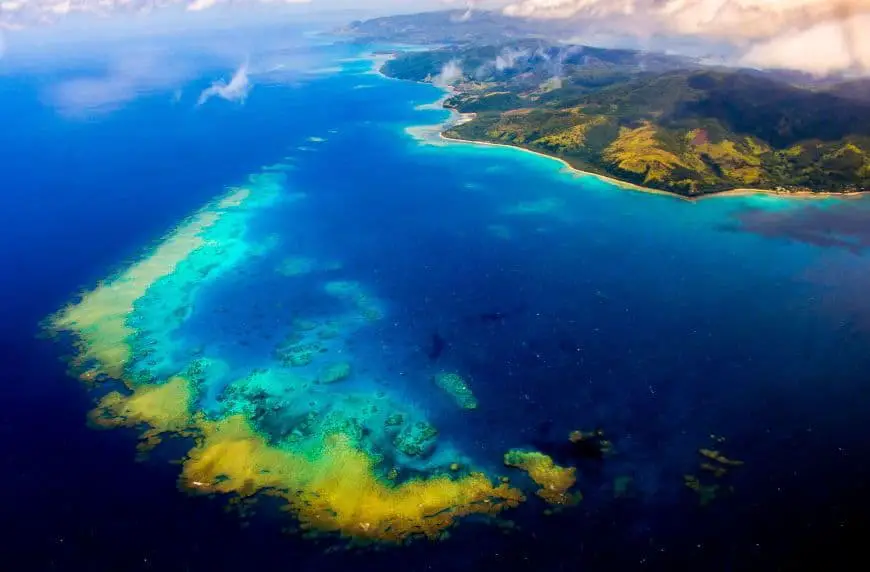 Located 108 kilometers (67 miles) south of Viti Levu diving is Kadavu that houses the World's 4th largest barrier reef – the Great Astrolabe Reef. Although it has a healthy population of soft corals, its dive sites do not feature the typical Fijan characteristics. Instead, massive barrier reefs are found in this area with the dominance of hard corals.
The Great Astrolabe Reef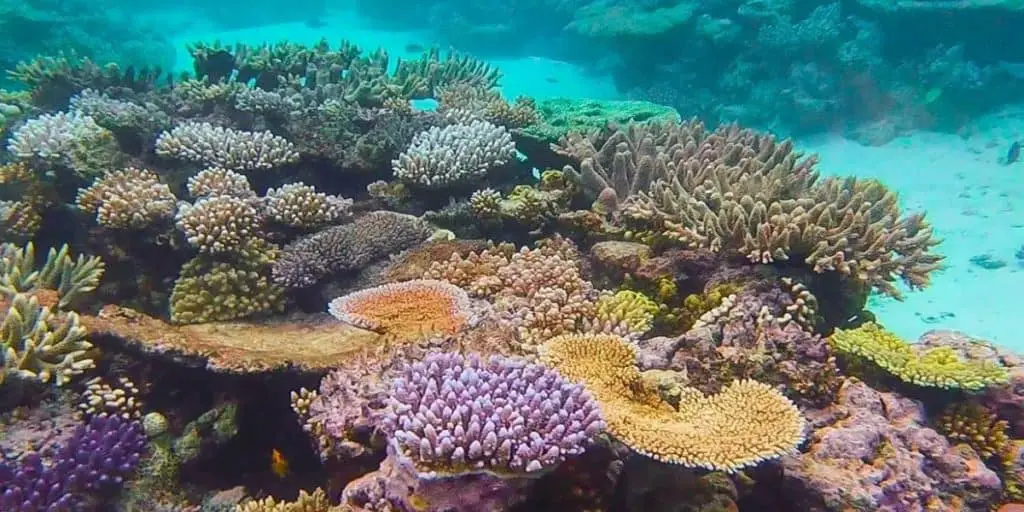 Measuring 120 kilometers (74 miles) long, Astrolabe Reef is the World's 4th largest barrier reef. It stretches from the south side of Kadavu all the way up to the north coast in Ono Island. Underwater, this barrier reef has a unique topography made up of hard coral outer reef slopes, soft coral drop offs and pinnacles. Manta rays are often swimming in Astrolabe Reef and they are easily seen in their cleaning station where these gentle giants stops over for a quick clean by small tropical reef fish.
Aside from barrier reef, fringing reefs can also be found in Kadavu, particularly in the northern quadrant. These reefs are shallow and protected from the elements making it a perfect spot for newbie divers.
Malolo Barrier Reef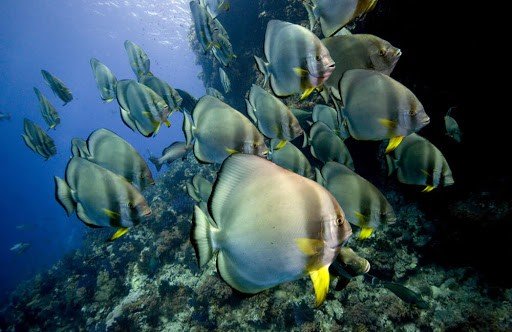 176 kilometers (109 miles) north of Kadavu and just 95 kilometers (59 miles) west of Viti Levu diving is another barrier reef the measures 5 kilometers (3 miles) long. Despite small, it is popular to both scuba divers and filmmakers as the nearby island has been the set for popular movies like Tom Hank's Castaway and the reality game show Survivor.
There are at least 3 established dive sites in this barrier reef. You can either explore the shark laden reefs of the Supermarket where you can see grey reef sharks, whitetip reef sharks and blacktip reef sharks, the batfish haven of Gotham City or go wall diving at the Big W.
Dive shop recommendation: If you are based in the main island of Viti Levu, we highly recommend the PADI 5-star resort facility of Diveaway Fiji. If you are in Mamanuca Islands, we recommend Subsurface Fiji which has 4 branches that are mostly based inside a resort facility.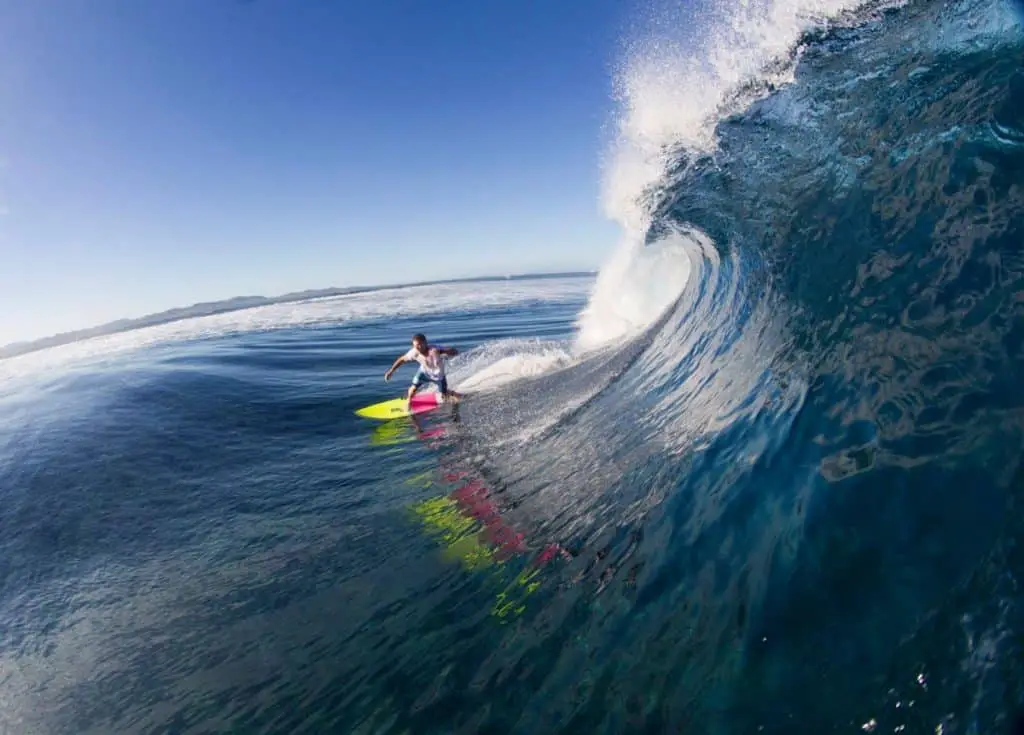 Sidetrip: Mountain biking, hiking and bird watching are the most popular past times in Kadavu. Search for the Musk Parrot, Kadavu Honeyeater and Fantail which are all endemic bird species. You can go surfing in Cape Washington.
Koro Sea: Nutrient-rich Underwater Ecosystems
The Koro Sea is a body of water that separates the two main Fijian islands of Vanua Levu and Viti Levu. The waters are incredibly rich in nutrients and this nutrient enrichment becomes denser as it reaches the narrow passage. There are 2 main diving spots in the Koro Sea, namely: Namena and Koro Island. Both of these islands are far from the mainland and we highly suggest you sign up with a Fiji liveaboard vessel (like the 37-meter long Nai'a and the Fiji Aggressor).
The Chimneys in Namena Island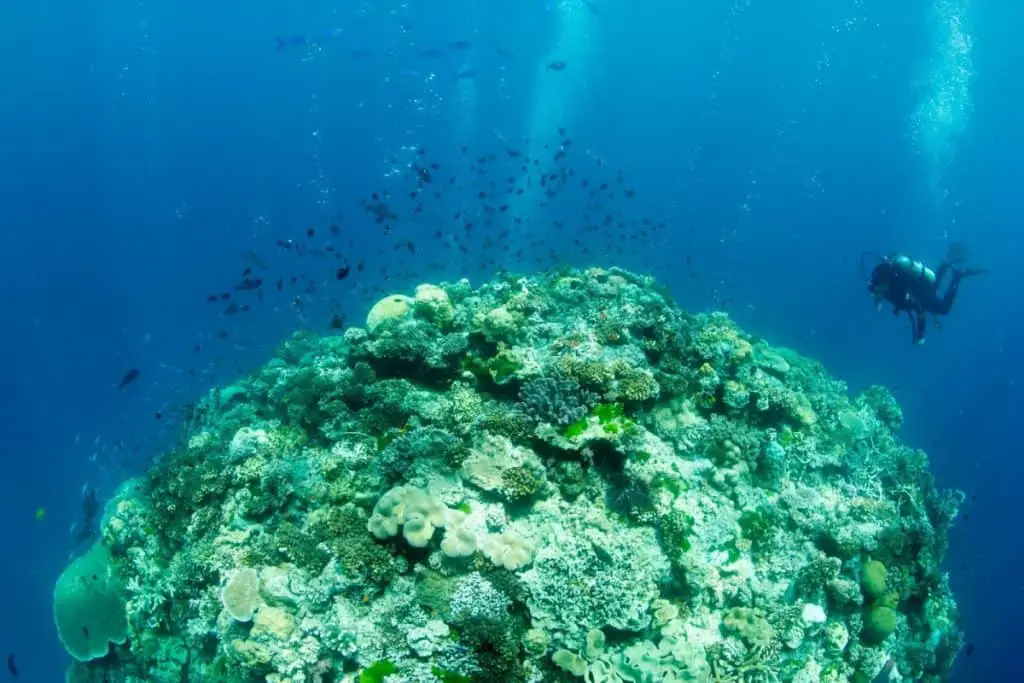 Located on the western side of Namena Island, the Chimneys is a 30 meter long x 10 meter (98 x 33 feet) wide reef that has coral bommies and 3 distinct limestone pillars. This is a drift diving site where you often start your dive in the deep blue and ride along with moderate current until you reach and pass by the limestone mounds.
Shark Fin Point of Koro Island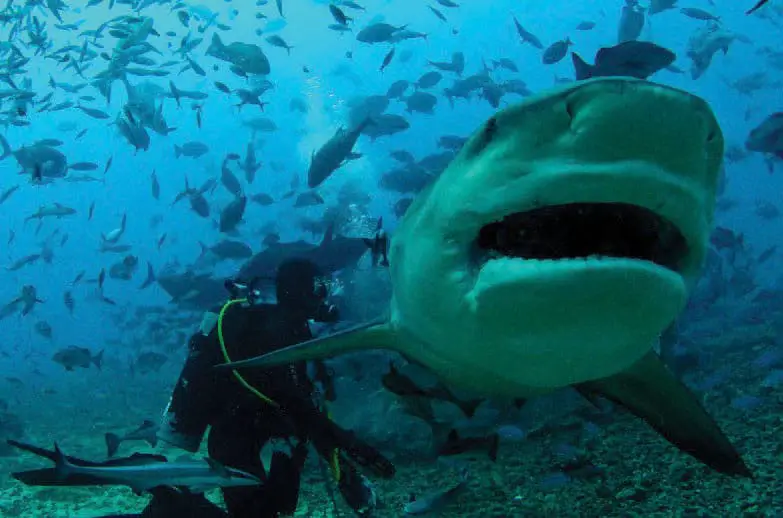 Located on the northeast coast of Koro Island, diving in Shark Fin Point combines interacting with small and large marine animals. If you are diving during slack tide, waters are calm and you can clearly see that the reef floor is loaded up with lots of marine critters like leaf fish, ribbon eels and fire gobies taking refuge on coral mounds. But as the tide comes in, you can go drift diving following moderate current. The water current will often lead you to a reef slope that is loaded up with lots of big fish like barracudas, eagle rays, grey reef sharks, whitetip reef sharks, and hammerhead sharks.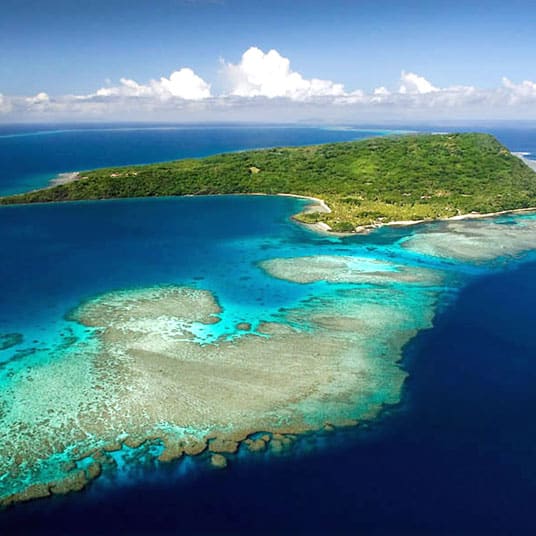 Sidetrip: You can drop by at Wakaya Island which is a favorite swimming spot for celebrities due to its tranquil and isolated setting.
General Information about Fiji
Capital city
Suva
Currency
Fijian Dollar (FJD)
Official language
English Bau Fijian and Fiji Hindi
Visa Required
No. Passport valid for 3 months or more upon entry is needed as well as an onward ticket or return ticket.
Electricity Standards
240V /60 Hz
Time Zone
GMT +13
Official tourist information website
www.fijime.com
Points of Interests
Taveuni: Visit Lake Tagimaucia, Bird watching Hikes in Des Voeux Peak

Kadavu: Surf Cape Washington