Seychelles was once a land of pirates where buccaneers in the early 18th century used its 115 islands in the middle of the Indian Ocean as their hideout and a hiding place for their treasure. But pirates have long been gone. After the long unrest and the brutal lives of a pirate, what followed in Seychelles is the ecotourism transformation that made it to the radar of travelers and vacationers worldwide wishing to spend a week or two in this tropical island paradise.
Tourists are attracted to Seychelles mainly for its vacation-conducive climate, unique geography and flourishing marine life. When it comes to geography, the islands of Seychelles are the only granite islands in the world and is considered the oldest islands in the ocean. In its surrounding waters, the marine life is breath-taking housing over a thousand species of fish. And it is not just about the biodiversity of Seychelles that makes it one of the best scuba diving in the world, but it is also about quantity since marine life was able to flourish due to the protection given and fishery policy in places like the banning of speargun and dynamite fishing.
Diving Conditions in Seychelles
Seychelles has tropical weather with a pronounced cold and warm season. The cold season runs from May to October with air temperature averaging at 24°C (75°F) while the warm season is from November to March which also coincides with the onset of the northwest monsoon making its surrounding waters rough and choppy. With this, the best months to go diving in Seychelles are from April to October where the prevalent conditions are calm, cool and dry. During these months, water parameters are highly conducive for diving where you will enjoy the warm 27°C (81°F) water temperature and clear visibility that may reach 30 meters (98 feet).
The diving areas in Seychelles are divided into 2 groups: the Inner Islands and the outer islands. With over 29 dive sites, the inner islands (composed of Mahé, La Digue and Praslin ) are known for wreck and wall diving while the outer islands (composed of the Southern Coral Group, Amirante Islands, Alphonse Group, Farquhar Group and Aldabra Group as the main diving area) are popular with drift diving.
Diving Conditions in Seychelles: at a Glance
Ave. visibility
20 – 30 meters (66 – 98 feet)
Ave. water temperature
27°C (81°F)
Current
Moderate, but strong in the Outer Islands
Experience
For all levels of certification
Exposure Suit
3 – 5mm
Type of diving
Wall diving, drift diving, shore diving, wreck diving, boat diving, deep diving
Marine life
Hawksbill sea turtles, green sea turtles, lined surgeonfish, powder blue surgeonfish, black-eyed rabbitfish, clearing lionfish, circular batfish, oriental sweetlips, raccoon butterflyfish, Seychelles anemonefish, black saddled toby, skunk anemonefish, black and white snapper, peacock grouper, Picasso triggerfish, potato bass, Spanish dancer and nudibranch
Corals
Famous for its coral
Wrecks
Some
Liveaboard
No, but recommended for the Outer Islands
Best time to visit
April to October
Main diving area
Inner islands: Mahé, La Digue and Praslin

Outer islands: Aldabra Group of Islands
Best Dive Sites in Seychelles
The Unique Granite Reef of the Inner Islands
The Inner Islands are composed of 42 islands where Mahé, La Digue and Praslin are considered as the center of Seychelles' diving tourism. These islands form part of an underwater mountain composed primarily from granite and have been naturally encrusted with massive reef systems.
Mahe Island
The dive spots surrounding Mahe Island are for great wreck diving and diving with reef sharks.
Ennerdale Wreck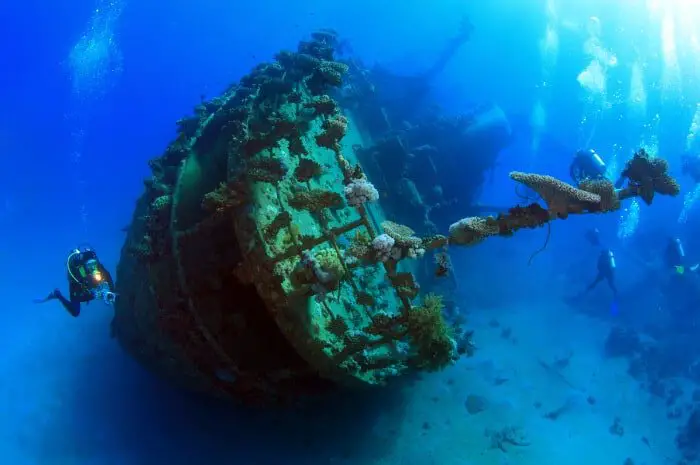 Located 12 kilometers (7 miles ) northeast of the Capital City of Victoria, the Ennerdale wreck is considered the most popular dive site, not just in Mahe Island, not just in the Inner Islands, but of the whole of Seychelles. This 216 meters (710 feet) long 74,000 tonners British oil tanker that sunk in the 1970s now rests at 30 meters (98 feet) deep and leaning on its starboard side. Once you descend and reach the wreck, you will usually swim towards the stern where most of its structures are intact. You can still see its huge bronze propeller or penetrate the internal structures like the pilothouse. On top of coral and sponges that have encrusted the steel remnants, the vessel structure has attracted an array of tropical fish like yellow snappers, morays eels, red scorpionfish, groupers, batfish, leopard rays, and common stingrays. In some instances, whale sharks are seen passing by near the wreck structure.
Dredger Wreck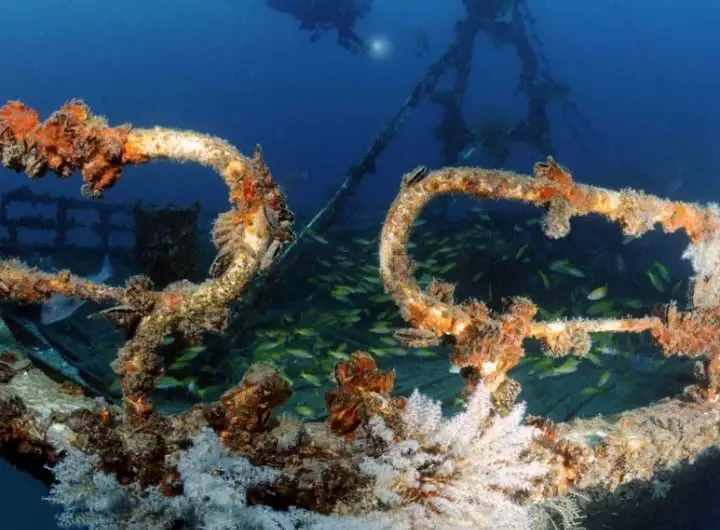 Another popular wreck diving site in Mahe Island is the Dredger Wreck. Located in Danzille on the northwest coast of Mahe Islands, this wreck is the remains of a dredger that was deliberately sunk last 1989 to become an artificial reef. Reaching the wreck requires you to go deep diving up to 25 meters (82 feet) and see the coral and sponge encrusted structures have already attracted an array of tropical fish like snappers that goes in school, scorpionfish, and stonefish that often lies motionless in the wreck structure while waiting for a potential meal.
Other noted wreck diving sites in Mahe Island are the coral-covered wrecks of the Twin Barges and the remains of a confiscated fishing vessel named Aldebaran.
Shark Bank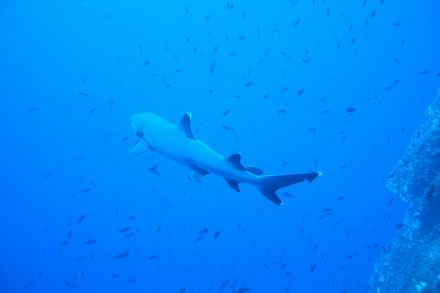 Located 8 kilometers (5 miles) northwest of Mahe Island is a granite plateau with massive underwater boulders. While loaded up lots of tropical reef fish like barracudas, jacks, and parrotfish, the main attraction when exploring this site is sharks. When you reach the upper part of the reef at 18 meters (60 feet), the big boys of the deep will start to appear where you can see nurse sharks. Descending deeper allows you to see whitetip reef sharks where they populate this reef up to the seafloor at 35 meters (115 feet) deep.
Scuba Diving in Praslin Seychelles and La Digue
Diving in La Digue and Praslin Island caters to all levels of certification where two of its most popular sites allow newbie divers to go for an amazing reef dive while experienced divers can go deep diving and interact with sharks.
St. Pierre
For newbie divers wishing to explore a pristine site in Seychelles that has all the conditions fitted for a certified open water diver, then we highly recommend you head out 1.5 kilometers (1 mile) north of Praslin island and explore the granite island of St Pierre. The reef surrounding this island is shallow and protected from the elements where you can dive in a current-free environment. Your dive profile in St. Pierre involves a 10 meter (33 feet) maximum depth and interacting with an array of marine life including sea turtles.
Marianne Island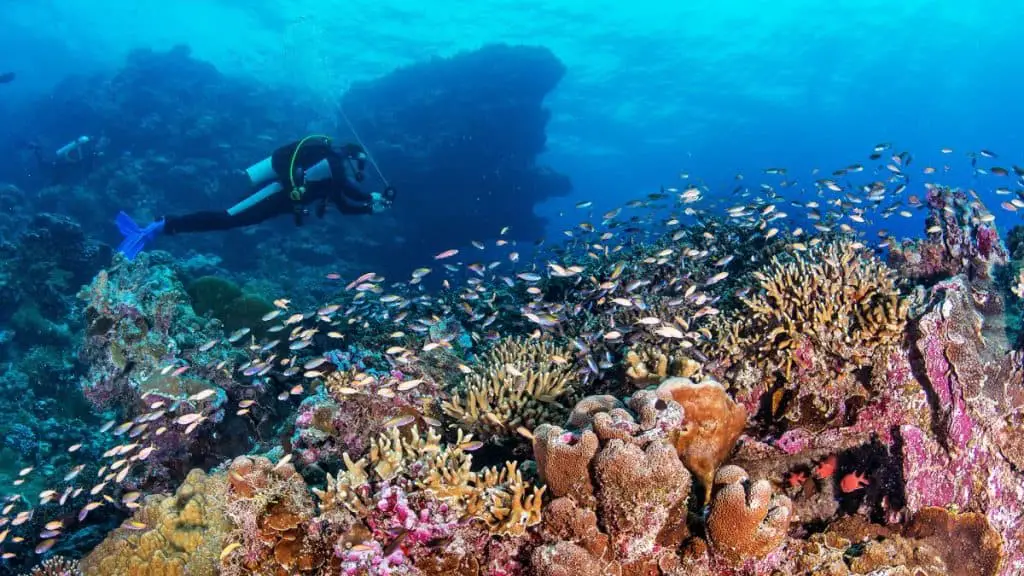 For experienced, we recommend you proceed to an uninhabited island located 3.8 kilometers (2.3 miles) southeast of Felicite Island. Formerly known as a coconut plantation site, Marianne island is now a playground for experienced diver where they can go deep diving up to 25 meters (82 feet) deep and explore pinnacles and huge submerged rock formation. Aside from the magnificent underwater topography, experienced divers are guaranteed with a 100% shark interaction as the reef is filled with a large number of grey reef sharks.
If you are looking for a resort or a dive shop in Seychelles, we recommend Dive Resort Seychelles, Blue Sea Divers Seychelles, and Dive Seychelles Underwater Centre.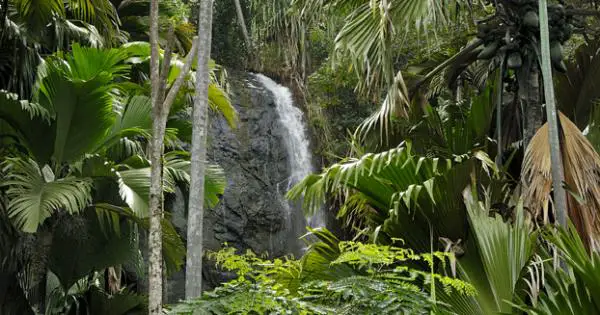 Sidetrip: Visit the Valle De Mai Nature Reserve which is a UNESCO World Heritage Site and has an incredible palm forest. If you want to see the largest seeds in the world of the rare black parrot, then head out to Coco De Mer Palm.
The Hidden Diving Treasures of the Outer Islands
With only 2 islands having accommodation (Alphonse and Desroches), the Outer Islands are mostly uninhibited making it ideal for Seychelles liveaboard diving. The main diving area in the Outer Islands is Aldabra which is classified as a coralline island and an ideal spot for drift diving.
Aldabra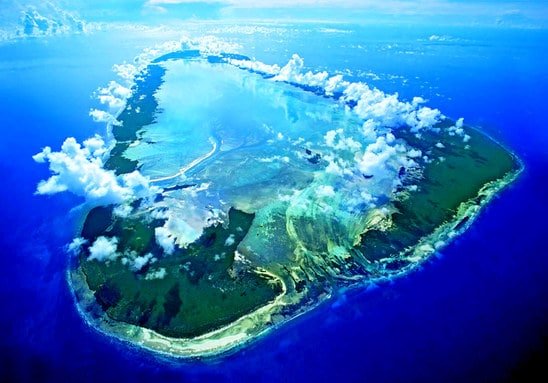 Your diving in adventures in Seychelles will not be complete if you haven't explored Aldabra. Considered as the World's second largest atoll, Aldabra is both a protected nature reserve and a UNESCO World Heritage Site. Its remote location has caused it to be untouched by humans making its underwater ecosystem relatively pristine.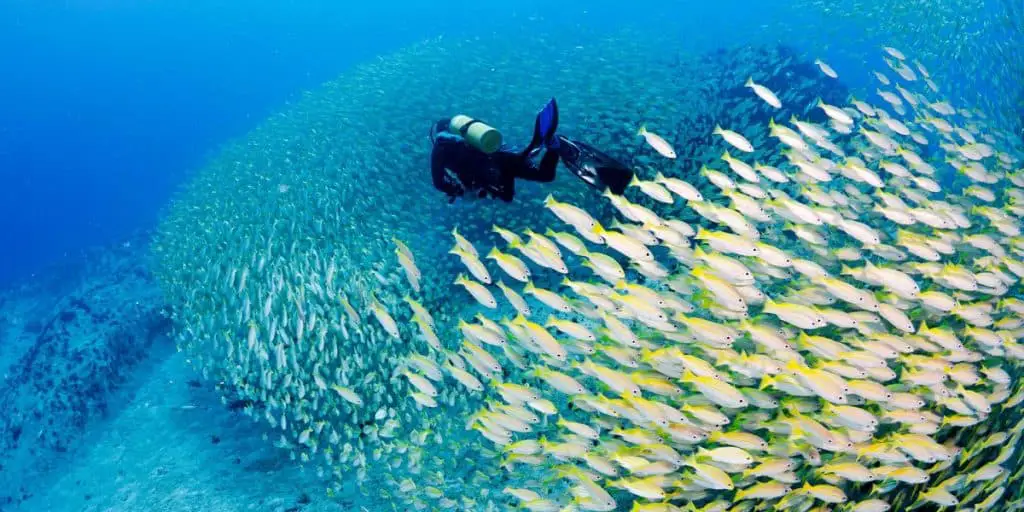 On top of the marine life that you have most probably seen in other dive site in Seychelles plus the massive fish population where density can reach 3,000 fish per 100 square meters (1,076 square feet) of reef area, dugongs are one of the main attraction in Aldabra where this endangered species has been noted to frequently visit the atoll waters.
Other noted diving spots in the Outer Islands are grey reef shark-infested reefs of Grand Bleu, the spotted potato bass haven of Cosmoledo Atoll and the endemic refuge of the rare and exotic African pygmy angelfish in Astove Island.
Sidetrip: Aside from liveaboard, you have the option to sign-up for a sailing trip that will take you to throughout the reefs and atolls of the Outer Islands of Seychelles. On top of scuba diving, the Outer islands are also popular with Seychelles Snorkeling tours courtesy from several shallow reefs with crystal clear waters. Just take note in advance that diving and snorkeling in some sites in the Outer Islands requires permission. With this, we highly advise you to drop by at the Seychelles Islands Foundation to inquire and secure such permits.
Seychelles Diving Whale Sharks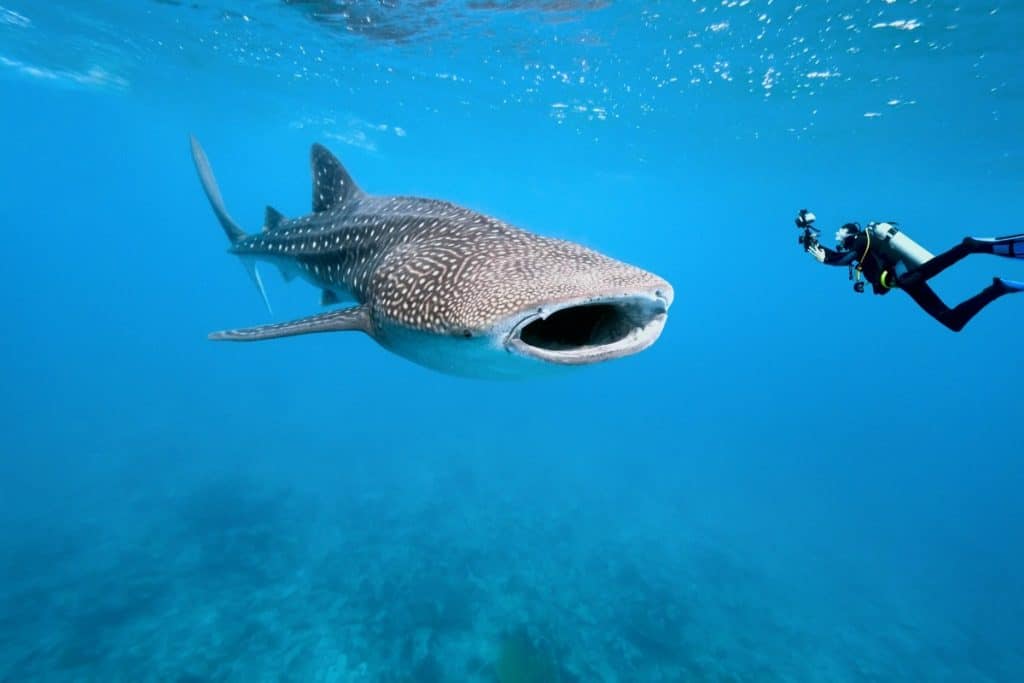 For years, Seychelles has been a refuge for the world's biggest fish – the whale sharks. While they can be found year-round freely swimming in most dive sites in the inner and outer islands of Seychelles, their peak season runs from August to January where the possibility of seeing more than 1 whale shark is high. You will notice that during these months, visibility will slightly dropdown. But this is not due to freshwater run-off, but instead, the water is loaded up natural micro-foods called plankton which is the primary diet of whale sharks.
Diving in Seychelles vs Maldives

In as much that we DO NOT LIKE to compare diving Seychelles vs the Maldives (since it is a given fact that no two dive sites or dive destination are the same), they're a lot of inquiries about this topic.
Seychelles and Maldives both have outstanding diving. But if you force us to compare these 2 world-renowned dive destinations, then here are our 2 cents, or rather, our 2 points of observation. First, while the underwater scenery is similar, perhaps what is noted in Seychelles is that has more wreck diving sites than the Maldives. Second, Seychelles does not have a large number of resorts built on private islands. In effect, Seychelles does not have the international reputation of the Maldives of being a luxury honeymoon destination, although it is slowing starting to become one.
General Information about Seychelles
| | |
| --- | --- |
| Capital city | Victoria |
| Currency | Seychellois Rupee (SCR) |
| Official language | French, English and Seychellois Creole |
| Visa Required | No |
| Electricity Standards | 220-240V it uses the British Standard square three-pin, 13 amp sharp electric plug. Visitors from countries other than the United Kingdom are advised to bring adaptors |
| Time Zone | GMT +4 |
| Official tourist information website | http://www.seychelles.travel |
| Points of Interests | Valle De Mai Nature Reserve |