It's more fun in the Philippines and Wow Philippines! These are the slogans used to promote the tourism activities of this Southeast Asian country where its attractions are scattered in the entire archipelago that is composed of over 7,100 islands. While several tourist destinations can be visited on land like the Banaue Rice Terraces and the Chocolate Hills in Bohol, most of the attractions are hidden beneath its waters, which in turn, has made scuba diving a big hit.
In fact, the Philippines is a diving paradise where your playground constitutes 103,600 square kilometers (40,000 square miles) of the coral reef area. And not just any coral reef, but it is one of the most pristine in the world. Backed up by scientific data, the Philippines is considered the epicenter of the world's marine biodiversity where the fish population alone is already composed of 2,000 species.
Diving Conditions in the Philippines
The Philippines has a tropical climate and diving is possible year-round. However, this is influenced by the monsoon seasons, namely: the northeast monsoon which affects the Pacific seaboard and the southwest monsoon that affects the coast facing the West Philippine Sea. In general, the best time to go diving in the Philippines is from November to June. During these months, you will enjoy warm water where the temperature ranges from 23-30°C (73-86°F) and clear waters with visibility running from 20-30 meters (60-100 feet).
You can also expect a unique diving experience in the Philippines, especially when you go boat diving. Instead of the tender or dinghy boats we all know, your dive boat in the Philippines is usually a motorized wooden boat with outriggers called Bangka. While its speed is relatively slower than those of tender boats with outboard engines, these bangkas provide more space for gearing up and allows you to walk around while on transit to your dive site.
Diving Conditions in the Philippines: at a Glance
| | |
| --- | --- |
| Ave. visibility | 20-30 meters (60-100 feet) |
| Ave. water temperature | 23-30°C (73-86°F) |
| Current | Mild to strong depending on the area |
| Experience | For all levels of certification |
| Exposure Suit | 3-5mm |
| Type of diving | Wall diving, cave diving, deep diving, drift diving, shore diving, boat diving and wreck diving |
| Marine life | More than 2,000 species of fish like thresher sharks, whitetip reef sharks, Napoleon wrasse, giant frogfish, pygmy seahorse, mandarin fish, Pegasus sea moth, mantis shrimp, unicornfish and hammerhead sharks |
| Corals | Famous for its corals |
| Wrecks | Some |
| Liveaboard | No, but recommended for the southern Visayas Islands and the Tubbataha Reefs |
| Best time to visit | November-June |
| Main diving area | Visayas and Luzon especially in Palawan |
Best Dive Sites in the Philippines
Visayas Islands
Occupying the central section of the Philippines, Visayan is a group of islands composed of different political regions, provinces, and municipalities. Each of the islands is closely situated from each other and traveling is relatively easy courtesy from the well-established seaports.
Cebu and Malapascua Island Diving Philippines
Cebu is the Capital of the Central Visayan Region and is your gateway to the major diving spots. While in Cebu, we suggest you should visit Malapascua Island and go diving with thresher sharks. Once you land at Mactan-Cebu International Airport, you will head 123 kilometers (76 miles) going north towards Daan Bantayan, then go on a 30-minute boat ride going to Malapascua Island.
Diving in Malapascua Island is a unique experience. This is one of the few diving vacations that you need to wake up at dawn, leave your hotel, hop in your bangka and cruise for an hour towards Monad Shoal. You should be in the water before the sun rises and start descending to an offshore mound at 20 meters (66 feet) deep where thresher sharks rise from the deep for a quick clean by cleaner fish. By the way, thresher sharks can easily be identified. Just look at their tail fin and you will notice that the upper tail fin is relatively long.
After your dive in Monad Shoal, you will usually take your breakfast onboard the bangka while making your surface interval and traveling to your next dive site like Gato Island. Located near Bantayan Island, Gato Island is a combination of cave and shark diving. Your bangka will usually anchor near the cave opening. Once on the water, you will enter a large underwater tunnel that has a thriving population of nurse sharks.
Other noted diving spots in Cebu are Marigondon Cave, the marine protected area of Olango Island and the sardine run in Moalboal.
Cebu Sidetrip: Cebu is a tourism magnate in the Visayas and you can visit several attractions like the whale sharks in Oslob and Kawasan Falls in Badian where it is popular with canyoneering. January is the best time to visit Cebu where, on top of diving conducive parameters, you can witness and experience the Grand Sinulog Mardi Gras.
Bohol
Situated 80 kilometers (50 miles) southeast of Cebu or a 1.5-hour fast craft boat ride, Bohol is another tourist destination in the Visayan Region where its tourism highway is pretty well-established and diving is anchored in 3 neighboring islands. Regardless of where you choose to dive, your jump-off point is not in the Bohol's Capital City of Tagbilaran, but rather in Alona Beach in Panglao Island. While Panglao Island is already a dive destination featuring over 10 dive sites, most guests are led and guided to the world-class dive sites of Balicasag Island and Cabilao Island.
Balicasag Island is situated 16 kilometers (10 miles) west of Panglao. Divers come here for 2 subjects, namely: black corals and the school of jacks. Both of these subjects can be found in a dive site aptly named the Black Forest. Exploring this site allows you to cruise along a reef slope that is filled with black corals (Tubastrea sp.). At 20 meters (66 feet) deep, the reef slope ends and diverts into a vertical wall that plunges all the way down to 35 meters (115 feet) deep. You will usually stop by in between the reef slope and the reef ledge where the thick school of jacks is often seen.
On the other end of Panglao Island is Cabilao Island. 33 kilometers (20 miles) north of Panglao Island, Cabilao is a haven for divers wishing to see a healthy population of hammerhead sharks. The waters around Cabilao Island is one of the clearest in the Philippines where you can clearly see the shoal of hammerhead sharks even if they are far and deep.
Bohol Sidetrip: While in Bohol, you should visit the Chocolate Hills and the Sanctuary of the Tarsiers which is considered the smallest ape in the world.
Dumaguete and Apo Island Diving Philippines
There are many marine sanctuaries in the Philippines and one of the successful areas for marine protection is in Dumaguete, particularly in Apo Island. Located 168 kilometers (104 miles) south of Cebu, Apo Island is technically under the jurisdiction of the neighboring municipality of Dauin and was once a rubble reef caused by daily blast fishing activities. When the community finally stopped destroying the reef and converted it to a marine protected area, marine life flourished back and it is now one of the top diving destinations in the Philippines.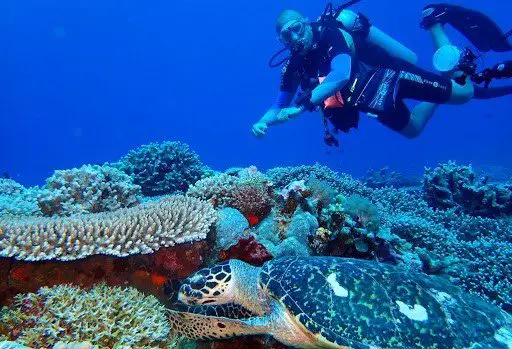 Apo Island has over 10 dive sites and most will require you to go drift diving. In fact, most of the dives are fast drifts where you can ride along with 3-knot water current. Even if your dive is fast, you will still be amazed by the immensity of marine life in Apo Island where its reefs are fully encrusted with hard corals and soft corals with a thriving population of reef fish and sea turtles.
Dumaguete Sidetrip: If you love whales and dolphins, then you should visit Bais City. Situated 25 kilometers north of Dumaguete City, Bais City has all the tourism facilities that will take you to go dolphin and whale watching in the fronting Tanon Strait. Here you can see bottlenose dolphins, spinner dolphins, spotted dolphins, pilot whales, and humpback whales.
Luzon Diving
Luzon is the main island of the Philippines and it is where the nations Capital City of Manila can be found. It is also your jump-off point to renowned dive sites that are rated as one of the best dive destinations in the world.
Situated 124 kilometers (77 miles) south of Metro Manila, Anilao has several recognitions as far as diving is concerned. Aside from being the birthplace of scuba diving in the Philippines, Anilao is known to be the nation's epicenter for muck diving. With this, virtually all dive shops in Anilao are set-up with a camera room where you can prepare your camera equipment before use and maintain it after the dive.
While it has over 30 dive sites, the Cathedral Rock is considered the most iconic and the most visited dive site. This dive site is marked underwater by a cross deployed nonetheless by one of the former presidents of the Philippines. Since the cross is deployed in between 2 large rocks, its reef space acts as a natural haven for marine critters where you can see several species of nudibranch. Tropical fish also swim around the perimeter of the cross like wrasse, angelfish, surgeonfish butterflyfish and clownfish.
Visiting Batangas (where Anilao is located) also allows you to visit neighboring dive destinations like Verde Island where its dive sites like the Washing Machine are known for fast drift dives. Perhaps, you can take a short ferry ride towards Puerto Galera diving Philippines and go diving in Apo Reef where it is considered the 2nd largest reef system in the world. Take note that Apo Reef is different from Apo Island of Dumaguete/Dauin in the Visayas.
Palawan Diving Philippines
Palawan is the westernmost island and is recognized as the last frontier of the Philippines. It is a popular tourist destination and most of its attraction is based on ecotourism. The Island can be accessed through a 1-hour flight or an overnight ferry cruise either from Cebu or Manila.
Wreck diving in Coron
Situated 298 kilometers north of Palawan's Capital City of Puerto Princesa, Coron holds a decent amount of shipwrecks and has become the wreck diving capital of the Philippines. It all started in September 1944 during the Second World War where the US Navy launched a massive airstrike against a Japanese supply fleet that anchored in Coron Bay. 24 Japanese vessels sank that day and 12 of them can be explored.
While most of the shipwrecks require a deep diving profile, the Taisei Maru wreck is one of the most popular and most visited wrecks in Coron. This 180 meters (576 feet) long oil tanker is intact and resting in shallow waters with depths ranging from 10-15 meters (33-49 feet).
Diving Tubbataha Reef Philippines
Tubbataha is an offshore reef located 165 kilometers (102 miles) southeast of Puerto Princesa City. It is a UNESCO World Heritage Site and is considered the premier diving destination in the Philippines. It has over 15 world-class dive sites that are scattered in the North Atoll, South Atoll and the Jessie Beazley Reef.
Located in the southern section of North Atoll, Amos Rock is one of the most visited sites in Tubbataha. Also known as Southwest Rock, exploring Amos Rock allows you to go wall diving in a vertical limestone structure that is fully encrusted with hard corals, soft corals, whip corals, barrel sponges, and large gorgonian sea fans. Among the fish population in Amos Rock that is usually playing at an incoming current are Napoleon wrasse, whitetip reef sharks, and grey reef sharks. Amos Rock is also a popular site for night diving as the whitetip reef sharks become highly active in searches of food like lobsters and crabs.
Palawan Sidetrip: Do not miss to visit the Underground River in Puerto Princesa. This is a subterranean river 24 kilometers (15 miles) long and has a stunning display of stalactites and stalagmites.
Philippines Liveaboard
After giving all the descriptions of the best diving sites in the Philippines, you will have the impression that diving is synonymous with local traveling. Yes, land, air and sea travel is the usual case when you want to maximize your diving holiday in the Philippines. However, there is a trick that will get rid of the booking and falling in line in the airport, seaport and bus terminal – sign up with a liveaboard dive safari. Once onboard, all you need you to do is eat, sleep and dive. We highly recommend the Visayan to Palawan route where you usually start either in Cebu or Dumaguete, then pass by Anilao/Puerto Galera and end your dive trip at Tubbataha Reefs.
General Information about the Philippines
Capital city
Manila
Currency
Peso (PhP)
Official language
Filipino and English
Visa Required
No,  US citizens can stay up to 21 days, extensions are required from the Philippine Bureau of Immigration
Electricity Standards
220 V/60 Hz
Time Zone
GMT+8
Official tourist information website
www.tourism.gov.ph
Points of Interests
Visayas: Cebu City sightseeing (Taoist temples, Spanish Forts), snorkeling Olango Island, visit Balicasag Island and the Tarsier Zoo in Bohol, nature Trips in Murcia in Negros Island

Luzon: Banaue Rice Terraces, hike Mount Pinatubo and Echo Valley, beach hopping in La Union