The most popular diving spot in Guatemala is Lake Atitlan, a freshwater lake surrounded by 3 active volcanos. Atitlan offers a high-altitude, freshwater dive to a crater of a supervolcano that was home to a Mayan ceremonial town. The lake is one of the highest in the world and the highest in Central America. Besides the underwater volcanic scenery, you also get to see the ruins of a flooded city, a petrified forest, and the most famous of all buildings, Casa del Mundo. The best time to go scuba diving in Guatemala is between February and April because there is less rain.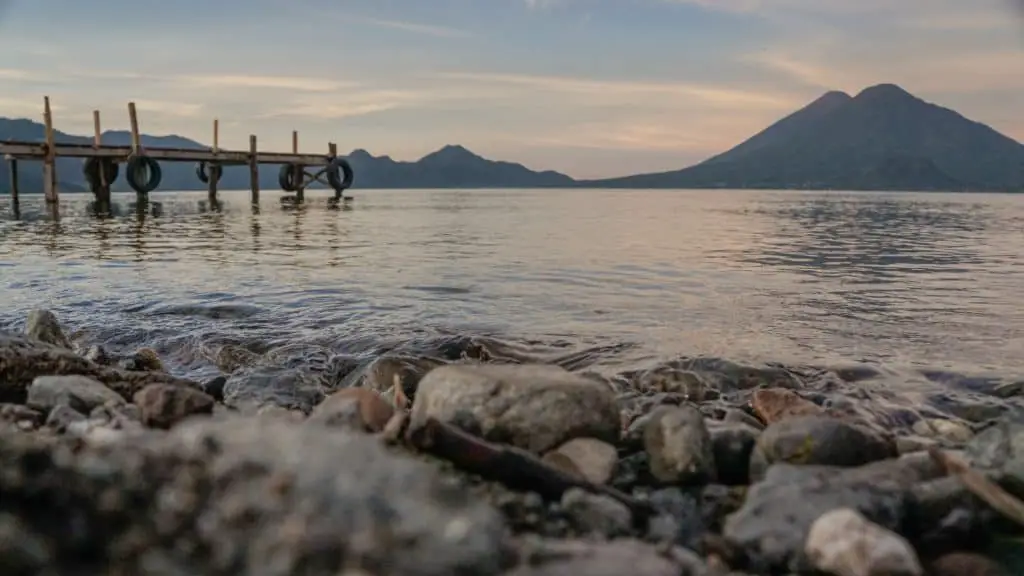 If you are a diver and you happen to visit Guatemala's Lake Atitlan, then make sure you book a dive. There are plenty of hotels, hostels, and Airbnb homes to stay at the lake. However, divers chose hotel La Iguana Perdida because ATI Divers are within the hotel premises. ATI Divers are the guys you are going to hire to take you diving.
Where to stay while Scuba Diving in Guatemala?
La Laguna Perdida hotel is just a 15-minute boat ride away from Panajachel. And yes, you do move around the lake towns on boat taxis. Luckily, the hotel is right next to the municipal dock in Santa Cruz. The dock is a few steps away from where the boat taxi drops you off. Besides being a comfortable hotel with great service and serve good food, they also have cold beer, hot water showers, and decent internet service.
Lake Atitlan is easily one of the most beautiful places in Central America. Atitlan is a large fresh body of water that has several little towns all around. The lake is 1562m above sea level, an area of 130 km2, 12 km in length and a max depth of 340 m.
Other Things to do at Lake Atitlan
I visited there in 2017 with my family and had loads of fun. While we stayed at San Marcos, we experienced meditation, connecting with nature, and did yoga. While there, we also stopped for some shopping in San Juan and partied at San Pablo. Regretfully, we never visited Panajachel. Later we found that is usually where Atitlan trips start for most vacationers.
There are so many towns, restaurants, bars, great sites and things to do. Consequently, I warranty you will never be bored in Atitlan. On the other hand, if you love to relax and enjoy the views you in for a treat. By and large, the lake and the surrounding volcanos offer views that entice peace and quiet.
Scuba Diving Courses available by Guatemala ATI Divers
ATI divers offer many PADI Courses ranging from 1 day to 5 days and $65 to $295 the most expensive:
Discover Scuba Diving
Scuba Diver
Open Water Diver
Adventure Diver
Advanced Open Water Diver
Emergency First Response
Rescue Diver
Divemaster
Altitude Specialty
Altitude Specialty Scuba Diving Course in Lake Atitlan
The most famous of all Guatemala scuba diving courses is the Altitude Specialty. For this reason, you will definitely want to add to your collection. For instance, this one costs about $100 and it is a one-day course. First, you'll learn why diving at an altitude is different. Then you will learn how your equipment will react to the altitude, and what things you need to plan for, etc. Not to mention, the dive includes two full tanks and an enjoyable class by the divemaster.
In total if you do the Altitude specialty and the one day dive it will cost you around $350. If you decide to come back during your same stay, they'll give you a discount on other dives.
What dives will you experience in Lake Atitlan
When I did my research, I learned that ATI divers keep their groups to small numbers which are great. If you do a one-day trip, the experience includes two dives. The first, early in the morning and the second, late morning or early afternoon. Consequently, you can be back on time for lunch.
The ATI diver team takes altitude diving seriously. Then again, I can't blame them; the altitude makes things a bit different. For this reason, the team makes sure you understand the difference. This way you can prepare for the dive prior to getting to the dive spot. Furthermore, the team has a small boat and that is one of the reasons they keep groups small.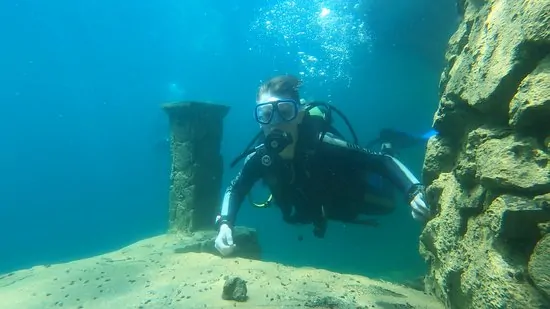 The Legend of Smabaj – The underwater Mayan Island City
There is a Mayan legend about the lake. It says the lake is home to an ancient flooded Mayan island city where pilgrims traveled to worship. This was a proven fact as noted in 1997 by recreational diver Roberto Samayoa. This when he found ceremonial stones and parts of buildings. In fact, he called the city Samabaj, after himself. Must be remembered, researchers believe a volcano eruption flooded the city back around 250 A.D.
One of the biggest reasons people keep scuba diving in Atitlan is that occasionally divers keep finding Mayan pre-classic period pottery. Not surprisingly, divers consider the thrill of finding these treasures a great attraction.
Underwater Lake Atitlan
While underwater you get to swim through the hallways of the flooded Casa del Mundo hotel and other buildings. By the same token, I've seen in videos and pictures where the lake and the hot vents have clearly reclaimed the buildings and structures.
You also see tons of volcanic rock walls at Punta Caliente, touch the hot volcanic mud at Agua Caliente. After all, you are diving rock formations formed by a super-volcano that exploded 84,000 years ago. In conclusion, this is one of the reasons why there is value in diving at Lake Atitlan.
There is very little life underwater, you might see small fish and crabs, but not a lot of color like you would expect from a Caribbean dive.

Visibility while Diving in Lake Atitlan
I also have to add that experienced divers have mentioned visibility is limited due to the volcanic mud. For example, you might be able to see 4-5 meters in front of you. On the upside, even though the lake is on high altitude, the water temperature in late Atitlan is warm. Notably, it has an average of 21 degrees Celsius as a courtesy of the warmth the volcano still emits.
Take the precaution of these things while Scuba Diving in Guatemala at Lake Atitlan
When you are planning your trip, make sure you plan to leave Lake Atitlan at least the day after your final dive. Remember Atitlan is high grounds and the atmospheric pressure in your decent could send you to the hospital or worst.
While enjoying your Guatemala scuba diving vacation, only drink bottled water, even to brush your teeth. You cannot by any means drink water straight from the faucet. You will as I did get stomach sick.
In the past few years, cyanobacteria (aka Blue-Green Algae) polluted the lake water. This, as you might know, is a hemotoxin and neurotoxin. This means you need to make sure you don't have any open sores or wounds as to not allow any bacteria into your body.
If you are taking kids with you, please know that the closest medical building is a few hours away from you. For example, when we visited the lake, we hardly found any medics near where we stayed. My kid and I got stomach sick. Consequently, I end up calling our doctor back home for assistance.
Prohibited diving spots in Lake Atitlan
You now know the story of the city of Samabaj. The famous flooded Mayan city in Lake Atitlan is classified as an unauthorized subaquatic expedition by the Guatemala Cultural Heritage. To dive that spot, you need approval from the Guatemalan Institute of Archeology and History or the Guatemalan Agency for Natural and Cultural Heritage.
As a matter of fact, the exact location of ceremonial monuments, altars and other buildings found by Roberto Samayoa remains a bit of a secret. This is how Guatemalan archeologists have liked to keep. This to avoid looters visiting and stealing part of their national treasure. Therefore please be respectful while you enjoy your diving in Guatemala.
Scuba Diving in Guatemala Option B – Pana Divers
If you are planning to be in Guatemala and want to experience scuba diving in the Caribbean, you can contact Pana Divers. These guys will take you to Cayos de Belize, which is a close spot to Guatemala. Different from you can coordinate to go outside Guatemala to Roatan, Playa del Carmen, Utila. They also offer dives to Atitlan.
There is a reason why this is Plan B. Generally speaking, the majority of the dive spots Pana Divers offers are not inside Guatemala. For this reason, I will not write about them here. If you want to review each, I suggest you visit the links to each of the sites. I will have included a more thorough review of other posts related to Honduras and Belize scuba diving.
What is your conclusion on Scuba Diving in Guatemala?
Scuba diving in Guatemala is not the most popular activity. Given these points, I certainly wouldn't plan my trip around the single scuba diving experience offered.
In conclusion, Diving in Guatemala will never be a location in my Dive Bucket list. I've already visited Guatemala once, and it was a great experience. Nonetheless, I will probably not go back as I would like to spend my vacation money exploring new places.