If you are looking for the cheapest place to dive, or perhaps get a scuba certification, then Honduras is the place to be. But being cheap does not mean that diving in Honduras is not great. In fact, it has a decent list of quality dive sites that is considered one of the best diving in Central America.
Located in the northern section of Central America, Honduras lies between Guatemala, El Salvador, and Nicaragua. While its economy is primarily driven by agriculture, tourism is slowly gaining attraction. Despite having a massive landmass, tourism is only promoted on the north coast. For scuba divers, the Gulf of Honduras in the Caribbean Sea is our playground and the dive sites are concentrated in the Bay Islands Honduras. Formed by the coasts of Belize, Guatemala and lined by the Belize Barrier Reef, the Gulf of Honduras (through the Bay Islands) is at the southern tip of the world's second-largest reef system – the Mesoamerican Barrier Reef.
Diving Conditions in Honduras
In general, Honduras has a tropical climate with little variation between the wet and dry seasons. Except during hurricane season that runs from August to October, scuba diving is a year-round activity in Honduras. The peak for Honduras diving season runs from April to May when the weather is warm and dry. During these months, you can enjoy diving-conducive parameters like warm water with temperature ranging from 25-29°C (78-84°F) and clear waters with visibility ranging from 20-30 meters (60-100 feet).
The dive sites in Honduras are concentrated on the northern coast, particularly in the Bay Islands. Composed of 7 islands and 50 cays, the Bay Islands is part of an underwater mountain range called the Bonacca Ridge.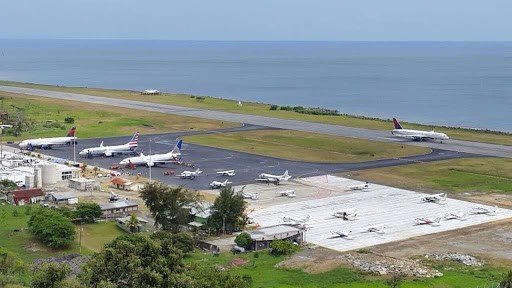 Honduras Travel Guidance: The crime rate is high in mainland Honduras, but not in its tourism hub on the north coast where most of the Honduras dive resorts are located. With this, try to limit that explorer in you and confine your underwater adventures in the Bay Islands. If you will heed our advice, skipping the mainland is a better option and fly directly to the Bay Islands in Roatan via the Juan Manuel Galvez International Airport. A great view of the Gulf of Honduras is an added bonus when you fly in and out of Roatan as the airport is situated right on the coast.
Diving Conditions in Honduras: at a Glance
Ave. visibility
20-30 meters (60-100 feet)
Ave. water temperature
25-29°C (78-84°F)
Current
Low
Experience
For all levels of certification
Exposure Suit
3-5mm
Type of diving
Wall diving, drift diving, deep diving and boat diving
Marine life
Spotted drumfish, glassy sweepers, blue tang, sergeant majors, eagle rays, creole wrasse, blowfish, peacock flounder, hawksbill sea turtles, garden eels, green moray eels, and black durgon

Seasonal: whale sharks from March to April and August to September
Corals
Famous for its coral
Wrecks
Some
Liveaboard
No, but recommended for Bay Islands
Best time to visit
April – May
Main diving area
The Bay Islands (Roatán, Utila, Guanaja)
Best Dive Sites in Honduras
Roatan Diving Honduras
Measuring 53 kilometers (33 miles) long, Roatan is the biggest of the Bay Islands. The island sits on top of an ancient coral reef that rises 270 meters (890 feet) above sea level. Tourism is an important part of its local economy and its port have become a stopover for large cruise ships where its guest can do a lot of things like scuba diving. Exploring the Roatan dive sites will take you to see pristine reefs that are suitable for all levels of Roatan scuba certification.
Texas
Located on the western tip of Roatan, Texas is a popular dive site that allows you to go drift diving, wall diving, and deep diving. Recommended only for experienced divers, diving in Texas will initially take to a reef flat that is loaded up with barrel sponges. As you swim further, you will reach the ledge that leads to a vertical drop-off that goes all way down to 27 meters (90 feet) deep.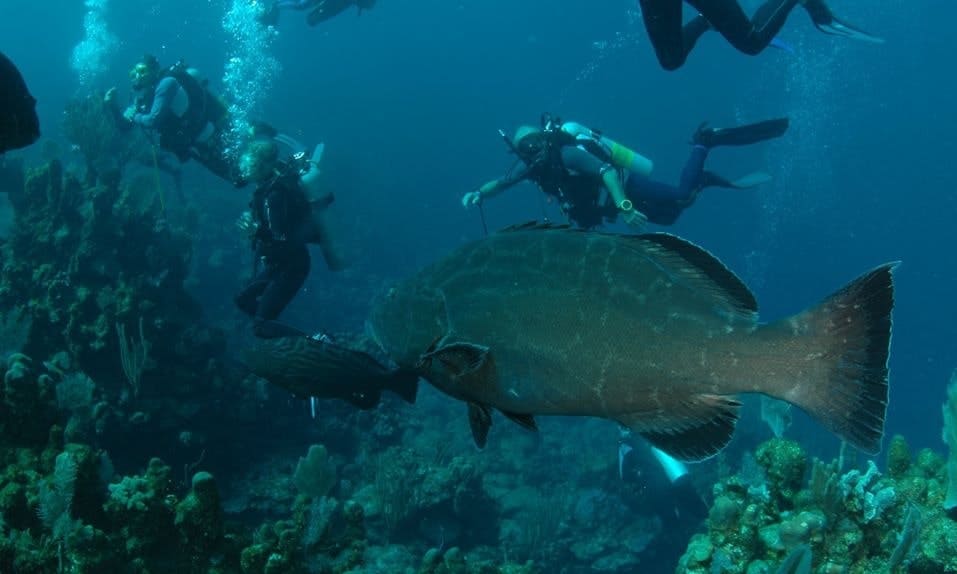 Since Texas is located at the pointed tip of Roatan's west end, currents are known to be strong and pick up during the onset of tidal exchange allowing you to go drift diving over moderate to strong current. These current also attracts an array of marine life where you can see jacks, groupers, and barracudas that goes in a school.
Half Moon Bay Wall
Another great wall diving site in Roatan is Half Moon Bay Wall. Your access to this dive site is located on the West End beach. Upon entering the water, you will see that the reef starts at 5 meters (15 feet) and gently slopes down up to a small semicircular ledge that drops down to 46 meters (150 feet) deep.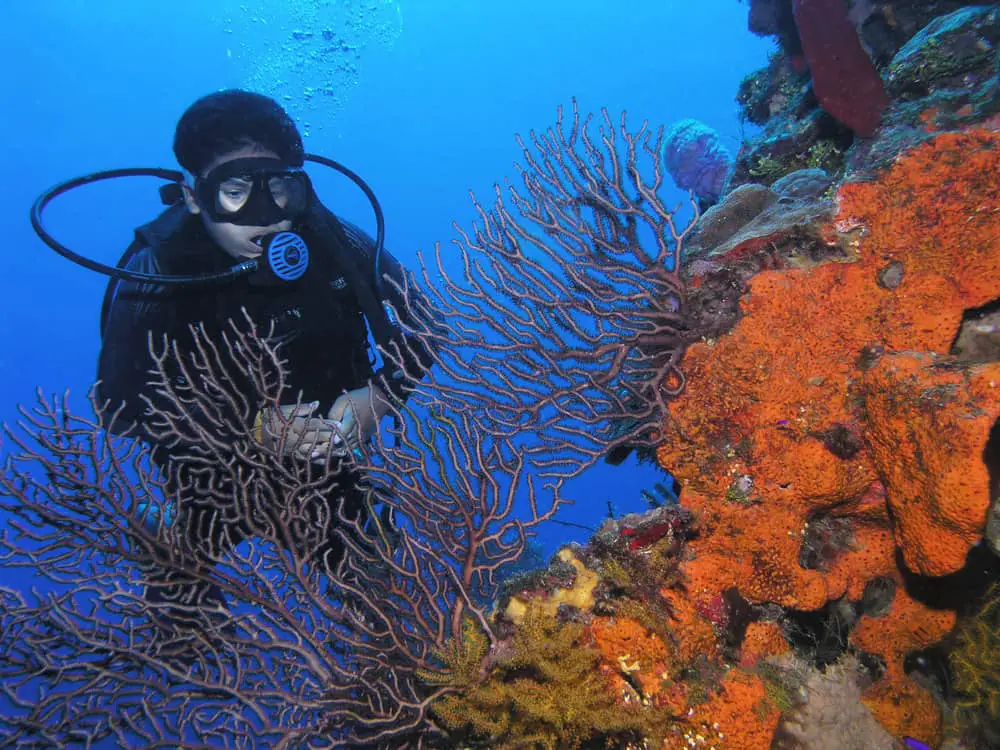 As you swim along the wall, you will be amazed by the healthy population of gorgonians, particularly at depths ranging from 6-12 meters (20-40 feet). Unlike Texas where current is strong, the waters here a calm and only have gentle currents during a tidal exchange.
Hole in the Wall
Located in the upper west coast of Roatan, Hole in the wall is a popular dive site that has a sand chute that tunnels through a reef and ends in a vertical wall. This sand chute has created a cave that can be penetrated by divers. Inside the cave is a maze of canyons that leads to a larger cave filled with glass sweeper fish. There is a small crack in the roof that allows sunlight to naturally illuminate the cave, thereby eliminating the need to bring an underwater torch.
The Wrecks of El Aguila, Prince Albert, and the Odyssey
Roatan is not just about reef diving, but also a wreck diving spot. Here you can explore 3 shipwrecks, where each of them has a unique story. Resting at 30 meters (98 feet) deep, El Aguila is a former 75 meter (230 feet) long cargo boat that has been broken down into 3 pieces after being hit by Hurricane Mitch in 1998. Serving as an artificial reef, her remaining structures are now the refuge of dog snappers, eagle rays, and large groupers.

Intentionally sunk in 2002, the Odyssey is not just an artificial reef, but she is the largest shipwreck that you can explore in Roatan. Measuring 91 meters (300 feet) long, this former marine freighter now rests at 33 meters (110 feet) deep. Prince Albert is another shipwreck that you explore in Roatan. This former 47 meter (154 feet) long tanker now rests at 22 meters (72 feet) deep where a DC-3 aircraft lies near her structures.
Whale sharks Roatan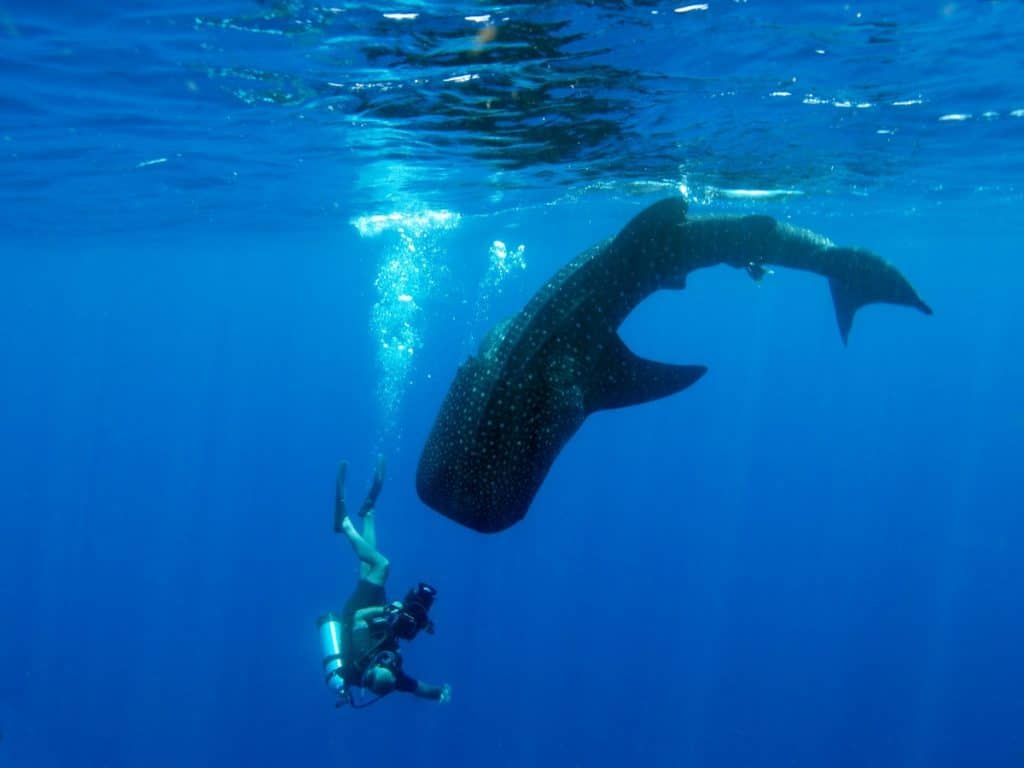 Whale sharks are one of the main attractions when you go diving in Roatan. While they follow a migration pathway, the Roatan diving whale shark season starts from March to April and August to September. During these months, the chances of seeing the biggest fish in the world are almost guaranteed as they flock and swim along the Roatan waters.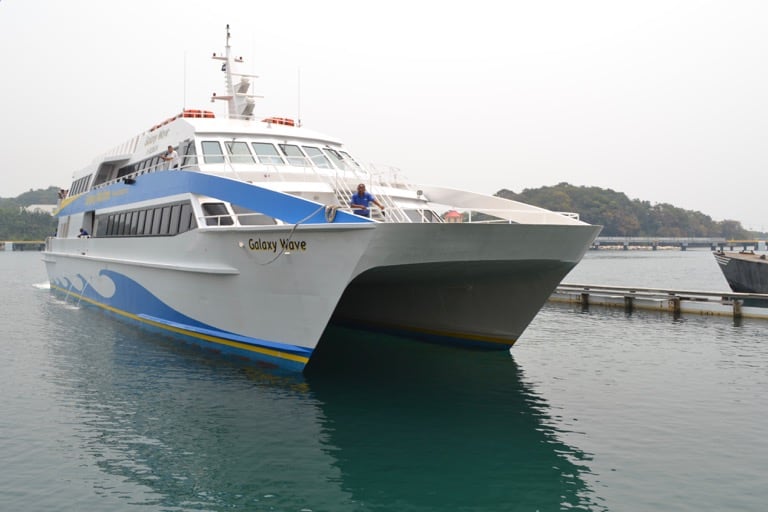 Transportation in and out of Roatan: Roatan is your entry point in the Bay Islands of Honduras. Flying in, you will arrive at Juan Manuel Galvez Roatan International Airport. When it comes to maritime travel, the Galaxy Wave Ferry will take you to the nearby islands of Utila and on the north coast of mainland Honduras.
Dive Shop Recommendation: For all your diving needs like gear rental, dive tours, and scuba certification, we highly recommend West End Divers Roatan, Coconut Tree Divers Roatan, Island Diving Center Roatan, and Roatan Divers West End. All these dive shops are Padi dive resorts Roatan.
Utila – Whale Shark Haven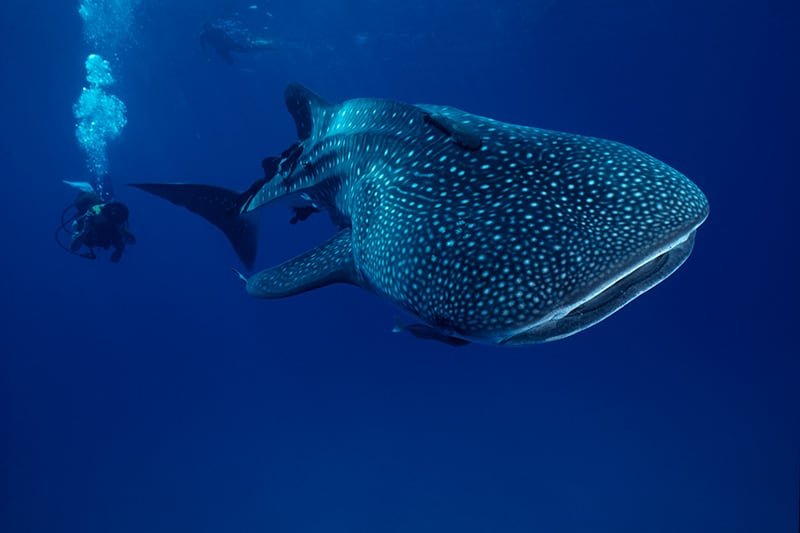 Of all the 3 main diving areas in the Bay Islands of Honduras, Utila has the cheapest diving. Utila dive center prices will suit a backpacker's budget. It has even been recognized as the Roatan divemaster factory in the world due to its cheap prices.
Located 48 kilometers (30 miles) southwest from Roatan Island, Utila is a beautiful small island with many Padi Bay Islands dive shops. And the good thing with these dive shops is that you don't need to look for their facility as their staff will greet you the moment you disembark from the ferry.
Whalesharks are the main attraction in Utila. While they can be spotted year-round, diving from March to May and August and October will give you a 99% chance of seeing the biggest fish while diving.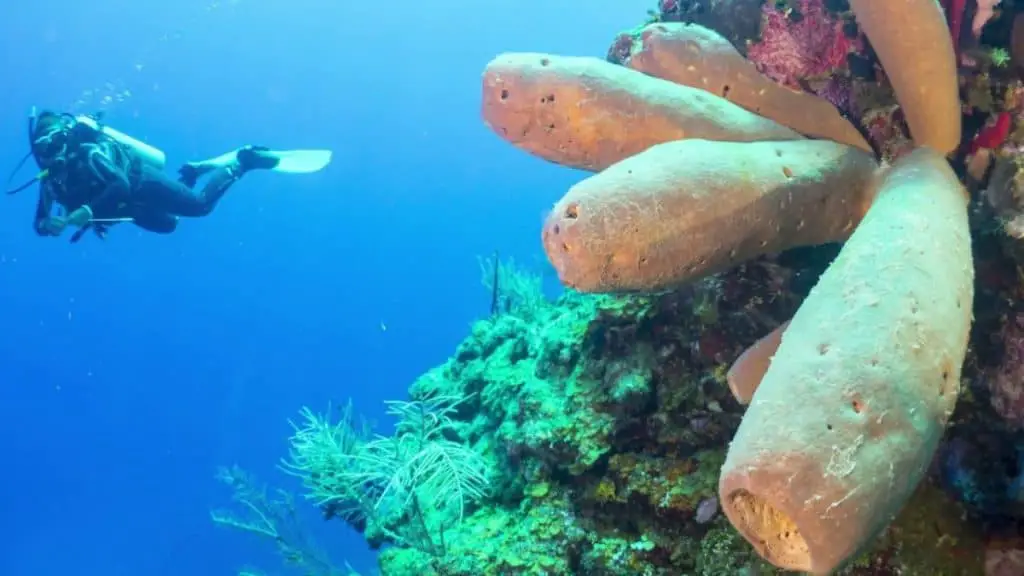 Except for the Black Hills which is classified as a seamount, most of the dive sites in Utila are wall dives like Blackish Point. Here you can descend to a vertical ledge that is filled with tropical fish like barracudas and horse-eye jacks.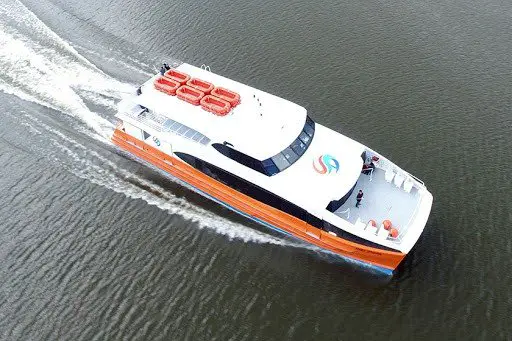 How to get to Utila: From Roatan Island, you need to take a ferry going to Utila Island. You have 2 options: you can either take Galaxy Wave Ferry or the Utila Dream Ferry. Both vessels are classified as catamaran and only sails on the weekend (from Friday to Monday departing usually in the afternoon).
Dive Shop Recommendation: For all your diving needs, we highly recommend Utila Dive Center and Paradise Divers Utila.
Guanaja
Situated 12 kilometers (7.5 miles) east of Roatan Island, Guanaja is considered the Venice of Honduras due to its waterways. It is the remotest of the Bay Islands, so you can expect pristine reefs and great diving. Take note that Guanaja is the starting point of the Mesoamerican Barrier Reef where its dive sites would take you to go diving in pinnacles, vertical walls, historic landmarks, and wrecks.
Mestizo Reef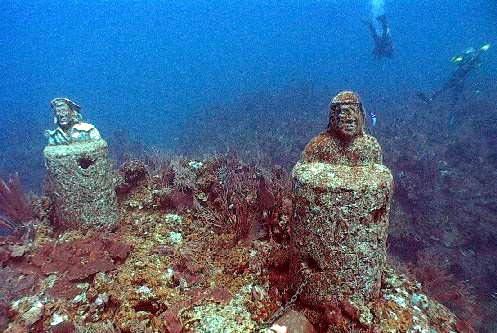 While Guanaja has over 20 dive sites, Mestizo Reef is considered the most iconic of them all. Diving in Mestizo Reef allows you to see a pristine reef that is dotted by healthy corals and loaded with lots of tropical reef fish. As you swim along the reef, you will pass by 2 life-size sculptures: one portraying Christopher Columbus while the other sculpture portrays Lempira – an Indian Chief where the currency of Honduras was named from. Swimming further the sculptures are Spanish cannons and a 16th-century bell found at 20 meters (65 feet) deep.
Jado Trader Wreck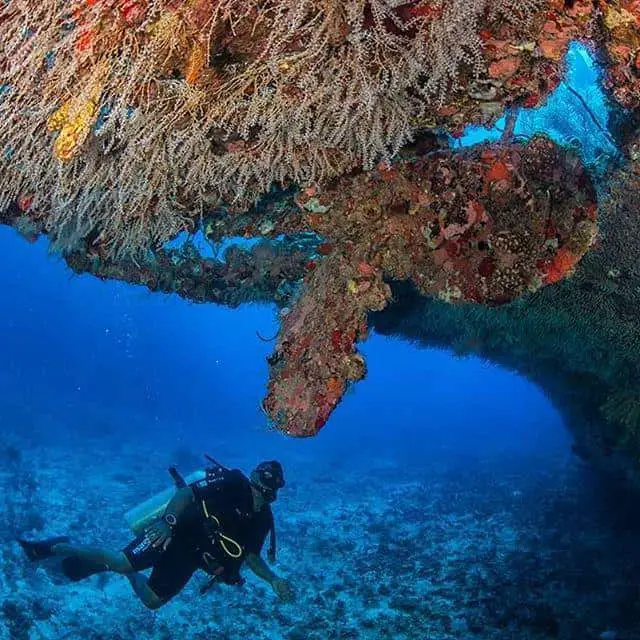 Wreck diving is also possible in Guanaja courtesy from the Jado Trader. This 73 meters (240 foot) long refrigerator freighter was intentionally sunk in 1987 to become an artificial reef. She now rests at 30 meters (98 feet) deep while lying in a perfectly upright position. The remaining structures are now encrusted with corals, sponges, algae, and barnacles. With air permitting, you can further visit the nearby coral pinnacles.
| | |
| --- | --- |
| Capital city | Tegucigalpa |
| Currency | Lempira (HNL) |
| Official language | Spanish |
| Visa Required | No |
| Electricity Standards | 110 V |
| Time Zone | GMT-6 |
| Official tourist information website | www.honduras.com |
| Points of Interests | Zipline in Coxen Hole, Whale Shark and Oceanic Research Center, Iguana Research and Breeding Station in Utila and the UNESCO World Heritage Site of Copan Maya |