Aloha! Welcome to Hawaii, the land of beautiful rainbows, sunsets and turquoise tropical waters. Being centrally located at the heart of the Pacific Ocean, Hawaii is relatively isolated from the rest of the world where its nearest distance to a landmass is 3,636 kilometers (2,259 miles) in False Pass Alaska. Despite the geographic isolation, this is not a hindrance for tourist to visit the Hawaiian islands. In fact, Hawaii is a major tourist destination receiving an average of 6 million guests per year.
Aside from surfing, beach hopping and sailing, you can go snorkeling and scuba diving in Hawaii. Due to its isolation, the 132 islands of Hawaii has developed a huge underwater diversity where most of them are endemic or can only be seen in Hawaii. Being volcanic in origin, the Hawaiian dive sites are made of lava bases that have been overgrown by corals, algae and sponges over time.
Diving Conditions in Hawaii
Hawaii has a tropical climate that is primarily influenced by the trade winds that blow from the east. It has 2 pronounced seasons: summer from May to October and winter that runs from November to April.
Diving is possible year-round in Hawaii and summer is the peak season for diving tourism. So if you want to avoid the crowd, we suggest you go diving during winter from November to April. While there are 132 islands comprising Hawaii, you may ask: best diving in Hawaii which island? The main diving areas are concentrated in the Big Island, Maui and Oahu. Water temperature averages at 25°C (78°F) during summer and may drop to 22°C (72°F) during winter. Visibility is fairly clear all year round playing at 20-30 meters (60-100 feet).
Diving Conditions in Hawaii: at a Glance
| | |
| --- | --- |
| Ave. visibility | 20-30 meters (60-100 feet) |
| Ave. water temperature | 22-25°C (72-78°F) |
| Current | Low to Average |
| Experience | For all levels of certification |
| Exposure Suit | 3-5mm |
| Type of diving | Wall diving, drift diving, deep diving, cave diving, wreck diving, boat diving, and shore diving |
| Marine life | Leaf scorpionfish, devil scorpionfish, yellow margin moray eel, Cameron's frogfish, whitetip reef sharks, green sea turtles, monk seals, fin whales, sei whales, humpback  whales, blue whales, and lagoon triggerfish |
| Corals | Famous for its coral |
| Wrecks | Some |
| Liveaboard | No, but recommended for island hopping |
| Best time to visit | Diving is possible year-round. If you want to avoid the crowd, visit Hawaii from November to April |
| Main diving area | Big Island, Maui and Oahu |
Best Dive Sites in Hawaii
Big Island
Also known as Hawaii Island, scuba diving Hawaii Big Island is the southernmost and literally the biggest island in Hawaii. While sugarcane was the backbone of its economy, tourism is slowly overtaking with facilities concentrated on the west coast, particularly in Kona and Kohala district. Most of the dives sites in Kona are dominated by underwater rock and lava formation while lava domes are prevalent in Kohala.
Pelagic Magic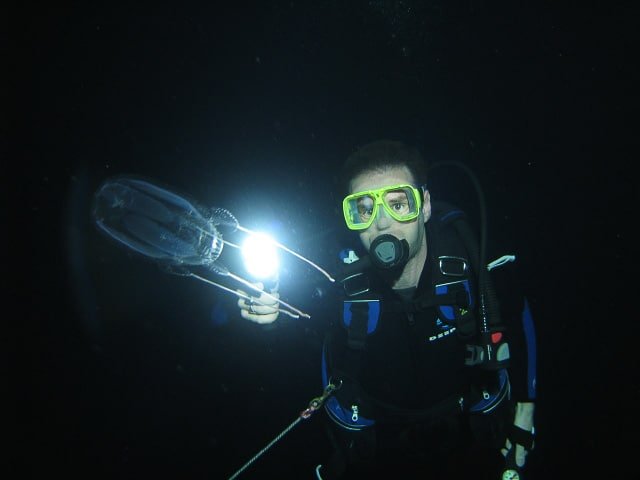 Pelagic Magic is a combination of night diving and diving in an open water ecosystem. Your boat will usually leave just before dusk towards an offshore area in Kona that is known for its high nutrient concentration. With total darkness as your background and your source of light is only the torch you are holding, you will descend following a descending line up to 15 meters (50 feet) deep. Despite still being far from the seafloor, you will only stay at this depth while being tethered to a line. In short, you are suspended in midwater.
Shortly after you have settled in the line, the underwater show will immediately start as jellyfish, micro-organisms (like plankton) and squid are attracted by the beam of your torch. In effect, these marine organisms will glow in a flashing blue light color.
Manta Ray Madness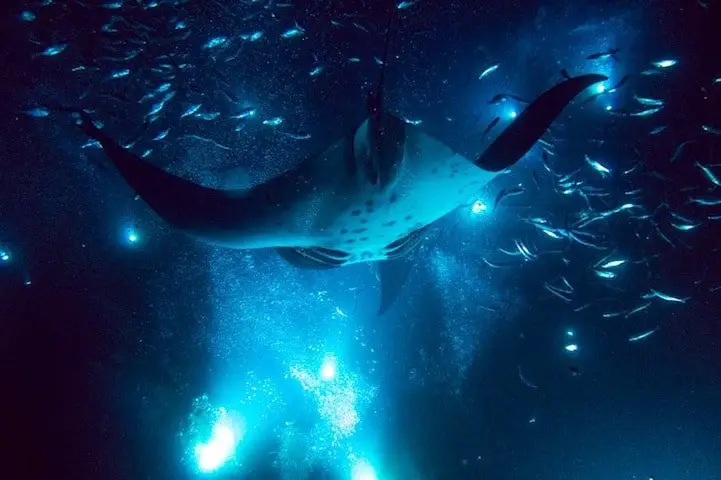 If Kona's waters are rich in nutrients, thereby attracting loads of plankton, then you can expect filter feeders (like manta rays) to also thrive in this portion of the Big Island. While the coast of Kona is totally dark at night, some portions are well-lit courtesy from massive resorts and hotels. The fronting reefs in one of the popular hotels in Kona is brightly illuminated at night that plankton and other micro-organisms converged in great concentration, which in turn, attracts manta rays.
When you descend down the reef at 10 meters (33 feet) deep for night dive, you will usually kneel down in an observation spot. After a few minutes, manta rays will start to come near your group. Although their swimming pattern and close distance tell us that this is a great chance to touch them, we highly discourage this practice.
Dive shop recommendation: We indorse the services of Kona Diving Company (KDC) for your gear rental, scuba tours, and scuba certification.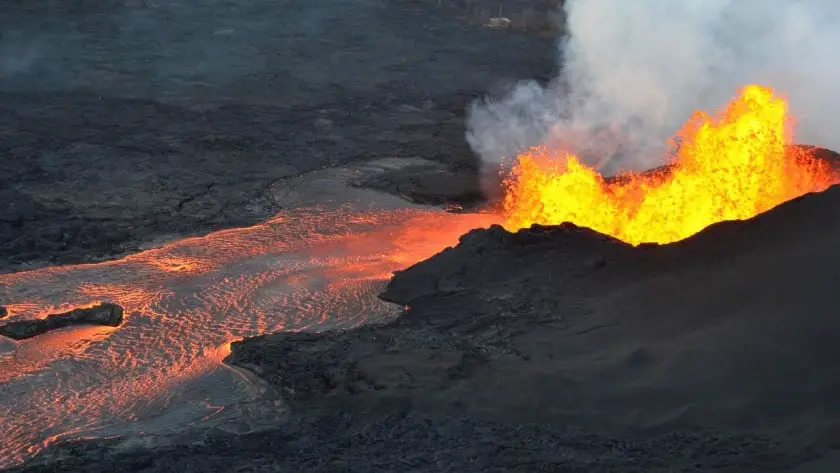 Sidetrip: The Seahorse Farm in Kona is a great visit, especially for kids. The Volcanoes National Park is home of the Kilauea Volcano – the most active volcano in the world. This is a great place to watch the landscape change as you hike.
Maui: Perfect Shore Diving
Maui is the second-largest island in Hawaii. It has plenty of good dive sites and many resort hotels feature a house reef that is located right in the beachfront. Such is the case of Sheraton Hotel's Black Rock where it is both a snorkeler and scuba divers paradise.
Note: Do not be alarmed if you hear humming sounds underwater. This is the case of Maui's waters every March in time of the passing by of Humpback Whales where the humming sounds you heard are their way of communicating with other pods of whales.
Molokini Wall Dive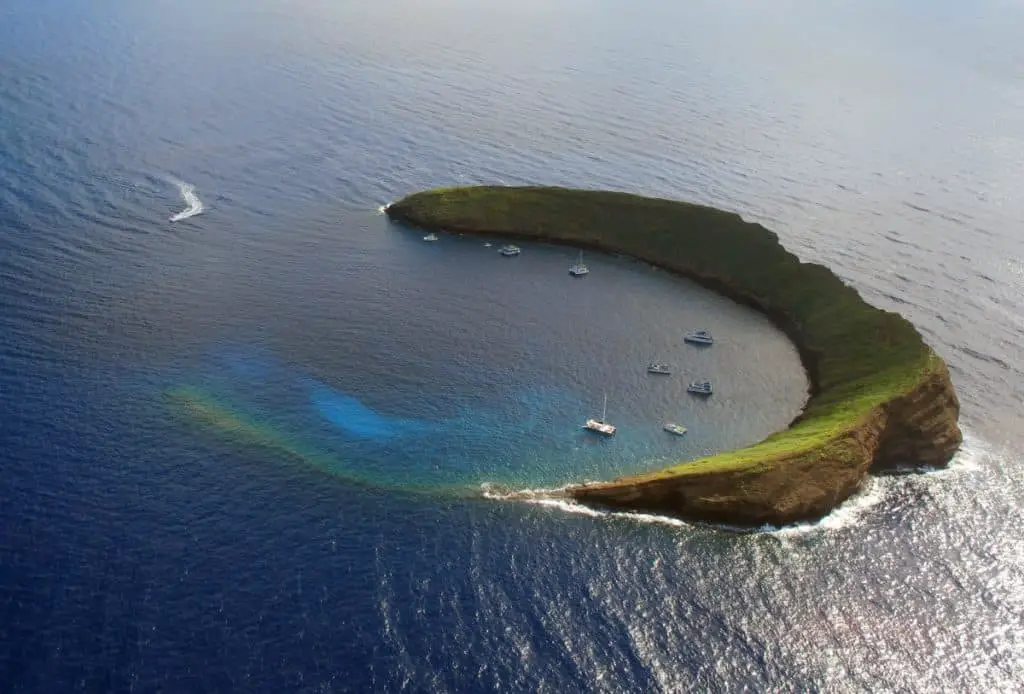 2.5 kilometers (__ miles) southwest of Maui is its most popular dive spot – the Molokini Crater. This dive site is a sunken volcanic crater that has a crescent shape. Diving will usually take you to the back side in an area called the Molokini Wall.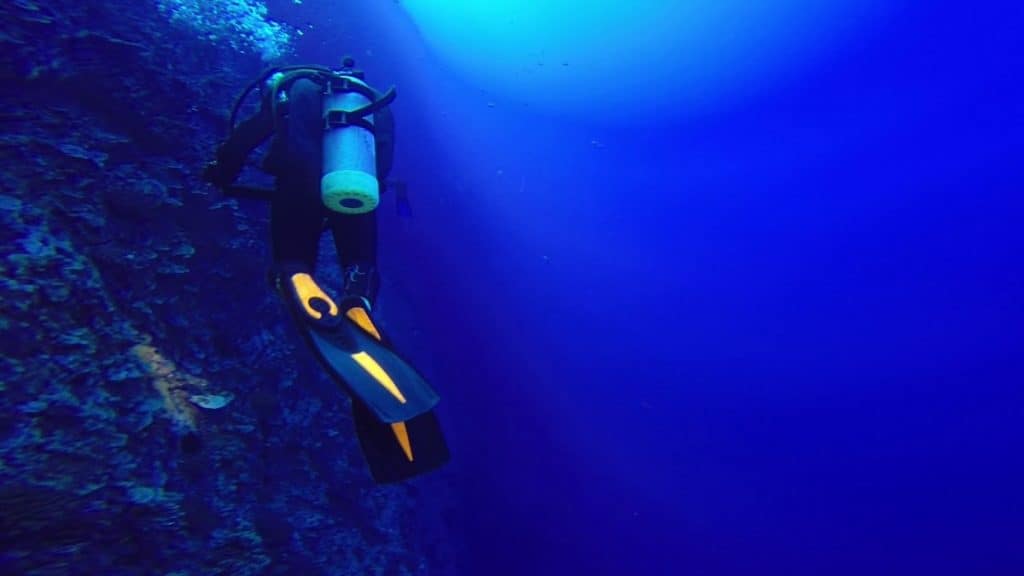 On top of the crystal clear water where visibility is constant at 30 meters (98 feet), conditions are highly conducive for diving since the crater has created a shelter against strong winds and waves. Descending to the vertical wall allows you to see a pristine reef with a thriving population of whitetip reef sharks. If it is your lucky day, you will not just hear the humming sounds of humpback whales, but see them underwater as they often pass by near the crater's back wall.
Lanai Island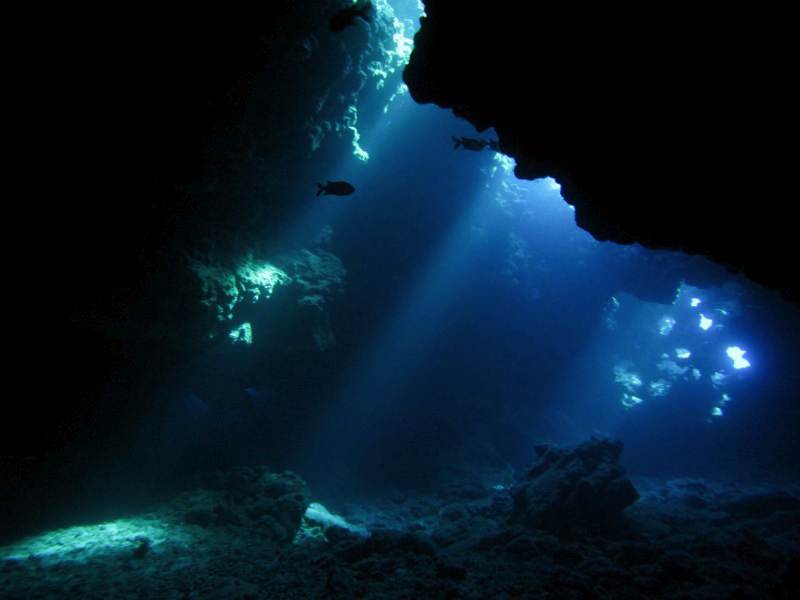 Also called as Pineapple Island, Lanai Island is another diving destination situated 13 kilometers (8 miles) west of Maui. The Cathedral is one of the most visited dive spots in Lanai. Here you can explore a cavern where its ceiling has lots of holes that allows both light and marine life to enter. The landscape outside the Cathedral is pretty impressive where you will be amazed by the 18 meter (60 feet) arch that presents itself as a great subject for underwater photography. We also recommend you explore the Monolith, especially if you are into multi-level diving. This dive site is characterized as a series of pinnacles with its highest point at 12 meter (40 feet) deep and the base at 24 meters (80 feet) deep.
Oahu: Home of Hawaii's Wreck Dives
Home to the famous Waikiki beach and once a playground for Hawaiian Royalty, scuba diving Hawaii Oahu is also a popular diving destination and this is the only Hawaiian island that allows you to go wreck diving.
Mahi shipwreck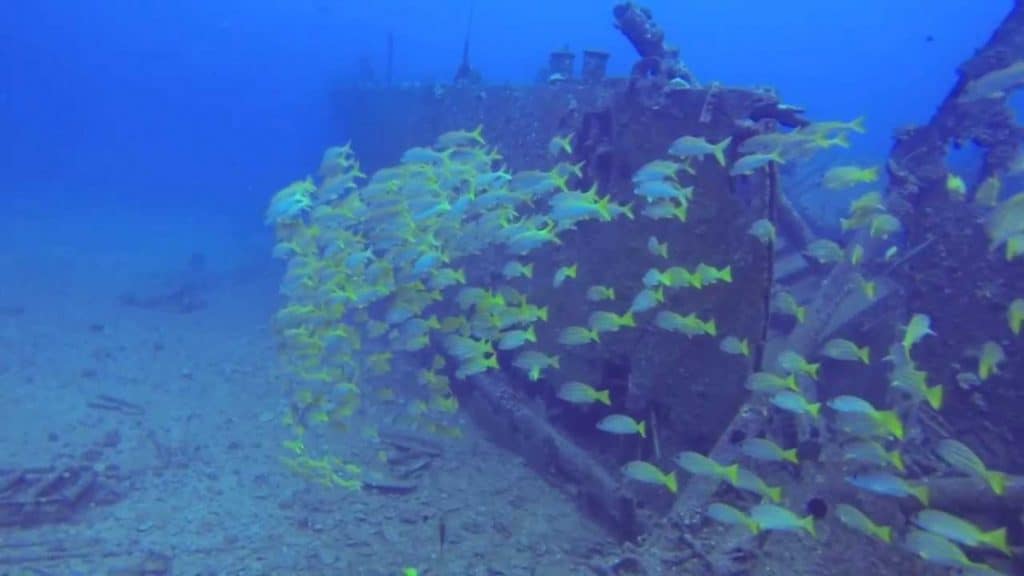 After serving the US Navy as a minesweeper, the Mahi was sunk in 1982 to become an artificial reef. The remains of this 63 meter (207 feet) long vessel now rest at 27 meter (90 feet) deep. Descending down to its structures allows you to see a school of eagle rays that are often seen swimming along the sides of the wreck while the mast post is populated with barracudas.
Corsair wreck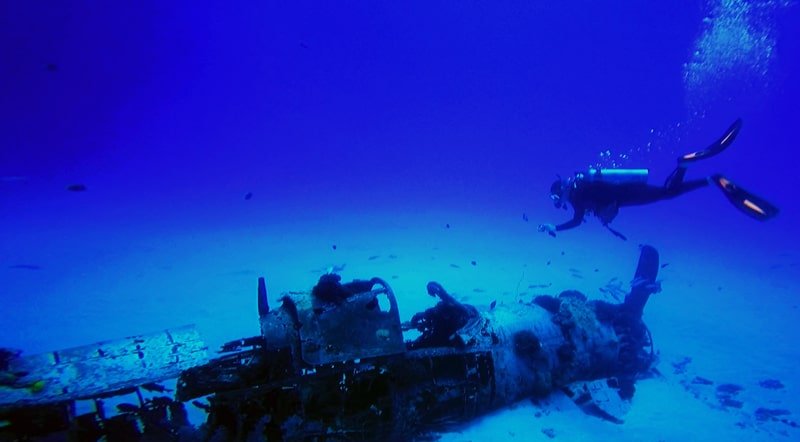 Unlike most wrecks in Hawaii scuba diving Oahu where they were intentionally sunk, the Corsair met an accident in 1946 that ended its fate. When the pilot ran out of air, he abandoned this small aircraft and crash into the waters of Oahu.
Resting at 32 meters (105 feet) deep, the Corsair is still intact and the structures have attracted an array of marine life like stingrays. It even has a nearby field of garden eels wherein its species is endemic to the Hawaiian islands.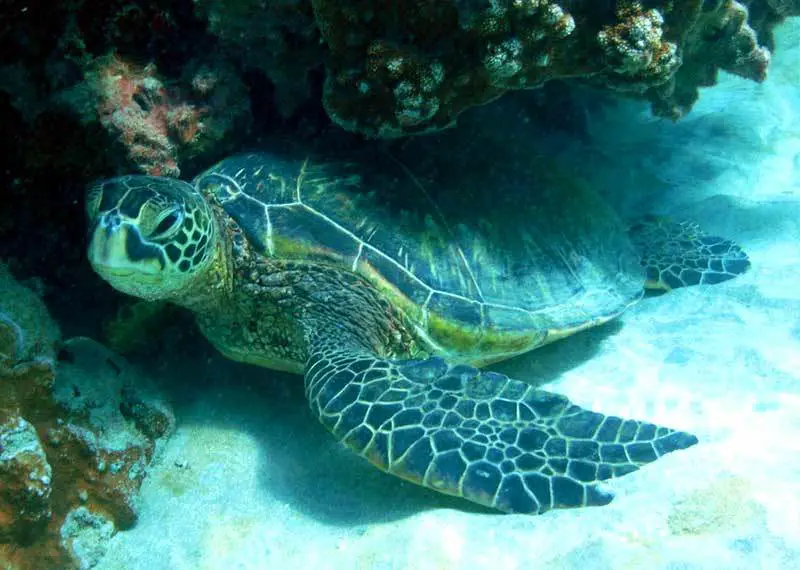 Other notable dive spots in Oahu are the green sea turtle enriched reefs of Hanauma Bay, the vibrant walls of Kahuna Canyon which is considered the underwater version of the Grand Canyon and the impressive Makaha Caverns.
Dive Shop Recommendation: If you are looking for scuba gear rental, tours or scuba certification, we highly recommend Honolulu Scuba Company.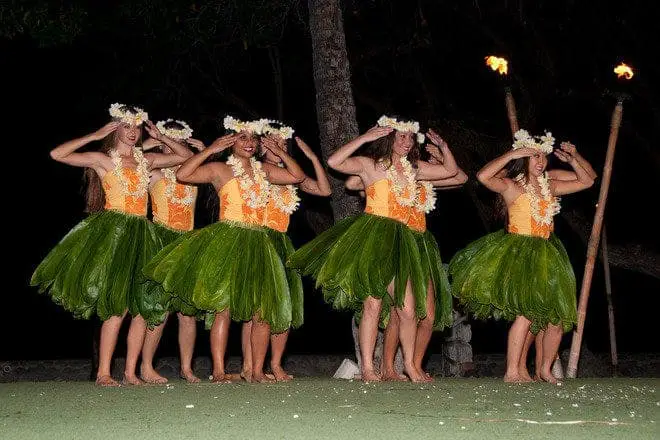 Sidetrip: While in Oahu, you may attend a luau which is a Hawaiian feast and the rite of passage for a tourist. Most hotels offer them right on the beach. The North Shore of Oahu is a great place to surf. If you don't surf, you can the gorgeous beaches of Pipeline and Waimea.
General Information about Hawaii
Capital city
Honolulu
Currency
US dollar
Official language
English and Hawaiian
Visa Required
No
Electricity Standards
110 V / US
Time Zone
GMT-10
Official tourist information website
www.gohawaii.com
Points of Interests
Big Island: Seahorse Farm and Volcanoes National Park

Maui: Snorkel at Black Rock, snorkel at Molokini Islands, visit Lahaina Island

Oahu: Waikiki Beach, attend a Luau, visit Polynesian Culture Center