Receiving an average of 80 million guests per year, France is the number one tourist destination in the world. Located in Western Europe, France has numerous tourist destinations like The Louvre which is the World's largest art museum and the iconic iron lattice structure of the Eiffel Tower. It also holds annual events that attract world attention like the century-old multi-stage bicycle race of Tour de France. If you haven't been to France, these are just some of the places and events you see on TV or on the web. But did you know that France is also one of the best places to dive in Europe?
With a hexagon-shaped landmass, diving in France is bounded by several bodies of water, namely: the North sea on the north coast, the English Channel on the northwest coast, the Atlantic Ocean on the west coast and the Mediterranean sea in the southeast. For us divers, the combination of France's water boundaries allows us to explore unique dive sites that are distinct in this part of Europe.
Diving Conditions in France
The weather in France varies according to region, but in general, it has a temperate climate with cool winters (from December to March) and mild summers (from June to August), with the exception on its Mediterranean coast where it has mild winters and hot summers. May to November is considered the best time to go diving. During these months, you can experience calm conditions and good visibility. Water temperature averages at 18°C (64°F) which tells you that the wearing of an exposure suit (with a thickness of 5 – 7mm) is required.
When it comes to dive sites, regardless of what body of water you choose, there's always a dive site in it. But perhaps, the French Mediterranean is probably the best place to dive in France, particularly in Hyeres Islands, Cerbère-Banyuls Marine Reserve, and the French Riviera. During summer, Corsica Island offers great diving as the parameters are highly conducive for underwater exploration.
Diving Conditions in France: at a Glance
| | |
| --- | --- |
| Ave. visibility | 10 – 30 meters (33 – 98 feet) |
| Ave. water temperature | 18°C (64°F) |
| Current | Strong, particularly in the southwest |
| Experience | For all levels of certification |
| Exposure Suit | 5 – 7mm |
| Type of diving | Wall diving, drift diving, cave diving, deep diving, and wreck diving |
| Marine life | Mola mola, cuttlefish, dentex, conger, black grouper, and loggerhead sea turtles |
| Corals | Some |
| Wrecks | Famous for its wrecks |
| Liveaboard | No, but recommended for the South of France |
| Best time to visit | May-November |
| Main diving area | The Mediterranean Sea, Brittany, and Corsica |
Best Dive Sites in France
French Mediterranean Diving
Also called as the French Riviera and located on the southeast coast of France, the French Mediterranean is the prime diving spot of France where you can explore over 200 dive sites.
The Wrecks of Cerbère-Banyuls Marine Reserve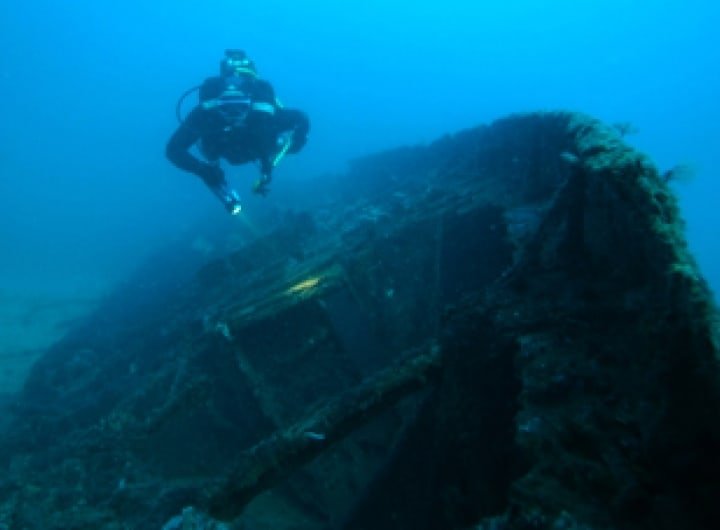 Aside from seagrass beds and coral reefs, shipwrecks are an attraction in the 650 hectare (1,600 acre) aquatic jurisdiction of Cerbere-Banyuls Marine Reserve which is considered as the first marine protected area in France. Most of the shipwrecks in Cerbere have two things in common. First is that they were all torpedoed and sunk in 1944, and second, they are all great diving spots.
First on the list is the 88 meter (289 feet) long French banana cargo vessel L'Alice-Robert. Due to the torpedo blast, the wreckage is broken into two parts. By descending down to 32 meters (105 feet) deep, you will see that the bow and the stern are separated apart with a distance of 200 meters (660 feet) from each other. Another shipwreck that you can explore is the S.S. Astree – a German cargo vessel carrying loads of fruits and pulp from Spain en route to Port Vendres in France. After being attacked by a British Submarine, she sank and her remains can be found 38 meters (125 feet) deep. Similar to SS Astree, the 79 meter (259 feet) long SS Saint Lucien is another shipwreck that you can explore. This cargo vessel was torpedoed while carrying a cargo load of fruits.
Scuba Diving Nice France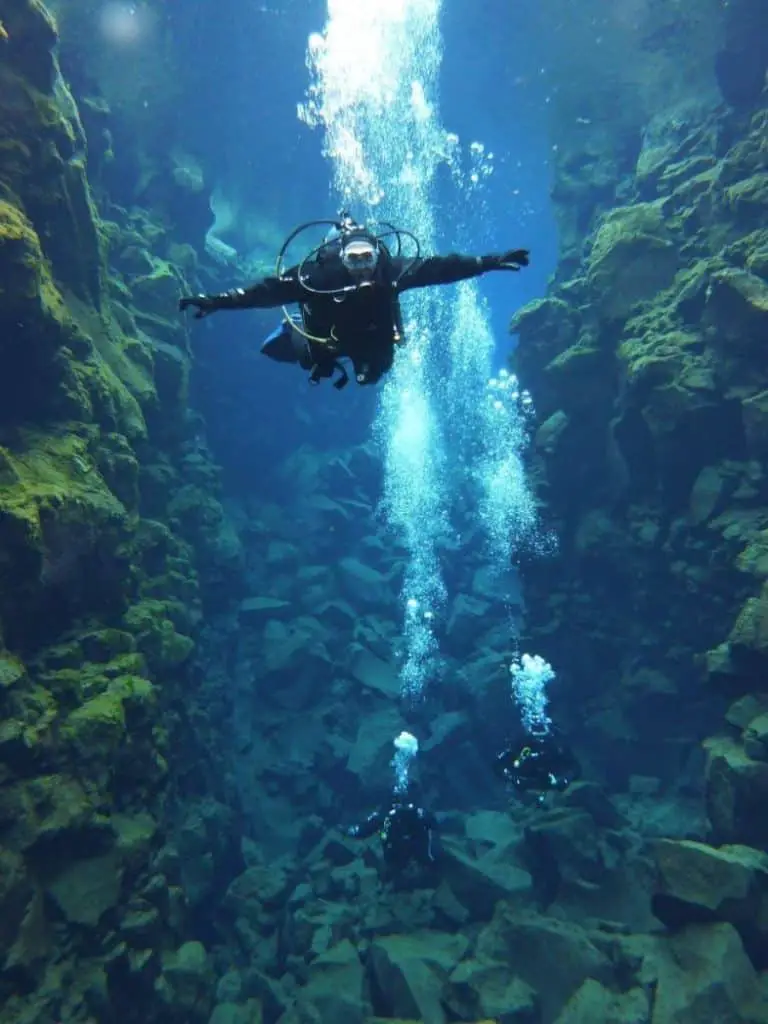 The City of Nice is a popular diving destination in France where you can explore over 40 dive sites. Off the coast in the residential area of Cap de Nice, you can explore 2 adjoining dive sites: Petit Tombant and Grand Tombant. Diving in Tombant will initially take you to a shallow reef at 6 meters (20 feet) deep that leads to a vertical drop that goes all the way down to 40 meters (131 feet). Within the vertical limestone structures are blue gorgonians, nudibranch and scorpionfish.
If you wish to go wall diving while interacting with big fish, we highly suggest La Grotte du Semaphore. For cave divers, you will be mesmerized by the caverns of neighboring Antibes.
Sidetrip: If you happen to be in Nice in October, we highly suggest you head 27 kilometers (17 miles) towards the south in a town called Juan Les Pins. This resort town is the host of the Annual Underwater Photography and Videography Festival.
Marseille Scuba Diving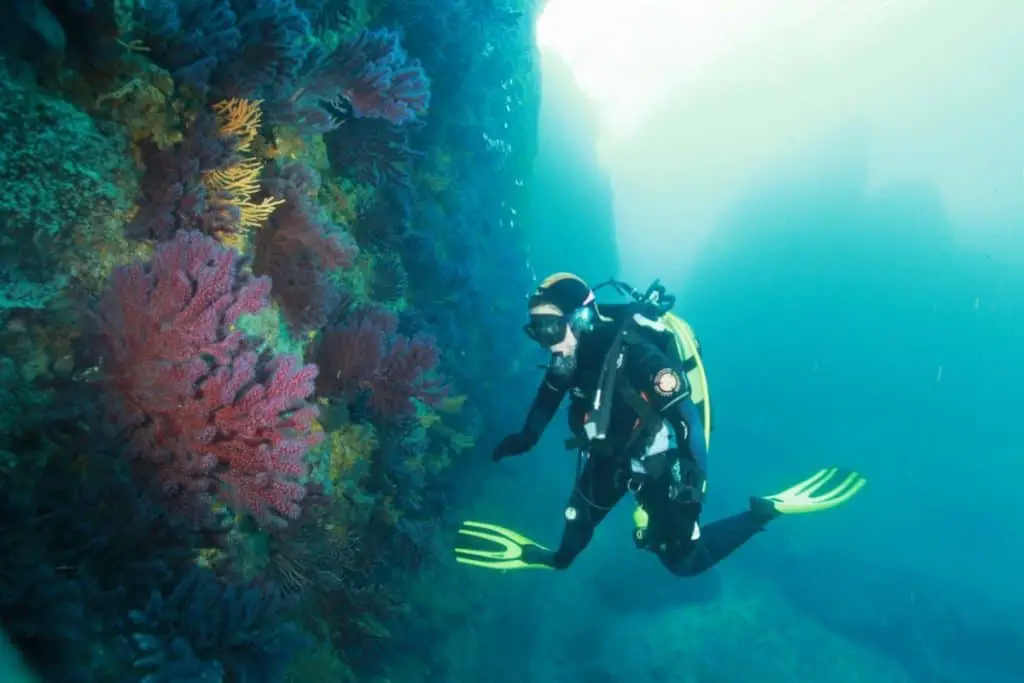 199 kilometers (124 miles) west of Nice is another diving destination in the French Mediterranean which is also the oldest City of France – Marseille. From its 57 kilometer (35 mile) long coastline, 24 kilometers (15 miles) are declared as a marine reserve under the Calanques National Park. Here, you can explore the 2 large rocky peaks of Les Farillons that has created an impressive dropoff. If you explore deeper in the walls of Les Farillons, you will arrive at the wreckage of Le Liban resting at 36 meters (118 feet) deep. Another wreck that you can explore is the Chaouen. Although it is not yet encrusted with corals and other marine life, exploring this 85 meter (279 feet) long vessel is worth a visit. Newbie divers can visit its upper deck at 10 meters (33 feet) deep while advanced divers can go deep diving up to 33 meters (108 feet) and explore the lower decks which are highly intact.
For drift divers, the Imperial is the place for you. Due to its strong current, you can explore 3 micro sites, namely: Imperial du large, Imperial de terre and the Imperial de mer. In general, these 3 micro sites create an amazing rock formation filled with red gorgonians. It has even created a vertical drop off that goes all the way down to 70 meters (230 feet) deep.
Other noted diving spots in the French Mediterranean are the Roman artifacts of St. Raphael, the wrecks of Donator and Le Grec in Hyeres and the grouper and barracuda enriched reefs of Port Cros Island.
Note: The French Mediterranean and other Scuba South France are best appreciated when you sign up with a liveaboard diving Mediterranean. It will give you access to all of the best dive areas in one itinerary.
Corsica: Mountain Above and Under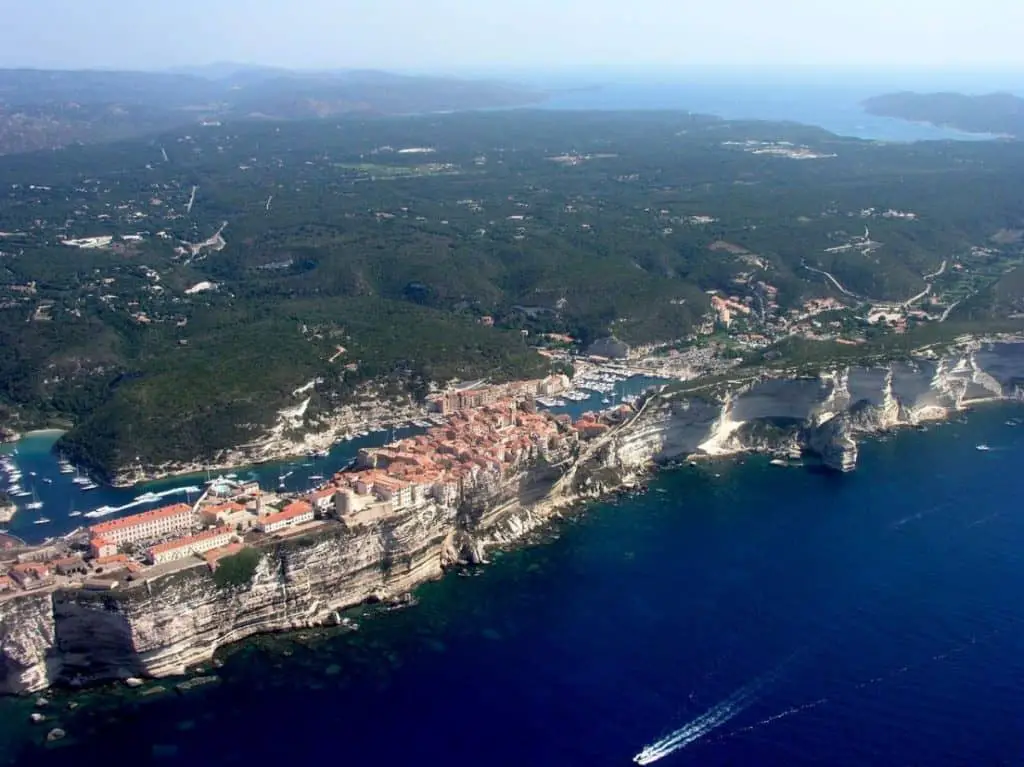 Diving in the French Mediterranean is not just confined with the mainland as it has offshore islands that feature stunning dive sites. Located 233 kilometers (145 miles) southeast of Nice is the island of Corsica. Dotted along its 998 kilometer (620 mile) long coastline are dive sites where its feature is similar to its mountainous land. You can go diving in sheer drop-offs, canyons, peaks and amazing rock formation.
The Wrecks of Alcione C, Boeing B17 and Canadair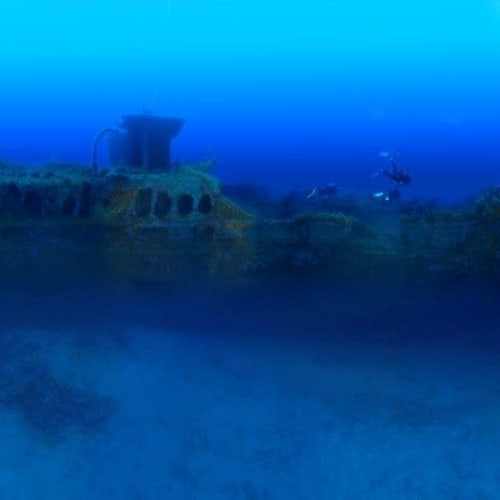 Given that France is a wreck diving haven in Europe, your wreck diving adventures is further amplified when you explore the underwater environment of Corsica as over 5 wrecks await your presence. Recommended only for advanced divers, Alcione C is a 54 meter (177 feet) long oil tanker that is now resting at 35 meters (115 feet) deep. While the structures have deteriorated over time, exploring this once mighty ship is worth the visit where you can see that the steel structures are covered with corals and sponges and have attracted an array of fish like groupers.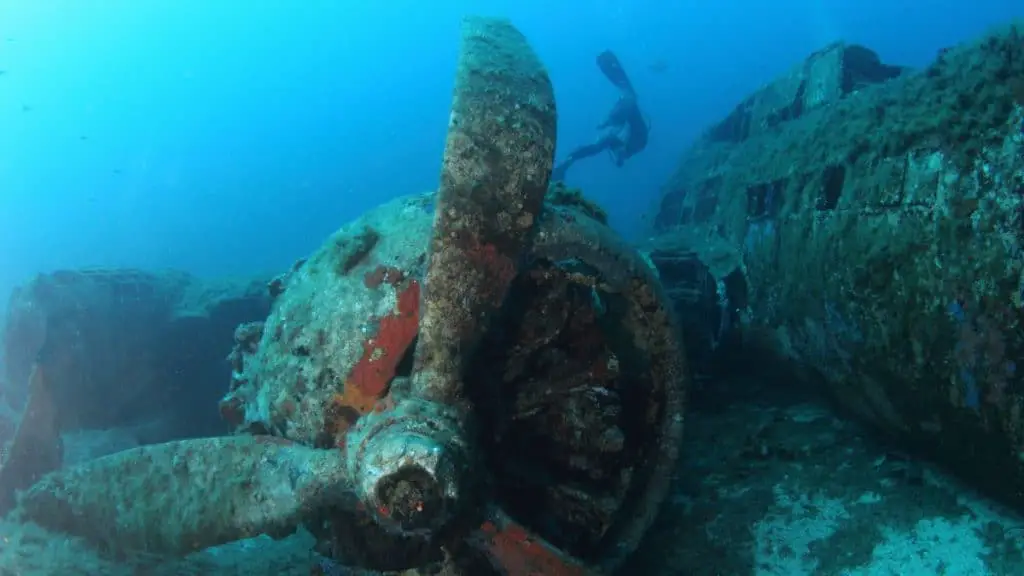 After being shot down by German Fighters during the Second World War, a Boeing B17 is now an artificial reef where its structures can be found at 27 meters (89 feet) deep. Descending to the wreck allows you to see an intact wing and a well-preserved cabin, bunker and cockpit. What used to be an aerial abode of military men, the Boeing B17 is now an underwater refuge for fish where you can see conger eels and moray eels taking refuge in its structures.
Canadair is another aerial fortress of the 70's that is now part of Corsica's artificial reef collection. After experiencing a technical problem, she plunged into the waters of Corsica where here remains now rest at 30 meters (98 feet) deep. The good thing with its impact in the water is that it has less damage where you can see the wreckage still intact and has become the refuge of marine critters like lobster and nudibranch.
La Revellata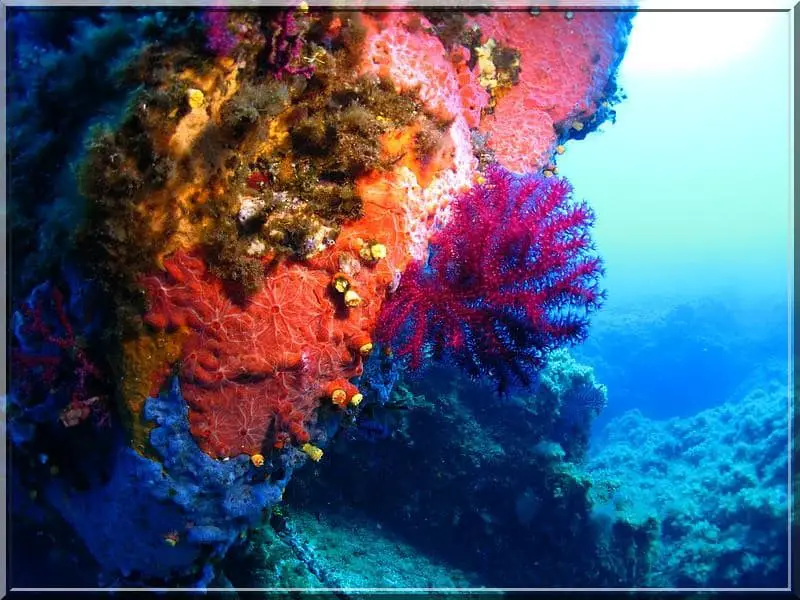 Situated inside the Scandola Nature Reserve are the underwater canyons of La Revellata. These underwater canyons are wide and sloping with a depth ranging from 15 – 35 meter (49 – 115 feet) deep. As you cruise over the reef flat, you will come across small caves and tunnels where its outer rims are filled with groupers, moray eels, scorpionfish, sea bass, and lobsters. Diving in La Revellata also allows you to see several species of rays like the devil rays, Mobula rays, eagle rays, and stingrays.
Merouville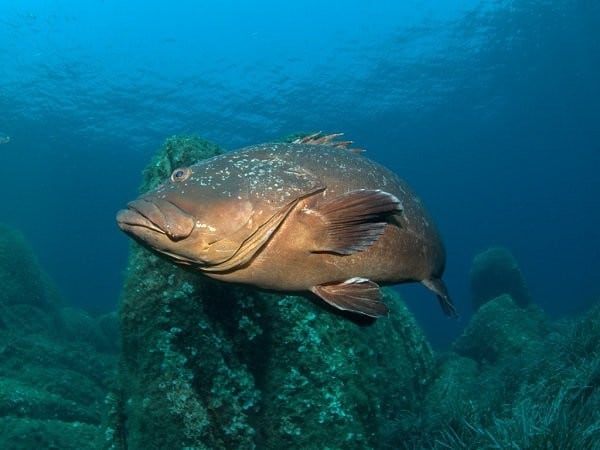 Also called as Peelu Shoal, Merouville is a unique dive spot in Corsica since it has a signature species: large groupers. Located in Lavezzi Island Nature Reserve, diving in Merouville allows you to see a reef with 3 rocky plateaus at different levels ranging from 16 to 30 meters (52 – 98 feet) deep. Within this various level of reef flat, you can find a healthy population of large groupers that have been accustomed to a diver's presence. These groupers are so used to divers that they usually come near to your dive group and present themselves for a petting touch (just like what we do to our dogs).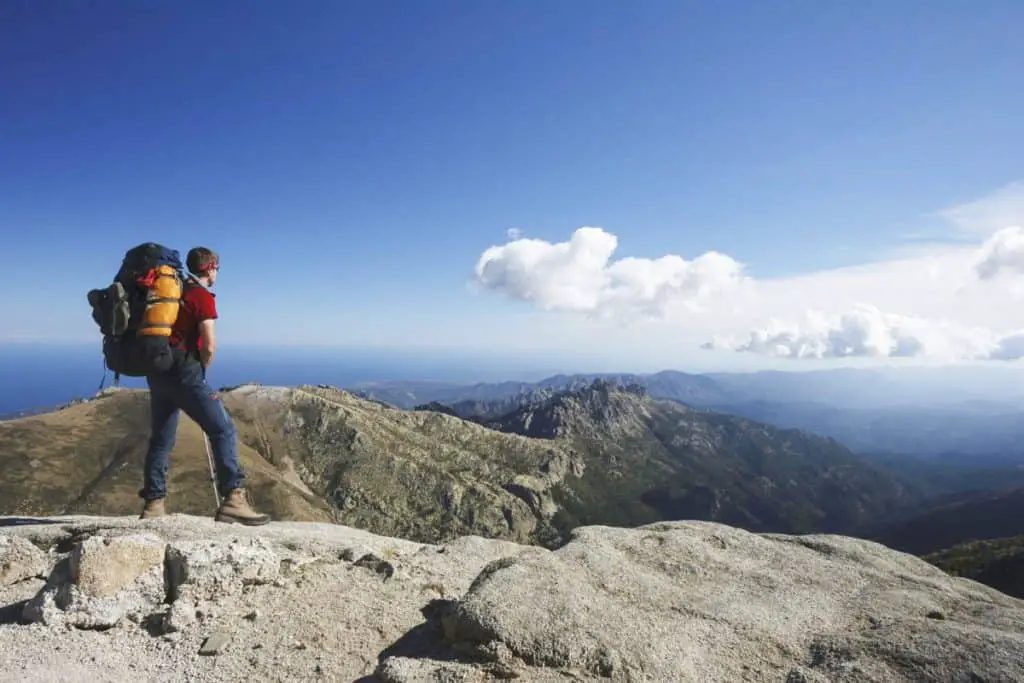 Sidetrip: The island of Corsica is hiker's paradise in Europe and walking maps are readily available in all tourist offices. In general, the hiking trails in Corsica will usually start from the coast and ends at one of the several mountain peaks which has a great panoramic view of the surrounding.
Brittany: Rugged Coastlines and Awesome Dives
Brittany occupies a large peninsula in northwest coast France between the English Channel and the Bay of Biscay. It has rugged coastlines with scenery that is considered as one of the world's best views. It is a popular vacation spot for its history, as well as for water sports like kayaking, canoeing, sailing, surfing and, of course, scuba diving.
Iroise Sea and the Wreck of Amoco Cadiz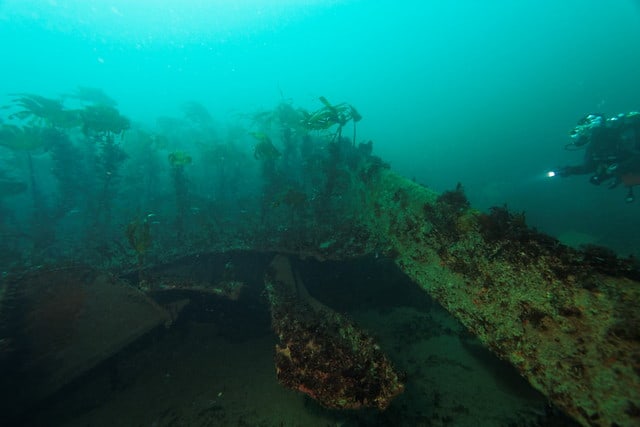 Considered as one of the most dangerous seas in Europe where it experiences violent storms and huge waves during winter, it is no wonder why the Iroise Sea is a graveyard for shipwrecks. But during summer, the rough seas subsides into calm water making wreck diving highly conducive.
Considered as the biggest shipwreck in the world, the Amoco Cadiz is a classic example of a beautiful disaster. This 334 meter (1,096 feet) long oil tanker ran aground 5 kilometers (3 miles) offshore of Britanny in the shallows of Portsall Rocks. Due to the constant pounding of big waves, this supertanker broke into three parts releasing 220,880 metric tons of oil. Considered as the largest oil spill known to mankind, it has caused a large marine disaster killing 2,000 marine birds and virtually anything that is living underwater.
Fortunately, after massive cleanup, marine life was able to bounce and the remains of the oil tanker is now an artificial reef. You can explore this wreck by descending down to 15 meters (49 feet) and see that the structures are now encrusted with kelp and other marine plants.
Other shipwrecks that can be explored in Iroise Sea is the escort ship Hinrich Hay that sunk in Saint Malo after being hit by a torpedo in 1944, the picturesque Canons du Rhone wreck which can be accessed through shore diving and Le Kleber which is an armored cruiser that hit a mine in 1918.
Morbihan Gulf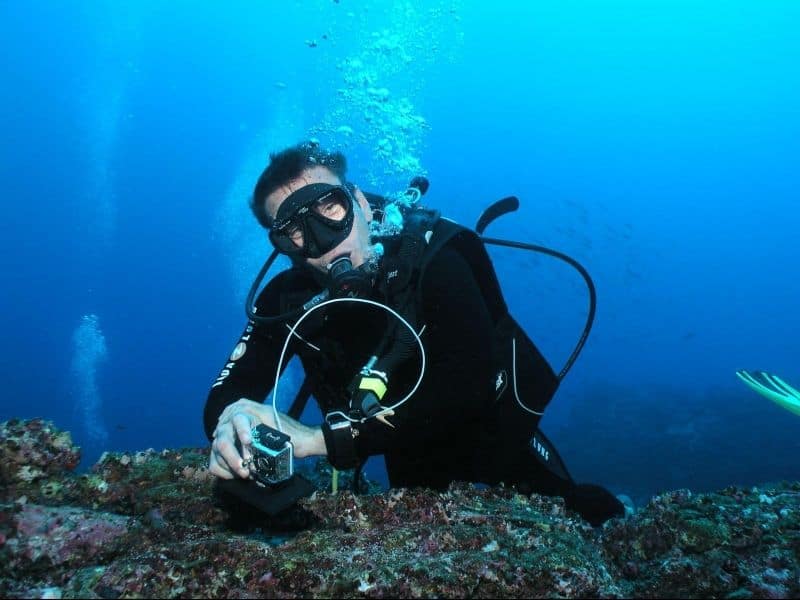 If you are into drift diving, then we highly suggest you head south of Brittany in the Gulf of Morbihan. Your dive usually starts at the Gulf's entrance where you will ride along moderate to strong current with an average speed of 2 knots. Since this is a long-distance dive, your dive will a kilometer away at Les Gorets which is famous for its orange gorgonians.
General Information about France
Capital city
Paris
Currency
Euro (EUR)
Official language
French
Visa Required
No, for visits of 90 days or less
Electricity Standards
230 V /50 Hz
Time Zone
GMT +2
Official tourist information website
www.franceguide.com
Points of Interests
The Mediterranean Sea: Hiking Port-Cros National Park, Matisse Museum, Nice and Picasso Museum, Antibes

Brittany: Océanopolis Aquarium, Nantes Cathedral, Grand Phare (Great Lighthouse)

Corsica: Hike to Monte Cinto, windsurfing and sailing.