Exhibited on both land and underwater, Ecuador is a country with vast natural wealth. Located in the northwestern section of South America, Ecuador is one of the 18 megadiverse countries in the world where it has many endemic plants and animals. Due to its immense natural resources, the Ecuadorian government has placed all efforts in protection and conservation by incorporating in its 2008 constitution the Rights of Nature and implemented through a national plan called Buen Vivir which means good living.
Revising the words of spiderman: with great resources comes great ecotourism. Yes, those are the words that you might say if you see the bounty of nature in Ecuador. This is especially true if you go scuba diving where the quantity of life is multiplied by the thousands.
Although there dive sites in the mainland like Manabi Ecuador, diving in Ecuador will primarily take you to the Galapagos Islands. Situated 960 kilometers (596 miles) west offshore from mainland Ecuador, the Galapagos Islands are a volcanic archipelago and is considered the world's second-largest marine reserve and one of the Seven Underwater Wonders of the World. The popularity of the Galapagos Islands started when English Naturalist and Biologist Charles Darwin visited in 1835. With Galapagos' high incidence of endemism, Darwin then finalized and published his Theory of Evolution and Natural Selection.
Diving Conditions in Ecuador
The climate in Ecuador is highly varied. Areas in the mountain valley experience mild weather while the coastal and offshore areas have a humid subtropical climate. Scuba diving is a year-round activity in Ecuador. But if you want to experience the best conditions, June to December is considered the best time to go diving. During these months, visibility is clear ranging from 15-20 meters (49-66 feet). Take note in advance, that while Ecuador is situated in the equator, water temperature is relatively cold. This is particularly true when you go diving in the offshore islands of the Galapagos. With an average water temperature ranging from 21-25°C (71-78°F), this could drop down from 5-10°C (41-50°F). You have to remember, especially if you will go scuba diving Galapagos, that its surrounding waters are influenced by the Humboldt current. Coming in from the south, this fast-moving current is a result of deep upwelling which creates cold and nutrient-rich water.
Diving Conditions in Ecuador: at a Glance
| | |
| --- | --- |
| Ave. visibility | 15-20 meters (49-66 feet) |
| Ave. water temperature | 21-25°C (71-78°F) and may drop down to 5-10°C (41-50°F) during La Nina |
| Current | Strong, depending on the area |
| Experience | For experienced divers only, especially in Galapagos |
| Exposure Suit | 5-7mm with hood and gloves (drysuit during La Nina) |
| Type of diving | Drift diving, boat diving, deep diving and night diving |
| Marine life | Whale sharks, Galapagos penguin, Galapagos shark, Galapagos bullhead shark, silky shark, scalloped hammerhead shark, great hammerhead shark, smooth hammerhead shark, Galapagos drumfish, Galapagos croaker, Galapagos grunt, Galapagos thread herring, bicolor false moray, Galapagos mullet, narrow-headed pufferfish, stalk-eye scorpionfish, sailfin grouper, starry grouper, milky sand stargazer, shortfin sand stargazer, Galapagos razorfish, rough bar frogfish, bloody frogfish, bandtail frogfish, diamond stingray, pacific seahorse, spotted eagle ray, Pacific manta ray, Chilean Mobula, sunfish, southern whitetail major, Moorish idol and the Galapagos marine iguana. |
| Corals | Some |
| Wrecks | No |
| Liveaboard | Yes, especially for Galapagos island |
| Best time to visit | June-December |
| Main diving area | Manabi Province in mainland Ecuador and the Galapagos Islands |
Best Dive Sites in Ecuador
Manabi
Situated 380 kilometers (236 miles) west of the Capital City of Quito, Manabi is a coastal province in Ecuador. Facing the mighty Pacific Ocean, Manabi is the prime dive destination in mainland Ecuador.
Puerto Lopez Ecuador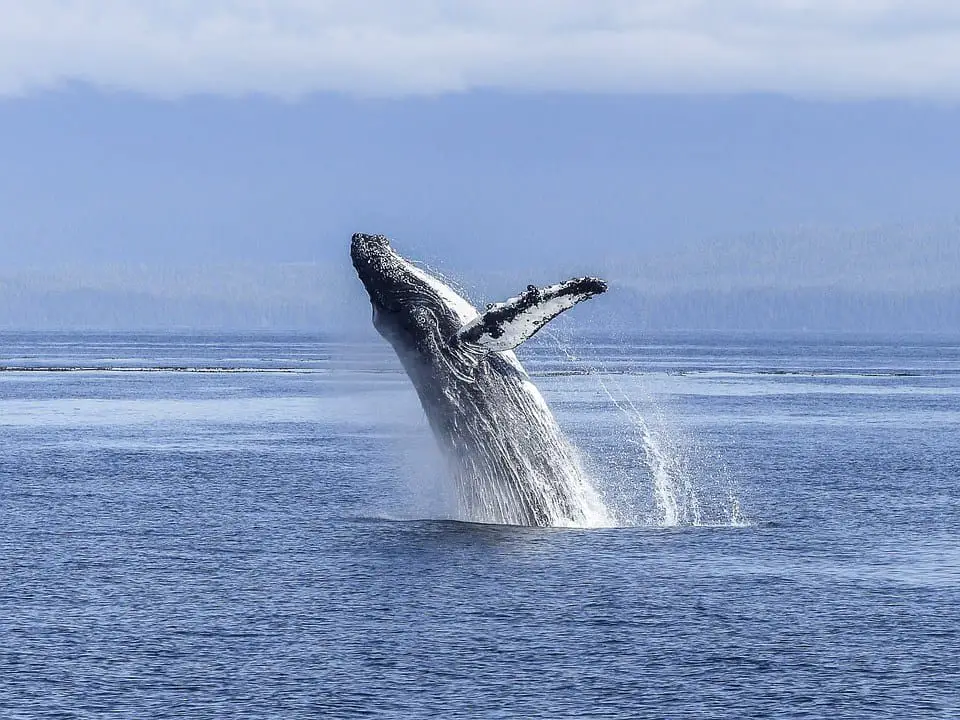 Aside from being popular for whale watching where humpback whales flock this part of Ecuador from June to September to mate, Puerto Lopez is also popular for scuba diving. This small fishing village that has an arch-shape bay has nearby dive sites and is also your gateway to offshore dive sites.
The reefs in Puerto Lopez are shallow with an average depth of 20 meters (66 feet). Exploring its reef allows you to see a sparsely covered coral reef but is compensated by the quantity of reef fish like snappers, fusiliers, stingrays and large animals like manta rays and sea turtles. If you are diving in Puerto Lopez anywhere from June to September, expect that you can hear humpback whale sounds while underwater.
Isla de la Plata Ecuador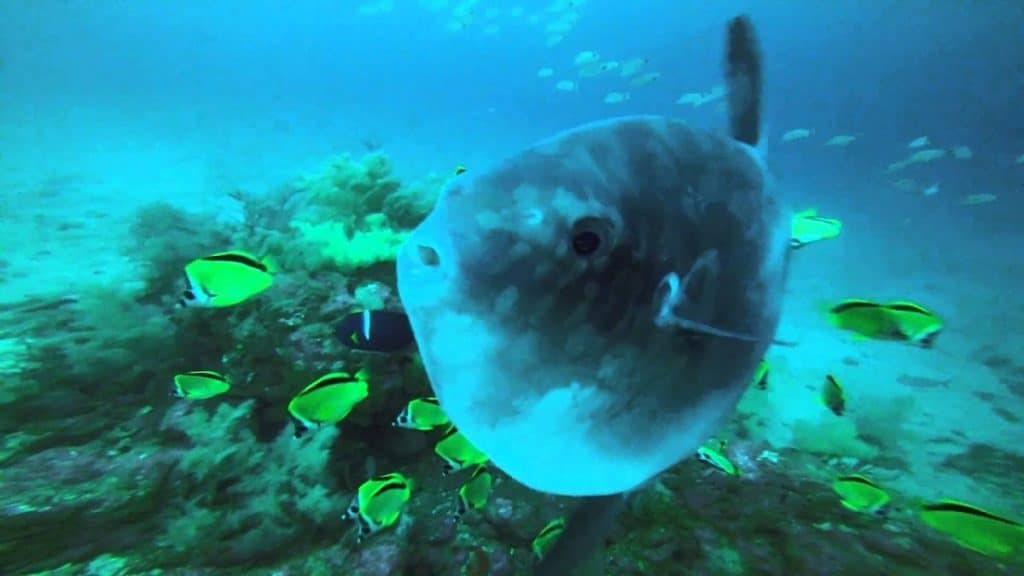 42 kilometers (26 miles) northwest offshore from Puerto Lopez is the poor man's Galapagos of mainland Ecuador – Isla de la Plata. Also called the Island of the Silver, Isla de la Plata diving allows you to see almost the same marine life in the Galapagos, but in a cheaper way since it is located near the shore. Underwater, you can see sunfish, schools of jacks, manta rays and an array of shark species like the whitetip reef sharks, while blue-footed boobies and frigate birds are thriving on its landmass. This is also one of the best spots to go snorkeling in Ecuador since the waters surrounding Isla de la Plata are calm and do not have a strong current.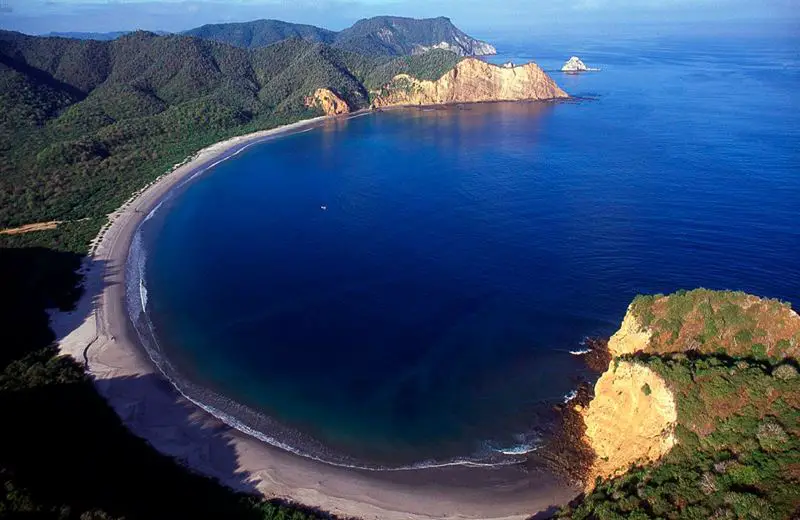 Sidetrip: visit Machalilla National Park, go humpback whale watching or hiking in Isla de la Plata where you can choose over 2 established routes.
Galapagos Islands
The Galapagos Islands is an archipelago composed of 21 volcanic islands situated 1,077 kilometers (669 miles) west of Puerto Lopez in mainland Ecuador. It is here that Charles Darwin gained enough knowledge and evidence that supports his famous scientific theory. So if you want to see what Darwin saw when he set foot on the island in 1835, allow us to take you to a Galapagos diving underwater tour courtesy from its famous diving sites.
Wolf Island
Wolf Island is one of the world-famous dive sites Galapagos that occupies the northwestern section of the Galapagos Islands and is named from the famous German geologist Franz Theodor Wolf who studied the islands during the late 19th century. It has a land area of 1.3 square kilometers (0.5 square miles) that is populated with frigatebirds, red-footed boobies, vampire finch that feeds on blood from other birds and marine iguanas on the shore.
Underwater, marine life is flourishing where you can choose from 3 spectacular dive sites. You can either explore Landslide which is a large pile of boulders, the enticing swim-throughs of The Caves where the walls are covered with white soft corals and Shark Bay.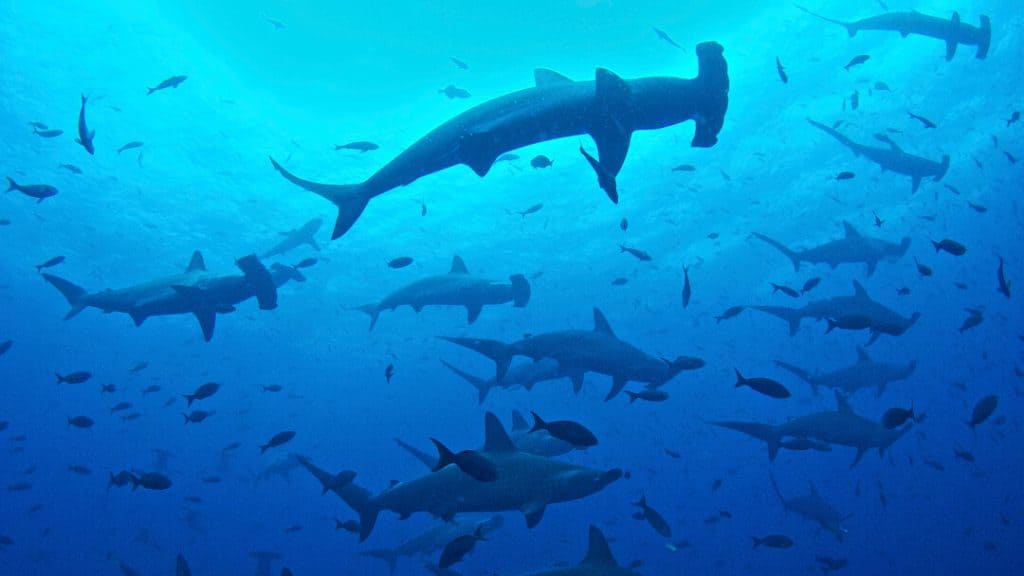 Among the 3 dive sites, there are several common factors. First is that you will go drift diving over moderate to strong current. Second is the immensity of fish where jacks, wahoo, and grunts that swim in a thick school are a common attraction. Third are sharks, particularly hammerhead sharks that go by the hundreds.
Darwin Island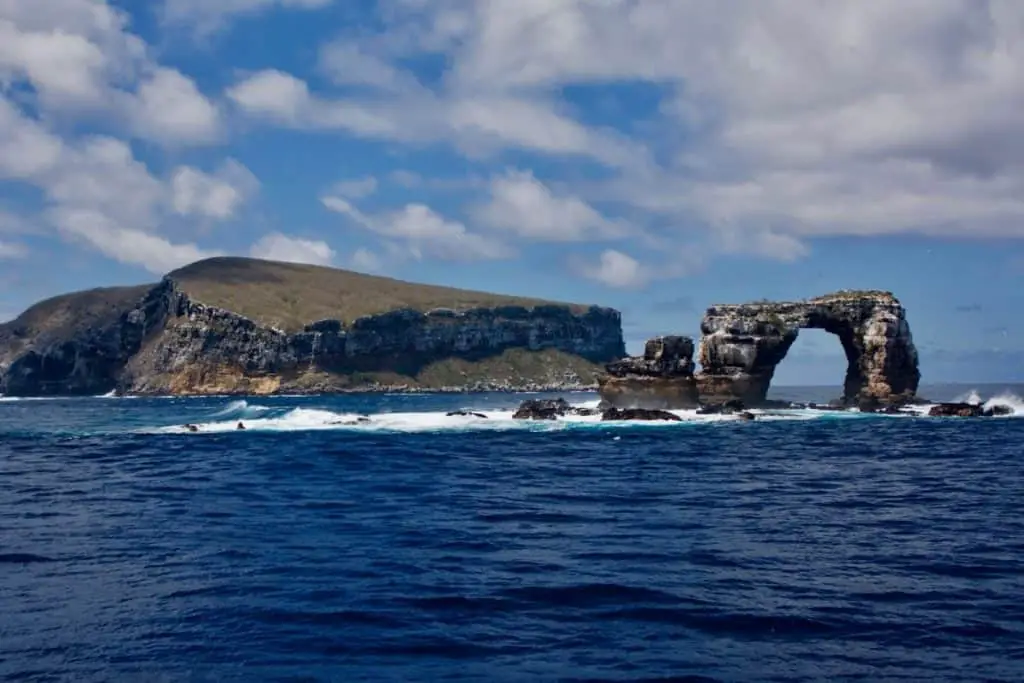 Also known as Culpepper Island, Darwin Island is another world-class diving site in the Galapagos that is situated 39 kilometers (24 miles) north of Wolf Island. Similar to Wolf Island, its landmass with an area of 1.1 square kilometer (0.42 square miles) is populated with marine birds like frigate bird, swallow-tailed gulls, red-footed boobies and reptiles like marine iguanas.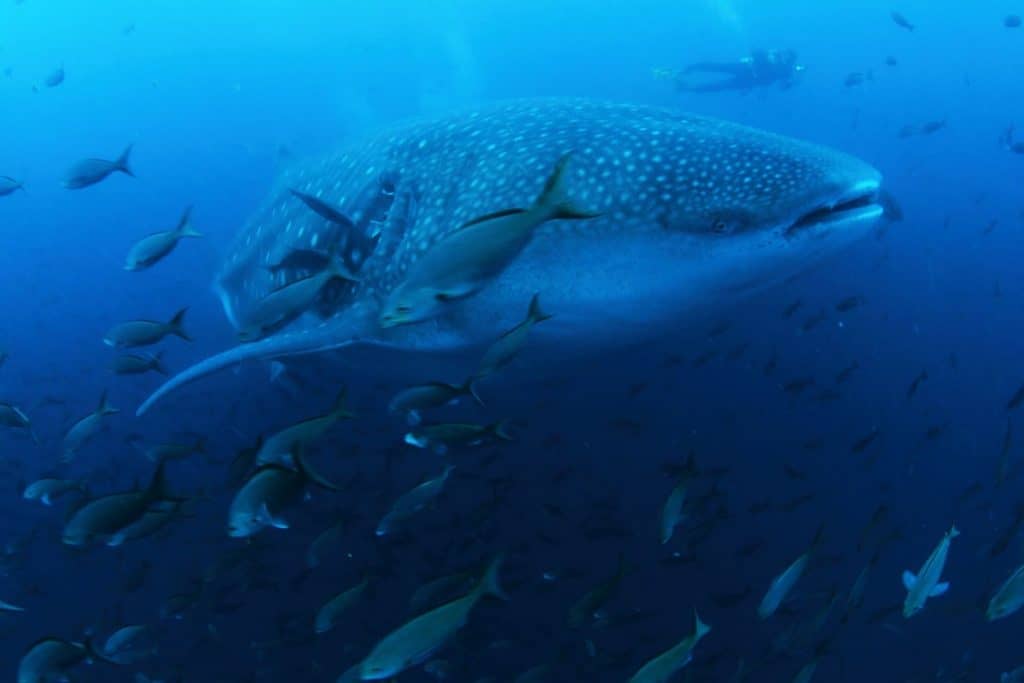 Scuba diving in Darwin Island will take you to the southeastern coast in the towering structure of Darwin's Arch. While the waters are constantly choppy in Darwin's Arch, your entry point is usually from the deep open water then swim underwater towards the rocky structure. As you start descending, you will instantly be greeted by an array of marine life like angelfish, triggerfish, and fusiliers. As you reach the rocky surface, big boys will start to appear where you can see an array of shark species like Galapagos sharks, silky sharks, whitetip reef sharks, and schooling hammerheads. If you happen to be diving in Darwin's Arch from June to October, then expect to see the biggest fish in the world as whale sharks are passing by on this island.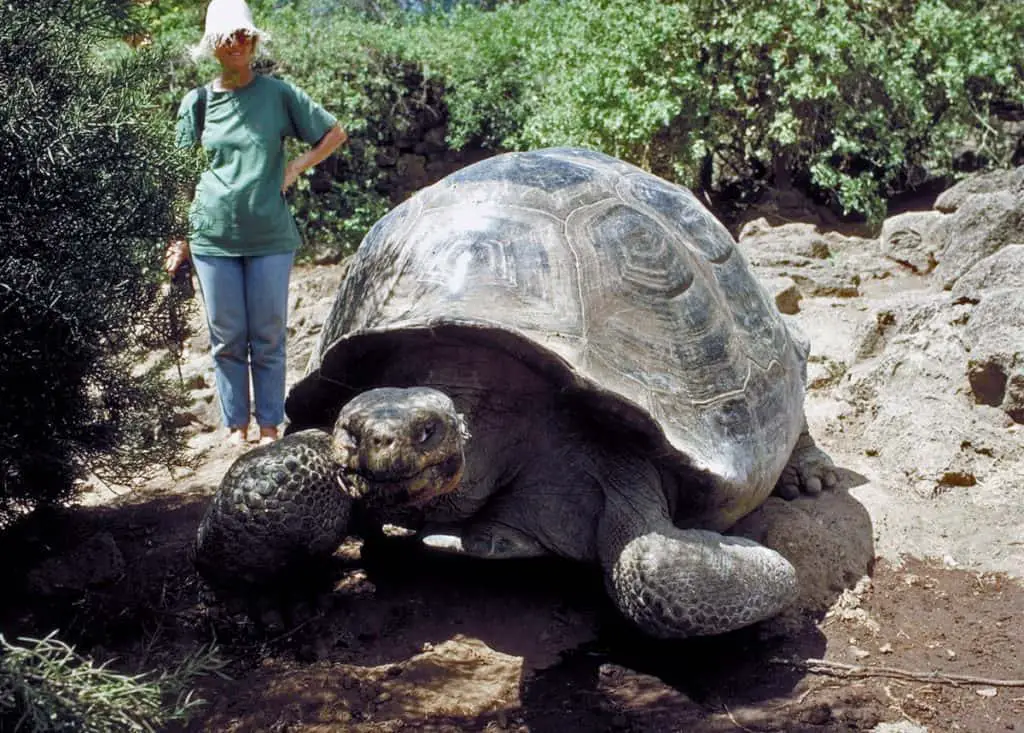 Sidetrip: visit Charles Darwin Station in Puerto Ayora, Santa Cruz Island, hike in the Twin Tunnels and Lava Tunnels and visit the Galapaguera Sanctuary in San Cristóbal to see the Galapagos tortoises.
Galapagos liveaboard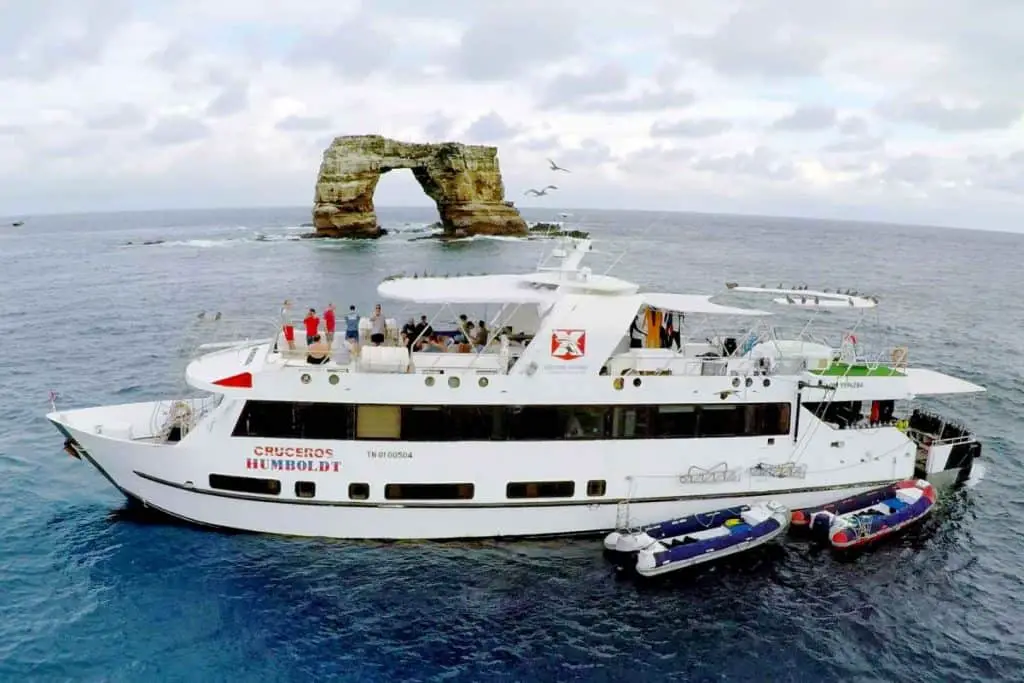 While the Galapagos Islands seems to be the perfect diving destination, you have to take note that due to its offshore location and isolation, going there takes a lot of logistical preparation. To get rid of this logistical nightmare (like where to stay and sleep in Galapagos, scuba equipment needs, foods and a lot more), we highly suggest you sign up with one of the Galapagos liveaboards. Galapagos diving liveaboard will comfortably accommodate you onboard where you can treat this as your floating hotel and set sail for a 7 or 10-day dive safari adventure.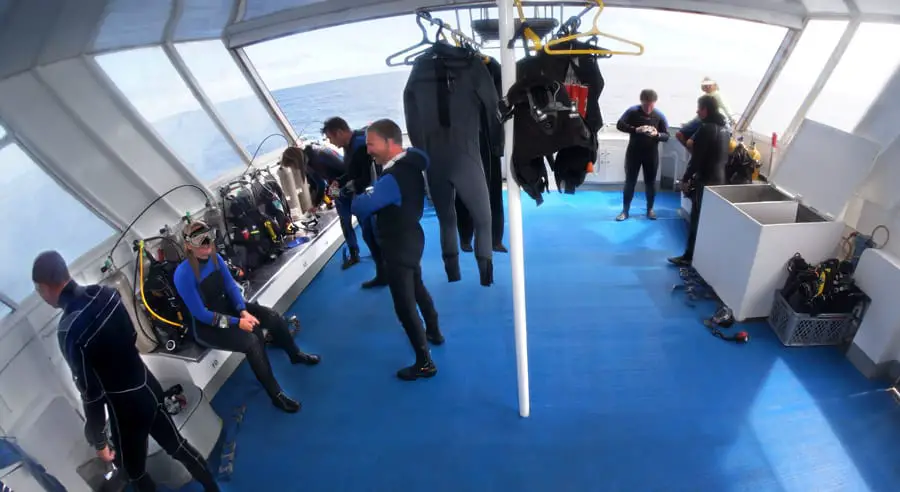 Sailing from mainland Ecuador going to the Galapagos Islands takes 14 hours. While sailing, you can either relax at your cabin, talk to fellow divers at the saloon or prepare your equipment at the dive deck. Everything you need is provided onboard like foods and diving needs like equipment, tanks, and weights. These vessels will take you right at the doorstep of Galapagos' popular dive sites and all you need to do is just enter the water. Everything is taken care of.
Capital city
Quito
Currency
US dollar
Official language
English
Visa Required
No, for visits of 90 days or less
Electricity Standards
110 V / US
Time Zone
GMT -5
Official tourist information website
www.galapgosislands.com
www.ecuadortravel.com
Points of Interests
Galapagos Islands: Charles Darwin Station, Twin Tunnels, Lava Tunnels and the Galapaguera Sanctuary