If we talk about Spain, what immediately comes to our mind are bullfights and flamenco. What people forget, but we divers don't is that Spain is a diving paradise in Europe. For one thing, Span is surrounded by bodies of water: the Cantabrian Sea on the north, the Mediterranean Sea on the east, and the Atlantic Ocean on the west and south. As a result, Spain has miles and miles of coastline that is dotted with world-class dive sites. In particular, scuba diving Canary Islands is a big attraction to dive enthusiasts around the world. Important to realize these islands are in the Atlantic near the coast of Africa.
Diving Conditions in Spain
In general, Spain has an average water temperature of 21°C (70°F). However, due to its unique geographical setting, the major diving destination in Spain has its own set of parameters that may affect the performance and satisfaction of your dive. A great example of this is visibility wherein the mainland you can expect poor to moderate conditions, the waters in the offshore islands are predominantly crystal clear.
Spain has a variety of dive sites. The north coast (represented by Galicia, the Basque Country, and Asturias) has a cold water environment. During summer, water temperature plays at 18°C (64°F) and drops down to 12°C (54°F) in winter. While the diving conditions on the north coast are demanding, it is also rewarding where you can explore over 20 amazing dive sites that are known for its shipwrecks and underwater mountains.
The northeastern coast, where Costa Brava is situated, water temperature ranges from 23 to 27°C (73-81°F) and visibility is generally clear. Scuba diving in Costa Brava for beginners is very popular courtesy from its shallow and easy dive sites that are scattered in its 256 kilometers (159 miles) long coastline. Diving in Costa Brava will allow newbie divers to explore the magnificent shallow reefs of the Mediterranean.
At the southern tip of Costa Brava is another attraction – scuba diving in Spain Barcelona. The Capital City of Catalonia has over 7 dive sites where you can explore the submerged mountains of Begur, the coral gardens of Can Roviralta and the seabeds of Nudi Roca. In case you need to book for a dive tour or rent gear, there are several dive shops like 4alldivers Barcelona where their Spanish and English speaking dive pros can assist and provide all your needs.
For the best diving conditions in mainland Spain, the southern coast and the dive sites that are situated near the Strait of Gibraltar are the best. While the average temperature is chilly at 18°C (64°F), other diving conditions are mild like calm and clear waters. The intersection between the Strait of Gibraltar and the Mediterranean Sea is where most of the mainland dive sites are found like Cabo de Gata Spain, scuba diving Malaga, Cabo de Palos diving and scuba tours Benalmadena.
With all the dive sites' general information laid down, there are 2 more things that you should know. First, March through November is considered the best month to go diving in Spain. Second, prices for scuba diving in Spain are cheap. For a European diver, it is less expensive to travel and dive in Spain when compared to the Red Sea standards. Further, diving in Spain is ideal for long weekends.
Diving Conditions in Spain: at a Glance
Ave. visibility
Mainland Spain: 3-30 meters (10-100 feet)
Canary Islands: 20-30 meters (60-100 feet)
Ave. water temperature
21°C (70°F)
Current
Calm to Moderate
Experience
All levels of certification
Exposure Suit
at least 5mm
Type of diving
Wall diving, drift diving, deep diving, cave diving, shore diving
Marine life
North Atlantic snapper, indigo damselfish, blue stingray, silver jacks, loggerhead sea turtles, hawksbill sea turtles, green sea turtles, Kemp´s sea turtles, short-finned pilot whales, bottlenose dolphin, Mediterranean monk seal, angel shark, channel rockfish, African armored searobin, common stingray, eagle rays, roughtail stingrays, round stingrays, spiny butterfly rays, marble torpedo ray, almaco jacks, white breams, zebra breams

Endemic to the Canary Islands: mottled grouper and the Canary island lobsterette
Corals
Some
Wrecks
Some
Liveaboard
No, but recommended for the Canary Islands
Best time to visit
March to November
Main diving area
Murcia, Balearic island, Catalonia, Canary islands
Best Dive Sites in Spain
Murcia: Visit Las Hormigas Marine Reserve
Murcia is located on the southeastern coast and is one of the many fertile lands of Spain that supports its agriculture-based economy. In fact, the majority of its agricultural lands are orchards or vineyards called Huertas.
The fertility of Murcia is not just limited on land, but also in its underwater environment and this underwater fertile characteristics are best exemplified in Las Hormigas Marine Reserve. Considered by many divers as one of the best dive destinations, not just in Spain but in Europe, this offshore marine protected are has over 70 dive sites that are scattered in a 250 kilometer (155 miles) along the coastline. Situated 3.7 kilometers (2.3 miles) northeast of Cabo de Palos, Las Hormigas is actually an underwater island and only a couple hills surface out of the water with a maximum elevation of 13 meters (43 feet) above sea level.
Bajo de Dentro
This underwater mountain is considered one of the most desired diving spots in Islas Hormigas. From the seafloor at 40 meters (131 feet) deep, it rises near the surface water with a minimum depth of only 3 meters (10 feet) making this an ideal spot for newbie divers. The limestone structures are covered with green and brown algae with some gorgonians sticking out of this algal bed. For experienced divers, you can either go cave diving at the north side where you can see a grouper-filled cave or go deep diving up to 30 meters (98 feet) deep in an area called Bajo de Dentro Calles Las Agujas.
Bajo de Piles

Bajo de Piles are two neighboring underwater mountains that can be explored in just a single dive. The initial part of your dive will take you to Bajo de Piles 1 where you will be amazed by its towering structure. This 75 meters (246 feet) long underwater mountain rises from the seafloor at 27 meters (89 feet) deep and goes all the way up just before the surface at 8 meters (26 feet) deep. The remaining part of your dive will take you to Bajo de Piles 2 where this bread loaf-shaped reef is loaded up with a healthy population of barracudas.
Sidetrip: Murcia is a good spot for strolling and sightseeing. It is famous for its cathedrals and museums. Another thing that we should not fail to mention is the food. The food is great and you should indulge yourself in a gastronomic feast while in Murcia.
The Balearic Islands: Scuba dive in Cala Rajada Marine Reserve
The Balearic is an offshore archipelago of Spain that sits right at the heart of the Western Mediterranean Sea. Composed of 4 major islands and surrounded by numerous islets, the Balearic Islands is a popular tourist destination. Aside from the central attraction in the Community's Capital of Palma de Mallorca and the International Party Destination of Ibiza, the Balearic Islands are also a tourism magnet for scuba divers where you can explore over 80 world-class dive sites.
Shore Diving in the Biggest Balearic Island of Mallorca
Diving in Mallorca can be done year-round and specializes in a Shore Diving. Starting with Cave Jeronimo which is located on the northeast coast and it is suitable for advanced divers. You can descend up to 30 meters (98 feet) deep and explore a cave system that is filled with stalactites and stalagmites. Approximately 1 kilometer (0.6 miles) offshore from Cala Rajada Marine Reserve is another underwater attraction in Mallorca – the Big Cheese. Located on the east coast, this 60 meter (197 feet) wide underwater limestone mound is dotted with small tunnels and caves wherein these depressions resembles like the holes of a cheese.
Menorca
With over 25 dive sites to explore, this small island of the Balearics is another playground for scuba divers. Cala Blanca will take you to explore a shallow and sheltered reef that is popular with newbie divers. Here you can see a house reef that has lots of marine critters like starfish, octopus, stingrays and marine clams. The Grand Canyons is an ideal spot to practice and improve your underwater navigation skills. You will follow an open-pit maze of an underwater labyrinth that snakes through the reef at 20 meters (66 feet) deep. The Lighthouse is another dive site in Menorca that features huge boulders, craggy walls, and baby stingrays.
Ibiza
Before you drink and go partying in Ibiza, we suggest you go diving first and explore wonderful dive sites that have crystal clear waters. Also known as the Cathedral, Cala Llonga Cave is a large cave system that has an easy entrance and exit path. When you arrive at the cave entrance at 7 meters (23 feet) deep, you will follow a tunnel that leads to a large hall. Within the hall are air pockets where you can surface out and breath fresh air while observing the abundance of stalactites and stalagmites. Upon exit, you will end up in a stone arch that is filled with sea breams.
If you want to explore 3 underwater canyons in just a single dive, then head out to Es Vedra Islet. Located on the southwest coast, diving in Es Vedra allows you to see a spectacular underwater landscape that is defined by its unique towering walls and narrow canyons.
You can go wreck diving in Ibiza and explore the remains of Don Pedro. This 145 meter (464 feet) long cargo ship that sunk last 2007 is now an artificial reef and marine life is starting to overgrow the vessel's steel structure.
Catalonia
The rugged coastline of Catalonia on the northeastern coast of Spain is a popular tourist and diving destination. Along its 580 kilometers (360 miles) coastline are bays, caves, caverns, tunnels, walls, and wrecks to dive.
Medes Islands Marine Reserve
Considered as Spain's first maritime nature reserve, Medes is a group of islands that is characterized as having an immensity of marine life. Within the marine reserve are several dive sites like the Salpatxot which is a sloping reef that has patches of boulders and a thriving fish population like groupers, scorpionfish and eagle rays. Protected from strong winds from the south, Pedra de Deu is another dive spot within the marine reserve. Here you can follow a reef slope that leads to a vertical drop off and see a limestone wall that is filled with gorgonians. Popular with advanced divers is La Vaca. Located near Meda Gran, this dive site has a tunnel system with varying dimensions, 3 entrances and 1 exit point that leads to a vertical drop off that ends in a natural platform composed of large boulders.
Located in Meda Xica Island is Dolphin's Cave. This interesting site allows divers to explore a shallow cave at 8 to 10 meters (26 – 33 feet) deep. As you enter, you will notice that the entrance is small. But do not worry, the tunnel will get bigger as you swim towards the exit. You have to take note of 2 things: First, do not expect to see dolphins as this site was named from a bronze dolphin statue located at the southern portion of the cave entrance. Second, each diver is required to be equipped with an underwater torch as the inner part of the tunnel is totally dark.
Cap Creus National Park
Stretching out off the north coast of Costa Brava is the 13,866 hectare (34,263 acres) Cap de Creus National Park. This rugged headland is popular with scuba divers where it houses several dive sites. The main diving spot in this national park is the Massa d'Or. Locally known as Sa Rata which means rat, this dive site is recommended only for experienced divers as the dive profile often involves deep diving and drift diving following mild to moderate current. We are 100% sure that there are no rats in this area. Instead what you will see when you go diving are massive schools of fish dominated by barracudas.
Other dive sites in Catalonia that are worth visiting are the submarine tunnels of Illa Pedrosa, the intricate coastline of Cadaques, the underwater park of Tarragona, and the emblematic beaches of Palamos.
Year-round Diving at the Canary Islands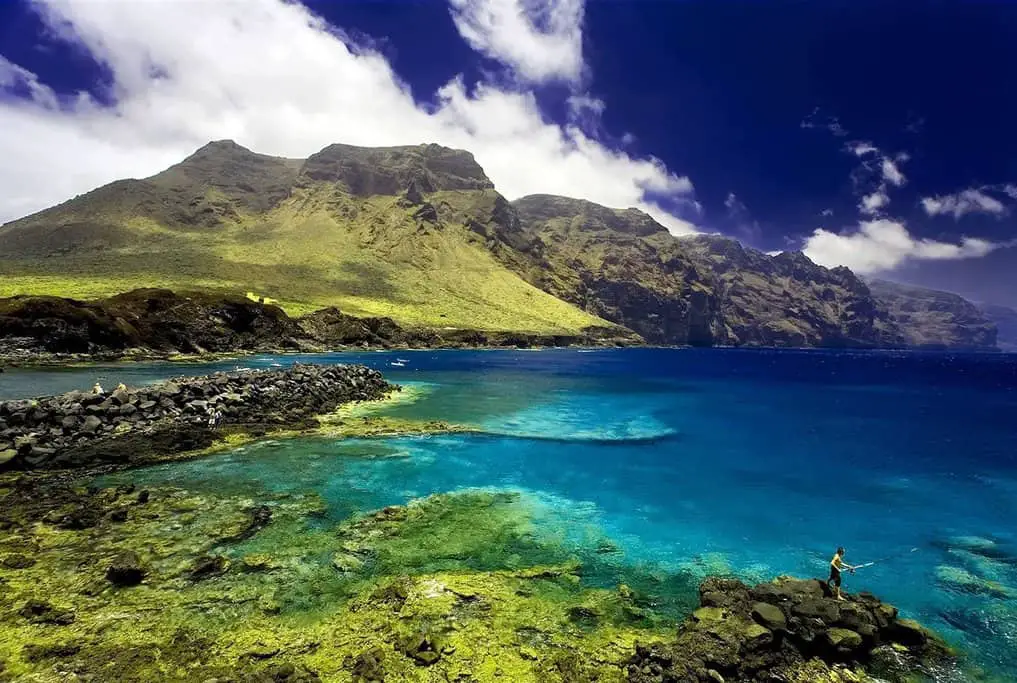 The Canary Islands are a chain of seven volcanic islands situated 161 kilometers (100 miles) west of the Morocco-West Saharan border. Warm waters make the islands good for diving whole year-round. The islands' volcanic origin has created a unique underwater landscape where you can see lava flows and pumice rocks.
Tenerife
Tenerife is the largest landmass in the Canary Islands that houses over 50 dive sites. You can go wreck diving and explore the remains of the Condesito wreck. While you can see that the hull, cabin and engine room that are all intact, what will really attract you to explore this dive site is the surrounding undersea canyon where the shipwreck is resting. This volcanic structure at 20 meters (66 feet) deep is flanked by walls that have a prismatic formation.
Considered as one of the most impressive dive sites in Tenerife is Los Chuchos. On top of silver jacks and the huge North Atlantic Snappers, this site is dominated by stingrays and swimming with 20 nearby rays at a time is considered an ordinary day.
Other notable dive sites in Tenerife are the vertical walls of Palmar Cave, the small wrecks of the Aquarium, and the stunning landscape of the Coral Arches.
Gran Canaria
Declared by UNESCO as a World Biosphere Reserve, Gran Canaria has an extensive forest cover with over 32 Natural Protected Spaces. This natural bounty can also be seen underwater courtesy from multiple dive sites scattered around the island.
For newbie divers, we highly recommend the sheltered area of Amadores Bay. It has an 800 meter (2,625 feet) long beach that allows you to go shore diving and swim towards a shallow reef with a maximum depth of only 14 meters (46 feet). Pasito Blanco Reef is another easy dive site for newbies where you can explore this oval-shaped reef that features rock plateaus, vertical ledges, and overhangs that are covered with colorful soft corals. For experienced divers, we recommend La Catedral where the start of your dive begins by descending to a reef plateau at 6 meters (20 feet) deep and follow a vertical wall that drops off all the way down to 40 meters (131 feet) deep.
Lanzarote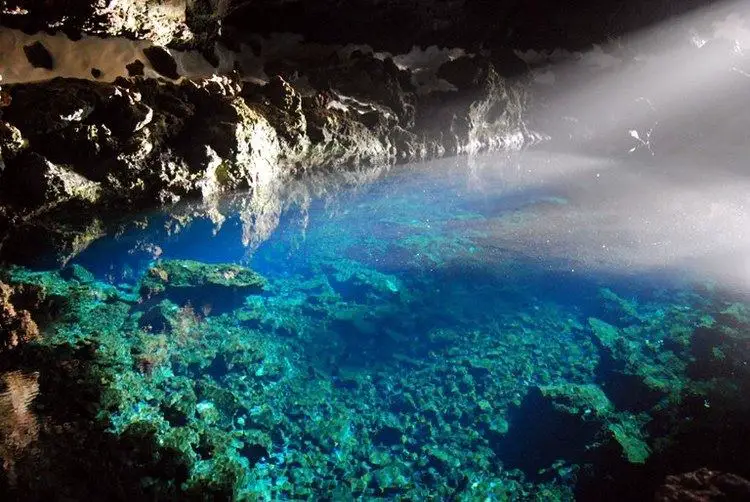 Lanzarote is the easternmost part of the Canary Islands and is considered the last frontier of scuba diving in Spain. Averaging at 20 meters (66 feet) deep, you can go wreck diving at Costa Calero and explore the Quiquere wrecks. This site has 3 medium-sized fishing vessels that were purposely sunk to become an underwater attraction. Although penetration is not possible, this site has become popular with newbie divers where you can safely practice and improve your underwater skills.
For advanced divers who wish to explore the extreme, we highly recommend the Atlántida Tunnel which is considered as the largest and longest submerged volcanic lava tunnel in the world. The tunnel is 6.4 kilometers (4 miles) long that starts at the base of the volcano and extends down towards the coastline and ends up in the seafloor.
Other noted dive sites in Lanzarote are El Cabezon was known for its healthy population of angel sharks and the garden eels of El Muelle.
Scuba Dive Map of the Canary Islands
General Information about Spain
Capital city
Madrid
Currency
Euro (EUR)
Official language
Spanish
Visa Required
No, for stays of 90 days or less
Electricity Standards
110 V- 220 V / 60Hz
Time Zone
GMT+2
Official tourist information website
www.spain.info
www.turismodecanarias.com
Points of Interests
Murcia: Murcia Cathedral, Market at Alcantarilla Village, Underwater Archeological Museum

Balearic Islands (Majorca, Menorca &Ibiza): Gothic Cathedral, Palma de Mallorca, Bellver Castle, City Tour of Palma de Mallorca, Caves of Drach, Mallorca, Visit Monte Toro View Point, Menorca, Es Vedra, Ibiza

Catalonia (Costa Brava): Barcelona, Dali Museum, Cap De Creus National Park, Cadaques fishing village

Canary Islands: Santa Barbara Castle, Atlántida Tunnel, Surfing off Lobos in Fuerteventura, hiking in Mount Teide in Tenerife, sailing in one of the many islands