Bryan Adams, hockey and the maple leaf, these are just some icons that are associated with Canada. But how about scuba diving? Although not as popular when compared to the other aqua sports were doing it indoors is an option, the geographic features of Canada allow scuba divers to enjoy the sport they love the most, but in a different setting – diving in a coldwater environment.
Occupying the northern section of North America, Canada is surrounded by several bodies of water, namely: the Atlantic Ocean on the east, the North Pacific Ocean on the west and the Arctic Ocean on the north. While the Atlantic, Pacific, and the Arctic are 3 separate ocean environments, they have one thing in common: that its waters surrounding Canada are relatively cold. While you cannot see vibrant coral reefs which are a typical feature in the tropics, diving in Canada allows you to see a different set of marine life and a unique dive environment like freshwater lakes.
Diving Conditions in Canada
The climate of Canada varies. In general, it has an arctic climate in the northern region while its southern region can experience hot summers. When it comes to diving, you have to gear up for a cold water environment. Annual water temperature ranges from 4-10°C (40-50°F) and the wearing of drysuit is mandatory.
Ideally, summer is considered the best time to go diving. However, this is not the case for Canada since summer coincides with the algal bloom and visibility is greatly affected. The best time to go diving in Canada is during winter up to the spring, which is from November to May. During these months, waters are clear with visibility ranging from 15-20 meters (50-66 feet).
Diving Conditions in Canada: at a Glance
Ave. visibility
15-20 meters (50-66 feet)
Ave. water temperature
4-10°C (40-50°F)
Current
Average to strong, depending on the region
Experience
For all levels of certification
Exposure Suit
Drysuit
Type of diving
Reef diving, shore diving, boat diving, cave diving, and wreck diving
Marine life
400 species of fish, 5,000 species of invertebrates

Bluntnose sixgill shark (Vancouver Island), wolf eel, smallmouth bass and common carp (Ontario's Lakes)
Corals
Some
Wrecks
Famous for its wrecks
Liveaboard
No, but recommended for British Columbia
Best time to visit
November to May
Main diving area
Vancouver Island in British Columbia, Ontario, Nova Scotia and Quebec
Best Dive Sites in Canada
Scuba Diving Vancouver Island
Situated in the western section of Canada in British Colombia, Vancouver is a 460 kilometer (290 miles) long island that is generally known for its mild climate. The Harbour City of Nanaimo is where most of the dive operations are based and is the most strategic site to access the dive sites.
Browning Pass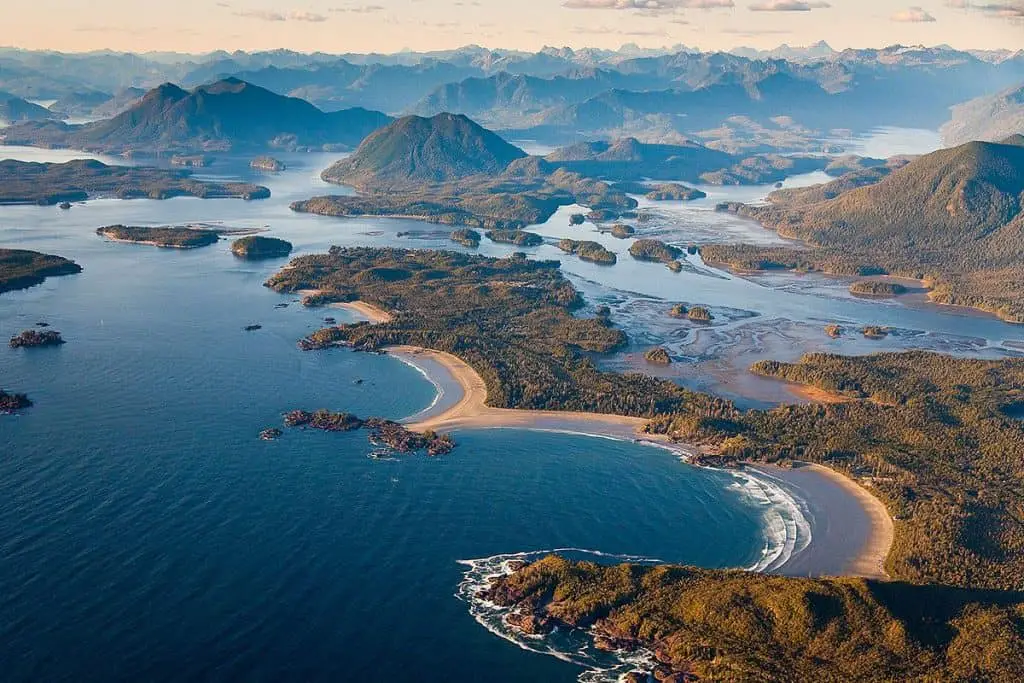 Due to the seasonal upwelling in the north coast of Vancouver Island, the waters around Browning Pass are enriched in nutrients and has supported an array of marine life that are adapted to thrive in a temperate environment.
Browning Wall
Considered as one of the best dive sites in Vancouver Island, Browning Wall is a vertical ledge wherein all the spaces of the wall are occupied with marine life. Descending to an average depth of 20 meters (66 feet), you will be amazed by the immensity of marine life that has encrusted in the vertical wall structures like sponges, soft corals, and giant acorn barnacles. While at a first glance, the wall has a dull color, but if you focus the beam of your underwater torch (we highly suggest you bring one) the natural colors of the sponges and soft corals will glow creating a panorama of rainbow colors.
Eagle Rock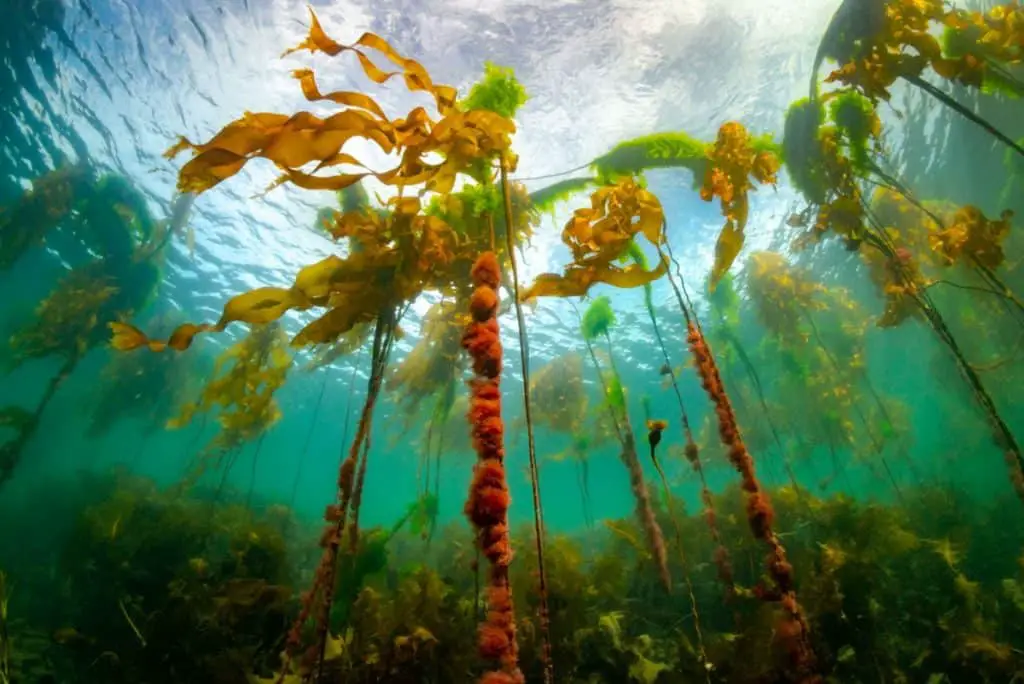 Dominated by massive algal beds, diving in Eagle Rock allows you to see the towering branches of kelp. Due to its anatomical feature, this kelp forest has created an algal cathedral where the dome is covered by the swaying of the leaves and the columnar foundation is represented by its branches.
Diving will basically take you to explore under the algal dome where it is teeming with marine life. Jellyfish and large octopus are a common sighting in the shallows while going to the deeper portions allows you to see a thick school of herring where they often go in a ball formation.
Barkley Sound Diving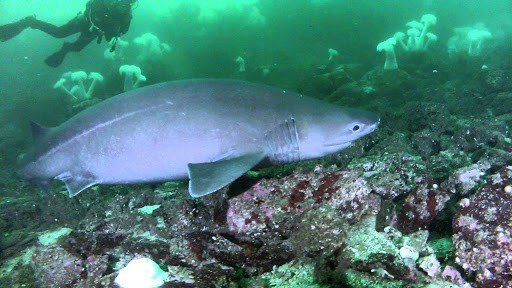 Located on the southwest coast of Vancouver Island, Barkley Sound is a maze of small islands that features stunning landscape, both on land and underwater. On land, it has a majestic forest that has a thriving population of apex predators like cougars, bears, and eagles. Underwater, it has a soft coral laden reef interspersed with patches of kelp and a thriving marine fauna like salmon, squids, herrings, sea lions and sea otters. You can even interact with the elusive six-gill shark particularly in the small pinnacle of Tyler Rock.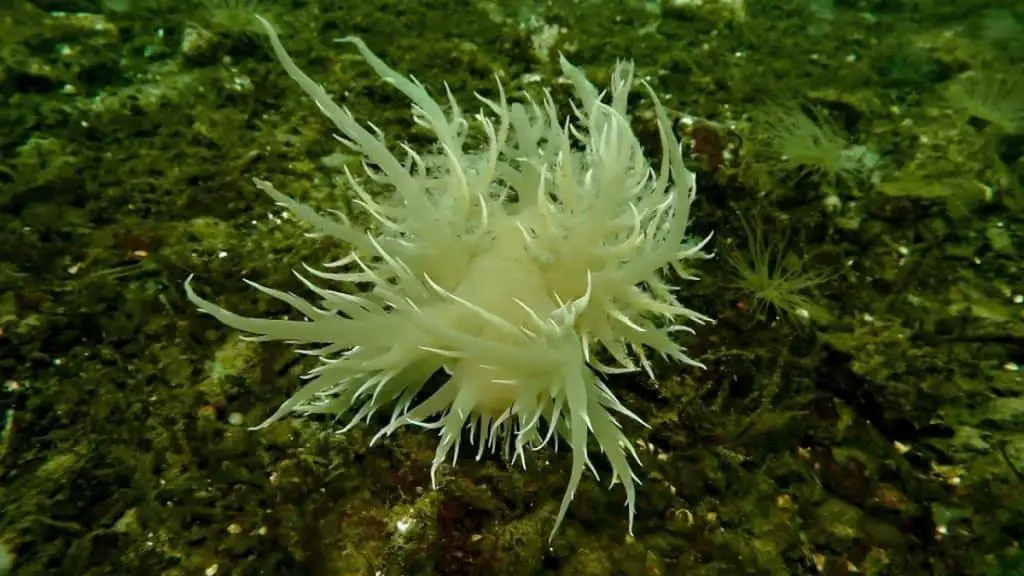 Other noted diving spots in Vancouver Island are the giant nudibranch enriched reefs of Jesse Island and the Fulford Reef on the southern coast.
Best Scuba Diving Ontario
Ontario is one of the 13 Canadian provinces that occupies the southwest border of Canada to the United States. It is named from Lake Ontario and has the World's largest group of freshwater lakes numbering at 250,000. With this, all diving in Ontario is lake diving that is brought to you by the beautiful landscape of the Great Lakes.
Scuba Diving in Toronto
While Toronto is known for its rich cultural diversity, Toronto's convenient location to the shores of Lake Ontario makes it also a great spot for diving. Its cold water environment has preserved many of its attractions resting at the lake bottom.
Sligo Wreck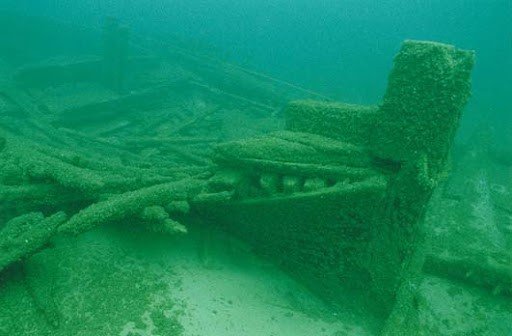 Humber Bay is popular with local divers and one of its sites allows you to go wreck diving in the Sligo. This is a 42 meter (138 feet) long schooner barge that sank in 1918 after being badly hit by a storm.
Your entry point when exploring the Sligo wreck is through a surface buoy that has a descending line that leads directly to the wreck. Arriving at the wreck at 20 meters (66 feet) deep, you will see that the structures are well preserved. Although it is not encrusted with soft corals and sponges, the structures are well preserved due to the surrounding cold waters.
Sherkston Quarry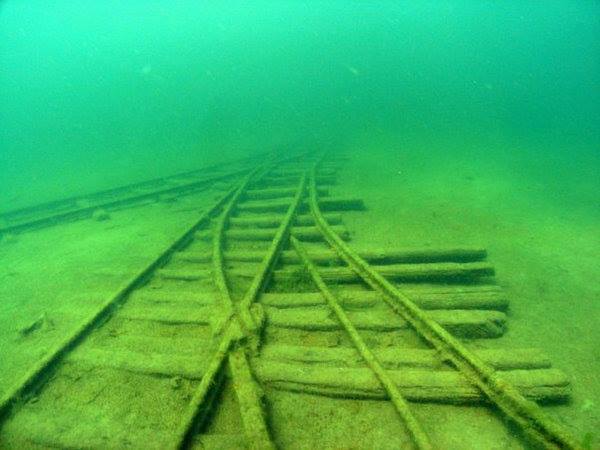 Have you ever explored an underwater railway track? If you wish to see one, then we highly suggest you visit the 5 kilometers (3 miles) long track of Sherkston Quarry in Lake Erie. Due to its confined setting, this site is popular with newbie divers. The usual entry point is on the opposite side of the quarry that is marked by a yellow buoy. Underwater, the usual fad is you follow the railway tracks. As you swim along, you will pass by one of the two locomotives. Cars also litter on the side of the track.
Tobermory Scuba Diving
Tobermory is a small community in southern Ontario. It has been recognized as the freshwater diving capital of the world. This is due to the numerous shipwrecks resting in the lake bed.
Wetmore Wreck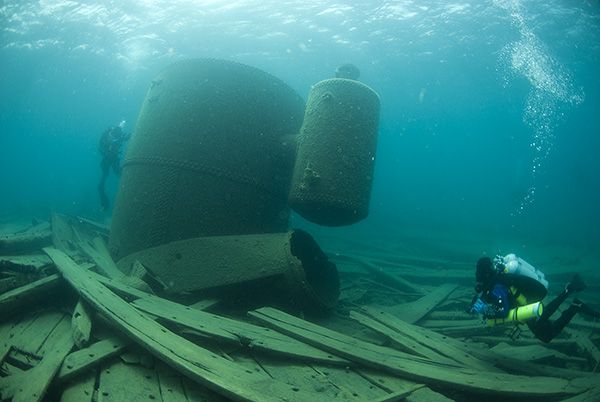 Measuring 65 meters (213 feet) long, the Wetmore was once a steamer that primarily serves in towing barges. She ran aground in 1901 and is now resting at 7 meters (25 feet) deep. Although the main wooden structure has collapsed, the remaining parts still present a great underwater attraction where you can see a huge anchor with its chain, the large rudder, and the boiler.
James C King Wreck
When the Wetmore ran aground and sank, it was towing the James C King. While it was an unfortunate day in Lake Huron where 2 vessels simultaneously sank in 1 day, it was an instant attraction for us. The only difference between the 2 wrecks is that the James C King wreck is resting at the deeper portion of the lake bed. This 53 meter (175 feet) long schooner barge is lying in a lake slope with depths ranging from 6-30 meters (20-100).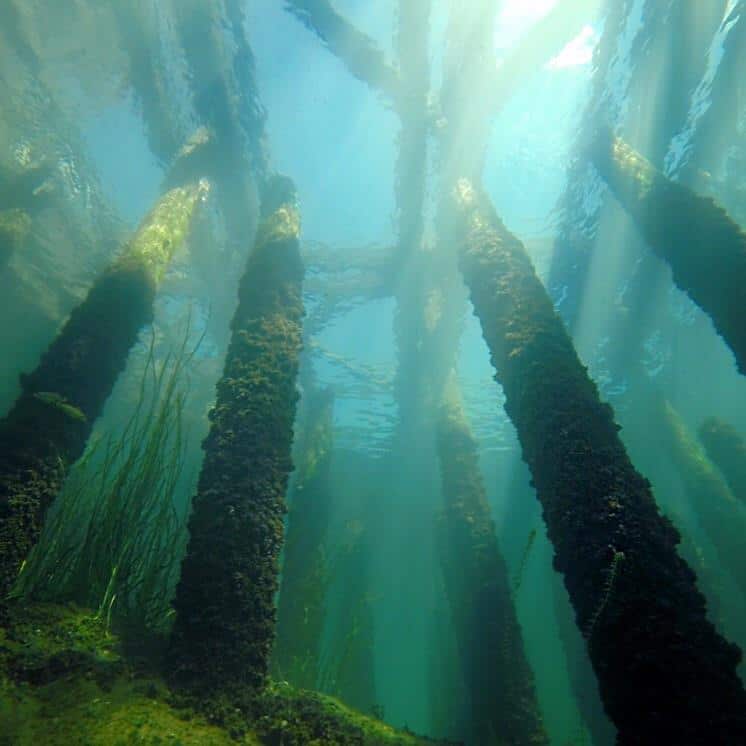 Other noted diving spots in Ontario are Scuba Diving Mississauga and the canals in Welland Scuba Park.
Dive Shop Recommendation: For diving lesson needs such as PADI certification Toronto and scuba gear Toronto, we highly recommend Toronto Scuba Centre and Dive World Toronto.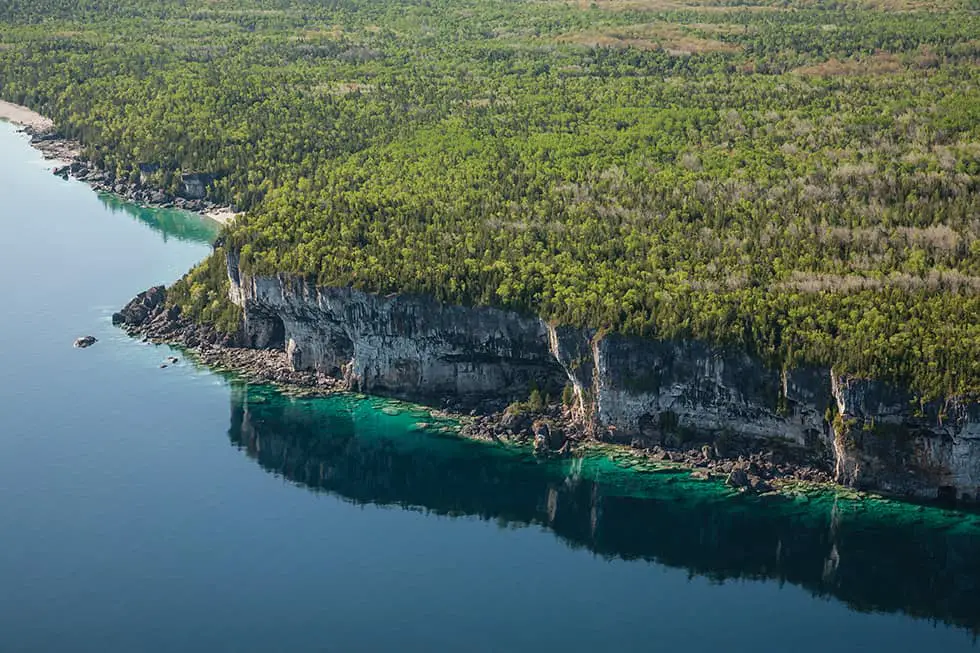 Sidetrip: The Niagara Escarpment is a popular hiking trail and has been designated as a UNESCO World Biosphere Reserve because of its ecological significance. You can also visit the famous Niagara Falls and the Wine Route that has nice scenery and known for its world-class wines.
Nova Scotia: Wide Variety of Diving Options
Despite being the 2nd smallest province in Canada, Nova Scotia is big when it comes to scuba diving. Situated in the eastern section of Canada, it has over 30 dive sites that either allow you to go ice diving, drift diving, wreck diving, and freshwater diving. Either way, you will start at Halifax which is the most strategic and has the best access point in Nova Scotia towards the dive sites.
Fox Point Beach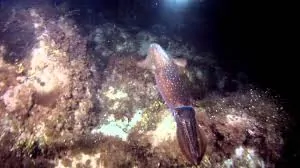 Located in the Aspotogan Peninsula in the Chester Municipal District, Fox Point Beach is a good dive site that is suitable for all levels of scuba certification. Although rocks litter the beachfront, this semi-sheltered cove has an easy entry and exit point and is usually explored in the late afternoon to coincide with the blooming of aquatic plants, which in turn attracts more fish. As you enter the water, you will walk along with small pebbles then start swimming following a gentle slope that goes all the down to 12 meters (40 feet) deep. As you swim along the lake slope, you will see crabs, sea perch, flounders, moon snails, and sand dollars. If you happen to be diving in Fox Point Beach in July, you will also see big jellyfish and squids. This is also a popular spot for night diving.
Birchy Head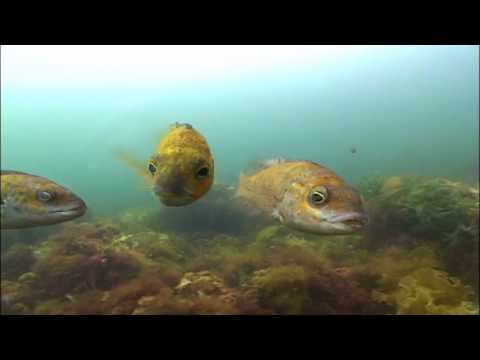 Located in Peggy´s Cove, Birchy Head is a small and secluded dive site that is recommended only for experienced and advanced divers for several reasons. First, the entry and exit points are quite challenging since you will go down a steep slope before setting foot at the beach. Second, the beach is made up of round and slippery stones wherein the possibility of tripping down is high. And lastly, it has a deep profile. Birchy Head has a maximum depth of 70 meters (230 feet) and you have to constantly monitor your depth and stay within your limits.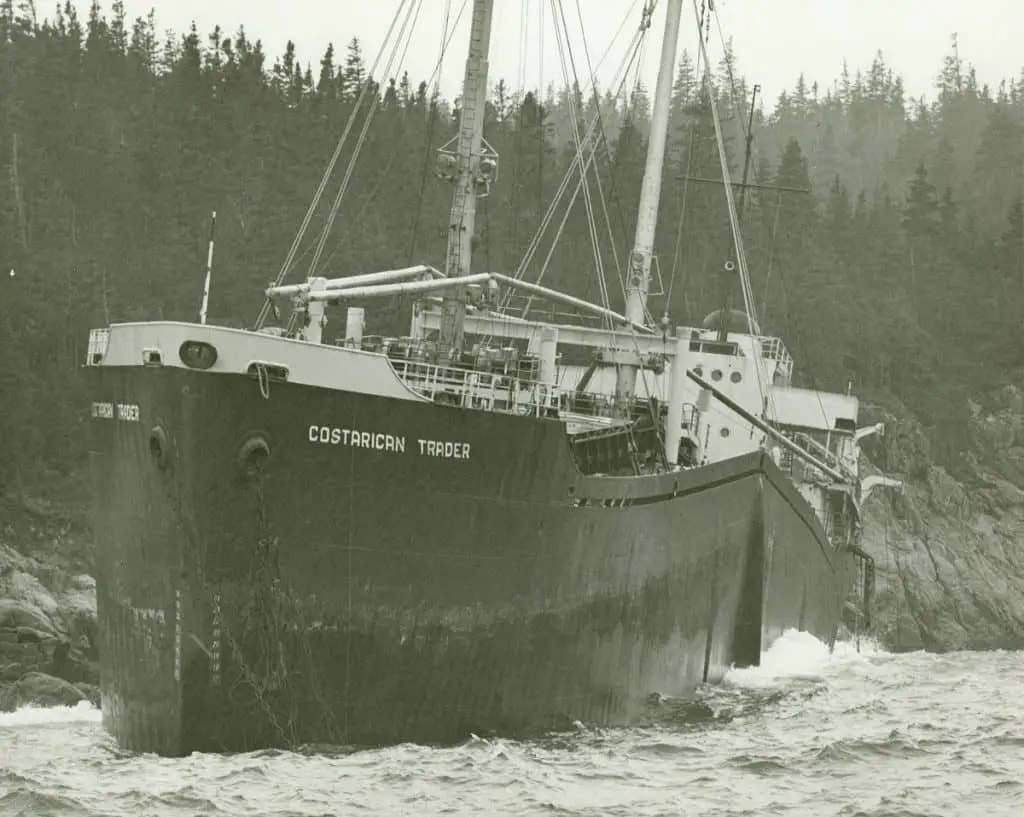 Other noted diving spots in Nova Scotia are mostly wrecks like the seal-haven of Englishtown Wreck, the 18th-century wrecks of Cape Breton, and the Costa Rican Trader.
Quebec: 17th & 18th Century Wrecks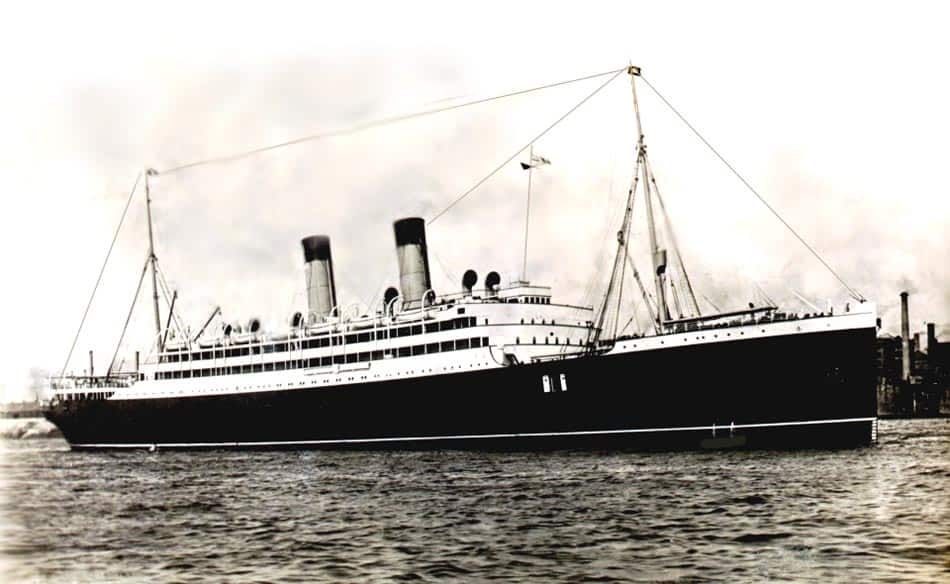 Situated east of Ontario, Quebec (through the St. Lawrence Seabed) is a popular destination for wreck diving. While it has several wrecks, the RMS Empress of Ireland is the most popular. Its fate is similar to Titanic where it is considered the 3rd world's largest maritime disaster and Canada's worst.
After leaving Quebec carrying 1,477 people on board, this 172 meter (570 feet) long luxury passenger ship collided with another vessel causing it to sink. She now rests lying on her side with depths ranging from 24-43 meters (80-140 feet). While you will be rewarded to seeing one of the historic maritime vessels that has ended its fate with tragedy, exploring this wreck is only for the highly experienced diver. Aside from poor visibility, you have to plan and prepare for the strong current as the area has a large tidal fluctuation averaging at 5 meters (16 feet) which means that current is at its strongest during the exchange or onset of an incoming tide.
Other noted diving spots in Quebec are the wrecks in Briquette Island where 2 shipwrecks sit on top of the other, namely: the Germanicus wreck that sank in 1919 and under it is the Blehm wreck from 1878.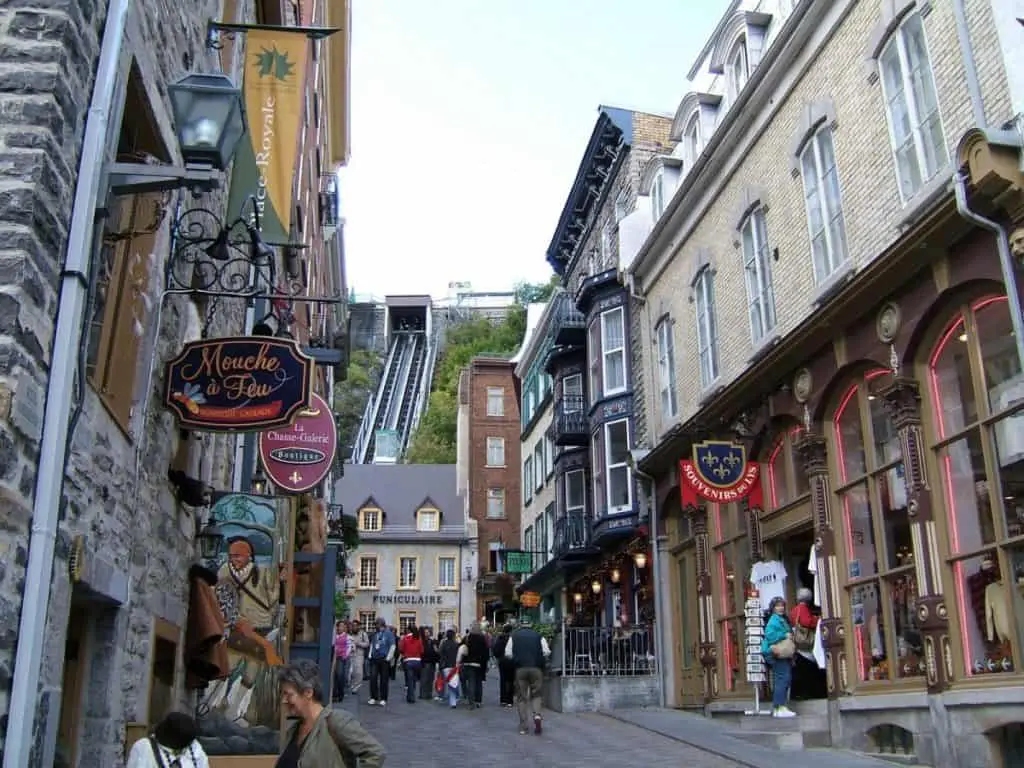 Sidetrip: Quebec has charming old buildings and cobblestone streets that resemble Europe. You can visit the Old City (Vieux-Quebec) which is is a UNESCO World Heritage Site.
General Information about Canada
| | |
| --- | --- |
| Capital city | Ottawa |
| Currency | Canadian Dollar |
| Official language | English and French |
| Visa Required | No |
| Electricity Standards | 120 V / 60Hz |
| Time Zone | GMT-4 to -8 depending on the region |
| Official tourist information website | www.destinationcanada.com/en |
| Points of Interests | British Colombia: visit Vancouver City, snorkel with seals and bird watching in Snake Island |