For nature lovers, Belize is bliss since 60% of its 22,970 square kilometers (8,867 square miles) land area is covered by tropical rainforest. And for us interested in scuba diving Belize and its 322-kilometer (200 Mile) long barrier reef, the place is both a haven and a large playground. This reef is considered the second-largest barrier reef in the world.
Belize is a treasure trove for the active, intelligent and adventurous. For historians, Belize is a haven where it is rich in cultural influences coming from the Afro-Caribbean, Spanish, Garifuna and the Maya traditions. In fact, several Mayan monuments are found in Belize like the Caana remains at Caracol in the southwestern quadrant of this Caribbean country.
Diving Conditions in Belize
Belize has a tropical climate with two pronounced seasons. The wet season starts from June and ends in November, whereas the dry season from December to early May. While diving is a year-round activity in Belize, the peak for Belize diving season runs from November to May and is also considered to be the best time to go diving where the waters are calm and clear with underwater visibility ranging from 15 – 18 meters (50 – 60 feet). The temperature profile in Belize is quite unique since it has little variation when you compare its air temperature (ranging from 24-27°C / 75-81°F) to the surrounding water temperature that ranges from 26-29°C (79-84°F).
Taking a look at the Belize dive sites map, it will tell you that you will never run out of diving sites. You have to remember that Belize houses the world's second-largest reef system and the dive sites are scattered in its super narrow limestone base. While it has over 200 islands and cays (each having a dive site) facing the Caribbean Sea, the main underwater attraction of Belize is concentrated in Turneffe Islands, Ambergris Caye, and the Lighthouse Reef where the renowned blue hole is located.
If you planning to go diving with the world's biggest fish – the whale sharks, then we suggest you proceed to the southern coast and head out 42 kilometers (26 miles) east of diving Placencia in a promontory named Gladden Spit Belize.
Diving Conditions in Belize: at a Glance
| | |
| --- | --- |
| Ave. visibility | 15 – 18 meters (50 – 60 feet) |
| Ave. water temperature | 26 – 29°C (79 – 84°F) |
| Current | Low |
| Experience | For all levels of certification |
| Exposure Suit | 3 to 5mm |
| Type of diving | Wall diving, cave diving, deep diving, shore diving |
| Marine life | Permit fish, guitarfish, blacktip sharks, whitetip reef sharks, nurse sharks, tiger sharks, bull sharks, scalloped hammerhead sharks, manta rays, eagle rays, yellow stingrays, red-banded coral shrimp, Nassau grouper, horse-eye jacks, dog snapper, hawksbill sea turtles, loggerhead sea turtles, green sea turtles, and the West Indian manatee |
| Corals | Famous for corals |
| Wrecks | No |
| Liveaboard | No, but recommended for the Lighthouse Reef Atoll, Glovers and Turneffe atolls |
| Best time to visit | November to May |
| Main diving area | Turneffe Islands, Ambergris Caye, and Lighthouse Reef |
Best Scuba Dive Sites in Belize
Turneffe Islands: Shallow Reefs for All Divers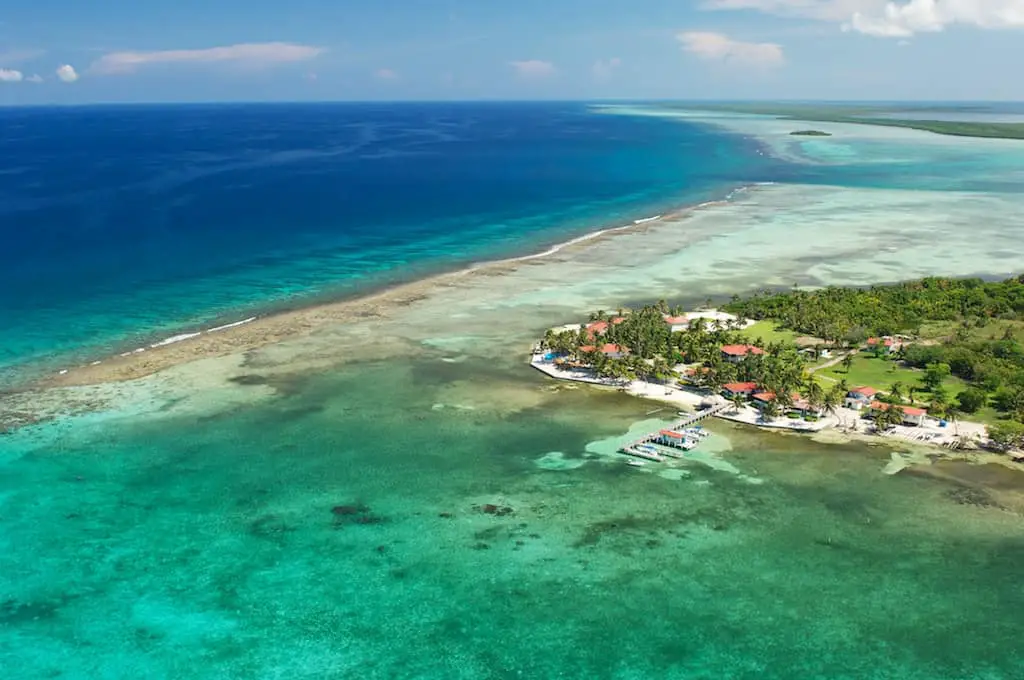 Comprising one of the three atolls in the barrier reef, Turneffe Islands is a popular diving destination in Belize where both newbie and experienced divers can enjoy. While the dive sites in Turneffe has a wall and drift diving profile that is suited for experienced divers, newbie divers will surely enjoy the shallow and protected reefs of the southwestern coast.
The Elbow Diving Site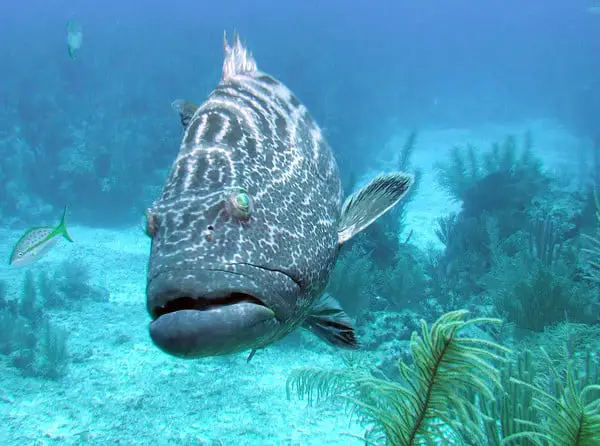 Located at the southern tip of Turneffe atoll is a favorite merging point for both scuba divers and fish. As far as fish population is concerned, The Elbow is a spawning site for multiple species where they flock this part of the Turneffe Islands to spawn simultaneously.
If you are diving The Elbow in January, you can expect to see large numbers of black groupers and tiger groupers while mutton snappers populate the reef flat from March to May. If you plan to go deep near the vertical drop off of The Elbow, then you can expect to see a thick school of jacks, especially from May to July. This healthy population of fish in The Elbow is the main reason why divers frequently visit this popular scuba diving site in Belize.
Rendezvous Point – In preparation for the Blue Hole Dive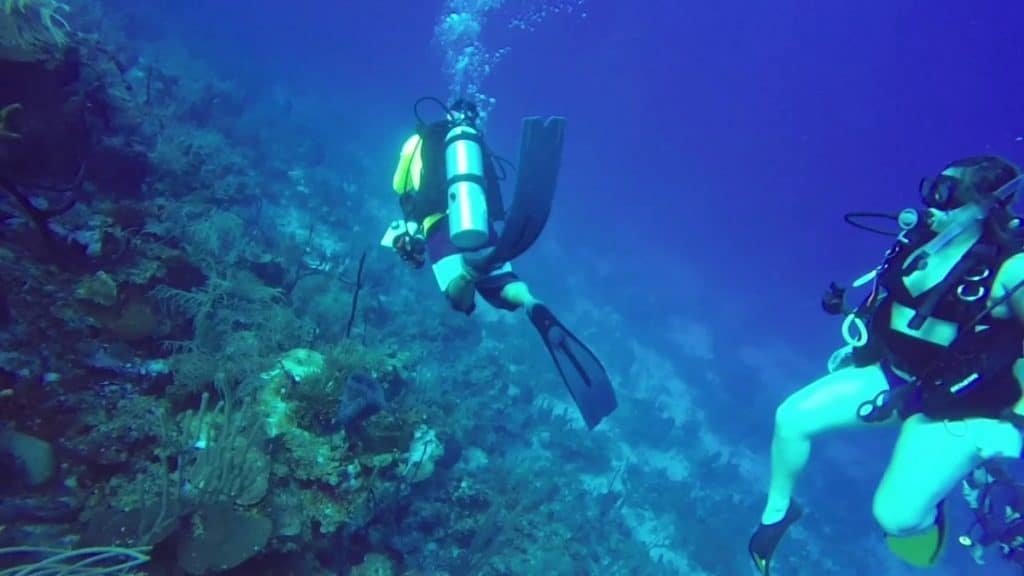 Another popular dive site in Turneffe Islands is a preparatory dive or stopover before you proceed to the world-renowned Blue Hole in Lighthouse Reef – the Rendezvous Point which has 2 microsites. Rendezvous Cut is a shallow reef that has an average depth of 12 – 15 meters (40 – 50 feet).
The reef is loaded up with giant brain corals interspersed with narrow patches of elkhorn corals and a healthy fish population where you can see angelfish, butterflyfish, trunkfish, boxfish, and moray eels. If you follow the sloping reef of Rendezvous Cut up to the edge, it will lead you to another microsite which is known for wall diving – the Rendezvous Wall.
At the edge of the reef slope at 11 meters (33 feet) deep, the wall starts to emerge and dramatically drops to a depth up to 41 meters (135 feet). Descending along the wall will take you to an overhang where there is a large tunnel at the central portion.
A unique underwater attraction awaits divers to see the iceberg. This is not really icebergs, but rather, the exoskeleton of bleached corals caused by the mixing of freshwater coming from inner structures of the atoll.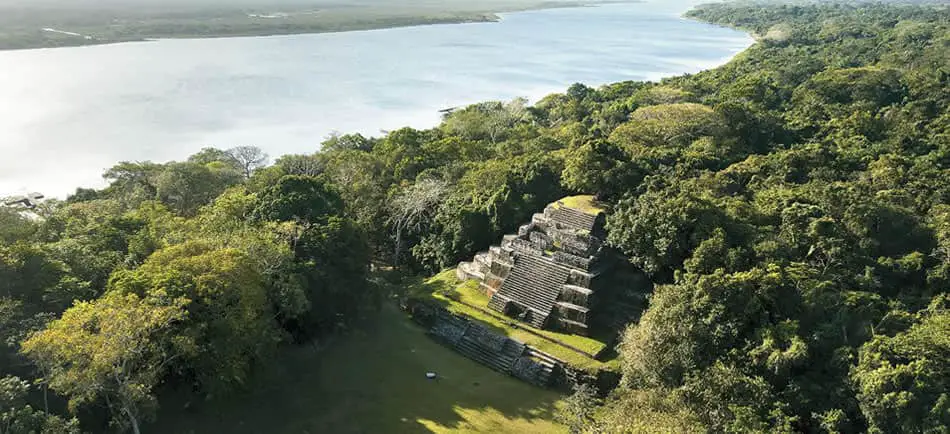 Sidetrip: Given the fact that there are several options on how to reach the Turneffe Islands since it is situated close to Belize City, this allows you to visit several nearby tourist attractions. Aside from caves and rivers, you can visit the 12 hectares (29 acres) Belize Zoo and Tropical Education Center. If you are in history, we highly suggest you visit the Mayan ruins of Lamanai and Altun Ah where the surviving pyramid-like structures are presented in a nature facade that is surrounded by tropical rainforests.
Note: If you are boarding from San Pedro going to the dive sites in Turneffe Island, we have good news for you. San Pedro is also a major jump-off point towards another top diving spot in Belize – the Ambergris Caye. We also recommend you visit Island Divers Belize where this dive shop can help you in all your diving needs like equipment rental, scuba certification, and boat transfers.
Ambergris Caye: No.1 Belize Scuba Diving Destination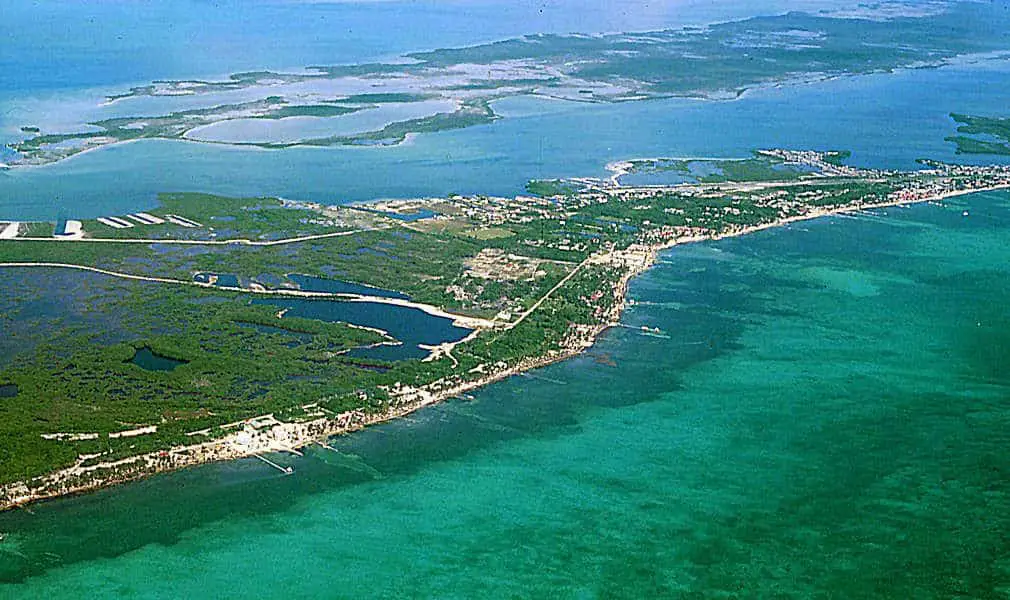 Located 67 kilometers (42 miles) northwest of Belize City is Belize's most popular diving destination – Ambergris Caye. Transportation to this popular tourist site is pretty established where you can choose 2 common ways. You can either take a short flight from Belize City or opt for a cheaper version which is boarding along a ferry vessel. Regardless of the mode of transportation you choose, you will arrive and visit the same world-class dive sites of Ambergris Caye.
Mexico Rocks – Shallow Reef Diving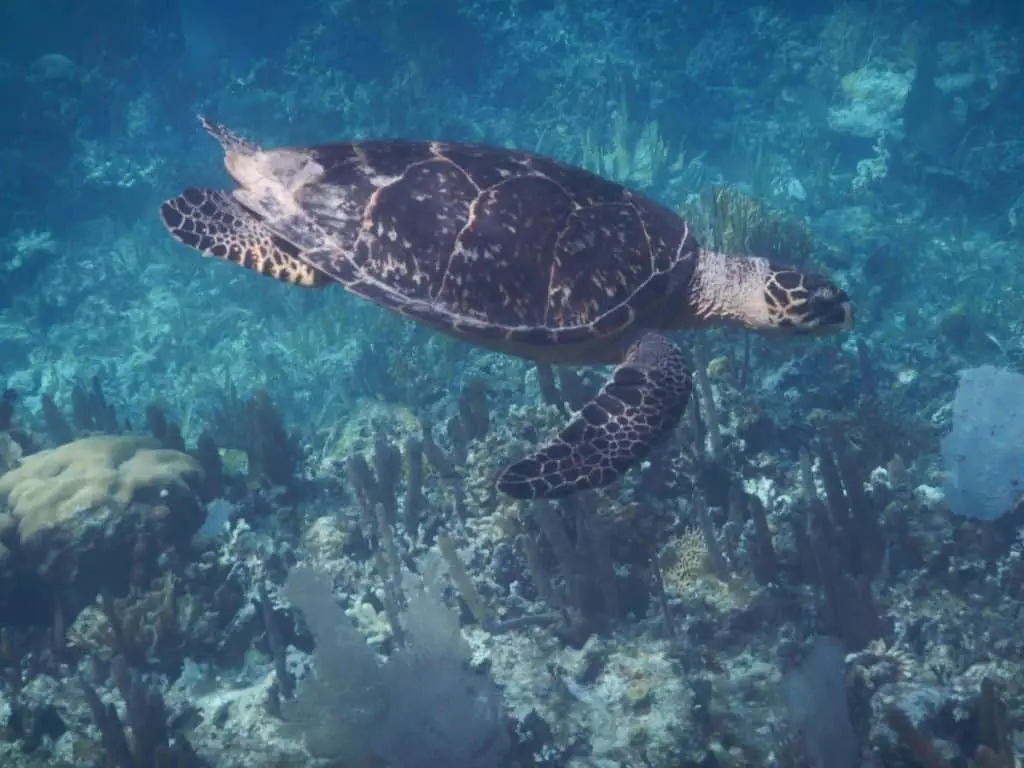 Classified as a patch of shallow reefs, Mexico Rocks is a popular site for those who have no scuba certification and want to try to discover scuba Belize. By signing up with a local dive shop (such as the Belize Pro Dive Center) and with the close supervision of a dive professional, you will descend underwater.
During the dive, you'll explore a reef flat that has numerous large boulders being encrusted with corals, sponges and a thriving population of tropical reef fish like damselfish, sergeant majors and butterflyfish. If it is your lucky, then expect to experience marine reptile interaction as sea turtles are seen grazing on nearby seagrass meadows.
Rocky Point Canyons – Scuba Diving Were the Reef Meets the Mangrove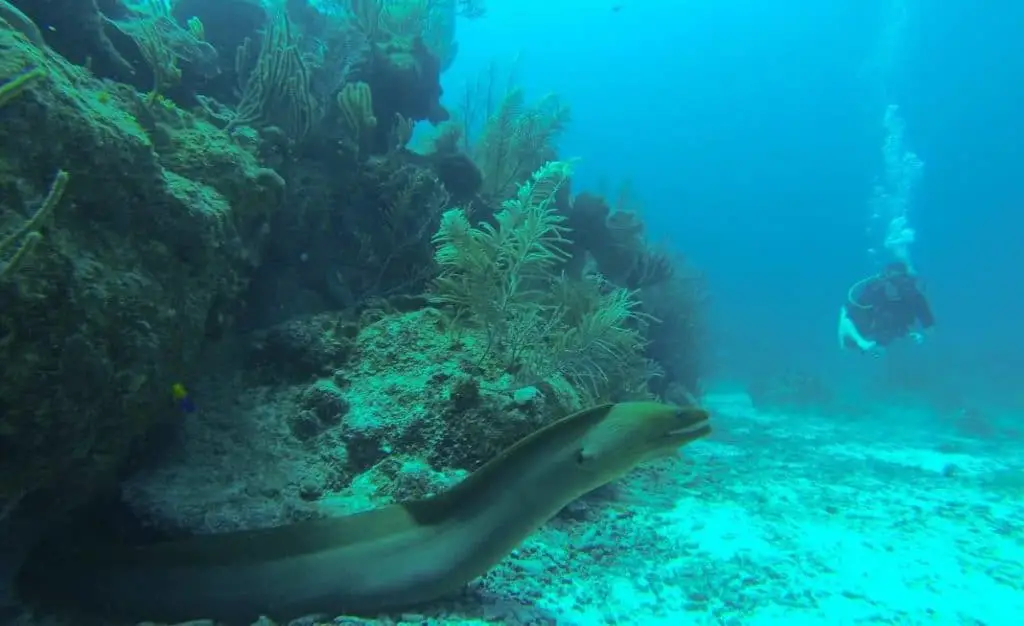 This site in the northeast portion of Ambergris Caye is known for 2 things: first is the tarpon hole, and second, is it is the area where the mangrove promontory meets the reef area making underwater conditions highly conducive for diving. Your entry point in this dive site is near a mangrove stand at 6 meters (20 feet) deep and slowly slopes deeper towards 24 meters (79 feet) where you can pass by shallow canyons along the way that houses a good population of reef fish.
Shark Ray Alley – Scuba Dive with Loads of Nurse Sharks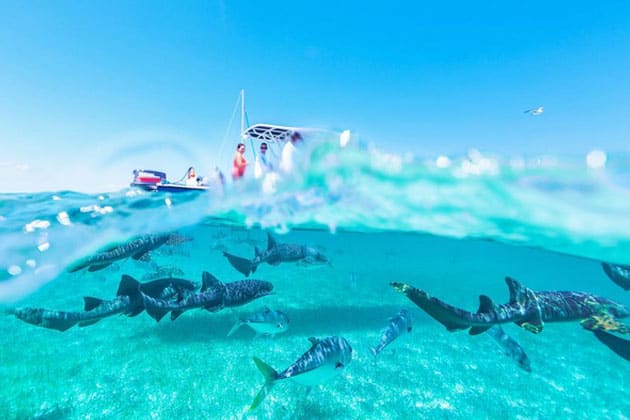 Located inside the Hol Chan Marine Reserve is a dive spot that is infested with sharks, but harmless and friendly species of sharks. Underwater, Shark Ray Alley is loaded up with nurse sharks that are accustomed to a diver's presence. The story of its accidental discovery dates back to the time where fishermen clean their catch of the day and sharks were attracted to gut leftovers.
Once you arrive at the site, the black silhouette on the water will start to surround your boat. As you descend to this shallow reef, you will be encircled with sharks and stingrays that present themselves for a belly rub. Although many considered rubbing the belly of a shark or a stingray a memorable experience, we highly discourage it.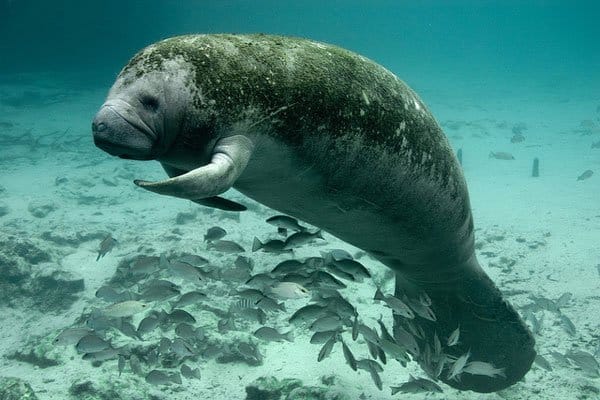 Sidetrip: Located close to Ambergris is Caye Caulker which is a popular tourist spot, particularly for young backpackers since it has a good nightlife. You can also sign up for a boat tour to different Mayan sites which passes through the Belize River where it is a known spot to see manatees. There is also a dive shop in Cay Caulker that we can recommend – the Belize Diving Services.
Lighthouse Reef: Dive the World Famous Blue Hole
Even if it is the farthest offshore atoll in Belize that has a distance of 96 kilometers (60 miles) from the coastline, it is one of the most explored dive sites. Scuba divers don't bother traveling far distances as long as they will be exploring world-class pristine dive sites. And this is the case of Lighthouse Reef where it houses not just one, but 2 popular sites: Half Moon Caye Wall and the Blue Hole.
Great Blue Hole Diving Belize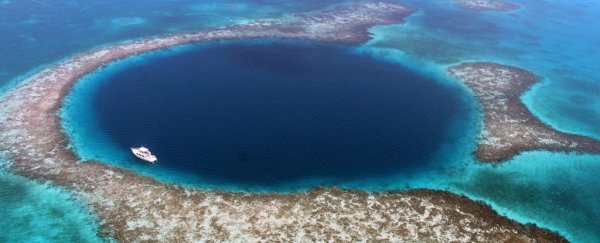 Classified as an underwater cave, the blue hole dive in Belize is a perfect circular underwater sinkhole with a vertical orientation that measures a quarter of a mile across and 146 meters ( 480 feet) deep.
Regardless of what part of the blue hole you will enter, you will always start diving by descending to a fringing reef that encircles the top shallow portion of the blue hole. As you descend further, you will arrive at a vertical limestone wall that is already encrusted with corals and sponges. When you reach a depth of 36 meters (120 feet), you will start to see stalactites that were formed millions of years ago as a result of freshwater drippings when this blue hole was once above sea level.
To give you a glimpse of how big the great blue hole Belize scuba diving: if you descend at the central portion of the blue hole, the feeling is similar to diving offshore in open water as you cannot see any part of the blue hole's wall even if visibility is at its crystal state.
Scuba Diving the Half Moon Caye Wall
Diving in Half Moon Caye Wall is often done as a second dive after scuba diving Belize blue hole. You will start diving by proceeding towards the south side of Half Moon Caye and descend to a shallow reef that gently slopes down up to 13 meters (43 feet) deep where the wall starts. The is a natural borderline between the reef slope and the wall courtesy from the linear population of yellow and neon blue sponges. As you traverse down the wall that goes down to 30 meters (98 feet) deep, you cannot help but notice the protruding population of barrel sponges and sea fans that has attracted several species of tropical reef fish, particularly lemon damselfish and the brightly colored Anthias fish.
After you are done with your Blue Hole dive, you can do bird watching as the nearby water perch is often flocked by Red-footed Bobbies.
General Information about Scuba Diving in Belize
Capital city
Belmopan
Currency
Belize Dollar (BZ)
Official language
English
Visa Required
No
Electricity Standards
110 V
Time Zone
GMT-9
Official tourist information website
www.travelbelize.org
Scuba Diving Belize Points of Interests
Turneffe Islands: snorkeling at Cay Caulker and Shark Ray Alley

Ambergris Caye: visit Altun Ha ruins and Lamanai ruins; boat trip to the Mangroves and Belize River

Lighthouse Reef: bird watching at Half Moon Caye