While there are many things to do in the Bahamas like guided nature walk, playing golf at world-class resorts, or trying your luck at the casino, watersports are the dominant activity. Aside from snorkeling, surfing, and beach hopping, scuba diving the Bahamas is a big hit, where divers from all levels of certification can explore shallow reefs, wrecks, and underwater sinkholes at a staggering quantity of over 200 blue holes. Not to mention the array and bounty of marine life that you will see when diving the Bahamas.
Situated on the western corner of the Caribbean, the Bahamas is a former British Crown Colony that gained independence in 1973. Its primary economic source of income is tourism. Tourists visit the Bahamas mainly because of its tropical beauty, where its 29 islands and 661 cays have become a major tourist attraction with tourist arrival averaging at 5 million visitors per year.
Note: This post may contain links to products, software, and services. Please assume all such links are affiliate links which may result in my earning commissions and fees.
Diving Conditions in the Bahamas
The Bahamas has a tropical maritime climate with at least 310 days of sunshine each year, making this island nation your dream tropical vacation spot. There are two pronounced seasons: winter from October to April, and summer from May to September. The summer is the be the best time of year for scuba diving Bahamas. During the hot season, the average temperature is at 28°C (82°F) and slightly drops during winter. It is important to note that in the Bahamas, there are almost no freshwater run-offs, and therefore there is less sedimentation making water visibility crystal clear year-round.
The main diving areas of the Bahamas are Nassau, Grand Bahama Island, Bimini Island, Andros Island, and Exuma Cays. The dive sites within these areas either have a shallow reef, a wreck, a sinkhole, a stunning wall, or offshore mounds. Aside from healthy coral reefs that are a regular feature, the marine life, especially the big boys of the deep, is what makes scuba diving Bahamas special. You are practically guaranteed Shark interaction in every Bahamian dive, and there are dive spots that specifically feature shark diving Bahamas. Among the Bahamas scuba diving packages that you can avail, Shark Awareness Specialty course is one of the most popular where you can interact with sharks while being fed by highly trained dive professionals.
Diving Conditions in the Bahamas: at a Glance
Ave. visibility
24 – 30 meters (80 – 100 feet)
Ave. water temperature
28°C (82°F)
Current
Low to Average
Experience
For all levels of certification
Exposure Suit
3 – 5mm
Type of diving
Wreck diving, reef diving, and wall diving
Marine life
Nassau grouper, silky sharks, Caribbean reef sharks, French angelfish, eagle rays and dog snappers

Signature species: spiny lobster (where they march in a large group called the "lobster march" that happens from late October to early November during their annual migration)
Corals
Famous for coral
Wrecks
Some
Liveaboard
No, but recommended for Andros and Exuma Islands
Best time to visit
Scuba Diving Bahamas is best between the months of May and September
Main diving area
Nassau, Grand Bahama Island, Bimini Island, Andros Island, and Exuma Cays
Best Dive Sites in the Bahamas
Nassau: Home of the James Bond Wrecks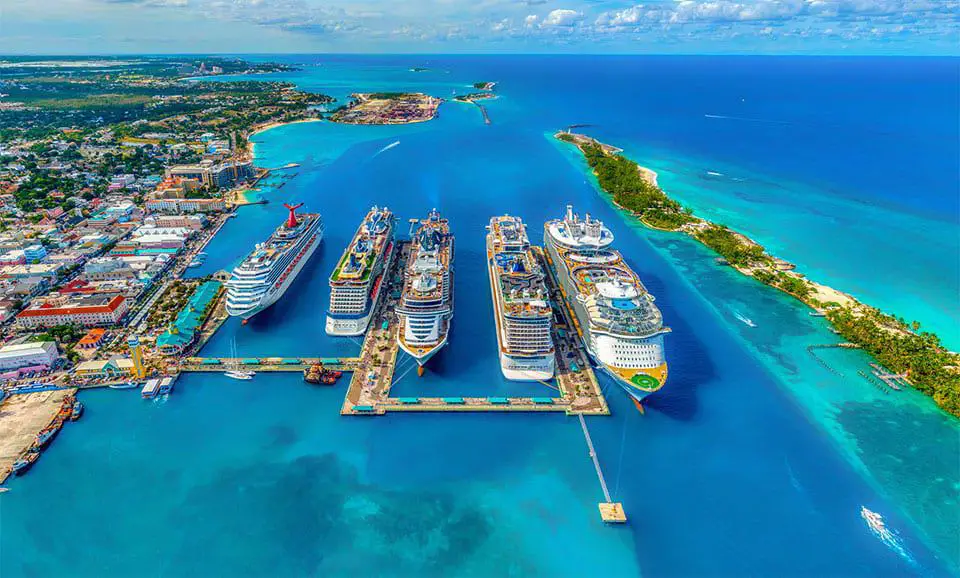 Nassau is the capital city of the Bahamas, the largest city and the center of the diving activity. You can visit and explore over 15 Nassau dive sites packed with underwater action.
Scuba Diving James Bond Wrecks
Located on the west coast of Nassau was once an underwater filming site from the famous Hollywood movie franchise James Bond. And not just one movie was filmed in the James Bond wrecks, but two movies.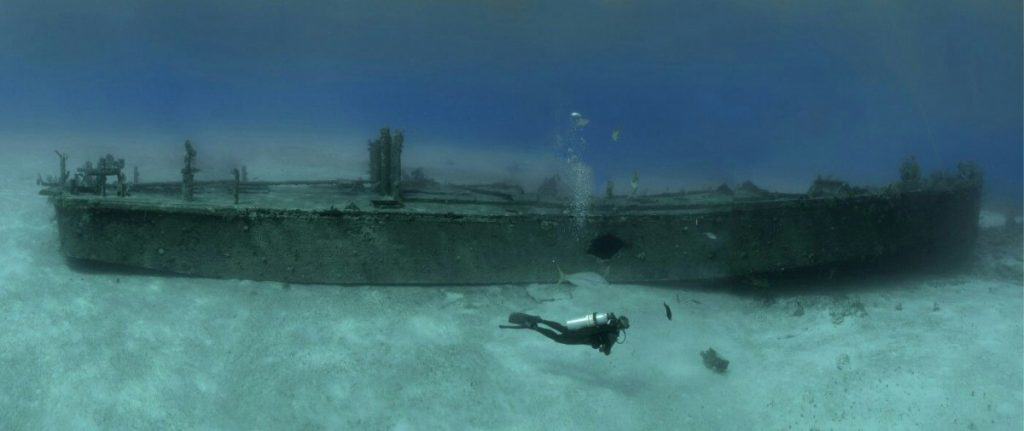 The Tears of Allah featured in the Never Say Never film, you can explore the remains of this former 28 meter (92 feet) long supply tugboat that is now resting at 14 meters (46 feet) deep. With air permitting, you can further explore another featured wreck in another James Bond film. Just a few meters away from the tugboat wreck are the remains of a Vulcan Bomber that appeared in the movie Thunderball. Coral reefs, sponges, and barnacles partially cover the wrecks. The structures have attracted an array of tropical fish like damselfish, butterflyfish, and barracudas.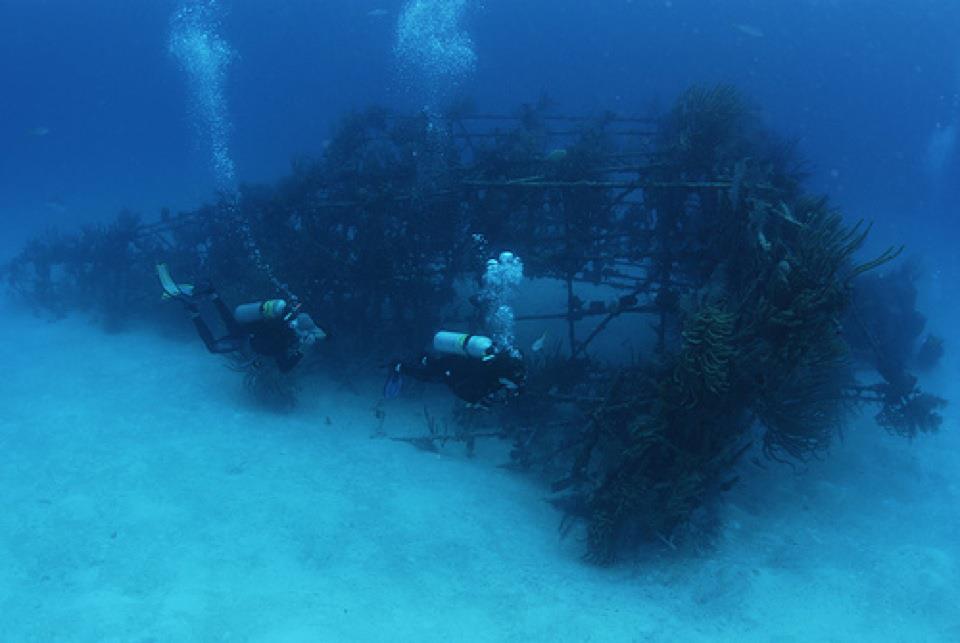 The good news is you can dive the James Bond wrecks with Nassau Bahamas scuba diving without certification. The depth is relatively shallow, and other parameters are conducive for those who have no experience making this a popular spot to discover scuba diving.
Scuba Diving the Runway Wall Nassau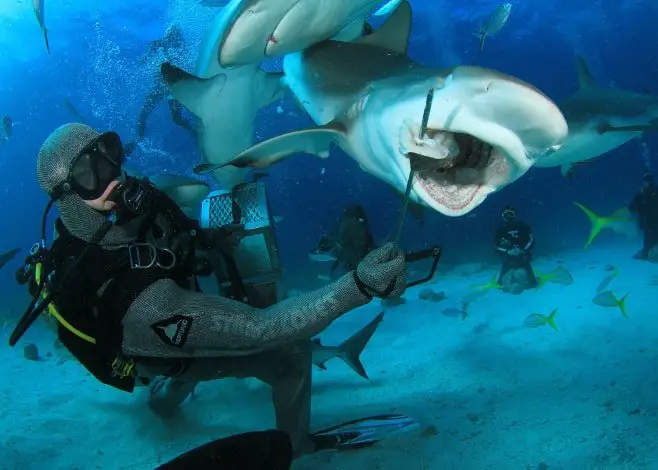 The Runway wall is a popular diving site on the southwest coast of Nassau that is known for both wall diving and diving with sharks. Also called Shark Arena, exploring the Runway wall requires you to descend to a shallow reef at 12 meters (40 feet) deep that houses a healthy population of reef sharks.
If you want more adventure with sharks, you can sign up with the shark feeding dive. Descending further down the wall at a sandy seafloor, your dive guide (usually wearing a chain mail suit) will feed Caribbean reef sharks with fish chunks while you are observing at a safe distance.
Scuba Dive the Lost Blue Hole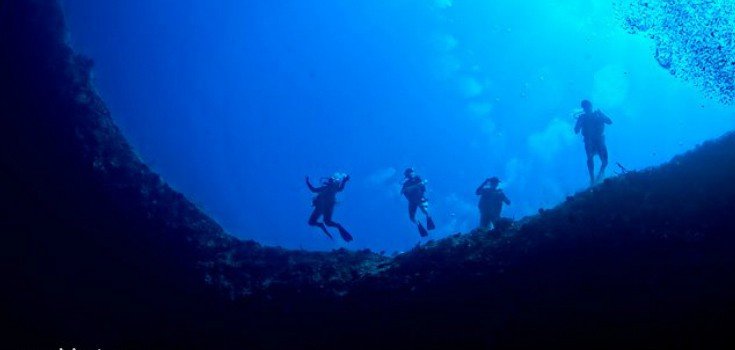 Sixteen kilometers (10 miles) east of mainland Nassau is an offshore site that has a unique underwater topography. The Lost Blue Hole is a 30 meter (98 feet) wide marine sinkhole that has a depth that goes all the way down to 61 meters (200 feet). As you start diving the rim, you will notice a sloping reef that leads to a vertical drop off surrounds it. Within the blue hole's wall are cracks and crevices that have become the refuge of lobsters.
Other noted diving spots in Nassau is the silky shark-infested reefs of Shark Buoy. This dive site is another popular spot for shark feeding where silky sharks will come close to your dive group for a piece of the fish chunk to be given, NOT BY YOU OF COURSE, but by your dive guide who is a highly trained dive professional.
Sidetrip: In Nassau, there are plenty of activities to do on land as well as underwater. The Bahamas National Trust / Retreat Garden has the biggest collection of exotic palms in the world. Adelaide Village has colonial roots and was created by Sir James Carmichael Smyth in 1831 for disembarking slave ships. If you are looking for scuba trips, gear rentals, we highly recommend the PADI Dive Center of Bahama Divers.
Grand Bahama Island: Shark Dives Galore
Situated 88 kilometers (55 miles) east of Florida, Grand Bahama is a popular stopover spot for cruise ships. Aside from indulging in several family-friendly resorts scattered in its 150 kilometers (93 miles) long landmass, scuba divers can indulge in adrenaline loaded underwater adventure in Grand Bahama, where most of its dive sites guarantee an amazing shark diving experience.
Scuba Diving Tiger Beach Bahamas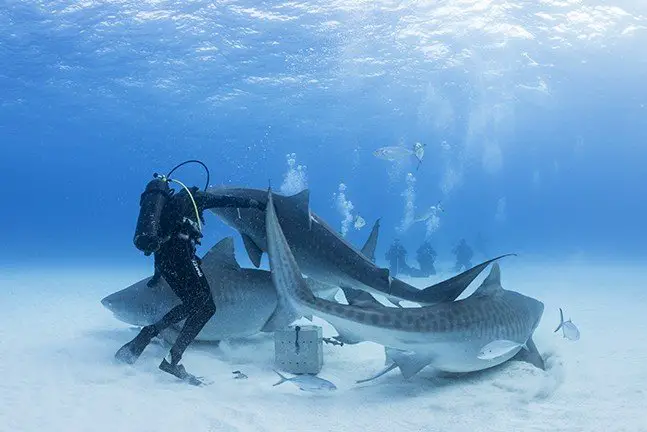 If interacting with tiger sharks is in your bucket list, then we suggest you head out 43 kilometers (27 miles) northwest off of mainland Grand Bahama and explore a beach that has the name of the very shark species you will interact with. Located on the western edge of the Little Bahamas Bank, Tiger Beach has a healthy population of Tiger Sharks.
When you start exploring the area, you will be surprised that the sandy seafloor where the shark interaction occurs is relatively shallow, with a depth of only 9 meters (30 feet). Once you enter the water, you will settle at the seafloor and line up for a perfect view of the shark feeding that will happen moments later. Once your divemaster enters the water with a sealed canister containing fish chunks, tiger sharks will start to show up. If it is your lucky day, you can see up to 6 tiger sharks taking turns for their share of the fish chunk.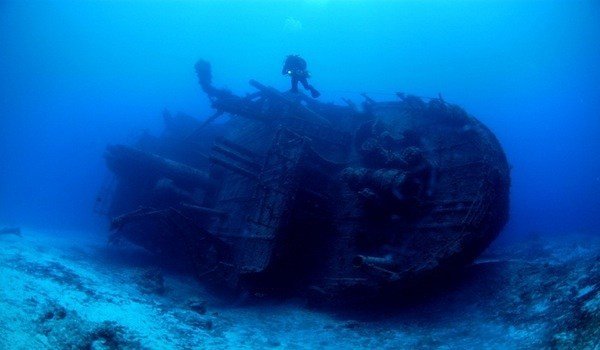 Other noted diving spots in Grand Bahama are the hammerhead shark enriched reefs of Shark Junction, the moray eel haven of the 70 meters (230 feet) long Theo's wreck, the coral strings of Picasso's Gallery and the horseshoe-shaped sinkhole named Ben's Blue Hole.

Sidetrip: In Grand Bahama, you can find 18 of the 28 endemic bird species at Rand Nature Center. You can also go snorkeling at the shallow vibrant reef of Junkanoo Beach Club and feast in a gastronomic diner of plates of seafood afterward.
Suba Diving Bimini Island: Calm Island Life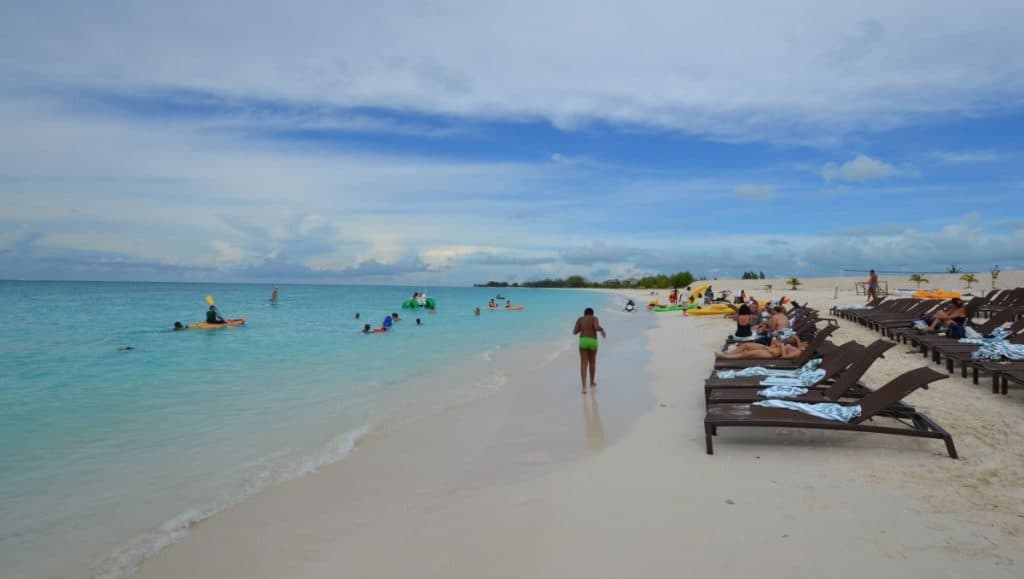 The same with what American Journalist Ernest Hemingway felt when he arrived in the 1930s, you will feel relaxed in the laid back environment of the Bimini Islands. Aside from tourists wishing to have a quiet and peaceful vacation, Bimini is popular with scuba divers and anglers where its surrounding waters are rich in Bimini dive sites and fishing grounds. The underwater bounty of Bimini is brought to you the Gulf Stream, which brings in nutrient-rich water that supports an array of marine life.
Scuba Diving Victory Reef Bimini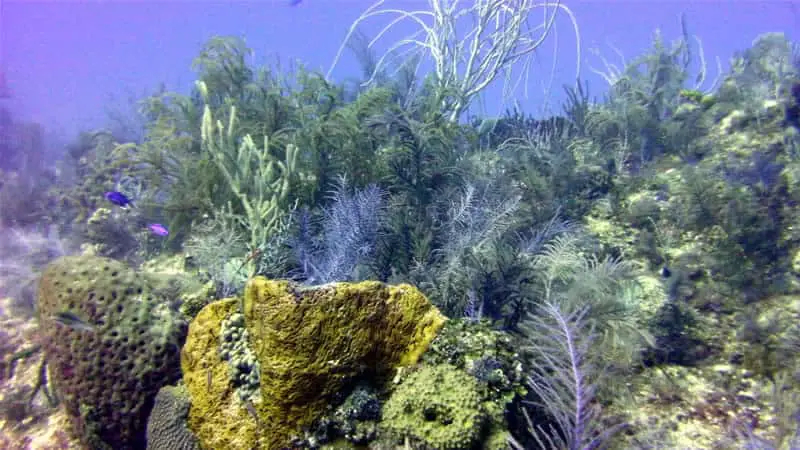 Located off Cat Cay in the south coast of Bimini is an 8 kilometer (5 miles) long strip of the reef that has several micro dive sites such as the Cathedral, Sponge Garden and Rainbow Valley. In general, all dive sites within Victory Reef has an average depth of 9 – 24 meters (30 – 80 feet). Since Victory Reef sits at the edge of the nutrient-rich waters of the Gulf Stream, you will see a lot of marine life like sea turtles, rays, and sharks. Aside from the bounty of marine life, your underwater adventures in Bimini offer constant clear water where visibility never drops down to 30 meters (98 feet).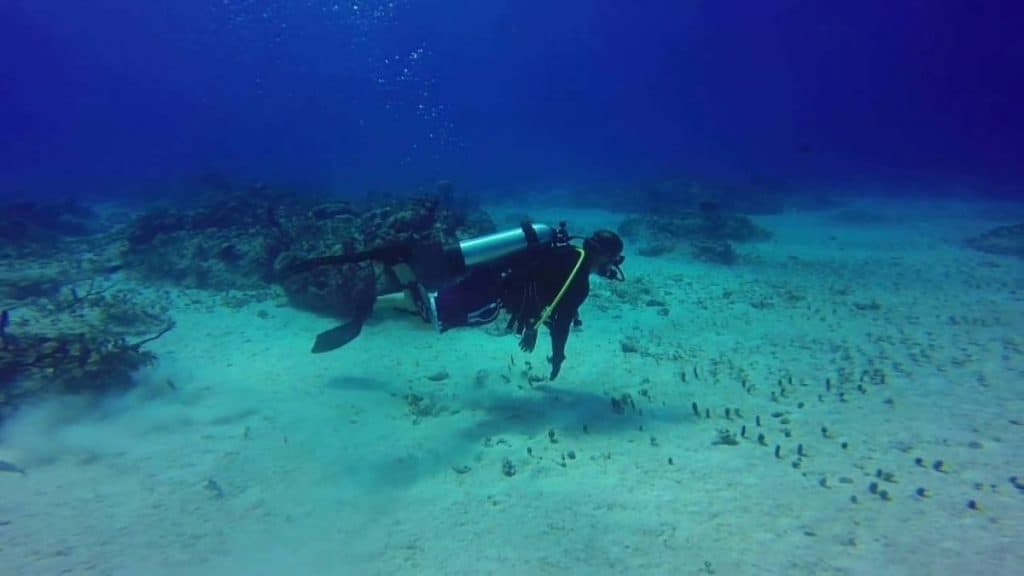 Other noted diving spots in Bimini Island:
Night diving spots of Mamita Wreck
the Atlantis Road, which many believe is the Lost City of Atlantis, 
the loggerhead sea turtle haven of Tuna Alley
Moray Alley where it is popular for its healthy population of southern stingrays and French Angelfish
Scuba Diving Andros Islands: 140 Mile Long Reef
Aside from being the largest island of the Bahamas, Andros has the world's third-largest barrier reef that measures 225 kilometers (140 miles) in length. On top of the vibrant coral community that lives within this extensive reef system, you can find a network of blue holes that are either freshwater, saltwater, or mixture of both, like Little Frenchman Inland Blue Hole. On top, it has a layer of freshwater where visibility can be affected by debris and tannins from the surface. As you go deeper, you will arrive at a crystal clear water environment, which gives you an indication that the surrounding water is already saltwater.
The Crater Scuba Diving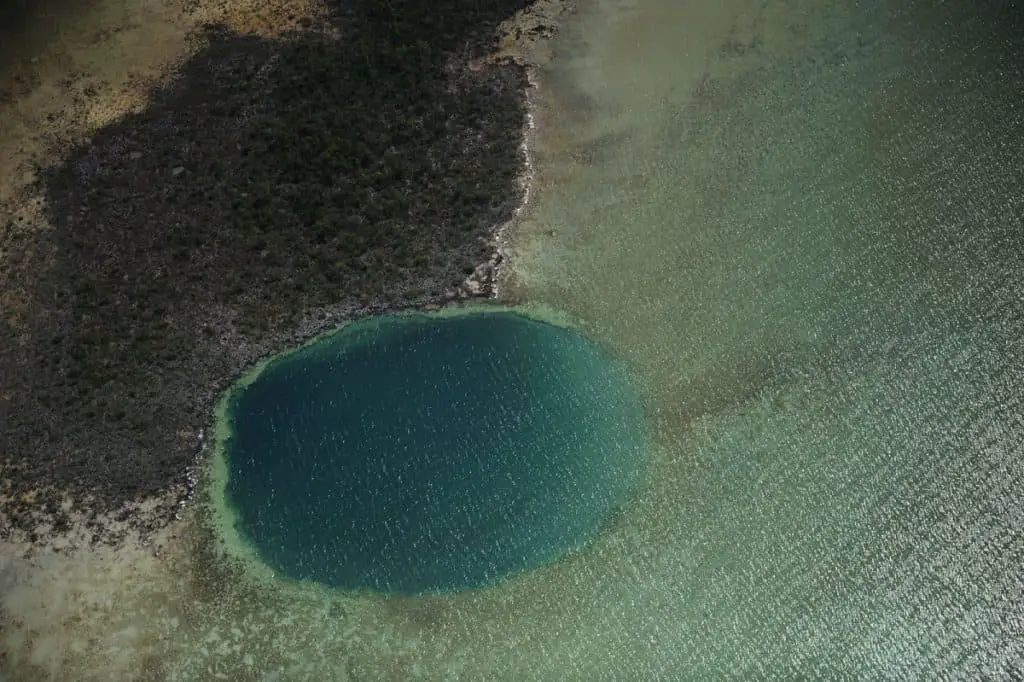 Formerly classified as a seafloor but caved in due to erosion, the Crater is an oceanic blue hole located off Small Hope Bay. You can start exploring this sinkhole by descending first to its upper rim. For newbie divers, we suggest you stay within the perimeter of the rim and do not explore the wall as it drops to abyssal depths. Nevertheless, staying at the shallow portion of the rim will keep you occupied underwater as an array of marine life (like sea turtles, stingrays, eagle rays, and eels) calls this portion of the reef home.
The tongue of the Ocean Diving
Our next popular dive site is situated 39 kilometers (24 miles) northeast offshore of Andros Islands. It is reserved for the experienced or advanced divers: the Tongue of the Ocean, which is a 1,829 meter (6,000 feet) deep ocean trench. You will start exploring this offshore mound by descending to the shallowest part of the reef at 21 meters (70 feet) deep. As you reach the top portion of the reef, you will follow a slope that leads to the ocean trench. With this, we remind you of the maximum depth limits set by your certification level and do not go beyond what you have trained for.
Regardless of how deep or shallow you go, marine life is thriving where you can see over 160 species of fish, including big game fish like marlins, tarpons, sailfish, tunas, snappers, and jacks. The Tongue of the Ocean is also one of the few spots in the world where there is more than one aggregation of Nassau groupers.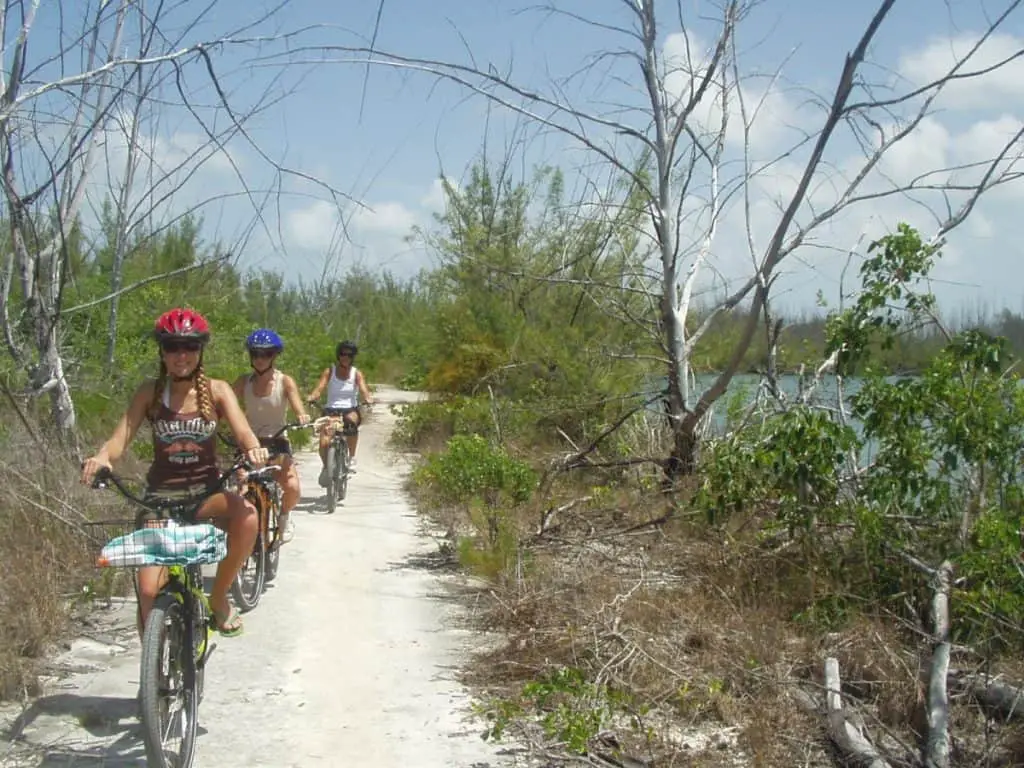 Sidetrip: On top of scuba diving Bahamas, guided mountain biking and hiking tours are popular on Andros Island. Just visit the tourist office in Andros, and their staff will be very glad to give you a tour of the island, either on foot or on a bicycle.
Scuba Diving Exuma Keys: Caves and Sharks
Located on the southern corner of the Bahamas, Exuma is an archipelago consisting of 365 cays that are known for stunning beaches, waterways, and reefs that are suitable for drift diving like the Washing Machine. No, this is not an artificial reef site that is loaded with used washing machines, but instead, the diving conditions are similar to the speed of water movement inside a washing machine.
Located south of Highbourne Cay in the northern section of the Exuma Cays, Washing Machine is a fun drift dive. You will start diving by descending to a shallow reef at 4.5 meters (15 feet) deep. At the start of your dive, the speed of water is usually manageable, but it will speed up once you reach the narrow cut in the reef. This high-speed dive will end at 15 meters (50 feet) as you exit the channel. From high speed to tranquility, you will end this dive by making a safety stop while hovering over a vibrant reef at 3 meters (15 feet) deep.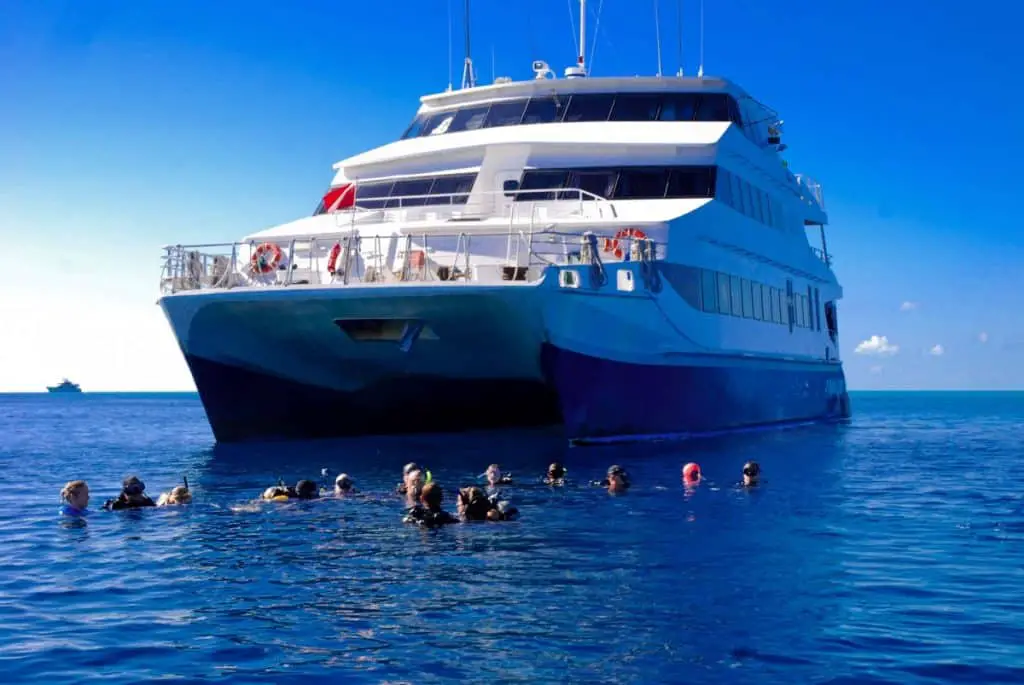 Liveaboard Recommendation: We highly recommend the Aqua Cat Liveaboard Vessel when you explore Andros Islands and Exuma Cays. This 31 meters (102 feet) long luxury catamaran has 11 cabins that can accommodate up to 30 divers on an 8-day dive safari adventure.
At Scuba Dive Geek we highly recommend Liveaboard.com, they have great options if you are planning experience Bahamas Liveaboard Diving.
General Information about the Bahamas
Capital city
Nassau
Currency
Bahamian dollar (BSD)
Official language
English
Visa Required
No
Electricity Standards
110 V / US
Time Zone
GMT-4
Official tourist information website
www.bahamas.com
Points of Interests
Nassau: Visit Blue Lagoon Island, Ardastra Garden Zoo and Conservation Center, Bahamas National Trust / The Retreat Garden and the Adelaide Village

Grand Bahama Island: Bahamas Nature Trust Rand Nature Center, Dolphin Close Encounter at Sanctuary Bay and the Junkanoo Beach Club

Bimini Island: Snorkel at Atlantis Road, Ansil's Boat House, Bimini Biological Field Station (also known as Shark Lab), guided Tours at Bimini Nature Trail.

Andros Islands: visit the Spa at Kamalame Cay, Pine Forest nature walk, beach hopping.

Exuma Keys: Exuma Land & Sea Park, Moriah Harbor Cay, and National Park, Shroud Cay and sailing.