Panama diving is about its rich underwater biodiversity. It is an isthmus that is characterized by a narrow strip of land surrounded by seas and oceans on both sides and forms a link between two large areas of land. It is considered a transcontinental and a transoceanic country where it separates the waters from the Atlantic and Pacific Oceans while uniting the landmasses of North and South America.
Among its popular man-made structures is the Panama Canal. While its landmass naturally subdivides two bodies of water, this artificially dredged waterway connects the Atlantic to the Pacific Ocean providing maritime vessels a bypass route that significantly reduces travel time and cost.
But Panama is not just about canals and waterways. On top of the canal tolls that significantly contribute to the country's GDP, tourism is also a major economic contributor and is rapidly growing due to government tax incentives and price discounts to foreign guests and retirees making this a good place to retire.
Panama's tropical environment supports a high diversity of flora and fauna. On land, forest and massive woodlands are a major attraction where tourists can hike on beautiful mountain trails. But for us divers, Panama is a haven since, with just a few minutes ride, you can choose to either go diving in the Pacific or Atlantic.
Diving Conditions in Panama
Panama has a tropical climate, and due to relative humidity, air temperatures are uniformly high but seldom exceeds 32°C (90°F). While Panama has little seasonal variation, temperatures on the Pacific side are lower than on its Atlantic counterpart. The rainy season is pronounced that runs from May to November.
Scuba diving is a year-round activity in Panama and the best time to go diving is from April to December. During these months, water temperature averages at 28°C (83°F) and waters are clear with visibility ranging from 15 – 25 meters (49 – 82 feet). The dive sites in Panama, considered to be one of the best diving in Central America, are divided into 2 sections that correspond to its unique geographical setting. On the Pacific side, scuba diving Panama city, Santa Catalina Panama and Coiba National Park diving are your major destinations while Scuba Panama Portobelo, Colon Panama Scuba Diving and Bocas Del Toro Diving are the main spots for the Atlantic side.
Diving Conditions in Panama: at a Glance
Ave. visibility
15 – 25 meters ( 49 – 82 feet)
Ave. water temperature
28°C (83°F)
Current
Low to average
Experience
For all levels of certification
Exposure Suit
3 to 5mm
Type of diving
Wall diving, drift diving, boat diving, deep diving
Marine life
Whitetip reef sharks, whale sharks, yellowfin tuna, marlin, goliath grouper, hawksbill turtles, eagle rays and manta rays

Seasonal: Humpback whales in the Pacific side from July to September
Corals
Some
Wrecks
Some
Liveaboard
Recommended for Coiba Island
Best time to visit
April-December
Main diving area
Pacific side: Panama City, Santa Catalina, and Coiba Island

Atlantic Side: Colon, Portobelo and Bocas del Toro
Best Dive Sites in Panama
Diving in the Pacific Side of Panama
Santa Catalina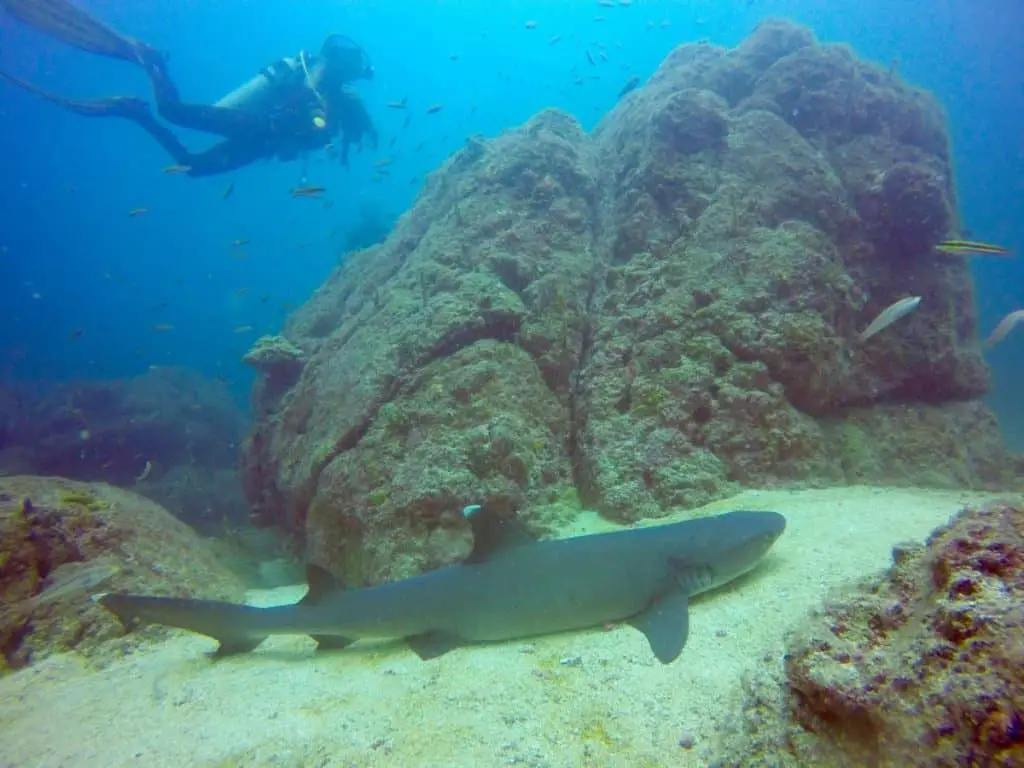 Santa Catalina is a small beach-side town on the Pacific coast of Veraguas. Playa El Estero and Playa Santa Catalina are amongst its popular dive sites. The underwater topography is relatively varied where you can hover over volcanic rocks and patches of corals. But while the reef floor lacks the vibrancy of a healthy reef, it is compensated with the immensity of fish swimming in midwater. Name it, Santa Catalina has it: crevalle jacks, barracudas, snappers, eels, groupers, lobsters, crabs, white tip reef sharks, nurse sharks and a lot more.
While it seems that a highly diverse fish population awaits your presence underwater, you have to take note that during the rainy season, visibility in Santa Catalina can get worse as it is affected by river runoff. But do not worry as the rainy season will open new dive sites for you to explore like Coiba Island.
If you are looking for a dive shop in Santa Catalina, we recommend the PADI 5-star resort of Panama Dive Center.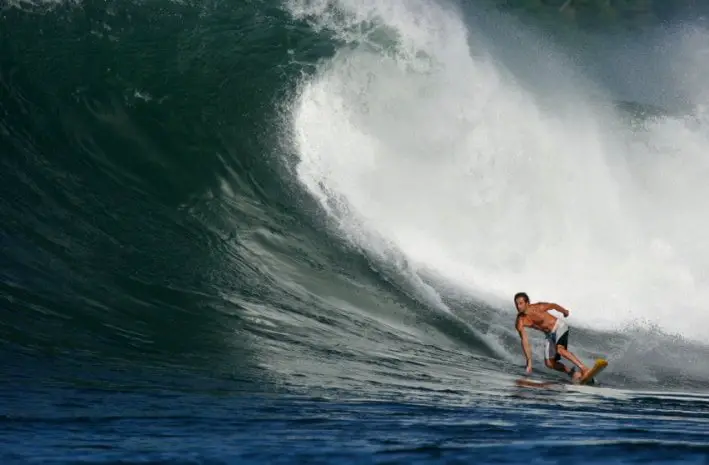 Sidetrip: If you are based in Santa Catalina and feel like surfing, Santa Catalina's Surf Break is a hotspot. Otherwise, you can stroll through this small fishing village's relaxing atmosphere. Be advised though that most businesses do not accept credit cards. So having some cash in your pocket will come in handy.
Coiba Island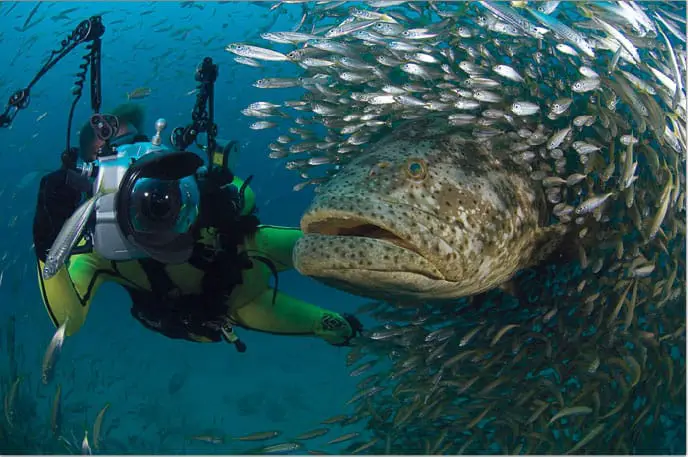 Located 57 kilometers (35 miles) southwest offshore of Santa Catalina is a former prison island that was abandoned and developed to become a National Park – Coiba Island. Due to its remote location and isolation from human activities, marine life was able to flourish in abundance. It was eventually declared a UNESCO World Heritage Site in 2005 primarily for its extensive reef system.
Due to its offshore location, diving in Coiba Island is often done by signing up with a liveaboard trip. Most of its dive sites are located on the northwest coast like Picos Gemelos. This site is characterized as having a sloping reef with 2 large rocks that protrude out in open water and encrusted with sea fans and gorgonians. Exploring this site is recommended for newbie divers as the average depth is only 8 meters (26 feet) deep and protected from the strong current. While moray eels, frogfish, jacks, and barracudas are the regular residents of this reef, large marine vertebrates can sometimes be seen passing by like manta rays and whale sharks. Escalera de Jacob is another dive site in Coiba Island. Also known as Jacob's Ladder, this site is recommended only for advanced divers as water current is predominantly strong making it a good spot for drift diving. As you enter the deep blue waters, you will ride along moderate to strong current and arrive in a pinnacle. The shallowest tip of this limestone mound is at 16 meters (52 feet) and the structures drop steeply towards 40 meters (131 feet) deep.
Located 15 kilometers northeast of Coiba island is a popular layover spot for liveaboard vessels – Granito de Oro. Liveaboard vessels are not just here to rest, but they offer their guests guided underwater tours. Around this small granite island are 3 dive spots, namely: Mali Mali, El Porton and El Cholo where all these sites are known for an array of tropical fish like snappers, spotted eagle rays, Pacific barracuda, wrasse and goliath groupers. Sharks also abound in these 3 dive sites where you can see whitetip reef sharks, whale sharks, hammerheads, bull sharks and the occasional passing of the Oceanic whitetip sharks.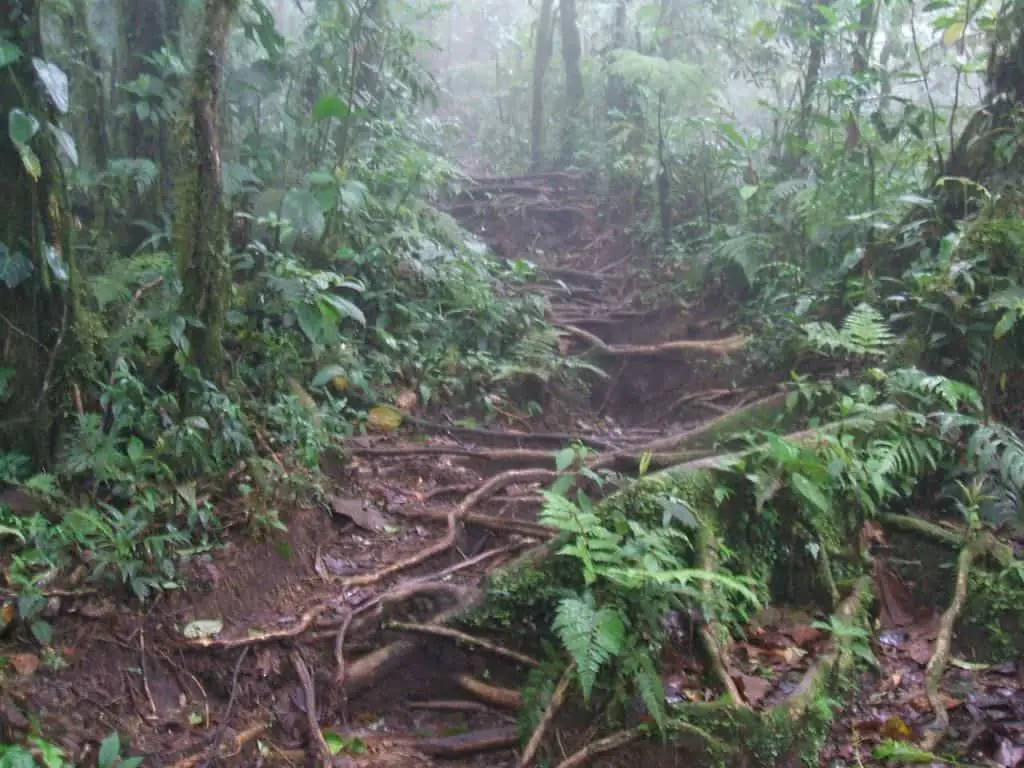 Sidetrip: Coiba island is covered by tropical rainforest. Hiking tours through the island are available and you can even organize them through your dive operator. Troops of monkeys abound the island.
Diving in the Atlantic Side of Panama
Colon
If Panama City is the main entrance of the Panama Canal on the Pacific side, then Colon is its counterpart in the Atlantic side. Its primary diving spot is the World Heritage Site of Portobelo National Park. On the periphery of this national park are Panama's top Atlantic diving sites.

Located on the west side of the national park just outside the Bay of Portobelo is Drake Island. This small island is the final resting place of Sir Francis Drake – the famous English sea captain, privateer, slave trader, pirate, naval officer and explorer back in the 16th century. On top of exploring this sloping reef, what divers usually do is to search for Sir Drake's coffin as it was foretold that his body was placed in a lead coffin and cast out to sea.
If you are into deep diving, then we highly recommend you visit Terry's Reef. The existing reef that you see now is believed to be sitting on top of an ancient wreck and that, due to the high nutrient content of its surroundings, has been completely encrusted with hard corals, soft corals, sponges, and sea fans. With this, you can also call this site as Terry's Wreck Reef.
Other notable diving spots in Colon is Salmedina Reef. Situated further west offshore from Drake Island, Salmedina is a semi-submerged barrier reef that has caused the accidental end to several ships.
Sidetrip: The Portobelo Forts are unique, some of its buildings date back to the 1600s. The Royal Customs House is intact and has a very professional visitor center. Fort San Fernando is surrounded by beautiful forests and it´s a great place to go bird watching.
Bocas del Toro
Another popular diving destination on the Atlantic coast of Panama in Bocas del Toro or the Bull's River Mouth. It has over 20 dive sites scattered in over 10 islands and islets.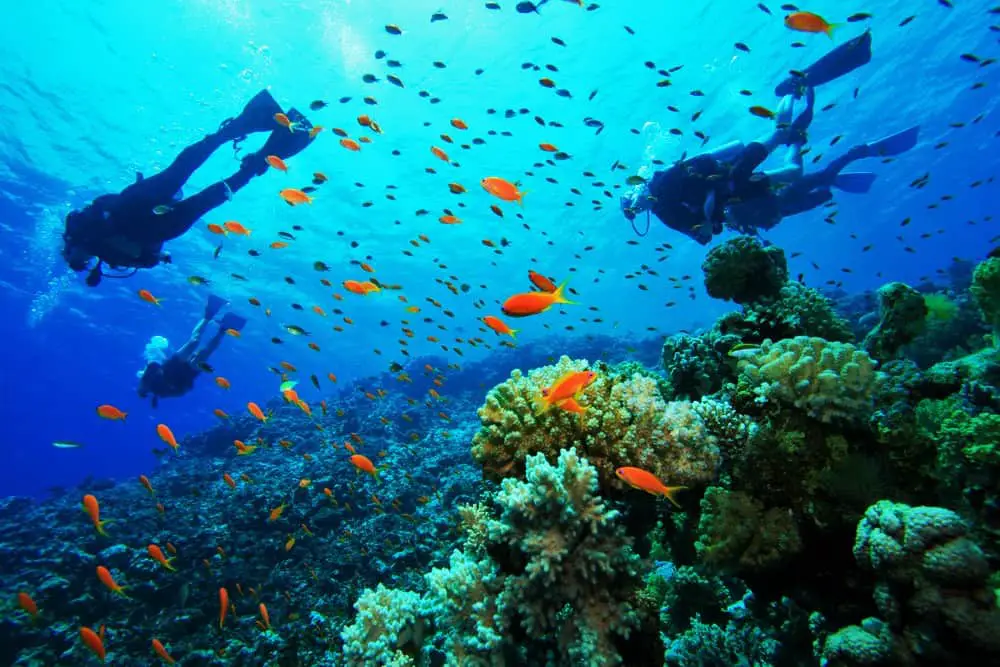 Recommended for newbie divers is the Hospital Point. Located at the northern end of Isla Solarte, diving in Hospital Point starts by walking in a shallow sandy bay and swim towards the reef at 3 meters (10 feet) deep. As you swim further, the reef starts to slope down and you will notice that corals start to populate where you can see a lot of lettuce and brain coral, particularly at depths of 16 meters (53 feet). The edge of the reef slope is a wall that drops down to the seafloor. This vertical ledge is filled with numerous cracks and overhangs. Many dive operator features this as a great night diving spot where a variety of marine life comes to life and highly active like southern rays, nurse sharks, and hermit crabs.
On the west side of Isla Solarte is Coral Garden. This site boasts some of the healthiest corals in the Atlantic side of Panama. Also called Grandma's Garden, Coral Garden is highly recommended for beginner divers as the reef is shallow ranging from 4 to 18 meters (13 – 59 feet) deep. Among the marine life thriving in Coral Garden are green sea turtles, hawksbill sea turtles, nudibranch and other small marine critters earning this site a great spot for macrophotography.
Named from a hotel that is no longer operational, Punta Manglar is a reef that houses a wide variety of tropical reef fish like the damselfish. The reef starts at 5 meters (16 feet) deep and slopes down to 18 meters (59 feet) deep with several species of corals thriving before it flattens out in the sandy seafloor. Pufferfish, southern stingrays, moray eels, eagle rays, and nurse sharks are often seen in this site.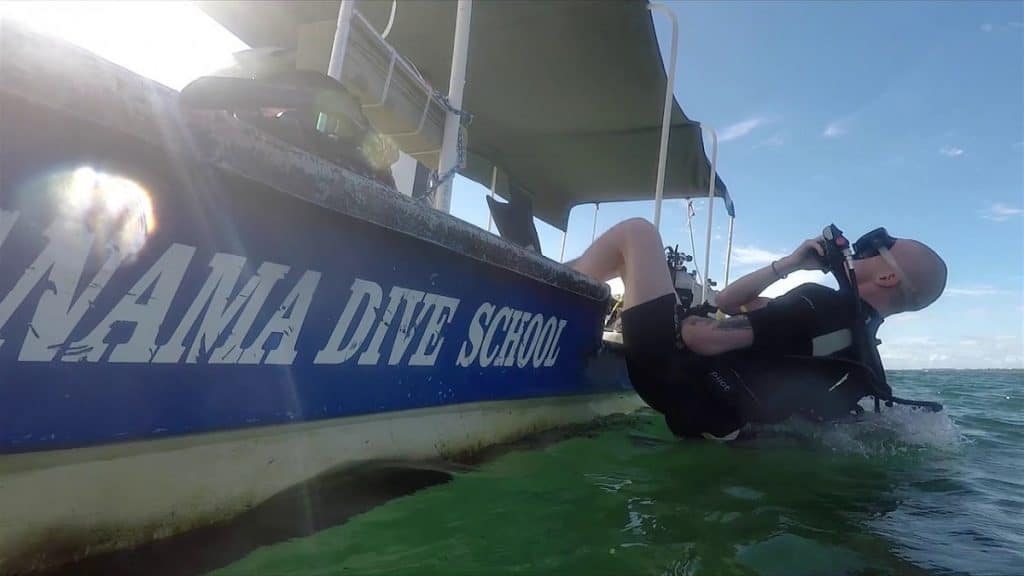 If you are looking for a dive shop in Bocas del Toro, we highly recommend Panama Dive School. This PADI Dive Resort facility offers certification courses from Open Water up to Divemaster and guided tours to most dive sites in the Atlantic side of Panama.
General Information about Panama
Capital city
Panama City
Currency
US Dollar
Official language
Spanish
Visa Required
Tourist cards are required to visit ($5 charge when you purchase the ticket).
Electricity Standards
110 V / US
Time Zone
GMT-5
Official tourist information website
www.visitpanama.com
Points of Interests
Panama City: Miraflores Locks Visitor Center and Museum. Panama Canal Crossing Tours. Casco Viejo, Colonial Panama City. Visit the Forts of Portobelo. Bird watching and hiking at Soberanía National Park

Coiba Island: Snorkeling Granito de Oro. Snorkeling Machete beach. Surfing Santa Catalina.