The Republic of Palau is an island nation in the Pacific Ocean. It is situated 800 kilometers (500 miles) east of the Philippines and 960 kilometers (600 miles) north of Indonesia, both of which are also a popular diving destination.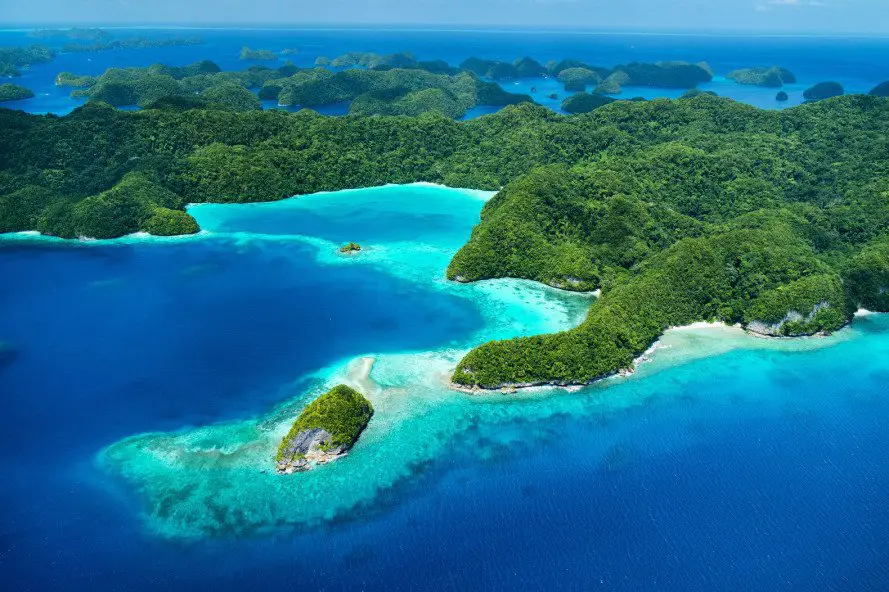 Consisting of 340 islands with a total coastline length measuring 1,500 kilometers (930 miles), Palau is a scuba divers paradise where you can explore over 80 dive sites, most of which will take you to go drift diving and wreck diving. In fact, Palau has a good collection of shipwrecks and plane wrecks from the Second World War. Liveaboard diving is also popular in Palau, especially if you intend to go diving in the southern islands.
How to get to Palau: Before we proceed with describing the underwater beauty of Palau, it is imperative that you should know how to get to this diving paradise. Since it is located in the vastness of the Pacific Ocean, the only way to get to Palau is to fly in via the Roman Tmetchul International Airport (ROR). Located 6 kilometers (4 miles) from the town of Koror, this is the only international airport that services daily incoming and outgoing flights.
Diving Conditions in Palau
Palau has a tropical climate. While located in the tropics and conditions are fairly good for diving, you have to take note of the good news and bad news. The good news is that Palau is outside the typhoon zone and it is very rare for storms to pass the islands. On the other hand, the bad news is that Palau receives a decent amount of rainfall. While rain is prevalent year-round, it is concentrated from July to October which can affect visibility, especially in sites near the shore.
With this, November to May is the peak for the Palau diving season. During these months, you can enjoy a warm water temperature ranging from 21-32°C (70-90°F) and clear waters with visibility at 20-30 meters (60-100 feet).
Despite Melekeok being considered as the Capital of Palau, diving is centered at Koror which is the largest city and it is where half of Palau's residents live. This is where most of the dive shops are located that offers gear rental, certification courses and guided tours to nearby dive spots and to the sites in the Southern Islands.
Diving Conditions in Palau: at a Glance
Ave. visibility
20-30 meters (60-100 feet)
Ave. water temperature
21-32°C (70-90°F)
Current
Low to Average
Experience
For all levels of certification
Exposure Suit
3mm
Type of diving
Wall diving, drift diving, cave diving, shore diving, boat diving, muck diving, drift diving and wreck diving
Marine life
1300 species of fish, 700 types of anemones and corals, six endemic marine fish species

Orange stripe wrasse, gobies, Needle-spine coral goby, Helen reef pygmy goby, collared wrigglers, Apogon dianthus cardinalfish, deep blue Chromis, Protoanguilla Palau eel, False-saddled snake-eel, Cuttlefish, gray reef shark, blacktip shark, and whitetip reef shark
Corals
Famous for its corals
Wrecks
Famous for its wrecks
Liveaboard
No, but recommended for the South West Islands
Best time to visit
November-May
Main diving area
Koror
Best Dive Sites in Palau
Koror – Epicenter of Palauan Diving
If you try to look at statistics, Koror will tell 2 things. First, it is home to half of Palau's population. Second, it houses most of Palau's dive sites and is your jump-off point to nearby destinations.
Amatsu Maru Wreck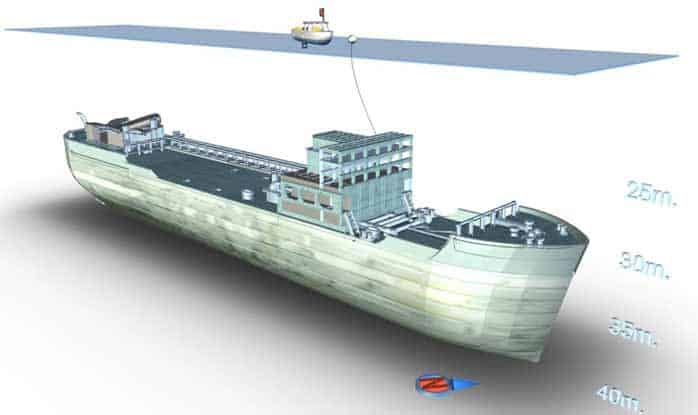 Measuring 159 meters (522 feet) long, the Amatsu Maru wreck is the biggest shipwreck, not just Palau but in Micronesia. This former Japanese naval vessel now rests at 40 meters (131 feet) deep. She has an upright position where you can explore the shallower portions of the wreck, like the main deck at 30 meters (98 feet) deep.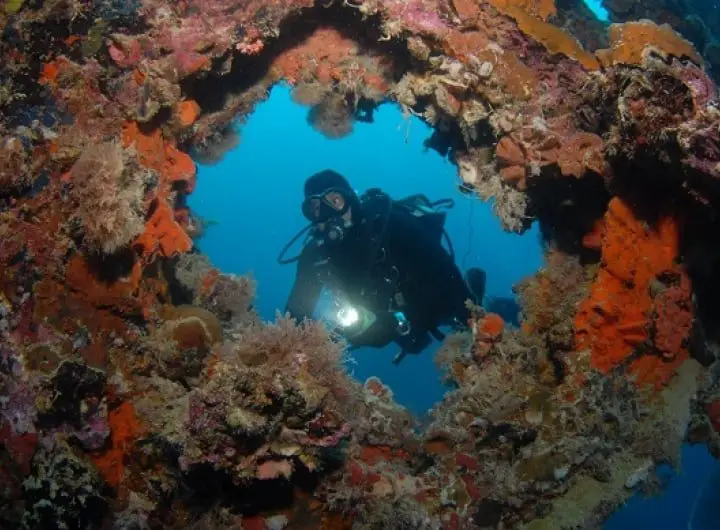 The Amatsu Maru wreck is also called as the Black Coral wreck since it has a healthy population of black corals that have encrusted its structures.
Iro Maru Wreck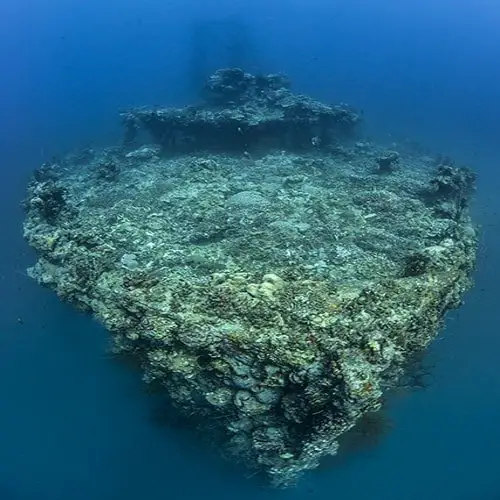 After taking a direct hit at the engine room during the 1944 Operation Descrate 1 of the Second World War, the Iro Maru succumb to its final fate and sank. Measuring 143 meters (469 feet) long, this former Japanese Naval freighter is now resting at an identical depth with the Amatsu Maru at 40 meters (131 feet) deep. With a perfect upright orientation, you can explore different parts of the ship at various depths. The deck can be found at 25 meters (82 feet) deep while the top of the mast is the shallowest part at 8 meters (26 feet) deep. Her structure is now fully encrusted with soft and hard corals.
Jake Seaplane Wreck
The Jake Seaplane wreck is a former Japanese Navy plane that was discovered by a fisherman who saw it from the surface. Now, this gives you a hint on how clear the surrounding waters are. Measuring 11 meters (36 feet) long with a wingspan of 15 meters (49 feet), this slow flying reconnaissance plane is now resting at 15 meters deep in an upright position. Although her engines were detached and badly damaged, most of the planes section is intact. The tail section is detached but can be found just a few meters away.
Those are just some of the wrecks that you can explore in Palau. Let us now proceed to other popular diving sites which will primarily take you to go drift diving.
Blue Corner Palau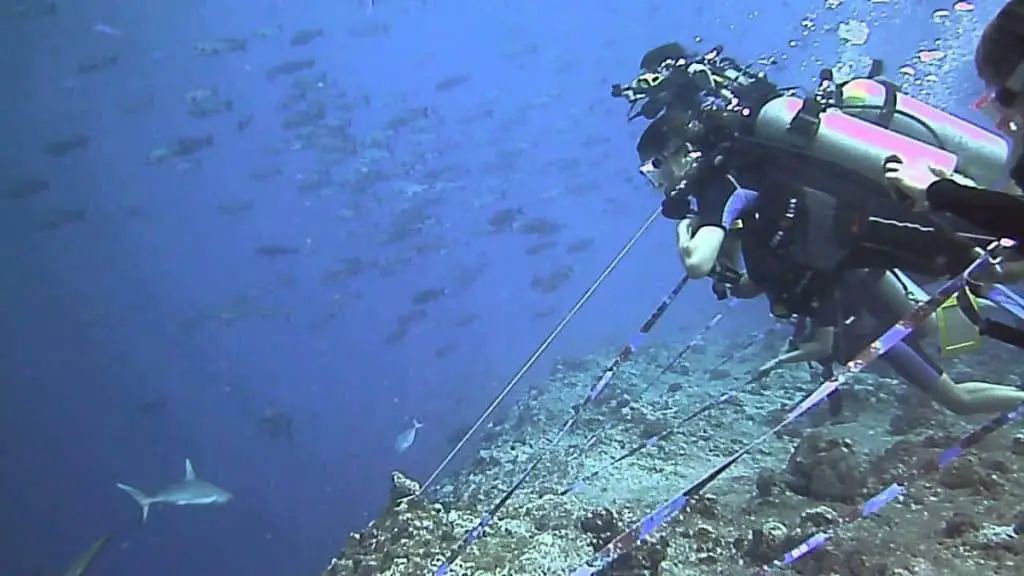 Considered as one of the best diving in the world, Blue Corner is an epic dive that requires you to go drift diving along unpredictable currents. The usual fad when exploring Blue corner is you will initially descend to a reef flat at 8 meters (26 feet) deep. You will then swim towards the ledge and secure yourself in one of the solid rocks using a reef hook so that you will not be carried away by the strong current.
While firmly attach to the reef, you will feel the incoming rush of water as a result of upwelling. In effect, nutrient-rich waters rise from the deep which supports an array of marine life. Here you can see eagle rays, whitetip reef sharks, gray reef sharks, dogtooth tunas and Napoleon wrasse.
The Big Drop off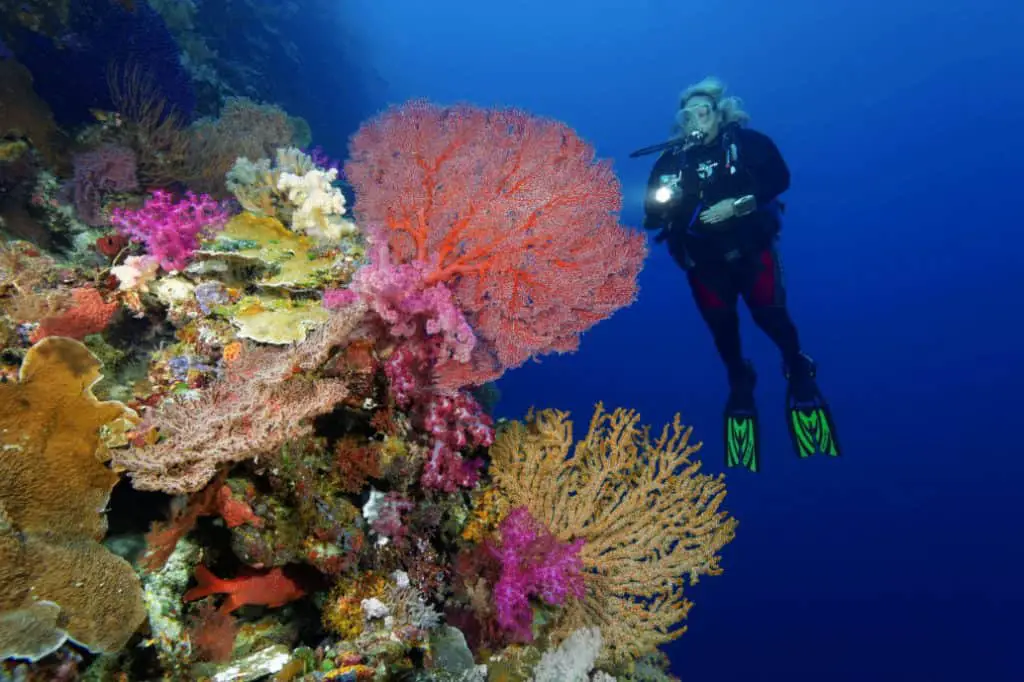 Situated along Ngemelis Island, the Big Drop Off has a close resemblance to the Blue Corner, except that it is not subjected to strong current. The top portion of the reef is very shallow at 3 meters (10 feet) deep making it the perfect entry point. While underwater, it will not take you long to reach the vertical wall that plunges down to 274 meters (900 feet) deep. As you traverse down the wall, you will see that the ledge is fully encrusted with corals, sponges and sea fans with varying colors. Among the resident living in the vertical structures of the Big Drop Off are Moorish Idols, butterflyfish, clownfish, nurse sharks and hawksbill sea turtles.
Peleliu Diving
Peleliu is an island situated 46 kilometers (28 miles) south of Koror and is known for 2 things: the Battle of Peleliu in the past (particularly during the Second World War) and presently as a diving destination. This island is surrounded by 8 dive sites, all of which guarantee you fun and satisfaction.
Peleliu Wall, Peleliu Cut and Peleliu Express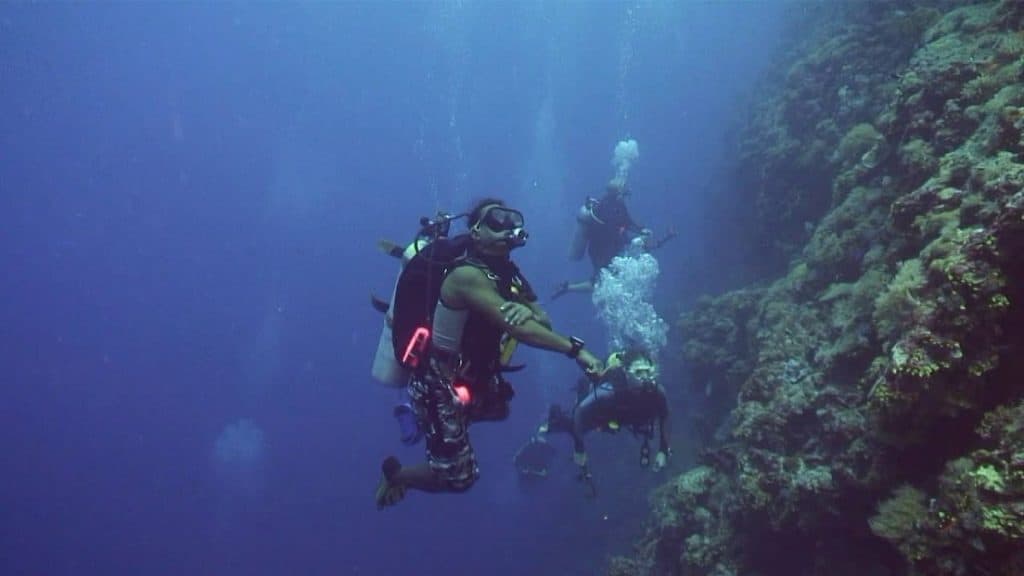 Located on the southern coast of Peleliu Island, Peleliu Wall is a steep canyon that has a healthy population of large pelagics like sharks. Exploring Peleliu Wall will initially require you to descend to its reef crest at 10 meters (33 feet) deep. You will ride along moderate to a strong current that will take you the wall that goes all the way down to 30 meters (98 feet) deep. Typically, you will secure yourself using a reef hook to one of the rocks in the reef crest just at the top of the vertical wall where it is a good spot to see tiger sharks and bull sharks.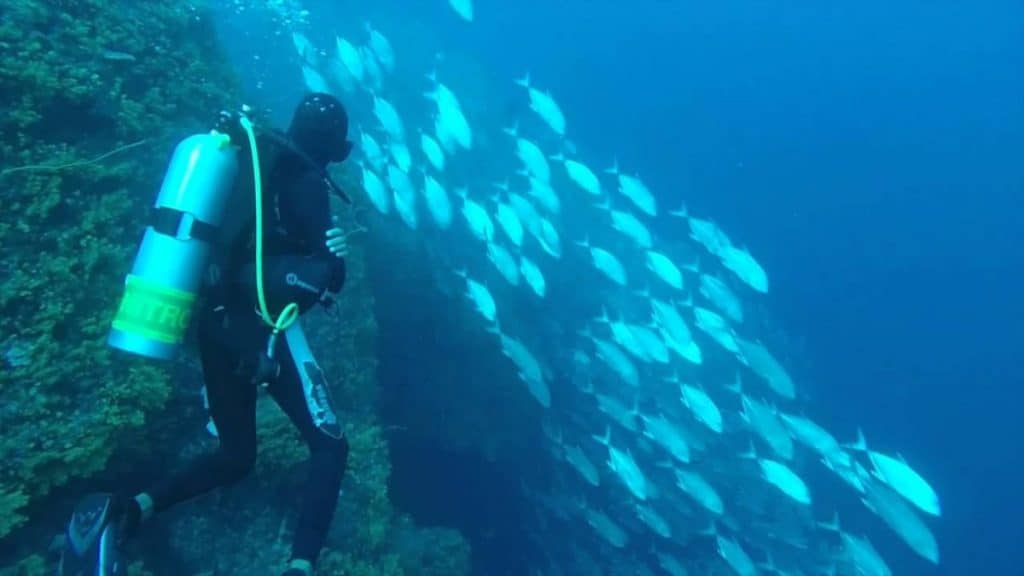 Once you detach yourself from the reef hook in Peleliu Wall and if the current is pretty strong, you will then proceed to Peleliu Cut where whitetip reef sharks and jacks abound the reef.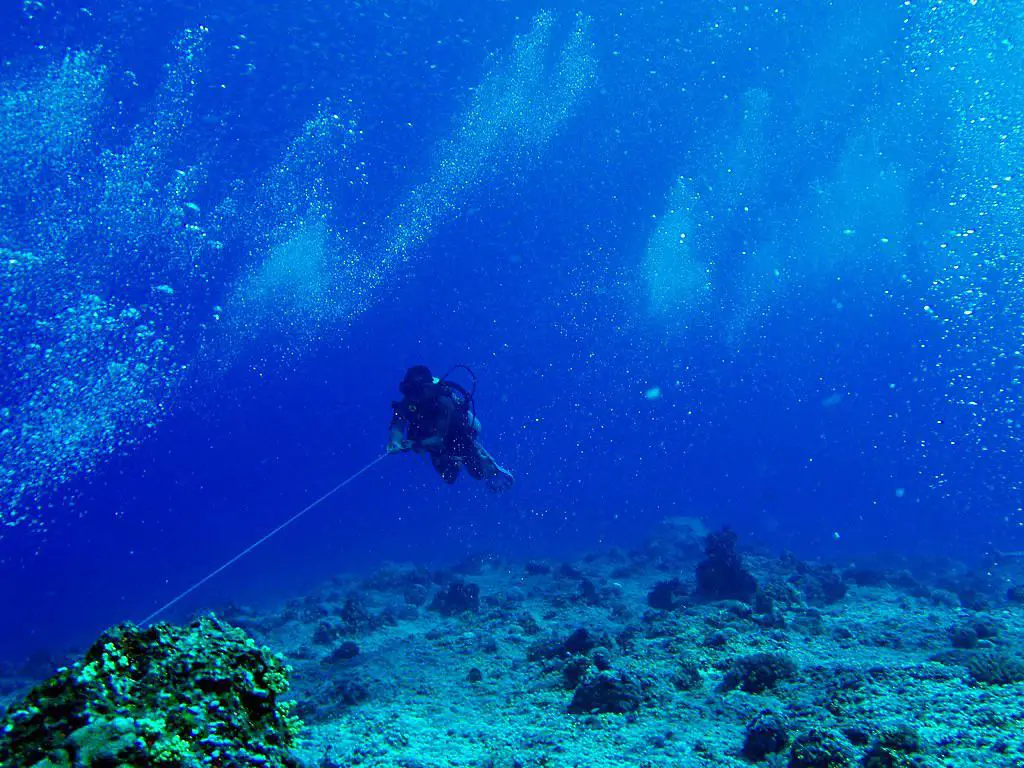 Peleliu Wall, Peleliu Cut, and Peleliu Express are adjoining reefs. Among these sites, Peleliu Express has the strongest current where it can reach 4 knots.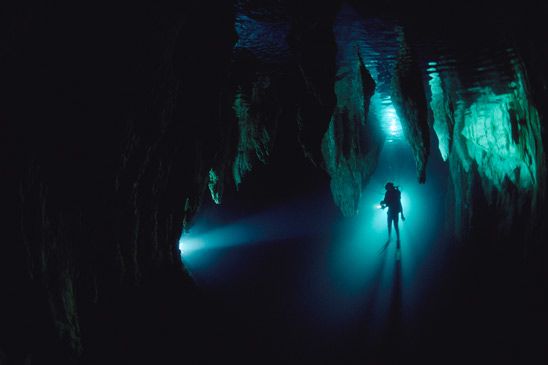 Other noted diving sites in Koror are the huge Chandelier Cave where you can see stalagmites and stalactites and the Ngedebus Corner which is popular for Napoleon wrasse, gray reef sharks, and whitetip sharks. The southern islands of Palau are also good for diving like Helen Reef, Tobi Island, and Merir Island. However, the reefs in this marine reserve were badly damaged from coral bleaching due to El Nino.
Recommended Palau Dive Shops: For all your diving needs like gear rental, scuba certification and guided underwater tours, we highly recommend the PADI facilities of Fish n Fins Palau and Palau Dive Adventures.
Palau Liveaboard Diving
For you to maximize your Palau dive adventures and visit the most number of dive spots, we highly recommend you sign-up for a Palau liveaboard cruise. The itinerary will usually cover the top diving spots of Koror all the way down to the southern islands which are 600 kilometers (373 miles) from mainland Palau. With this, we highly recommend the 32 meters (105 feet) long Palau Aggressor, the 29 meters (95 feet) long Ocean Hunter III or the Eclipse and Safari liveaboards from Sam´s Tours.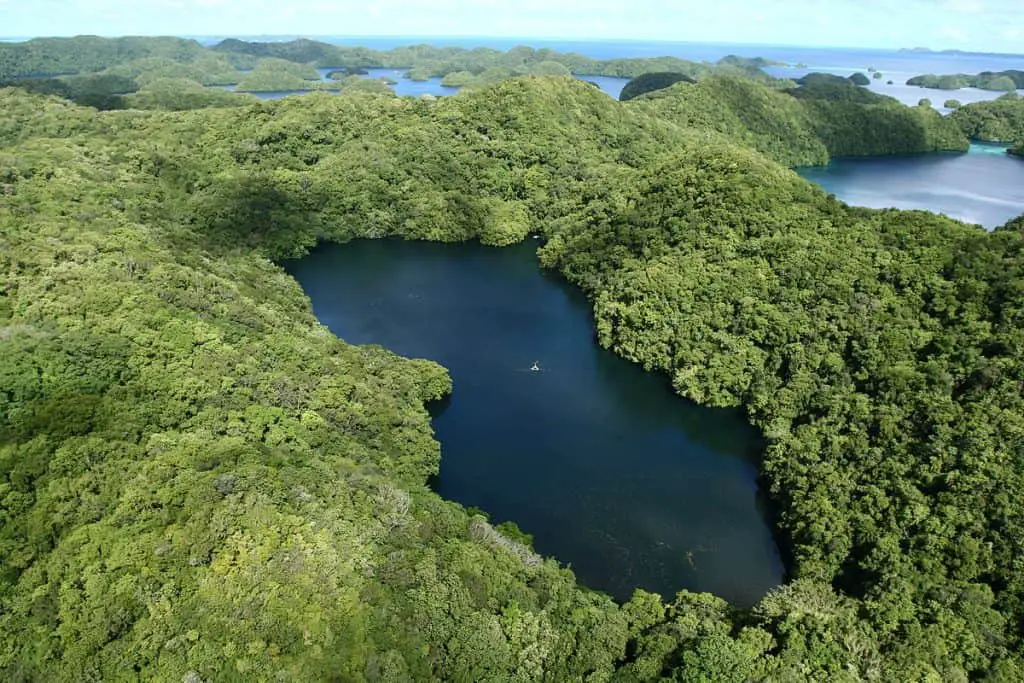 Sidetrip: Your visit to Palau is not complete without dropping by at Jellyfish Lake. Located at Eil Malk Island, Jellyfish Lake is host to millions of golden jellyfish that migrate horizontally across the lake every day.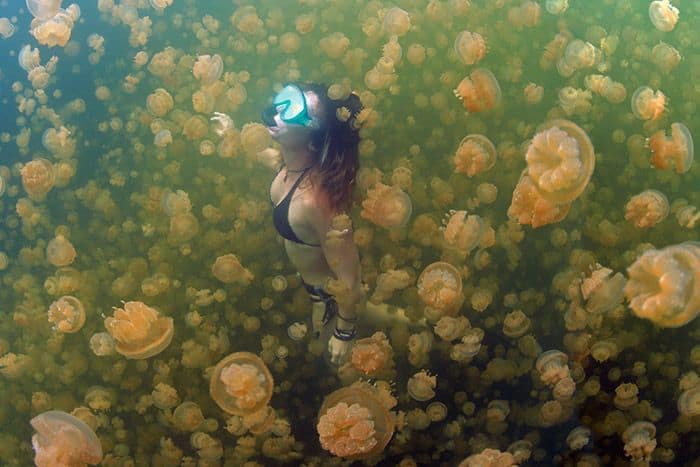 Snorkeling is the main fad in Jellyfish Lake and do not worry about getting stung as they are stingless.
General Information about Palau
| | |
| --- | --- |
| Capital city | Melekeok |
| Currency | US dollar (USD) |
| Official language | English, Palauan |
| Visa Required | No |
| Electricity Standards | 110 V / 60 Hz |
| Time Zone | GMT +9 |
| Official tourist information website | www.visit-palau.com |
| Points of Interests | Jellyfish Lake and Ngardmau Falls in Badeldoab |