Two main landmasses (the North Island and the South Island) with over 600 smaller surrounding islands make up New Zealand. Hence it is dotted with hundreds of diving sites. While scuba diving New Zealand you'll enjoy flourishing and endemic marine life. Moreover, the amazing underwater topography will attract you. Congruently, the tectonic uplifting of its landmass has created a unique and varied landscape. This is the reason why scuba diving is one of the amazing things to do in New Zealand.
Do you believe that New Zealand was one of the last landmasses to be settled and occupied by humans? Due to its remote location, the British were only able to colonize this southwestern pacific group of islands in Oceania in 1841. Prior to colonization, the absence of humans has allowed New Zealand to flourish its own yet distinct flora and fauna. Not surprisingly, its fertile grounds have boosted its abundance and this bounty of nature, especially evident when you go underwater.
Diving Conditions in New Zealand
Due to its narrow geographical setting, New Zealand has varied weather conditions. The North Island experiences subtropical weather while temperate conditions are prevalent in the South Island. In general, it has 2 pronounced seasons. First, the summer which runs from November to February with air temperature ranging from 10-18°C (50-65°F). Second, the temperature drops down to 3-10°C (37-50°F) during winter from June to August. For us divers, water temperature is our primary concern. Hence, it is good to note that the best time to go diving in New Zealand is during the summer. If advice is followed, you can wear an exposure suit with a thickness of at least 5mm.
Furthermore, scuba diving the surroundings of New Zealand offers you different types of dive sites:
Reef diving
Kelp diving
Cave diving
Drift diving
Wall diving
Wreck diving
Ice diving
Moreover, most of the sites feature a 10 to 30 meter (30 to 100 feet) visibility. In particular, North Island is the best site to see tropical fish. Also, this is where most of the dive sites are located. For example, you'll find:
Poor Knights island
Scuba diving Auckland
White island diving
Dive zone bay of islands
Scuba diving Coromandel
Alderman islands diving
On the other hand, the South Islands are popular for its fiords. Not to mention, its dive sites are known for black coral gardens like Kaikoura diving.
When it comes to scuba diving new Zealand prices, it will depend on three things:
Where you will be diving
The type of diving that you will be doing
The equipment to be used.
But do not worry as there are several dive shops operating and the prices vary a little. Nevertheless, your diving adventures in New Zealand will be worth every penny.
Diving Conditions in New Zealand: at a Glance
Ave. visibility
10 – 20 meters (33 – 98 feet)
Ave. water temperature
11°C (51°F)
Current
Average to Strong
Experience
For all Levels of Certification
Exposure suit
5mm or thicker / Dry Suit
Type of diving
Reef diving, kelp diving, wreck diving, cold water diving, wall diving, cave diving, drift diving, and ice diving
Marine life
Humpback whales, southern right whales, sperm whales, loggerhead sea turtles, green sea turtles, hawksbill sea turtles, olive ridley sea turtles, yellow-bellied sea snakes, banded sea snakes, blue cod, blue mackerel, tarakihi, hapuku, yellowtail kingfish, red cod, black marlin, blue marlin, great white shark, mako shark, hammerhead shark, thresher shark, blue shark, copper shark

Endemic Species: Hector's dolphin, Maui's dolphin, Kina sea urchin, and the Paua abalone
Corals
Some
Wrecks
Some
Liveaboard
Recommended for Cavalli Islands
Best time to visit
November to February
Main diving area
North Island: Tutukaka, Bay Islands and Bay of Plenty
South Island: Fiordland, Milford Sound, Stewart Islands
Best Scuba Diving Sites in New Zealand
Diving North Island
Diving in this 11 million-year-old landmass is possible all year round. While the landmass of North Island is large with an area of 113,729 km2 (43,911 mi2), diving activities are anchored at the eastern coast. Mostly located in a coastal town called Tutukaka where a marina and most dive shops are found.
Poor Knights Islands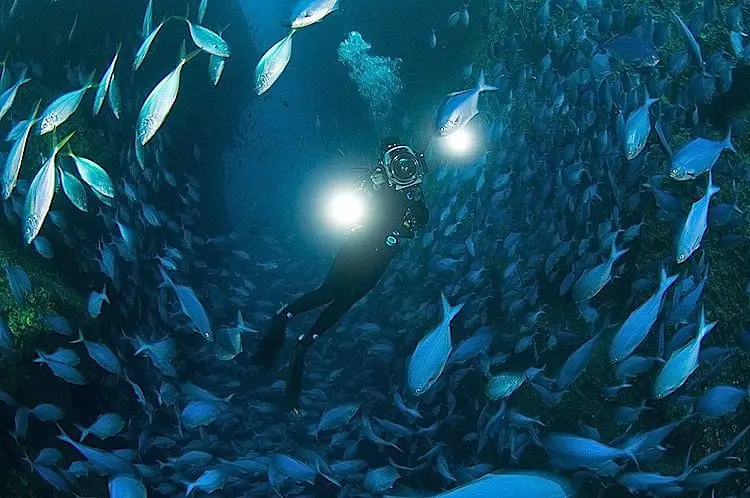 Located 23 kilometers (14 miles) northeast of Tutukaka is the top diving spot of New Zealand – Poor Knights Island. This volcanic chain of islands is a marine reserve where commercial fishing is prohibited within a one nautical mile radius. Luckily, Poor Knights diving conditions are relatively mild. While it has over 10 established dive sites, Blue Maomao is the most popular and the most explored site.
This area features a varied underwater topography that includes large limestone arches, aptly called Maomao Arch. Once you swim through this huge overhead structure on the southern part of Poor Knights Island, your attention will either be focused on one of two things:
How sunlight radiates on the limestone
The passing of a thick school of endemic sea chubs called blue maomao, thus the sites' name.
Located on the western coast of Poor Knights Island is an ideal site for deep diving – the Red Baron Cave. Descending down to 25 meters (82 feet) deep, you will arrive at the caves' entrance. Here, coral shrimps, nudibranch, and scorpionfish fill the outer wall. Get ready as you go near the entrance of the cave as you may see and interact with the big boys of the deep – sharks.
Wrecks of Waikato and Rainbow Warrior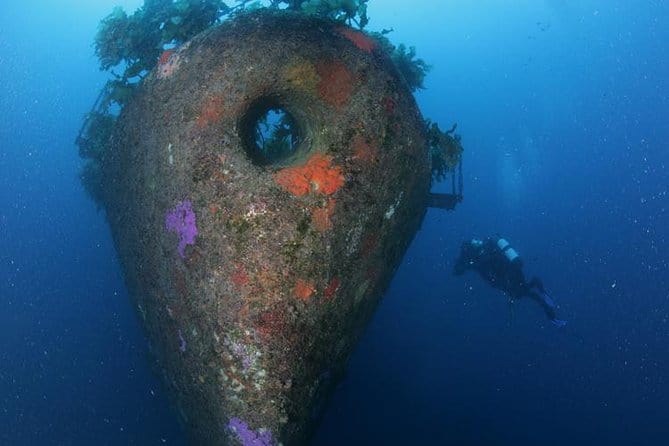 North Island houses some of the best wrecks in New Zealand. Located near Cavalli island is the final resting place of Greenpeace's flagship vessel – the Rainbow Warrior. This anti-whaling ship has a sad story wherein the French Foreign Secret Service bombed it in 1985 while attempting to prevent a nuclear test. In 1987, it was towed and sunk near Cavalli island to become an artificial reef. This 40-meter (131 feet) long vessel is now resting at 18 meters (60 feet) deep. Down there, the hull is now fully encrusted with large colonies of sea anemones. In fact, it is a great site for underwater photography.
The remains of a 115-meter long Frigate is another underwater attraction in North Island – the Waikato wreck. Located near the coast of Tutukaka, the hull is now resting at 40 meters (131 feet) deep. But the chimney is the shallowest part at 14 meters (46 feet) deep. Exploring this former warship, which served the New Zealand Navy for 20 years, you will see that it has large dugouts. This allows you to safely penetrate the internal structures. Outside, you can still see the Tourette gun in the bow area.
Bay of Plenty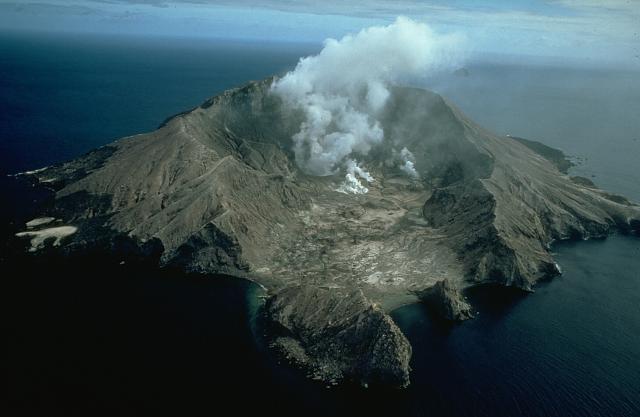 Being New Zealand's top holiday destination, Bay of Plenty is also a popular diving spot. This is courtesy from the Subtropical East Auckland Current that brings in nutrients and attracts an array of marine life. White Island is known for its submarine volcano and sharks where you can see copper sharks, mako sharks, and blue sharks, as well as large pelagics like the blue marlin. On top of reef diving, this nutrient-loaded water flow will allow you to go drift diving following a mild to moderate current.
Sidetrip: The Bay Islands has an array of outdoor activities that will compliment your diving adventures, such as speed boat cruises, wineries, vineyard, and socio-cultural tours.
South Island Diving Sites
Fiordland National Park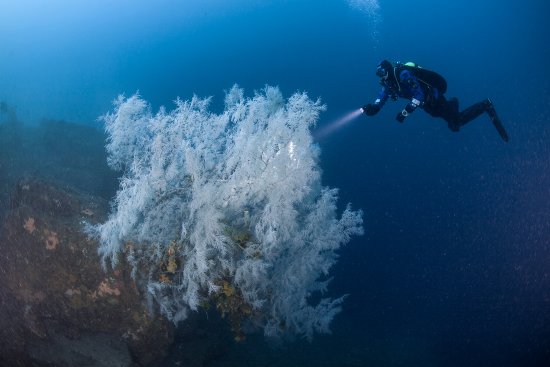 Your primary diving spot in South Island is a World Heritage Site located on the southwest coast – Fiordland. It is the largest national park in New Zealand that has spectacular geographic scenery. Within the park is Milford Sound where many marine organisms call this marine abode their home.
Diving in Milford Sound allows you to see a different set of marine life. One that is thriving in a unique type of underwater landscape. Over 150 species of fish like sharks, stingrays, and eels thrive in the underwater limestone cliff that is predominantly encrusted with black corals. Focusing your sight on the surrounding exoskeleton of black corals, you will see that a myriad of marine life is flourishing. Here, you will see octopus, nudibranch, crayfish, tube worms, sponges and yellow zoanthids. You will also have the chance to interact and play with fur seals. Interestingly, the bubbles exhaled from your regulator attract these guys.
Sidetrip: Do not forget to drop by at the Milford Sound Discovery Center and Underwater Observatory. Here you can walk down into a large underwater viewing room at 10 meters (33 feet) deep. Here, you will be able to observe the underwater environment of Milford Sound without getting wet.
Stewart Island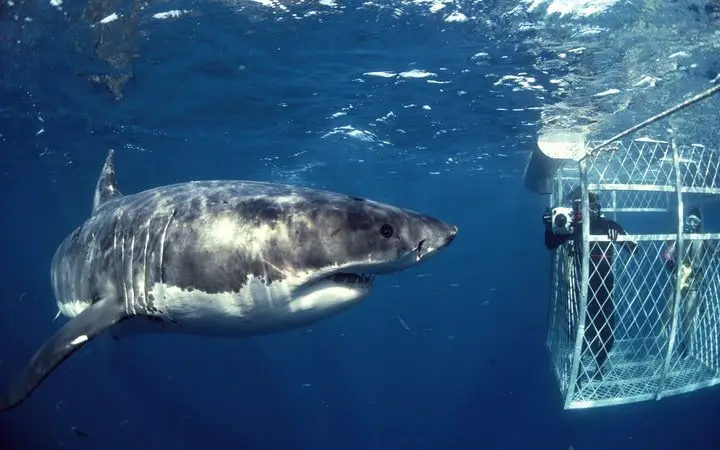 Located 30 kilometers (19 miles) south of South Island is New Zealand's third-largest landmass – Stewart Island. Taking an hour boat ride from Bluff, you will arrive at this diving paradise that is predominantly covered with giant kelp. The cold-water environment (temperature ranging from 8-14°C / 46-57°F) of this algal forest presents a new set of marine life. Here you will be able to see kiwis, penguins and sea lions. And if you want to see bigger stuff, then prepare yourself for adrenaline loaded adventure where you can go cage diving with one of the largest apex predators in the marine environment – the great white sharks.
Paua Scuba Diving Spots NZ
If you are into endemic marine invertebrates, then you are in the right place. New Zealand is the home of the Paua Abalone – a type of mono valve mollusk that can only be found in this corner of the Pacific ocean. Living in coastal rocks between 1 to 15 meters (3 – 49 feet) deep, you can find three species of Paua in New Zealand:
The Common Paua
The Silver or Queen Paua
The Virgen Paua.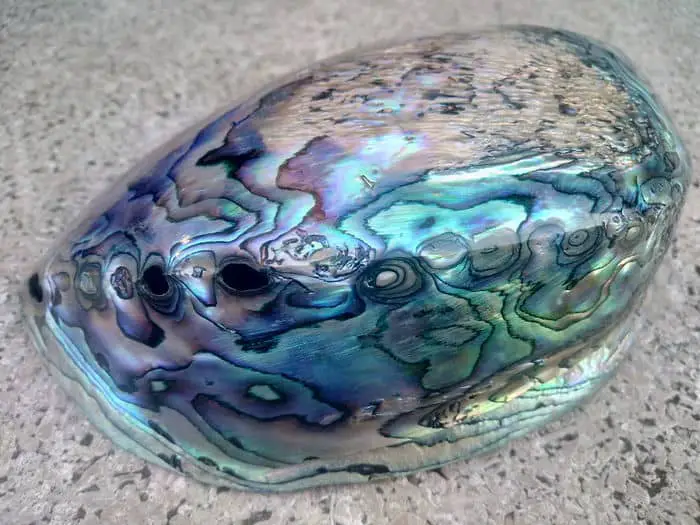 Actively grazing on seaweeds as their primary source of nutrition, Paua can grow big. To clarify, their size depends on the population of algae and water quality. While having a size range from 70-140mm (2.7 – 5.5 inches) when matured, Paua grows larger in the cool waters of the South Island. Here they can reach 200mm (8 inches). Valued for its meat and its vibrantly-colored shell, divers harvest Paua in the South Island. Moreover creating a $50 million per year industry in Chatham, Stewart Islands, and on the southern coast of the North Island.
Now, for scuba divers, it will be very easy for us to earn a living while enjoying the sport we love the most. It can be one of the New Zealand scuba diving jobs. But this is not the case as the government has placed strict regulations on Paua fisheries setting harvest quota and method of extraction. Here THE USE OF SCUBA IS NOT ALLOWED and only free-diving is permitted. This makes snorkeling new Zealand (particularly snorkeling New Zealand south island) a popular sport and livelihood combination. But still, you need to follow rules as each free-diver is only allowed to harvest 10 pauas per day.
General Information about New Zealand
Capital city
Wellington (Auckland is the largest city)
Currency
New Zealand Dollar (NZD)
Official language
English
Visa Required
No
Electricity Standards
230v / 50Hz
Time Zone
GMT +12
Official tourist information website
www.newzealand.com
Points of Interests
North Island: Fernland´s spa thermal mineral springs, Te puna quarry park, Cargo shed art and craft market, Whale island kayaking tours, Kingfisher yacht charter, Dolphin eco-experience, Half-day eco-cruise, Excitor high-speed adventure, Cruise the island on a speed boat, Self-guided walks in Tutukaka

South Islands: Boating and hiking in Fiordland national park, Driving in Milford Road (drive from Te Anau to Milford Sound), Bird watching in Ulva in Stewart Island, Rakiura Museum, sunset hiking in Observation Rock
Scuba Diving New Zealand Video