As a country made up of 1,200 coral islands, Maldives is a jewel rising above the vastness of the Indian Ocean. Situated 724 kilometers (450 miles) southwest of Srilanka, the naturally formed ring-like atolls of Maldives is known for its abundance in marine life, especially when we talk about sharks and rays. With this natural bounty, there is no doubt that the best dive Maldives is considered one of the best scuba diving in the world.
Traditionally, cowry shells and dried tuna were traded. But with its natural beauty and bounty of marine resources, ecotourism has been promoted. In effect, tourism is now the main driving force of its economy.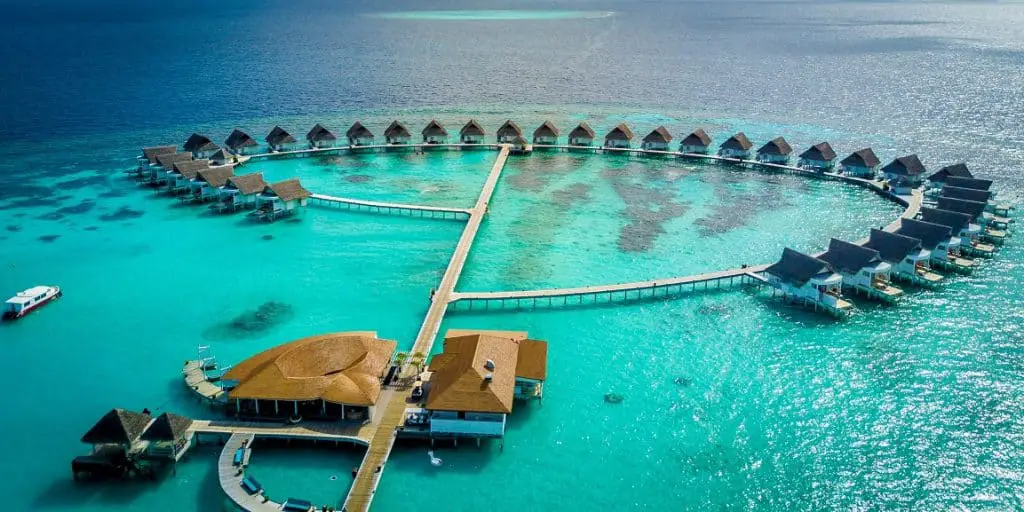 The Maldives is not just about visiting pristine reefs and clear waters. It is also about having a vacation in style. The quality of hotels and resorts in the Maldives are on par with other diving destinations where its best diving resorts the Maldives are mostly first class. In fact, Maldives is popular with honeymooners seeking privacy and elegance.
Tip: If you are visiting the Maldives with the primary intention to go diving (not on a honeymoon), then we highly recommend Maldives diving liveaboard. These vessels can take you to all, if not most of the best diving spots of Maldives while providing you with a comfortable stay while out at sea for days.
Diving Conditions in the Maldives
In general, Maldives has a tropical climate. It has 2 pronounced seasons: the wet season that runs from May to November and the dry season from December-April which is also considered as the best time for scuba diving. The waters are warm with an average temperature at 28°C (82.4°F) and clear with visibility ranging from 15-30 meters (49-98 feet).
Looking at the Maldives dive site map, you will already know that your dive site is situated on or near an atoll. While it was previously mentioned that the Maldives has 1,200 coral islands, your main diving areas are concentrated in Male Atoll, Ari Atoll, Faadhippolhu Atoll, and Felidhoo Atoll. Most of the dive sites are exposed to strong currents. In effect, drift diving is your common dive profile. As far as underwater topography is concerned, Maldives has 2 types: thila which is an underwater island and kandu that is described as a broad channel. Take note that the strongest currents can be felt in a thila that is situated within a kandu.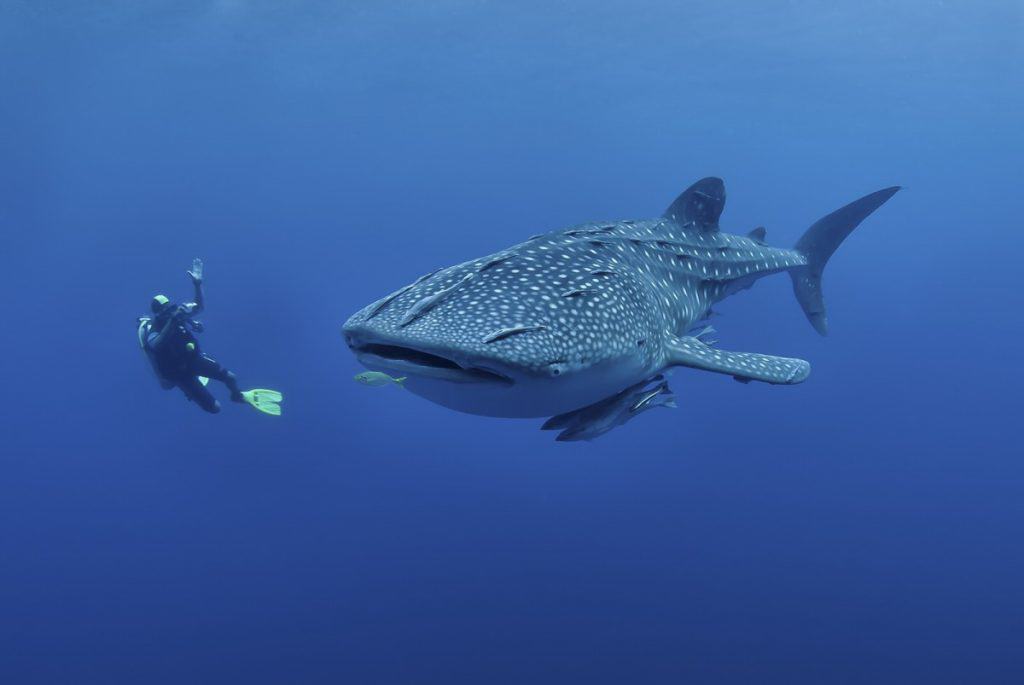 Whale sharks are a big attraction in Maldives where they are freely swimming in its plankton-enriched waters. If you want a guaranteed sighting of the biggest fish in the world, then we highly suggest you visit from November to December since it is considered as the whale shark season in Maldives.
Diving Conditions in Maldives: at a Glance
| | |
| --- | --- |
| Ave. visibility | 15-30 meters (49-98 feet) |
| Ave. water temperature | 28°C (82.4°F) |
| Current | Strong, famous for its drift dives |
| Experience | For all levels of certification. However, experienced or advanced certification is recommended |
| Exposure Suit | 3-5mm |
| Type of diving | Reef diving, drift diving, deep diving, wreck diving, and boat diving |
| Marine life | Manta rays, grey reef sharks, whitetip sharks, whale sharks, zebra sharks, giant frogfish, clownfish, blue-striped snapper, longnose hawkfish, Napoleon wrasse, oriental sweetlips, green sea turtle and hawksbill turtle. |
| Corals | Some |
| Wrecks | Some |
| Liveaboard | No, but recommended for Felidhoo Atoll |
| Best time to visit | December to April during the dry season |
| Main diving area | Male Atoll (Kaafu), Ari Atoll (Alifu), Faadhippolhu Atoll (Lahaviyani), and Felidhoo Atoll (Vaavu) |
Best Dive Sites in Maldives
Malé Atoll – Center of the Action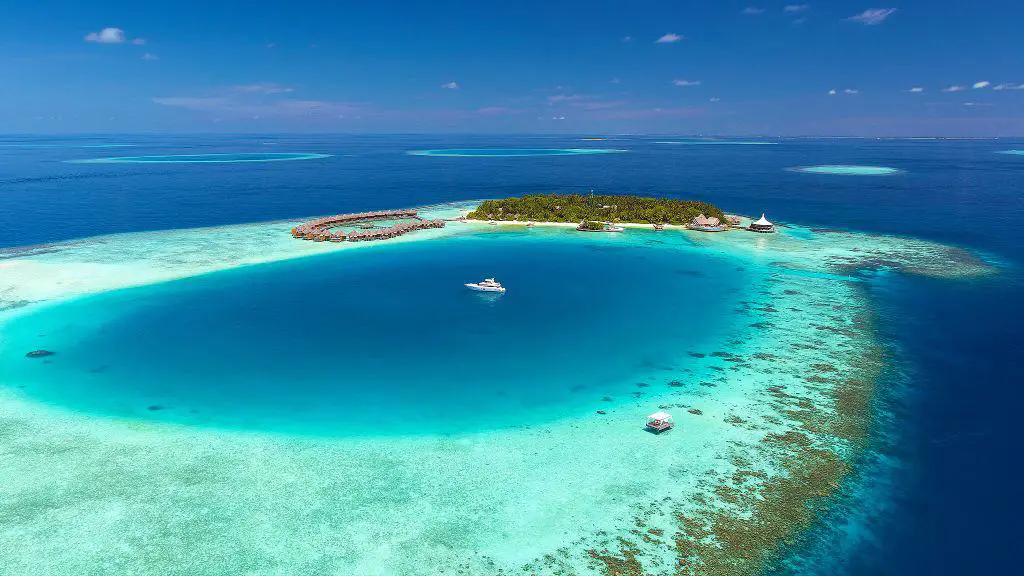 Considered the main tourist center of Maldives, Malé Atoll has almost 100 dive sites, 60 of which can be found in North Malé Atoll while the rest are in South Malé Atoll. Currents can be strong in Malé Atoll and diving is only recommended for experienced divers.
Kudah Haa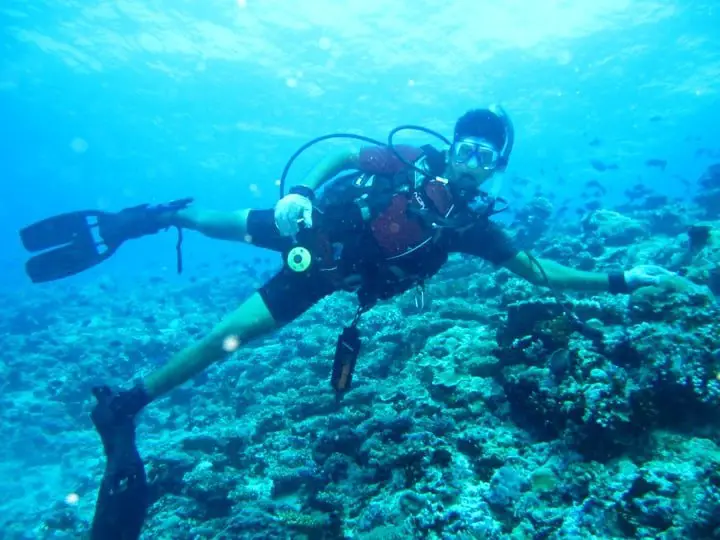 Shaped like a camels' hump, Kudah Haa is a thila in North Malé Atoll. Composed of 2 underwater pinnacles, Kudah Haa is a marine protected area that is popular for marine critters. Aside from jacks, fusiliers, and surgeonfish, its ridge and steep slopes that go all the way down to 30 meters (98 feet) deep has a thriving population of nudibranchs, flatworms and leaf fish. Moderate to strong currents are prevalent in Kudah Haa.
Aquarium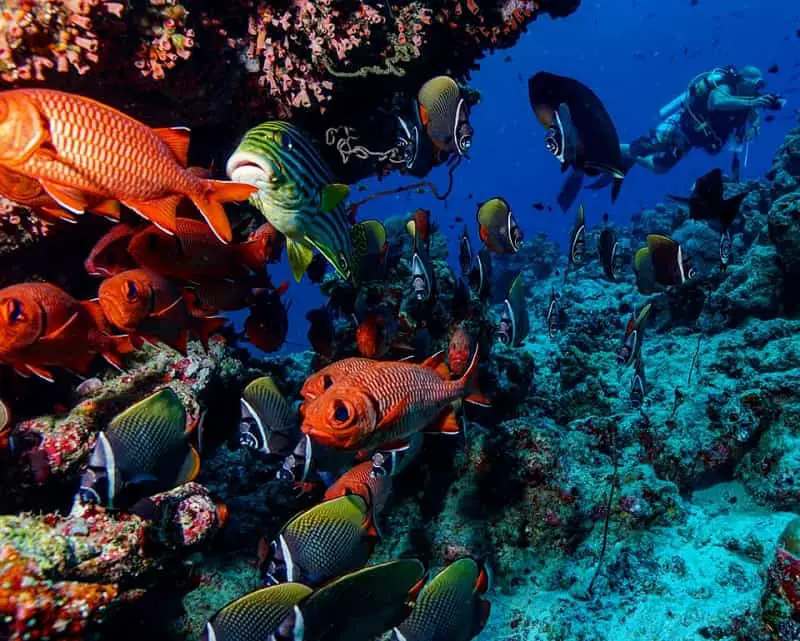 The Aquarium is one of the dive sites in the Maldives where newbie and experienced divers can enjoy. Since it is a sheltered reef, the shallows can allow newbie divers to explore its reef that is teeming with marine life like angelfish, sweetlips, squirrelfish, and butterflyfish. But outside the protected reefs is a drift diving site where experienced divers can cruise along moderate to strong current while interacting with large pelagic fish like jacks and tunas.
Other noted diving spots in Male Atoll are the hawksbill sea turtle haven reefs of Lion's Head and the Napoleon Wrasse-enriched reefs of Banana Reef.
Ari Atoll Diving – An Atoll Apart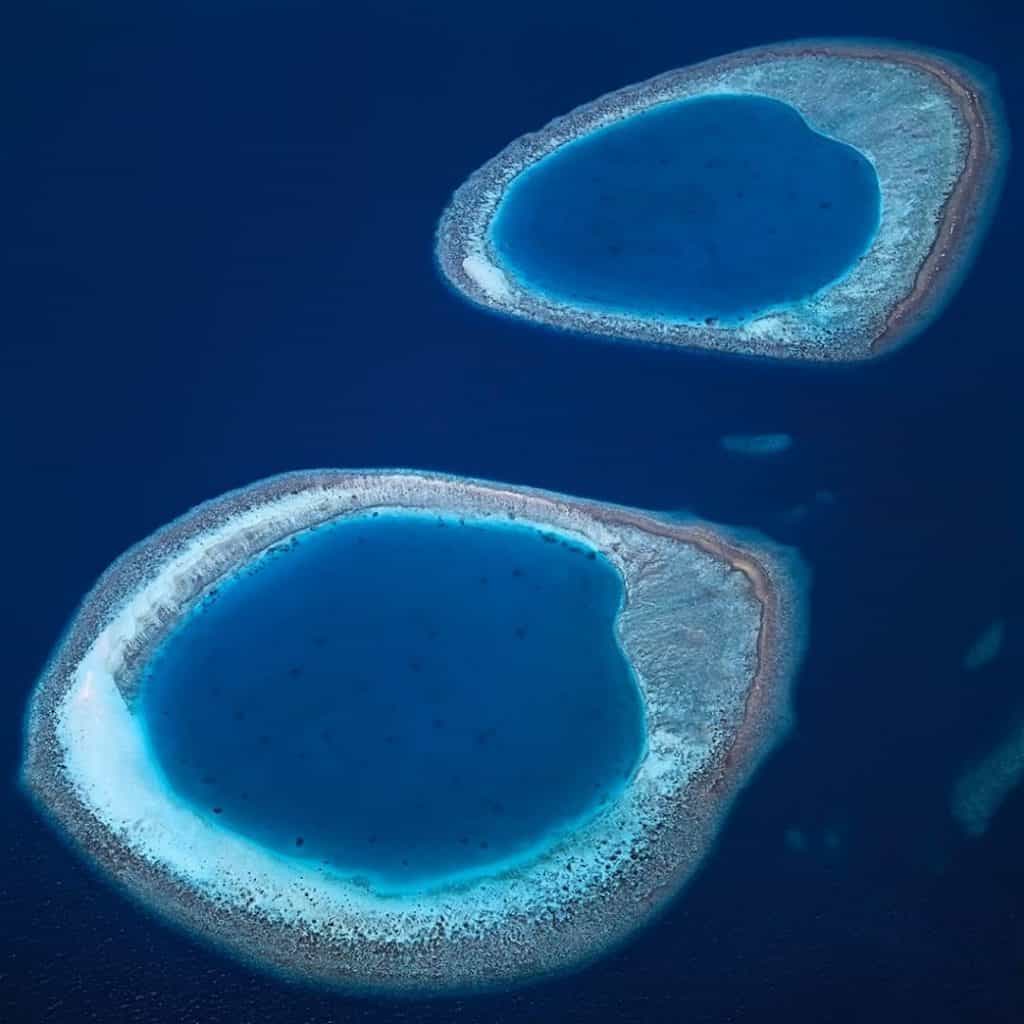 Topographically, Ari Atoll is different from the other islands in the Maldives since it does not have the typical long stretch of the barrier reef. Nevertheless, Ari Atoll is the second biggest tourist attraction in the Maldives where divers can explore pinnacles and channels that are situated both in and out of the lagoon. One of its famous underwater residents in Ari Atoll is the biggest fish in the world – the whale sharks. There are over 110 resident whale sharks in Ari Atoll and they are mostly concentrated in the protected waters of Mahamigalii Protected Area.
Maaya Thila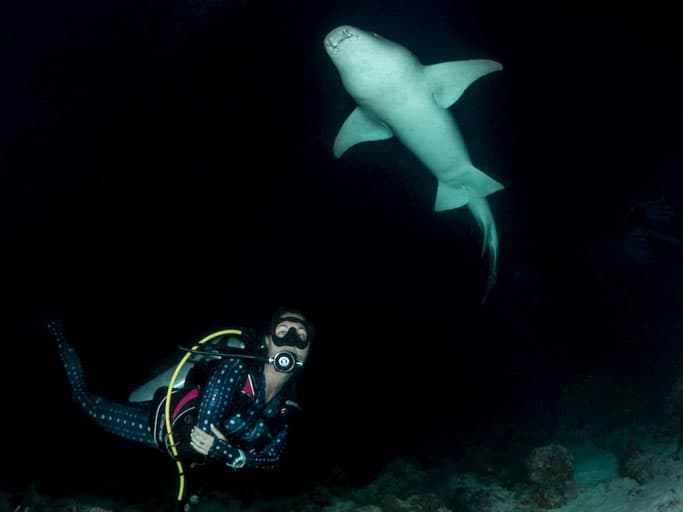 If you are looking for a dive site that guarantees shark interaction both during the day and night, then we highly suggest Maaya Thila. Situated in North Ari Atoll, Maaya Thila is an underwater pinnacle that rises from the seafloor at 30 meters (98 feet) deep and towers 6 meters (20 feet) just below the surface waters. While the top portion of the pinnacle is covered with vibrant corals, what really attracts divers is the healthy population of whitetip reef sharks where they can be seen during a day dive or a night dive.
Since Maaya is a thila, currents here are unpredictable. Sometimes, it is calm then suddenly picks up creating a strong current. With this, we highly advise this site only for experienced divers.
Fish Head Maldives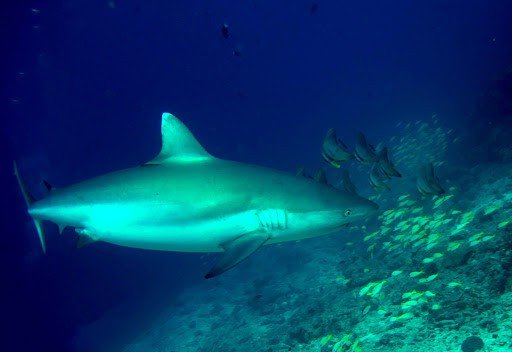 Located at the heart of Ari Atoll, Fish Head is a cube-shaped pinnacle that rises from the seafloor at 40 meters (131 feet) deep. The portion of the pinnacle is flat and shallow with a depth ranging from 6-8 meters (20-26 feet).
This site is named, not from the fish heads that are thrown here, but the immensity of fish that this reef holds. Aside from snappers, barracudas, angelfish, and batfish that swims in school, Fish Head has a healthy population of sharks like grey reef sharks, thus earning its second name Shark Thila.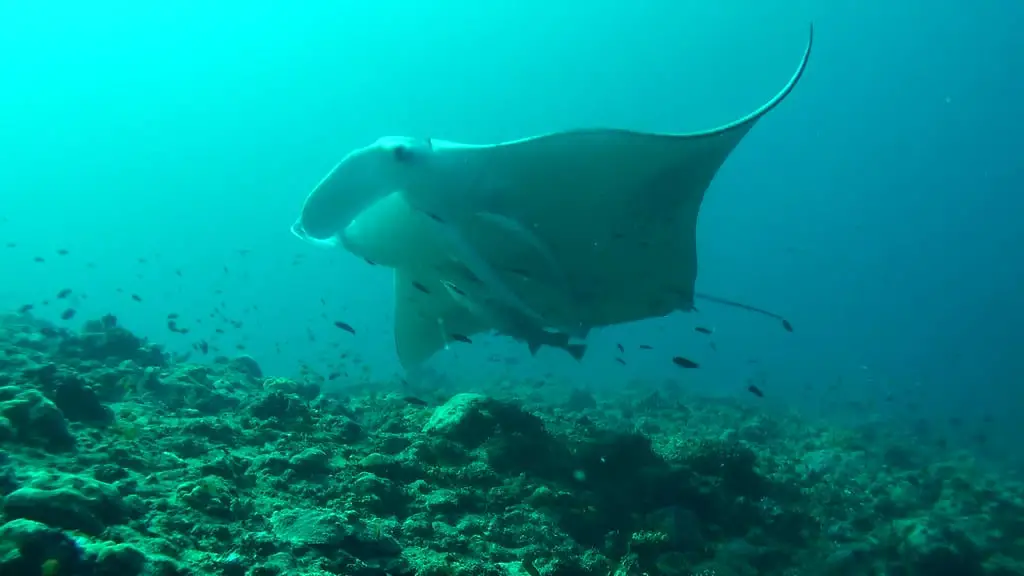 Other noted dive sites in Ari atoll are the cleaning station of Donkalo Thila and the manta ray enriched reefs of Rangali Madivaru.
Felidhoo Atoll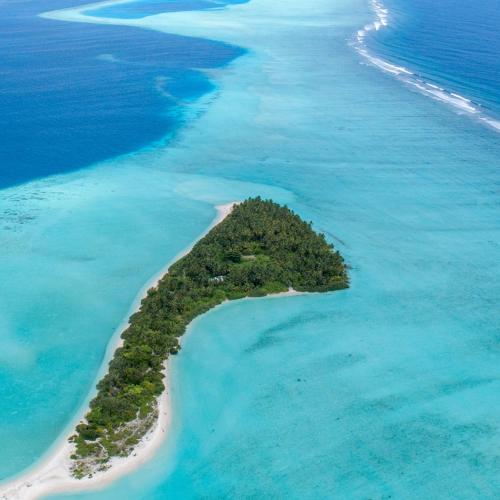 Occupying the central west side of the country, Felidhoo Atoll has the longest unbroken reef in the Maldives. Also called as Vaavu Atoll, Felidhoo has over 10 dive sites that will mostly take you to go drift diving. While there is a resort in the atoll, liveaboards are the usual fad when you go diving in Felidhoo Atoll.
Fotteyo Kandu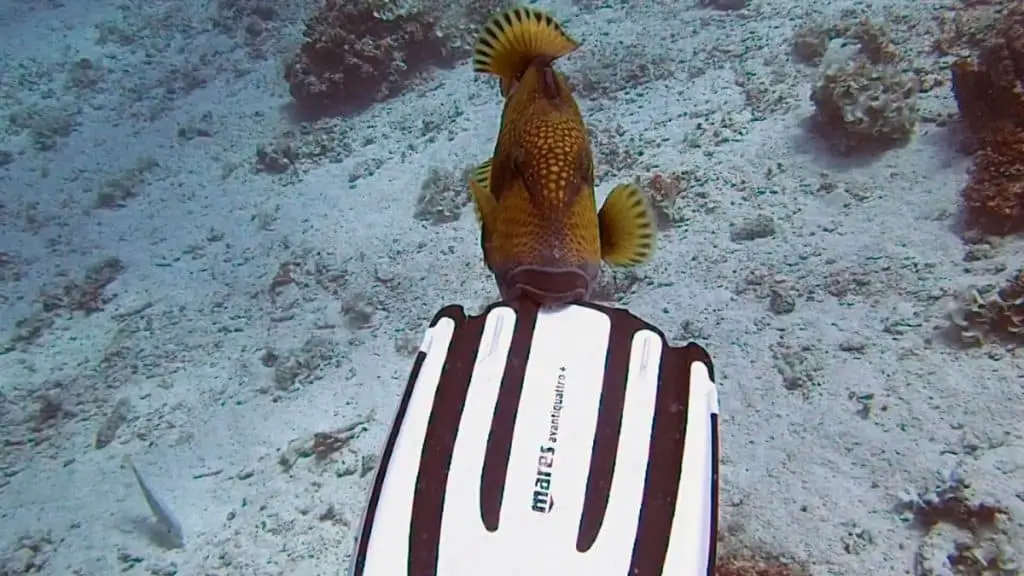 Fotteyo Kandu is a narrow channel that features swim-throughs, overhangs, and caves. While the reef is sparsely covered with hard corals, it is complemented with soft corals which indicates that this area is frequently subjected to strong current. While grey reef sharks and whitetip reef sharks are a regular attraction in Fotteyo Kandu, it has a resident species that may become aggressive especially when brooding their eggs – the titan triggerfish. So, if you see one, observe them in a distance as they often defend their territory when you come near. But do not worry if you have not observed a good distance as titan triggerfish often attacks your fins, rather than your body.
Bodu Miyaru Kandu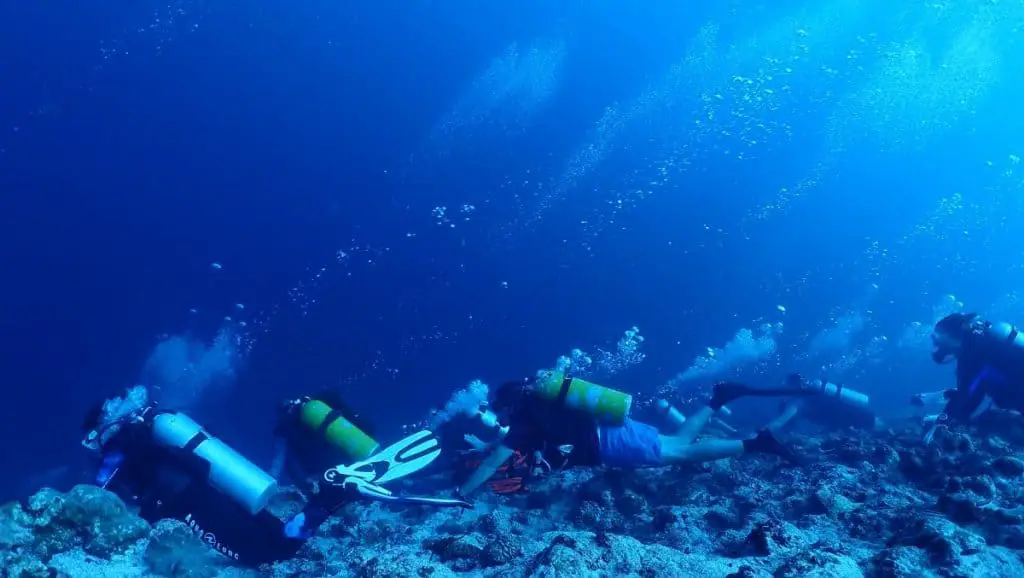 Bodu Miyaru Kandu is a fast pace drift diving adventure. You will usually start your dive by entering the southeast corner, cruise along with the strong current as you descend until you reach the drop-off at the channel's entrance.
Once you get to the top portion of the vertical ledge, you will usually hold on for a couple of minutes to see the passing by of large pelagics like manta rays. After this, you will let go and continue drifting while hovering over beds of soft corals. Bodu Miyaru Kandu is also known as Big Shark Channel due to its healthy population of grey reef sharks and whitetip reef sharks where you can see and interact with them as you drift.
Faadhippolhu Atoll
Locally called as Lhaviyani, Faadhippolhu Atoll is a chain of 54 islands that has a shape resembling a shark's skeletal jaw.
Kuredu Express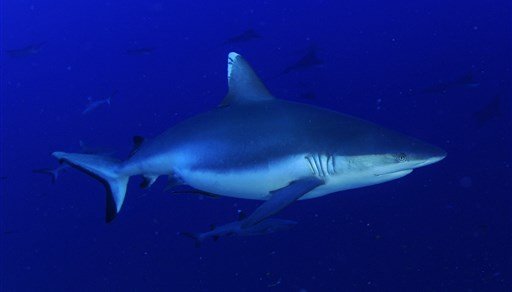 Kuredu Express is a kandu dive site that is characterized as a sandy channel that leads to a nearby reef. As the name suggests, this underwater adventure will take you to do drift diving along moderate to strong current.
When you start diving, you will descend to the sandy seabed while riding the current that will take you to the reef. Once at the reef, you will notice that its different depth layers have formed an underwater terrace. Regardless of what part of the reef you explore, you will see that it is loaded up with soft corals and teeming with tropical fish like butterflyfish, angelfish, snappers and sharks like grey reef sharks.
General Information about Maldives
Capital city
Malé
Currency
Maldivian Rufiyaa (MVR)
Official language
Dhivehi, but English is widely spoken
Visa Required
Tourist visa can be obtained upon arrival. Maximum stay up to 30 days
Electricity Standards
220-240 V
Time Zone
GMT+5
Official tourist information website
www.visitmaldives.com
Points of Interests
Male Atoll (Kaafu): visit the National Museum, Male Fish Market (Flea Market), Hukuru Miskiiy (Old Friday Mosque)

Ari Atoll (Alifu): visit Biyadoo Island, dolphin and manta ray safaris