French Polynesia is an overseas territory of France that is composed of 118 islands and atolls. While it is divided into 5 groups of archipelagos (Austral, Gambier, Marquesas, Society, and Tuamotu), it has one thing in common: that all of the islands are protected from the ocean by coral reefs. And not just any coral reef since it has 2 distinct features. First, it usually has an opening that leads into a lagoon. Second, the reef is not loaded up with hard and soft corals. Instead, the reefs are jam-packed with tropical fish and sharks. These are just some of the many descriptions that describe French Polynesia as a world-class dive destination.
Diving Conditions in French Polynesia
Located at the so-called "Inter-Tropical Zone", French Polynesia has a marine tropical climate and has 2 pronounced seasons. The rainy season runs from November to March while the dry season (also called Austal winter) is from April to October which also coincides as the best time to dive in French Polynesia.
During the Austral winter season from April to October, you can enjoy warm waters with temperature ranging from 26-27°C (79-82°F). The waters are also clear with visibility running from 15-30 meters (50-100 feet). As much as possible, you have to get rid of the rainy season since heavy downpour is prevalent.
Diving Conditions in French Polynesia: at a Glance
| | |
| --- | --- |
| Ave. visibility | 15-30 meters (50-100 feet) |
| Ave. water temperature | 26-27°C (79-82°F) |
| Current | Average to Strong |
| Experience | at least with advanced certification |
| Exposure Suit | 3-5mm |
| Type of diving | Wall diving, drift diving, deep diving, cave diving, boat diving, and shore diving |
| Marine life | Napoleon wrasse, southern stingrays, blacktip reef sharks, lemon sharks, silvertip sharks, green sea turtles, leopard rays, giant clams, dot-dash butterflyfish, humpback whales and pygmy orcas. |
| Corals | Some |
| Wrecks | Some |
| French Polynesia Liveaboard | The Tahiti Aggressor liveaboard has interesting routes through the different archipelagos in French Polynesia |
| Best time to visit | April to October |
| Main diving area | The Marquesas, Society Islands and the Tuamotu Archipelago |
Best Dive Sites in French Polynesia
Marquesas Islands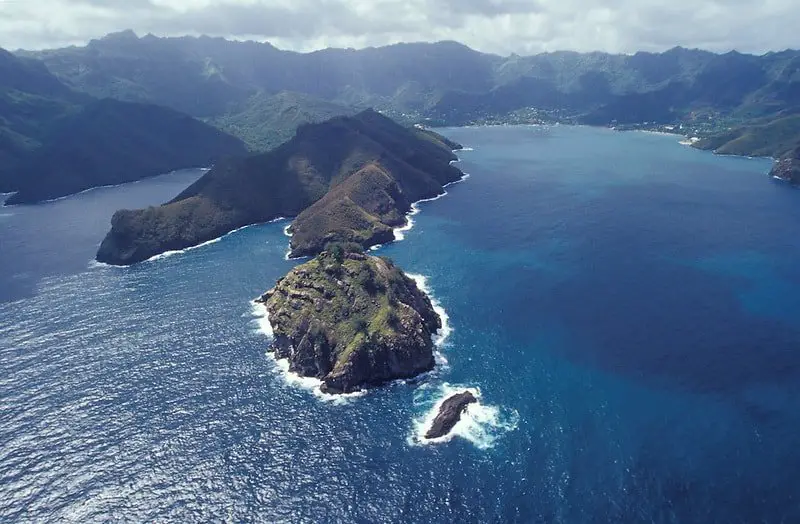 Marquesas is a group of volcanic islands situated 1,370 kilometers (852 miles) northeast of Tahiti where the Capital City of Papeete is found. Also called as the "Land of Men", diving in the Marquesas Islands is only for the brave and experienced as most of its dive sites are deep and exposed to strong current.
Matateiko Point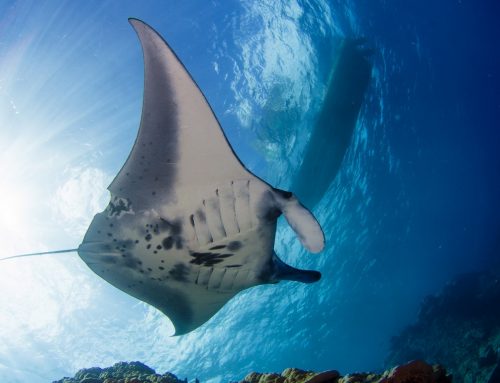 Located on the western coast of Nuku Hiva Island, Matateiko Point is a popular dive site in Marquesas Island that can easily be identified on the surface through its rocky outcropping. Diving will take you to a reef slope that has a steep angle. From 20 meters (66 feet) deep, the slope goes all the way down 30 meters (98 feet) deep. Within the cracks and crevices of the reef, the slope is masked moray eels and dragon eels. Manta rays are the main attraction in Mateteiko Point and they are often seen swimming against the current while their mouth is wide open to allow passive filter-feeding to occur.
The Hammerhead Sentinel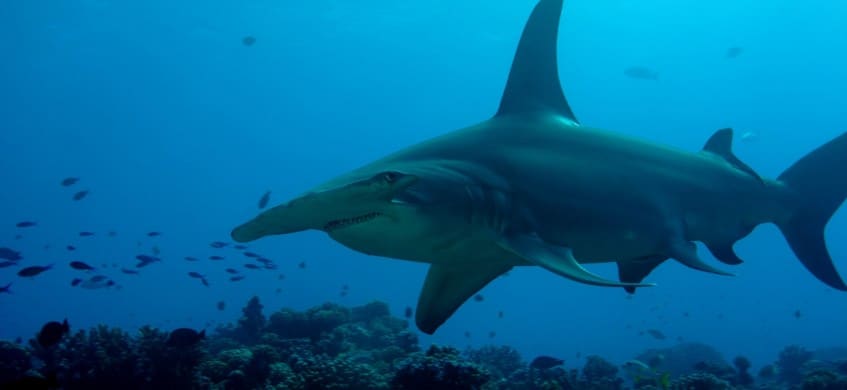 With an average depth of 20 meters (66 feet), the reef flat in this dive site is loaded up with marine critters like dragon eels, boxer crabs and cleaner shrimps making this the perfect spot for underwater macro-photography. However, wide-angle photography is more popular in this site due to its main attraction and also the main subject of your picture – the hammerhead sharks which this site was named from.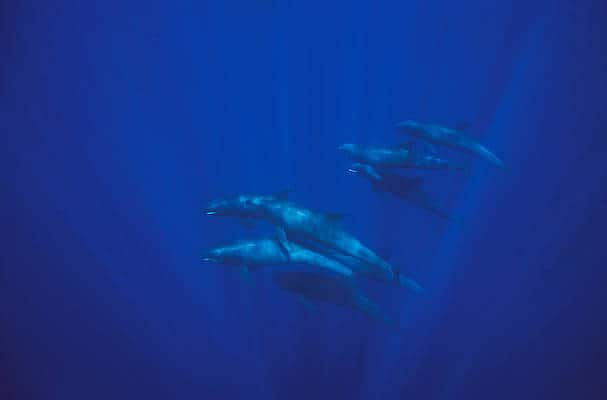 Other noted diving spots in the Marquesas Islands are the towering spires of Fatu Hiva Island, the manta ray haven island of Ua Huka and the melon-headed whale playgrounds of Nuku Hiva.
The Society Islands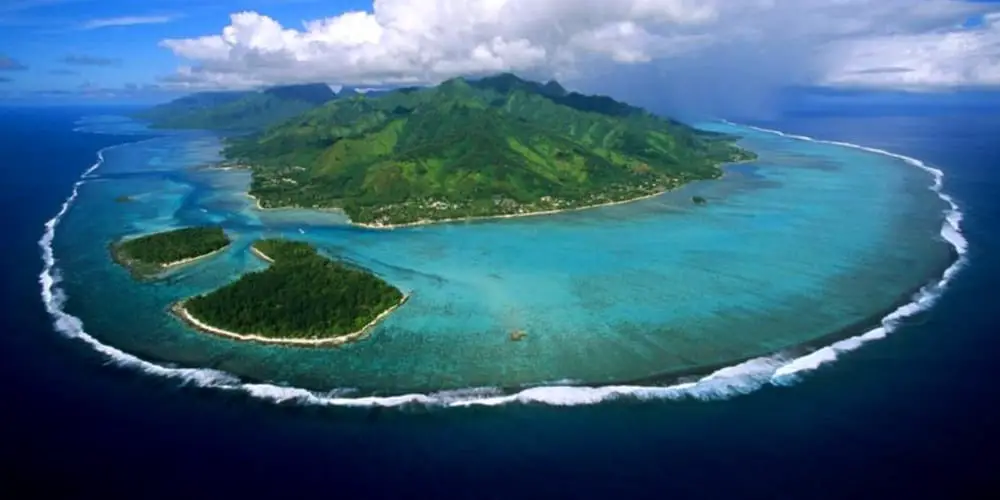 Occupying the western section of French Polynesia, the Society Islands is an archipelago composed of 14 islands. Diving is concentrated in the main islands of Tahiti, Moorea, and Bora Bora.
Tahiti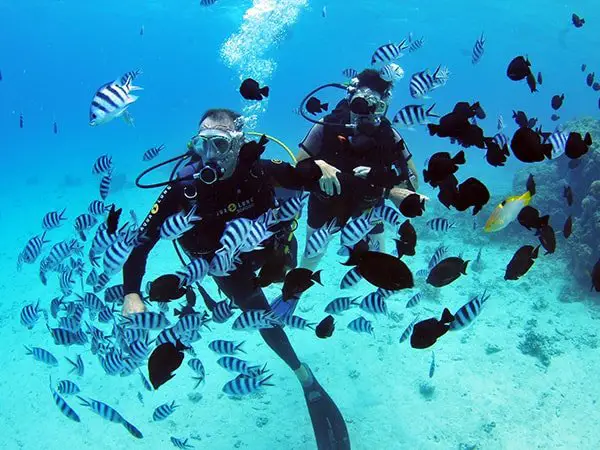 Tahiti is the largest island in the windward group of the Society Islands. It has over 9 diving spots and the Aquarium is considered one of the most popular. It has a setting similar to the aquarium we see on display indoor. The bottom has a large sandy basin that is interspersed with patches of coral reefs with artificial structures like 2 schooners and a Cessna plane wreck. It has a relatively shallow depth with a maximum depth of only 14 meters (46 feet) and is teeming with tropical reef fish like sergeant majors, lionfish, triggerfish, and angelfish. The Aquarium is one of the few sites in French Polynesia that is recommended for newbie divers.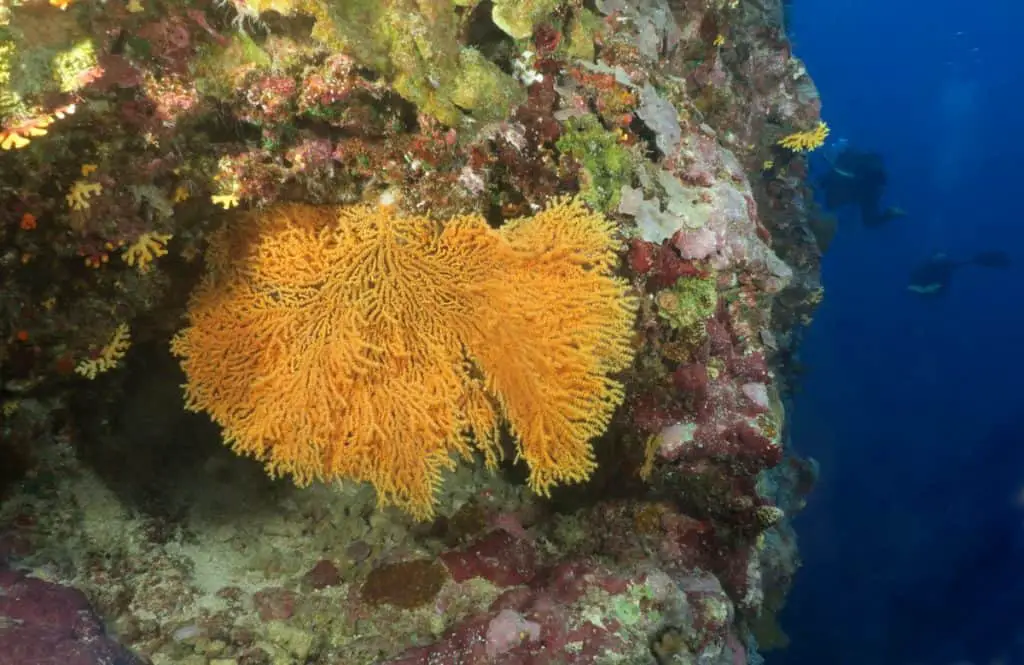 For advanced divers wishing for a more thrilling dive, we highly recommend Marado where you can go wall diving in a sheer drop off. Your entry point is usually near the start of the vertical. Once in the water, you will descend in a vertical limestone that starts at 10 meters (33 feet) and plunges all the way down to 35 meters (115 feet) deep. Encrusting within the wall are corals and sea fans while snappers, Napoleon wrasse, jacks and blacktip reef sharks are swimming in mid-water.
Moorea Dive Sites
Charles Darwin described Moorea as a "Picture in a Frame". True enough, Moorea has stunning scenery that has become a haven for honeymooners. The beautiful scenery is also applicable underwater where its reefs are also coupled with another feature – shark feeding dives.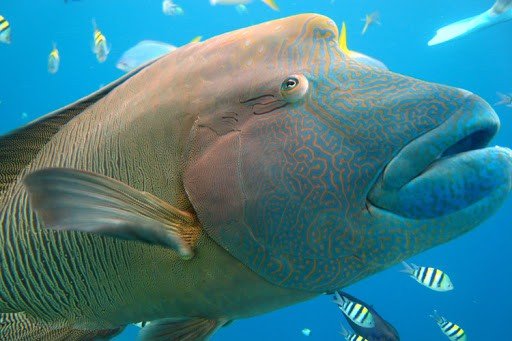 Situated on the west side of Opunohu Pass, Taotai is a typical Moorea dive. Exploring Taotai allows you to see a sloping reef that has several valleys and ravines up to 25 meters (82 feet) deep. While the reef is loaded up with lots of tropical fish, it has a resident species that stands out from the rest of the fish population – Jojo the Napoleon Wrasse. This 1 meter (3 feet) long wrasse will usually come to your dive group and presents itself for an underwater play.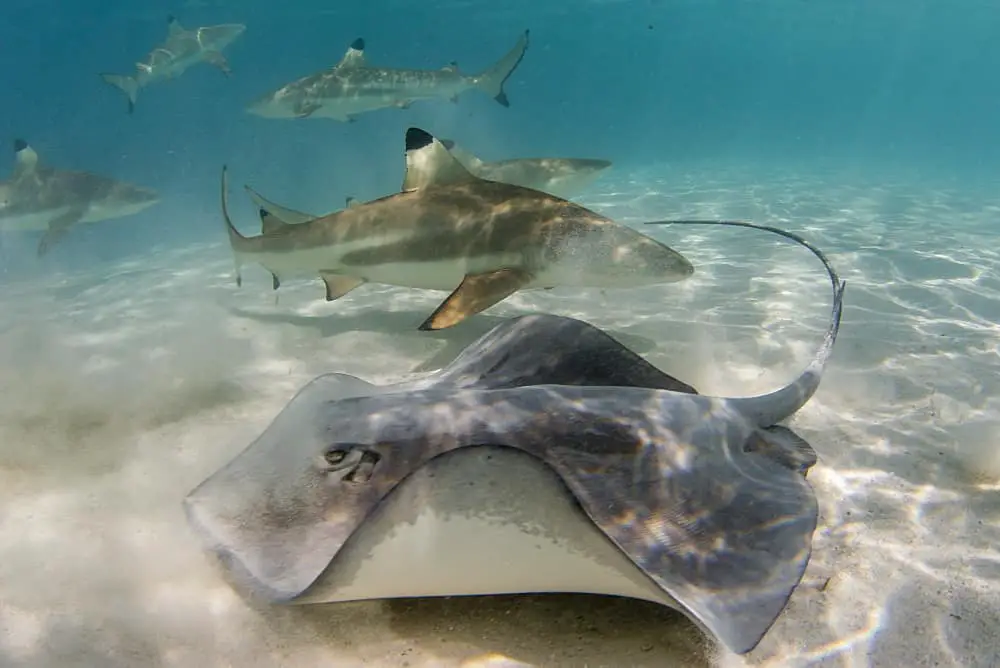 Another site recommended for newbie divers is the Stingray World. Situated inside a lagoon, you will be diving with stingrays that have naturally thrive inside the lagoon. Although they are wild animals, they are used to a diverse presence. You can even feed them and your dive guide will usually brief you on what to do and how to handle the food when feeding. As you go along with the feeding, blacktip reef sharks will come into the scene asking for their share of the pie, or should we say their share of the fish.
Bora Bora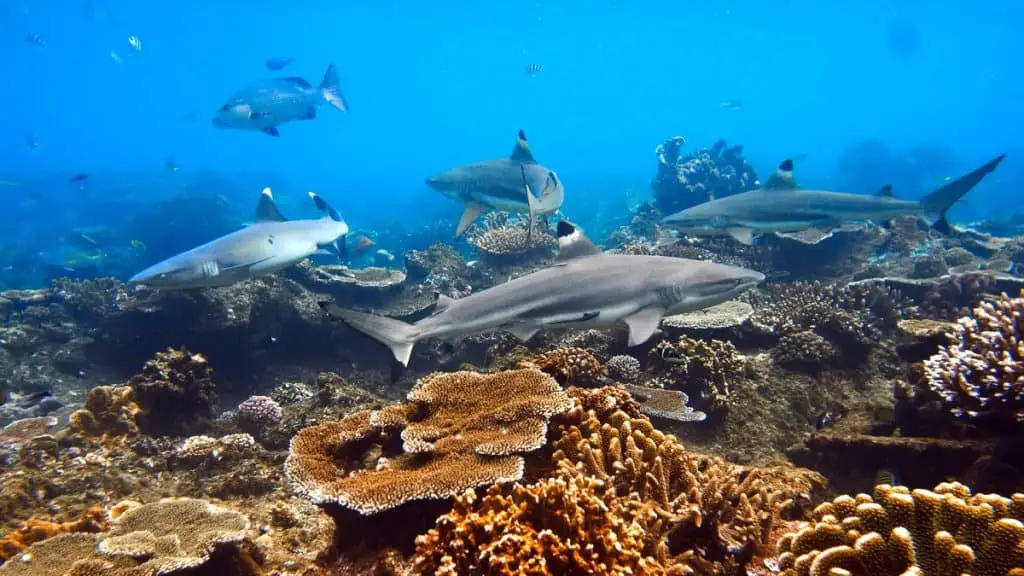 Bora Bora is a major tourist destination in French Polynesia receiving over 50,000 guests per year, mostly honeymooners and scuba divers. Of its 8 dive sites, Tupitipiti is one of the most popular. Located south of Motu Piti Aau, Tupitipiti has a large reef that has overhangs, caves, and swim-throughs. The reef is encrusted with hard corals, soft corals, and brightly colored sponges while midwater is being patrolled with whitetip and blacktip reef sharks.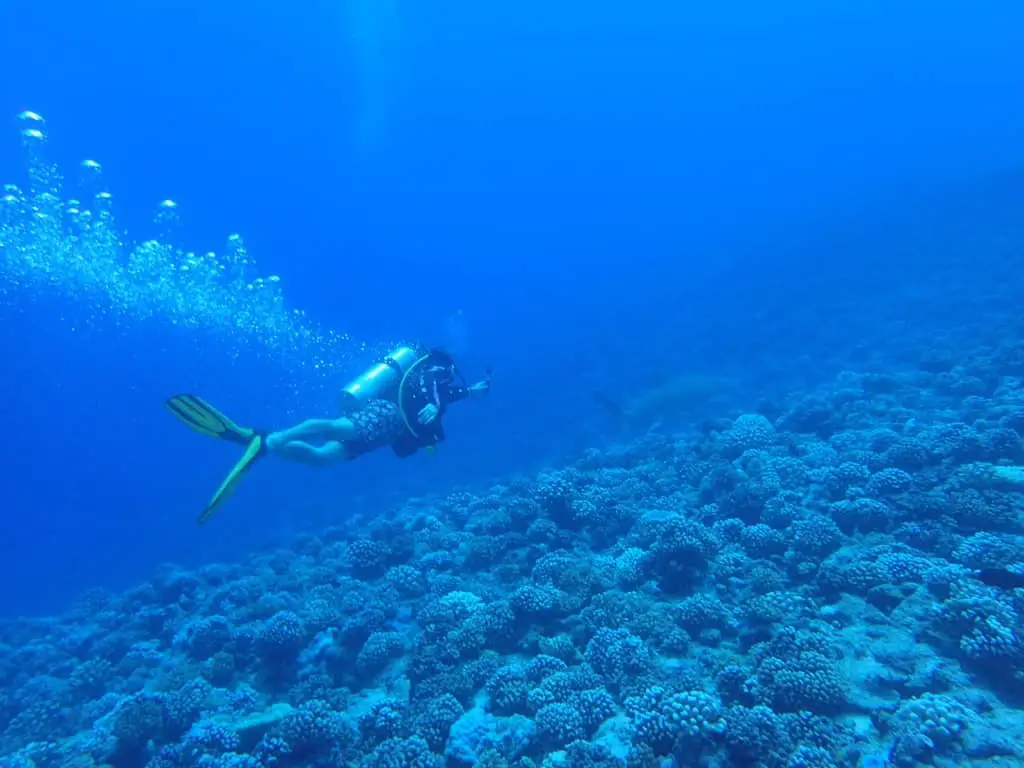 Miri Miri is a unique and scenic dive spot in Bora Bora since its reef is dominated by a coral species Montipora. In effect, the clump of Montipora corals resembles like a bed of roses. These coral encrust the gentle reef slope that also has a thriving population of sea turtles, blacktip reef sharks, and Napoleon wrasse.
Tuamotu Archipelago
Occupying the central section of French Polynesia, Tuamotu is an archipelago consisting of 80 islands and atolls. All of the islands are classified as "low islands" which is synonymous to a large sandbar built upon by layers upon layers of coral reefs.
Rangiroa Diving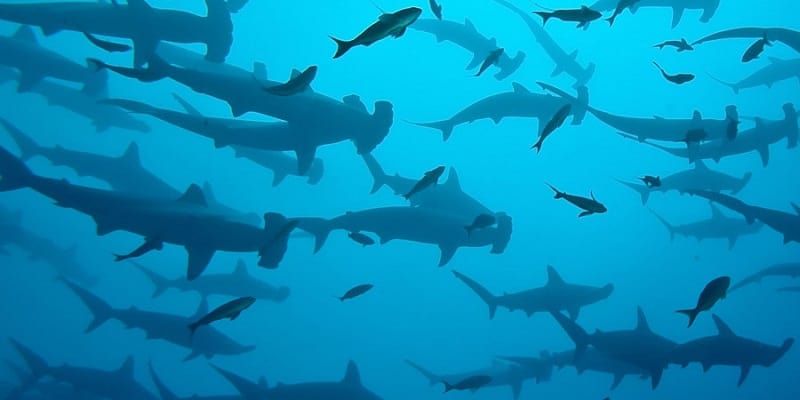 Scuba diving Rangiroa has one of the clearest waters in French Polynesia where visibility can exceed 30 meters (100 feet). Generally, Rangiroa is a string of coral reefs that surrounds a lagoon. One of its best dive sites is The Run in Tiputa Pass. Usually, your entry point is at the mouth of Tiputa pass then you drift towards the inner side and end within a lagoon. The highlight of this dive is the healthy population of hammerhead sharks that are usually found in the mouth of the pass. As you go inside the lagoon, you will see leopard rays that usually group together to avoid being preyed upon by sharks.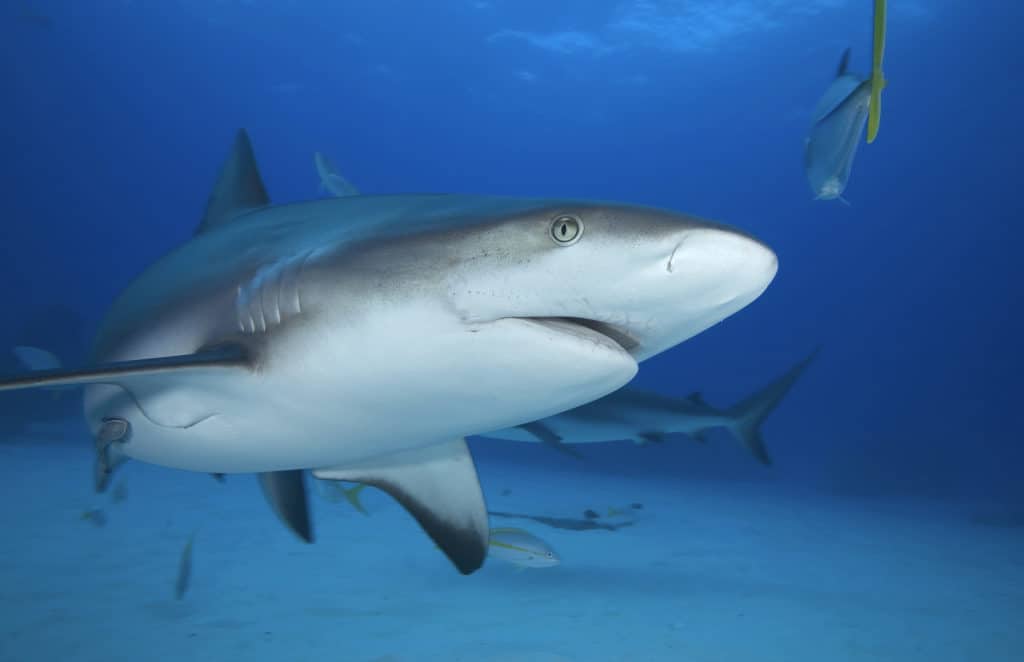 If hammerhead sharks dominate The Run in Tiputa Pass, then gray reef sharks are the big boys in Shark Cave. The name of this dive site is misleading since there are no sharks in Shark Cave. Found at 35 meters (115 feet) deep, the cave instead is your observation platform to see the passing by of gray reef sharks. Once the sharks pass by, you will leave the cave and go on a drift dive towards the lagoon where it is considered your exit point.
Fakarava Diving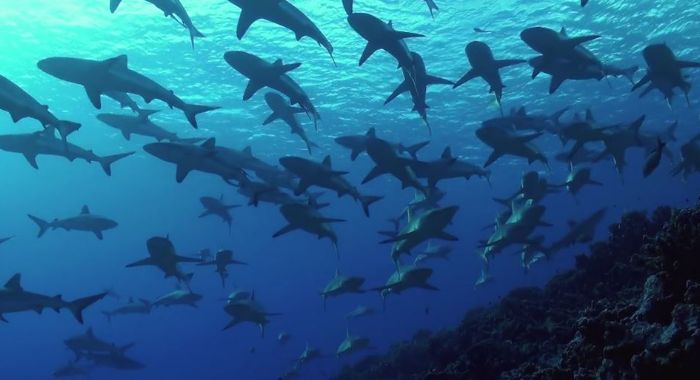 Fakarava is an atoll on the west side of Tuamotu and has been declared a UNESCO Biosphere Reserve due to the immense marine life it holds. Garuae Pass is one of the best dive sites in Fakarava where a single dive allows you to do a combination of drift, deep and wall diving. Of course, expect to see a healthy population of sharks where they patrol in groups.
French Polynesia Liveaboard Diving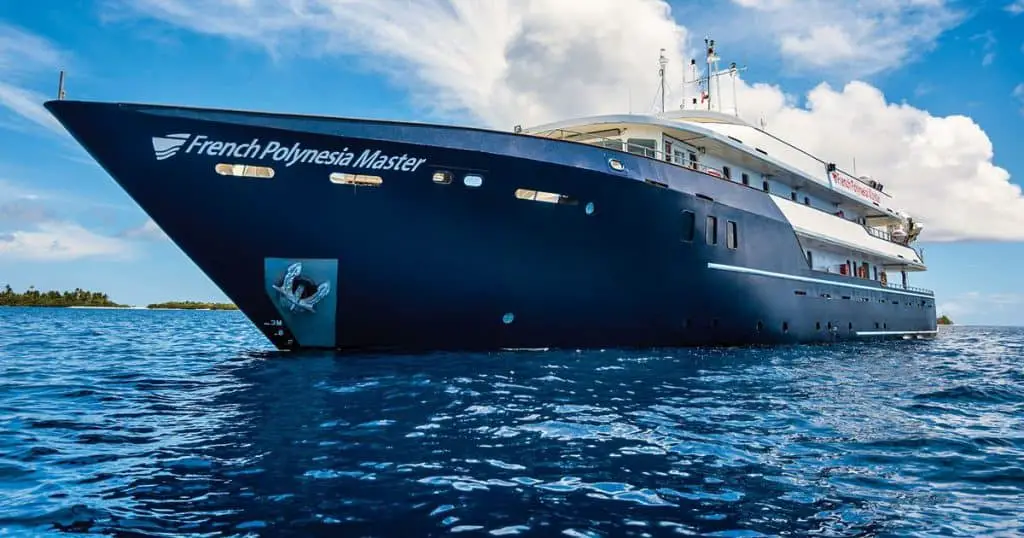 After reading our descriptions of the best dive sites in French Polynesia, we are pretty sure, that after this, you will be calling your friends and plan for a French Polynesian dive escapade. For you to maximize your diving adventures in French Polynesia, we highly suggest you book for a liveaboard dive safari like the Tahiti Aggressor and the French Polynesia Master Reviews. These custom-built vessels will visit all the dive sites we just mentioned and will surely fill up your diving memories through your dive log.
General Information about French Polynesia
Capital city
Papeete
Currency
CFP franc (XPF)
Official language
French
Visa Required
No, maximum stay up to 30 days
Electricity Standards
220V / 60Hz
Time Zone
GMT-9
Official tourist information website
www.tahiti-tourisme.com
Points of Interests
The Marquesas: hiking in Marquises Rando, Nuku Hiva, Gauguin Museum, Hiva Oa and 4×4 excursions of the islands

Society Islands: snorkeling in the Coral Gardens, Bora Bora, visit Matira Beach, Bora Bora, Belvedere Lookout Point, Moorea, Tiki Village Cultural Center, Moorea, Moorea Dolphin Center, Point Venus, Tahiti. Bathys, Tahiti and Fautaua Waterfall, Tahiti

Tuamotu Archipelago: visit Motu Irifa and Motu Koka Koka, in Fakarava's lagoon, lagoon excursions in Rangiroa, visit pearl farms.