Considered as the cradle of civilization, Egypt is known worldwide for its archaeological wonders. Most of its structures date back from the 4th millennium, like the Great Pyramids in the Giza Necropolis, the Great Sphinx and the Pharaoh tombs in the Valley of Kings. Despite being old, these structures are a major tourist attraction in Egypt that has attracted an average of 10 million guests per year.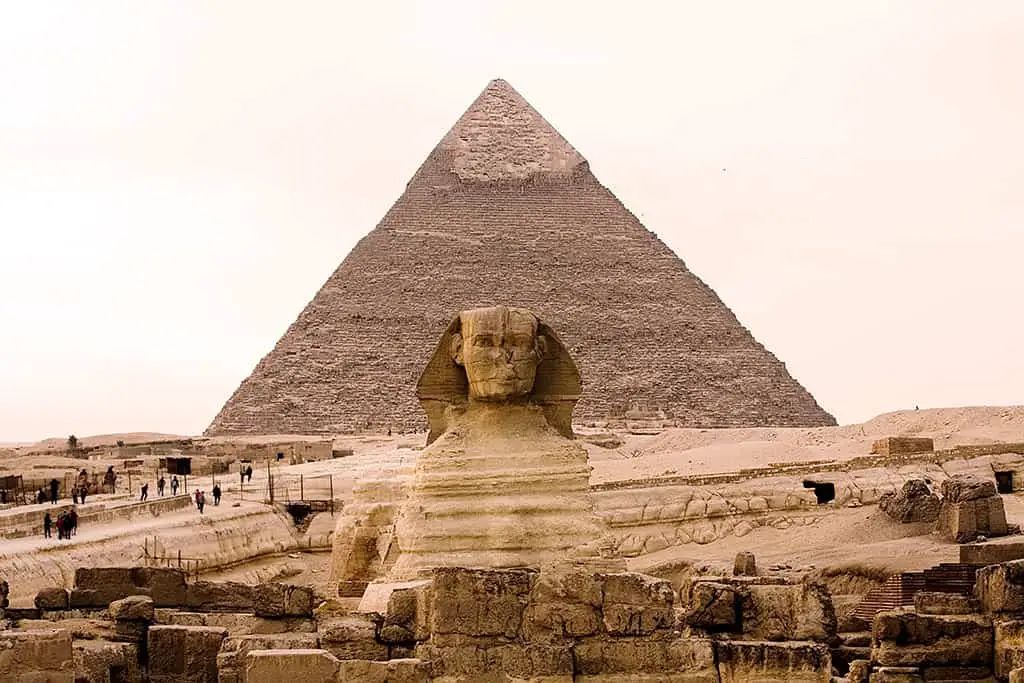 On top of visiting ancient Egyptian relics on land, you can visit natural underwater monuments, such as coral reefs, where its existence can also be traced back millions of years ago. This is brought to you by the unique geography of Egypt where it is bounded by two bodies of water, namely: the Mediterranean Sea on the North and the Red Sea in the East. In the Red Sea alone, it has been considered as one of the 7 Wonders of the Underwater World where it houses over 1,000 species of marine invertebrates and over 200 species of soft and hard corals. All these characteristics mentioned will boil down to a great diving adventure in Egypt.
Diving Conditions in Egypt
Egypt has a hot desert climate. Except in the Mediterranean coast where it has some occurrence of rainfall, Egypt is extremely dry and warm. Most of the dive sites in Egypt are located in the Red Sea. Based on the Red Sea dive sites map, it will tell you that the prime diving destination in Egypt is concentrated in Hurghada, Sharm el-Sheik, and Marsa Alam. While diving is possible year-round in Egypt, June to September is considered the Red Sea diving best season. During these months, you can enjoy a "not so" scorching weather. You have to remember that the air temperature in Egypt peaks at 40°C (104°F) and this is prevalent outside the mentioned months.
Although water temperature averages at 20-27°C (68-81°F), it varies depending on the time of the year. During August, water temperature is warm reaching 30°C (86°F) and drops down to 22°C (71°F) as it reaches February. Visibility is constantly clear in Egypt where it plays from 15-30 meters (49-98 feet).
Diving Conditions in Egypt: at a Glance
| | |
| --- | --- |
| Ave. visibility | 15-30 meters (49-98 feet) |
| Ave. water temperature | 20-27°C (68-81°F) |
| Current | Calm |
| Experience | For all levels of certification |
| Exposure Suit | 3-5mm |
| Type of diving | Wall diving, drift diving, deep diving, boat diving, shore diving, shark diving and wreck diving |
| Marine life | Kluzinger's wrasse, Alexandrine torpedo ray, striped sea anthias, crown butterflyfish, lionfish, red sea clownfish, bluespotted stingray, giant moray eel, coral grouper, Picasso triggerfish, red sea cuttlefish, masked butterflyfish, dugongs, carpet flathead (crocodile fish), masked pufferfish and unicorn fish |
| Corals | Famous for its corals |
| Wrecks | Famous for its wrecks |
| Red Sea Diving Liveaboard | Recommended for the North and South Red Sea |
| Best time to visit | June-September |
| Main diving area | The Red Sea particularly in Hurghada, Sharm el-Sheik, and Marsa Alam |
Best Dive Sites in Egypt
Hurghada Diving
With a coastline stretch measuring 36 kilometers (22 miles), Hurghada is the second-largest city in Egypt and the main tourist center in the Red Sea coast. It has over 48 dive sites that can be explored by both newbie and experienced divers
Sha'ab El Fanadir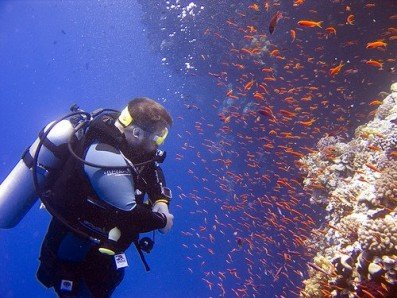 Located east of El Gouna, Sha'ab El Fanadir has a large reef that features a vertical wall set in crystal clear waters which is a typical characteristic when you go Red Sea diving. When you go diving in Sha'ab El Fanadir, you will enter through the mooring point at El Fanadir. Here you will descend towards a shallow reef that is teeming with marine life such as corals and tropical fish like lionfish, stonefish and blue-spotted rays. The reef ends in a vertical wall that houses a good population of Anthias and other species of damselfish.
Abu Nuhas Reef
Located on the north coast of Hurghada is the Abu Nuhas Reef where it is popular with wreck divers. Here lies 5 shipwrecks, 4 of which can be explored while the other (MV Seastar) is so deep that it is resting at 90 meters (295 feet) below the surface.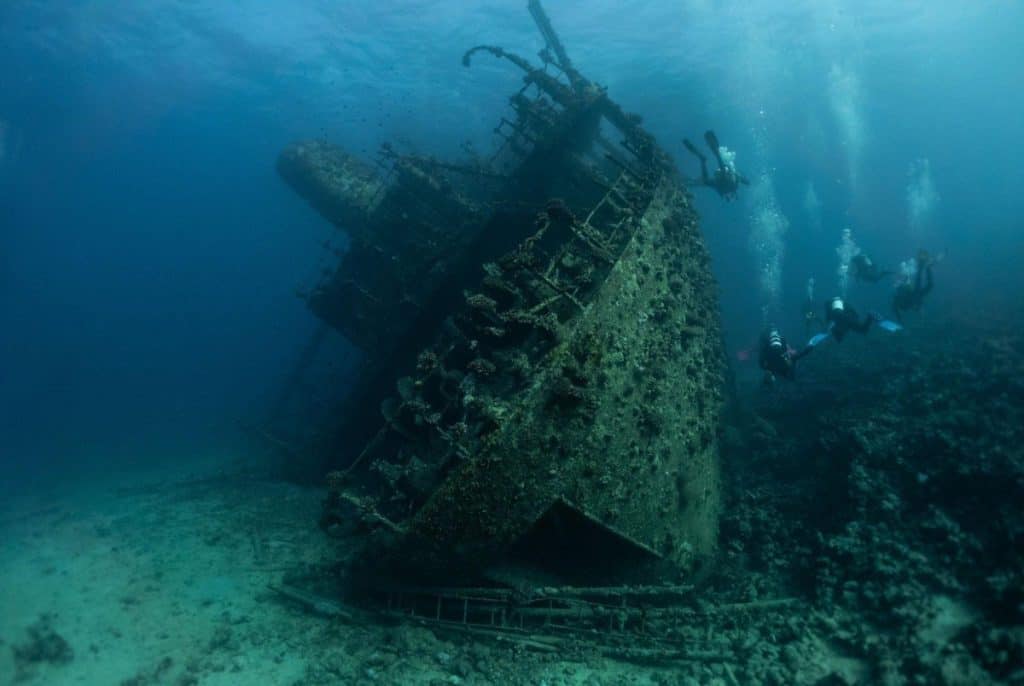 The Giannis D wreck is a former 100 meter (330 feet) long cargo ship that is loaded up with timber when it sank in 1983. Her remains now rest at 24 meters (79 feet) deep and leaning on its port side. While the middle portion of the wreck has collapsed, the bow and the stern are still intact and penetration can be done, especially in the engine room.
Another wreck that you can explore is a British vessel that is piled up with gold – the Carnatic. It sank in 1869 and is considered one of the oldest wrecks in the Red Sea. She now rests at 24 meters (79 feet) deep leaning on her port side. Although this vessel is over a century old, you will see that it is well preserved. When you explore this wreck, you will initially have the impression that her remains have a close resemblance to a whale carcass. But as you go nearer to the structure, you will see that iron bars are intact while the wooden floors are overgrown with corals. The structure has also attracted an immensity of marine life where you can see schooling sweepers, snappers and batfish.
Note: Yes, we know you're excited about the gold this vessel holds. Unfortunately, all the golds were already salvaged. Nevertheless, you can still see some of its century-old cargo like wine bottles.
Diving Egypt Sharm el Sheik
Situated in the southern tip of the Sanai Peninsula on the west bank of the Gulf of Suez is the popular tourist destination of Sharm el-Sheik. This coastal strip along the Red Sea has over 30 dive sites where both newbie and experienced divers can enjoy.
Ras Mohammed Marine Park and the Thistlegorm wreck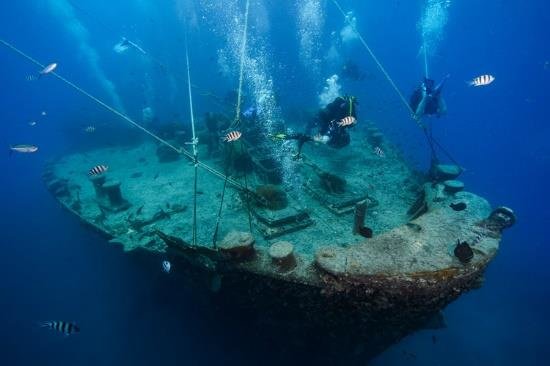 Occupying the southernmost tip of the Sanai Peninsula is the 480 square kilometers (185 square miles) Ras Mohammed Marine Park. It has lavish coral gardens that house over a thousand species of fish. Aside from reefs, what really attracts divers from all parts of the globe is a wreck that holds a variety of cargo – the SS Thistlegorm.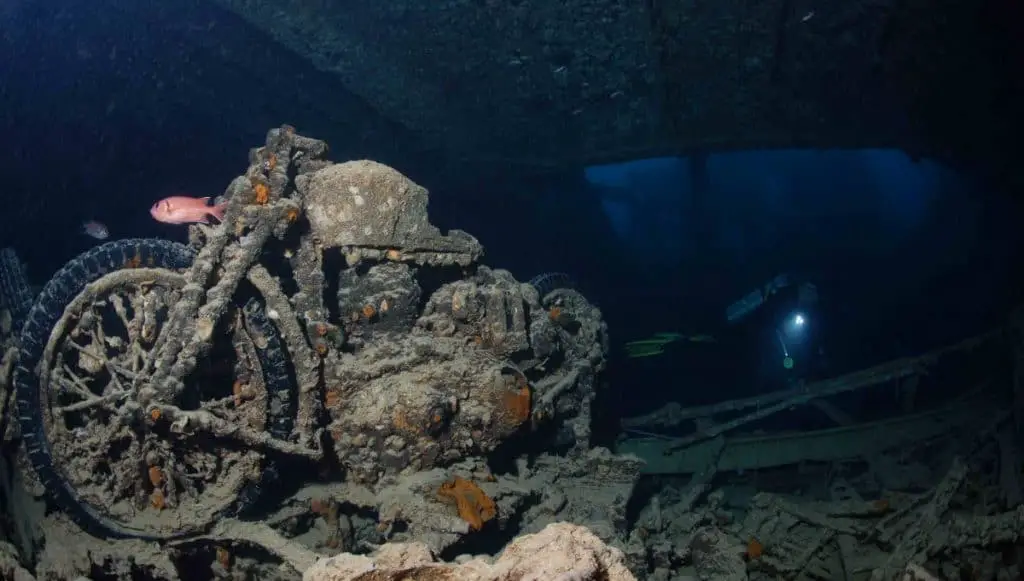 Measuring 126 meters (413 feet) long, this British armed Navy Ship was silently resting at 30 meters (98 feet) deep, until her remains were discovered by no less than the father of Scuba Diving – Sir Jacques Yves Cousteau. She is now a popular attraction within the Ras Mohammed Marine Park where divers often search for her cargo like trucks, armored vehicles, cases of ammunition, rifles, radio equipment, aircraft parts, railway wagons and a Harley Davidson motorcycle.
Shark Reef and Yolanda Reef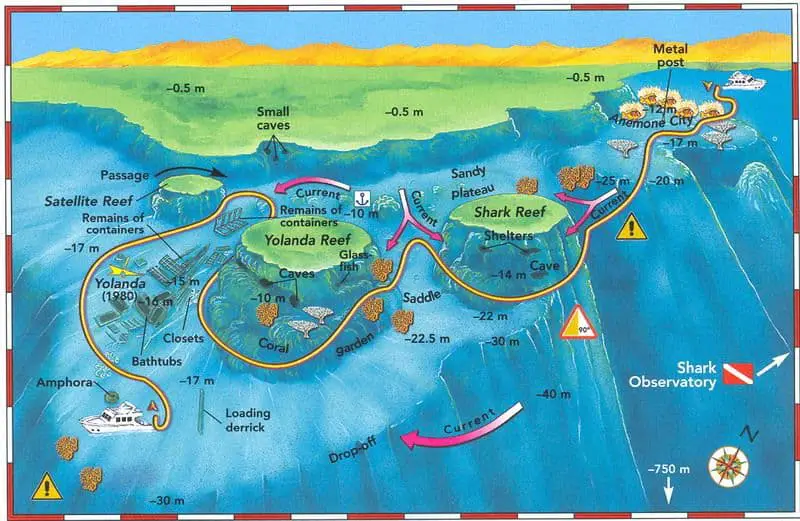 Subdivided by desert rocks that plunge in the Great Rift Valley are the adjoining dive sites of Shark Reef and Yolanda Reef. While these are 2 separate reefs, Shark Reef and Yolanda Reef can be explored in just a single dive, a drift dive in particular where strong currents are prevalent in the area and thus only recommended for advanced divers.
A typical dive will usually start in Shark Reef. As the name suggests, the reef is loaded up with sharks, blacktip reef sharks in particular and their presence is further complimented by other schools of fish like snappers and jacks. As the current peaks up, you will arrive at a pile of rocks where it gives you an indicator that you are about to enter the second site.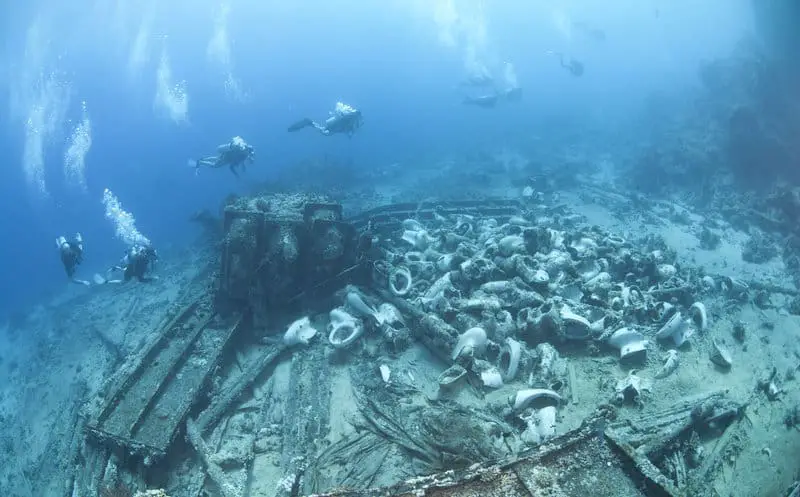 While there are corals and fish in Yolanda Reef, the main attraction is a shipwreck where this site is named from – the Yolanda wreck. Sank in 1987 after hitting a shallow reef, she remains initially rest at 20 meters (66 feet) deep. However, due to the presence of sheer drop-offs in Shark Reef and Yolanda Reef, the wreckage fell into the abyss after being battered by a strong storm. The only thing that is left behind by this 74 meter (243 feet) long vessel is here cargo where you can see bathroom supplies like toilets, pipes, and bathtubs.
Dahab Blue Hole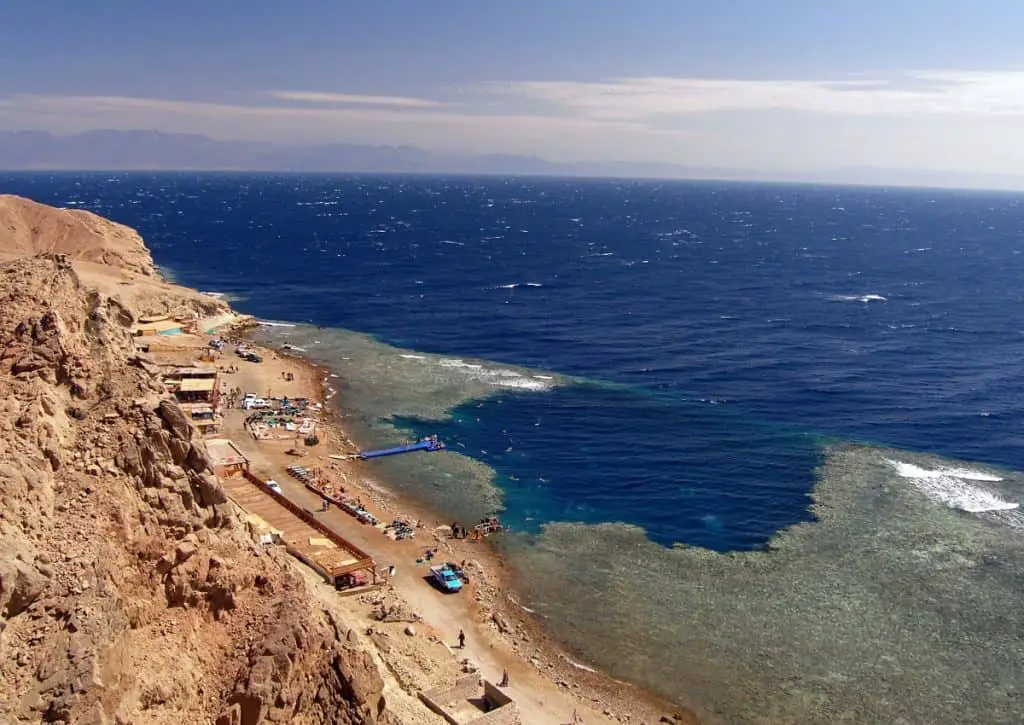 88 kilometers (55 miles) north of Sharm el-Sheik is the famous Blue Hole of Dahab Egypt. This is a marine sinkhole that is recommended only for experienced divers.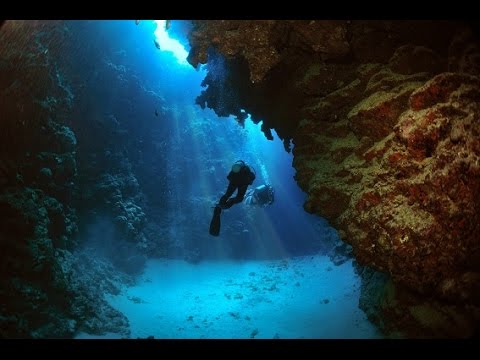 Your entry point to blue hole diving Egypt is the saddle which is a shallow opening at 6 meters (20 feet) deep that leads to the arch which is a 26 meter (85 feet) long tunnel that ends where the vertical tunnel of the blue hole start. While the blue hole plunges all the way down to 130 meters (426 feet) deep, you have to observe maximum depth limits set by your certification level. And please do not go beyond the set depth limits.
Marsa Alam Diving – Fewer Crowds, More Fish
Occupying the southeast corner of Egypt on the western shores of the Red Sea is the laid-back town of Marsa Alam. Most of its dive sites are located offshore and holds a variety of fish, from small damselfish to large sharks.
Elphinstone Reef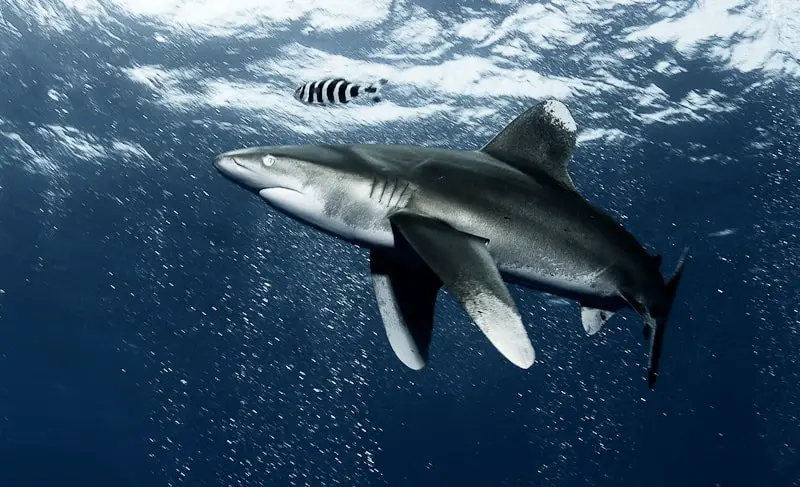 Locally known as Sha'ab Abu Hamra, Elphinstone Reef is an offshore shark diving site located 12 kilometers (7 miles) from the coast of Marsa Abu Dabbab. While hammerhead sharks can be seen here, what really attracts divers to explore Elphinstone Reef are the Oceanic Whitetip Sharks.
Brothers Island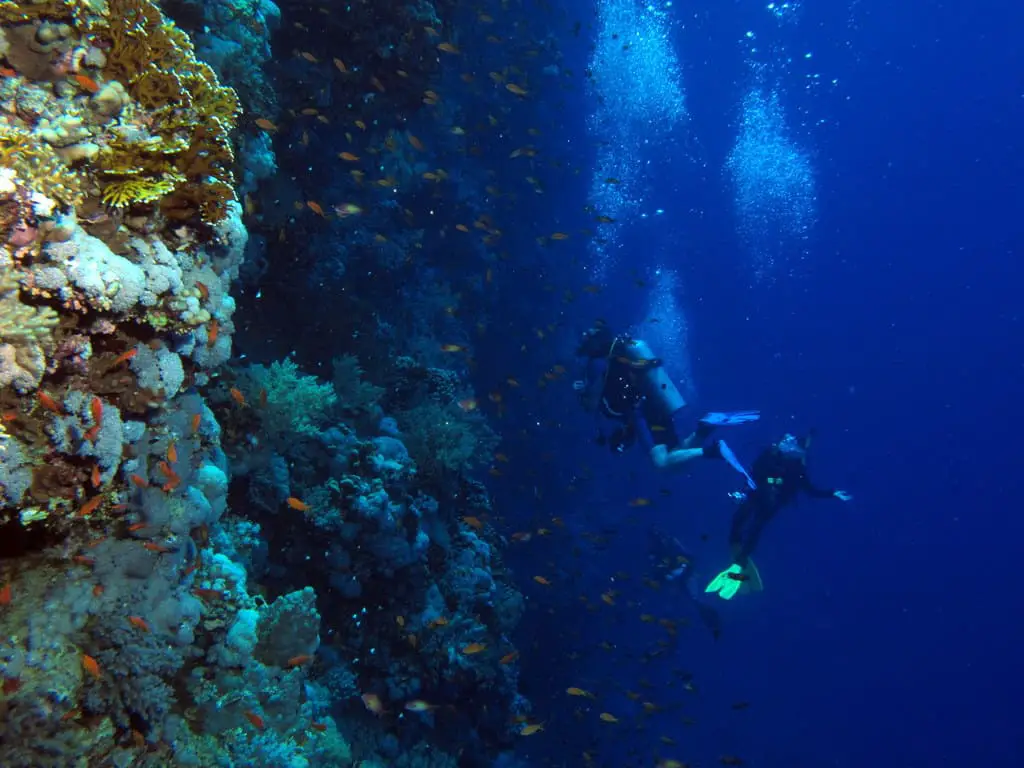 70 kilometers (44 miles) north of Marsa Alam are two rocky protrusions aptly called Brothers Island. It was declared as a marine reserve in 1983 where marine life was able to flourish in huge quantities.
Diving in Brothers Island allows you to do a combination of wall and drift diving. Initially, you will descend to a reef flat that leads to a vertical wall where currents are known to pick up. While you are cruising along with moderate to strong current, you will appreciate the immensity of marine that has encrusted the vertical limestone wall like soft corals, sponges, gorgonians and hard corals.
Note: The laid-back setting of Marsa Alam is slowly changing as crowds are gathering due to the opening of Marsa Alam International Airport.
General Information about Egypt
Capital city
Cairo
Currency
Egyptian pound (EGP)
Official language
Arabic
Visa Required
Yes, tourist visa can be obtained upon on arrival on Egypt
Electricity Standards
220-240 V
Time Zone
Central Africa Time Zone, GMT +2
Official tourist information website
www.egypt.travel
Points of Interests
Northeastern Red Sea: From Hurghada – desert safaris, St. Anthony and St. Paul´s monasteries, the Fantasia show at Alf Leila We Leila for local traditions, food and culture, Shopping, island hopping, visit the Museum of Egyptian Antiques, day trips to Cairo, visit Luxor, the Valley of Kings

Southeastern Red Sea: Samadai Reef and Dolphin House, Emerald Mines of Marsa Alam, Wadi Gimal National Park