On the eastern corner of the Caribbean Sea, which borders the Atlantic Ocean is a group of elongated islands called the Lesser Antilles. Among its 24 island states, Guadeloupe and Martinique islands are the largest and belong to the overseas territory of France. They are geographically situated on top of each other with a distance of 189 kilometers (117 miles) apart. If you are doing your homework to go diving Guadeloupe and Martinique, you will notice that there is another large island in between. This is the Island Country of Dominica which is not part of the French overseas territory.
The geographical location of Martinique and Guadeloupe favors two economic contributors. First is agriculture where its fertile lands have played a significant role in its economy through agricultural exports. Second is tourism.
Excellent beaches, plus the cultural mix that enchants with beautiful music and amazing food have placed Guadeloupe and Martinique at the heart of tourism for Caribbean's Lesser Antilles. In fact in Martinique alone, 16% of its total business operators are tourism-related services. And for us, scuba divers, this tourism readiness of Guadeloupe and Martinique further compliments our desire to explore its underwater ecosystems which are considered to be one of the best destinations for scuba diving.
Special Note for Communications: Veuillez m'excuser mon français. Yes, that's french which means not all locales in Guadeloupe and Martinique can speak English. With this, please review your conversational French before visiting. Bonne chance!
Diving Conditions in Guadeloupe & Martinique
Geographically speaking, and you'll notice this in any Guadeloupe and Martinique dive map, they are 2 different geographic entities. They have similarities in terms of weather prevalence. Both of their windward coasts (or the eastern side) are greatly influenced by the Atlantic trade winds creating rough seas and difficult for maritime travel.
On the other end, the leeward (or the southwest side) is sheltered and protected. Knowing this is very important, especially for maritime sailors to prevent sailing in rough seas and for scuba divers in aiding them during dive planning and limits them in exploring sites that have calm conditions.
When it comes to climate, both Guadeloupe and Martinique has a tropical climate that is tempered by maritime influences, especially the Atlantic trade winds. It has 2 pronounced seasons: the dry season (also called as lent) that runs from January to June, and the wet season (also called as tropical winter) from July to December.
The best time to go diving in Guadeloupe and Martinique is from February to April. During these months, the surrounding waters are relatively calm, warm with temperature ranging from 27 – 30°C (80 – 86°F) and clear with visibility running from 10 – 20 meters (33 – 66 feet).
Diving Conditions in Guadeloupe & Martinique: at a Glance
Ave. visibility
Guadeloupe: 15 – 18 meters (50 – 60 feet)
Martinique: 10 – 20 meters (33 – 66 feet)
Ave. water temperature
27 – 30°C (80 – 86°F)
Current
Low
Experience
All levels of certification
Exposure Suit
3 – 5 mm
Type of diving
Wall diving, cave diving, shore diving, and drift diving
Marine life
Sea breams, bonitos, yellowtail snappers, blue angelfish, red-spotted hawkfish, black durgon, sargassum triggerfish, banded coral shrimp, smooth trunkfish, yellowhead jawfish, peacock flounder, common octopus, and the Atlantic spadefish
Corals
Famous for corals
Wrecks
Some
Liveaboard
No
Best time to visit
February to April
Main diving area
Guadeloupe: Pigeon Islands and Cousteau Marine Park

Martinique Island: Saint Pierre
Best Dive Sites in Guadeloupe & Martinique
Guadeloupe Caribbean
While Guadeloupe islands have over 241 kilometers (150 miles) of coastline, the main diving area is situated on the west coast in a marine park named nonetheless from the inventor of the first scuba equipment – Sir Jacques Yves Cousteau. Guadeloupe is very strict about coral conservation and feeding the fish and touching the corals is prohibited.
Cousteau Marine Park
Situated 37 kilometers (23 miles) north of Guadeloupe's Capital City of Basse-Terre is the 400 hectare (988 acres), Cousteau Marine Park. You can explore over 10 dive sites that are mostly concentrated in Pigeon Island Guadeloupe and are considered to be the best cheap scuba diving destinations in the Caribbean. The popularity of Pigeon Island started when Cousteau filmed the Le Monde du Silence (The Silent World) which is a 1956 French documentary and was the first to use underwater cinematography. Today, it is a diver's haven where 7 dive sites await your presence underwater.
Le Jardin de Corail (The Coral Garden)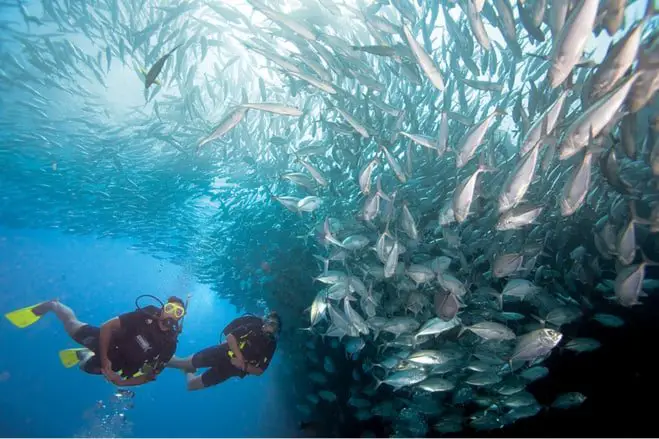 Located on the north coast of Pigeon Island is the fabulous Coral Garden. The reef starts at 3 meters (10 feet) deep and slowly slopes down to 12 meters (39 feet) deep where brain corals, staghorn corals, and elkhorn corals abound. This shallow and sloping reef of the Coral Gardens is a popular spot to learn to dive the Caribbean. The reef slope ends at 20 meters (66 feet) deep where it is transitioned by a vertical wall that is filled with tropical fish (like spadefish, butterflyfish and horse-eye jacks), small marine critters (like shells and lobsters) and sessile organisms (like gorgonians and sponges).
L'aquarium (The Aquarium)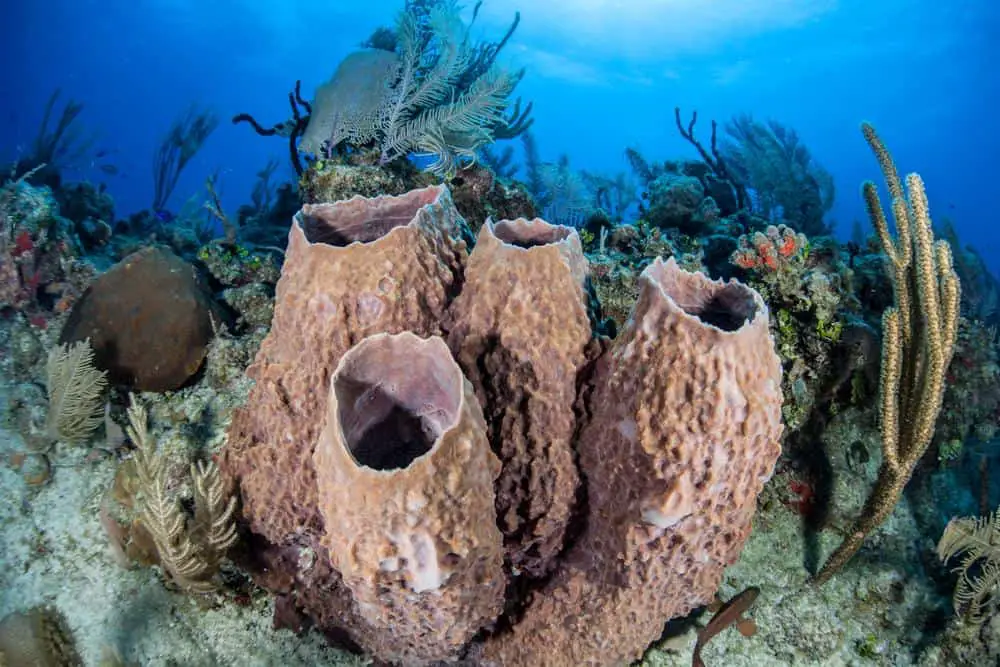 The Aquarium is made predominantly from sand that stretches like a long ski track. Within the sandy seafloor are patches of coral heads where their arrangement at different depths has created a descending reef stair. Your dive guide will usually lead you to the solitary anticyclonic mooring buoy at 10 meters (33 feet) deep where its artificial structure perfectly contrasts with the natural vibrancy of the surrounding reef plateau. Once you see a series of large barrel sponges, it will give you an indication that you are near the reef wall that houses a healthy population of sponge balls and fire corals. Try to look at the cracks and crevices and you will see huge royal lobsters, moray eels and massive spider crabs.
La Piscine (The Pool)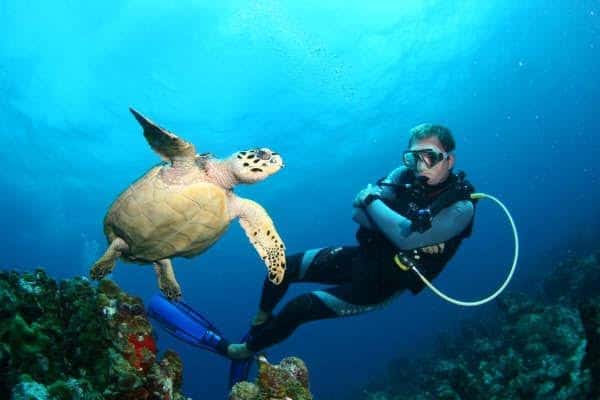 The pool is a shallow dive site that can be enjoyed by newbie divers. With a maximum depth of only 18 meters (60 feet), the Pool is primarily a sandy protected bay on the north coast of Pigeon Island. It has a 30 meter (98 feet) long underwater valley that is dotted with black corals. The pool houses an array of marine life like lizardfish, barracudas, sea turtles, lionfish, angelfish, and the hard to find seahorse that perfectly camouflages with the algae.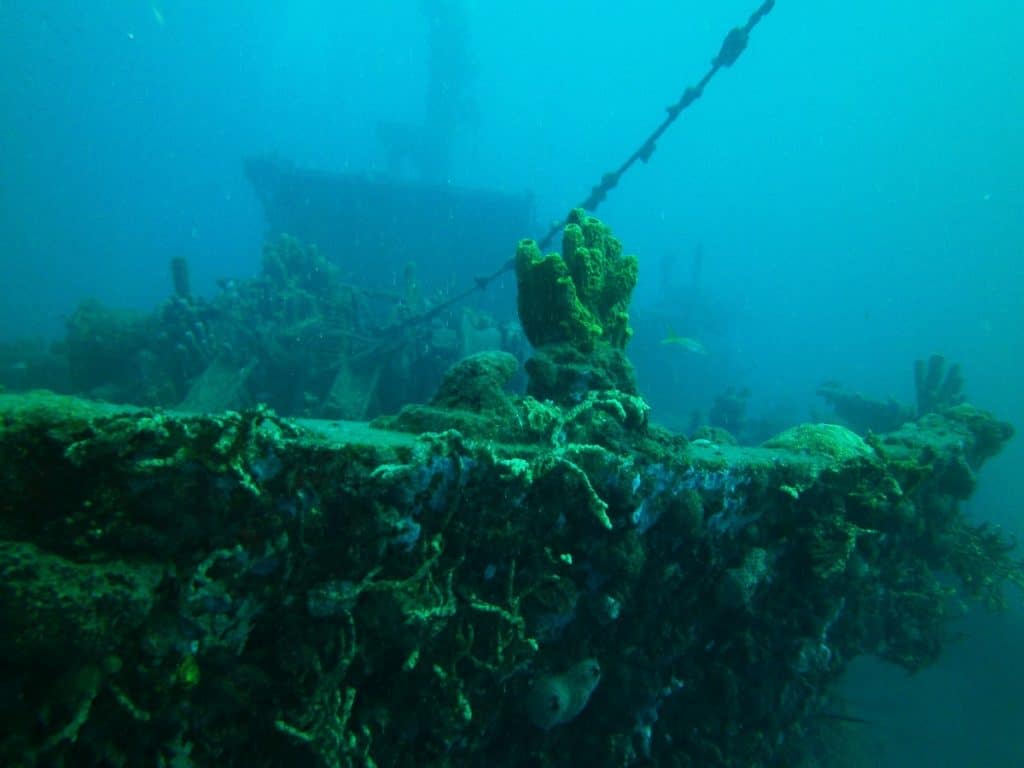 Other notable dive sites in Guadeloupe are shipwrecks. Resting at 23 meters (75 feet) deep, Le Franjack (The Franjack) is a 50 meter (164 feet) long sand transporter that was purposely sunk to become an artificial reef. After being battered by Hurricane Hugo in 1991, Le Gustavia (The Gustavia) was abandoned and sank near Pigeon Island where she is now resting at 39 meters (128 feet) deep. Schooling barracudas are the main attraction of this former Lacascade-Michaux coaster.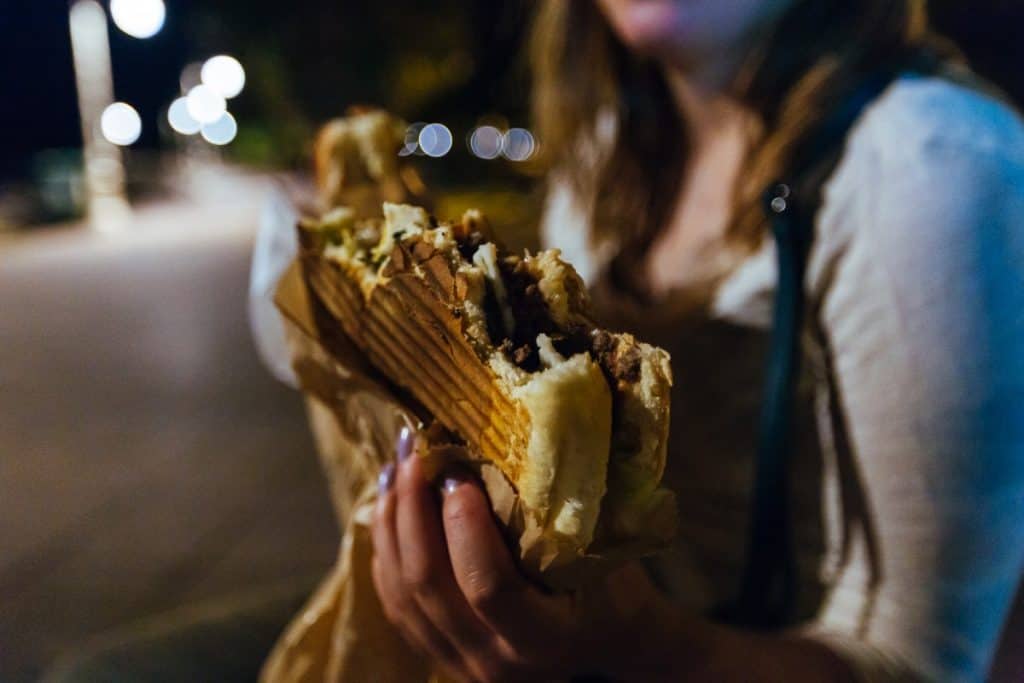 Sidetrip: Kayaking or canoeing at Malendure Beach, visit the 2.4 hectares (6 acres) Petit Bourg Botanical Gardens in Basse-Terre where it has over 100 species of plants. We definitely recommend the local dishes, regardless if it is street food or at the restaurant. It is très délicieux, or in English, it is really delicious. To give you a glimpse of its food, it is a mix of Creole and European food fusion.
Martinique – White Sand Beaches and Spectacular Wrecks
The 70 kilometers (43 miles) indented coastline length of Martinique is blessed with beautiful white sand beaches, coves, bays and dive sites that can be accessed by all levels of scuba divers. Both novice and experienced divers will find themselves diving at easy levels while enjoying the underwater scenery. Located 22 kilometers (14 miles) northwest of the Capital City of Fort-de-France is a scuba diving Martinique main area – Saint Pierre. Most of the dive sites allow you to go wreck diving where you can explore over 15 shipwrecks.
Nahoon Shipwreck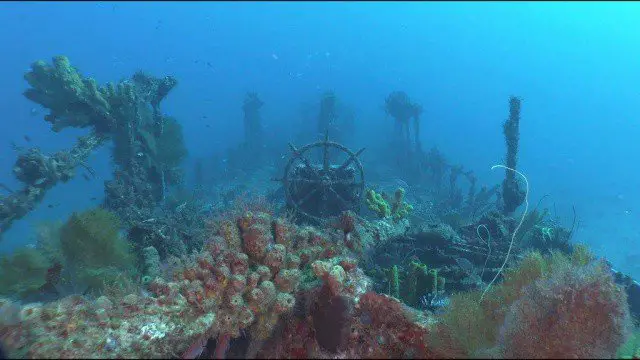 Formerly named Quinette de Richemond, the Nahoon wreck is a 1911 three-masted vessel that was purposely built to maintain the buoys and beacons of the North Sea. It was bought and handed down by several shipping companies until it landed in Guadaloupe in 1967 serving as a floating wreck and was renamed Le Nahoon. After sailing for another 20 years and was eventually abandoned, she was put to rest and purposely sunk in 1993 to become an artificial reef.
Divers can explore its remains by descending down to 35 meters (115 feet) deep on a sandy bottom. As you descend, you can see the last mast standing up with its rigging swinging gently as it is taken by the mild current. Arriving at the main deck allows you to see the wheel, the dock, and the forward cabin. The structures have also attracted an array of marine life like barracudas, snappers, crayfish, jacks, and moray eels.
Dahlia wreck
Located in the middle of St Pierre Bay just in front of a hospital are the remains of the Dahlia wreck. This former 49 meter (161 feet) long American YMS class minesweeper accidentally sank in 1957 and is now resting at 18 meters (60 feet) deep. Although the wreck is in bad shape, the remaining structures are now covered with corals, sponges, and barnacles.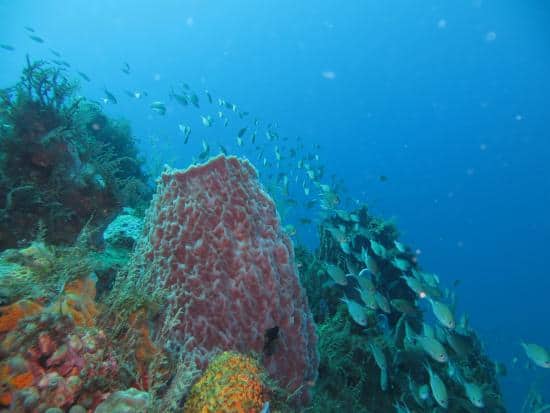 Other noted diving spots in Martinique are the crack-infested reefs of Diamond Rock Marine Reserve located in the southwest corner of the island, the tropical fish-enriched refs of La Perle on the north coast and Anse Dufour.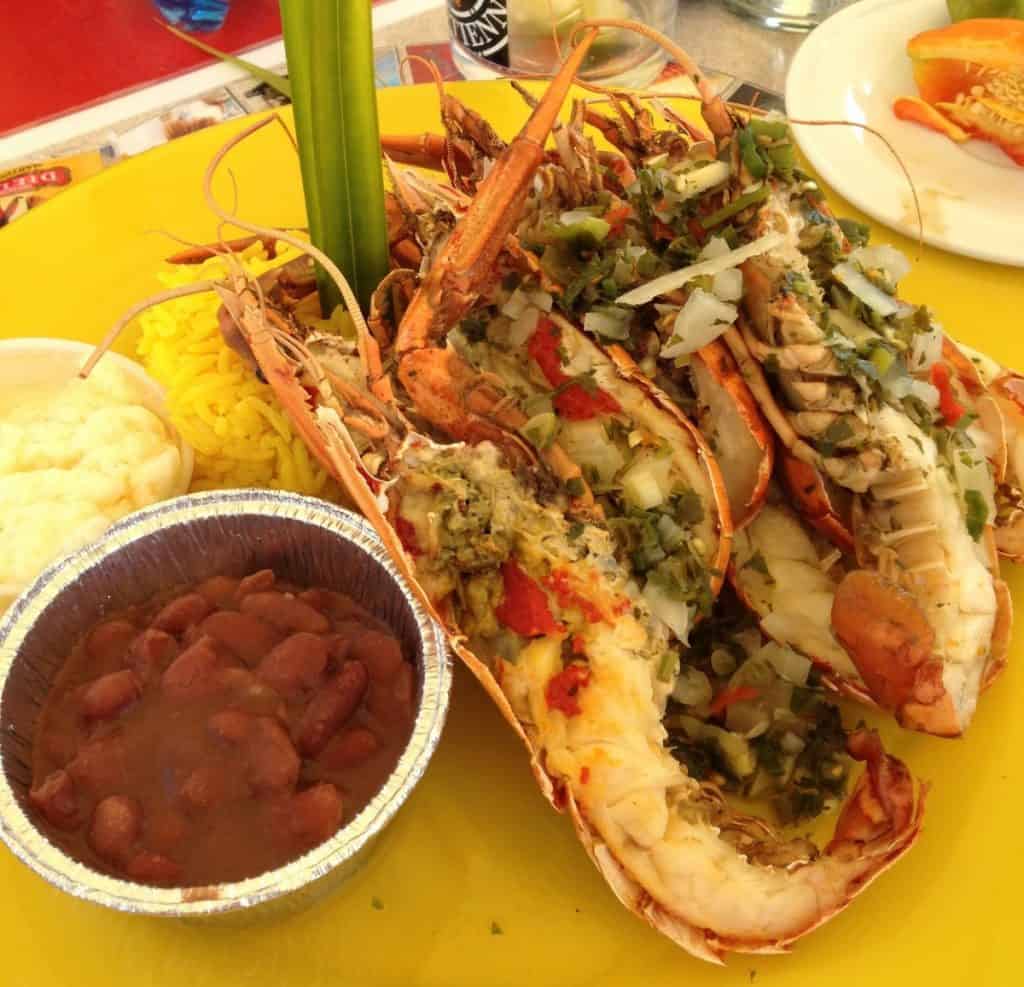 Sidetrip: A drive on Route Des Anses is the best way to see the south side of the island.  If art is what you like, we recommend you visit the Contemporary Art Exhibit that features local artists or the museum and distillery Habitation Clement that has furniture dating back from the 18 and 19th centuries. Do not forget to indulge in a gastronomic feast as Martinique is known for its Creole and French cuisine.
General Information about Guadeloupe and Martinique
Capital city
Guadeloupe: Basse-Terre
Martinique: Fort de France
Currency
Euro
Official language
French
Visa Required
 No, for stays of 90 days or less
Electricity Standards
220 V/ 50 Hz
Time Zone
GMT -4
Official tourist information website
Guadeloupe: www.nationsonline.org/oneworld/guadeloupe.htm

Martinique: www.martinique.org
Points of Interests
Guadeloupe: Snorkeling in Pigeon Islands, Guadeloupe Botanical Gardens and Petit Bourg

Martinique: Hiking in Mount Pelee, hiking Trace Des Caps, visit the distillery and museum Habitation Clement