For us divers, the financial self-sufficiency of the Cayman Islands is only the icing on the cake. The primary reason why scuba divers frequently visit the Cayman Islands is to do a different kind of investment: definitely not monetary, but instead fun, enjoyment and great underwater adventures. This is brought to you by the paradise-features of diving Cayman Islands: three islands where the bounty of nature is amplified as you go underwater.
Who would ever think that at the peak of an undersea mountain range lies a country that has one of the World's largest financial centers? Yes, that is the Cayman Islands and this is due in part of the tax holiday being implemented that has attracted businesses worldwide. In effect, there are more registered businesses in Cayman Island as compared to its local population.
Diving Conditions in the Cayman Islands
The Cayman Islands has a tropical marine climate with two pronounced seasons: a rainy season that runs from May to October and a dry season from November to April. While diving is a year-round activity in the Cayman Islands, June to August is considered to be the best time of year to dive Grand Cayman and the nearby islands of Cayman Brac and Little Cayman. Aside from being outside the high season which means that Grand Cayman dive resorts all-inclusive hotel prices and Caribbean dive packages are cheaper, this is also the months that the diving parameters are at its best.
Cayman Islands has an average water temperature ranging from 26 – 29°C (78 – 84°F). On top of being generally warm, the waters are clear with underwater visibility running from 18 – 30 meters (60 – 100 feet). Grand Cayman and Little Cayman are the main diving areas in the Cayman Islands which are recognized as having one of the best wall dives in the world.
Aside from tourism promotion, marine conservation is in place in all the dive sites in the Cayman Islands. Over 200 permanent boat moorings are installed to avoid damaging corals with the dropping of boat anchors. The Cayman Islands has also designated four special areas for protection such as marine park zones, replenishment zones, environmental zones, and no diving zones. We highly advise you ask your local dive shop on the dos and don'ts in diving a particular dive site.
Diving Conditions in Cayman Islands: at a Glance
| | |
| --- | --- |
| Ave. visibility | 18 – 30 meters (60 – 100 feet) |
| Ave. water temperature | 26 – 29°C (78 – 84°F) |
| Current | Low |
| Experience | For levels of certification |
| Exposure Suit | 3 to 5 mm |
| Type of diving | Wall diving, drift diving, cave diving, shore diving, boat diving, deep diving, and wreck diving |
| Marine life | 100 different species of hard and soft corals plus over 500 species of tropical fish like the South-Atlantic stingrays, eagle rays, manta rays, nurse sharks, Caribbean reef sharks, flying gurnards, Nassau groupers, tarpon fish |
| Corals | Famous for its corals |
| Wrecks | Some |
| Liveaboard | No, but recommended in Babylon |
| Best time to visit | June to August |
| Main diving area | Grand Cayman and Little Cayman |
Best Dive Sites in the Cayman Islands
Grand Cayman – Catered for Divers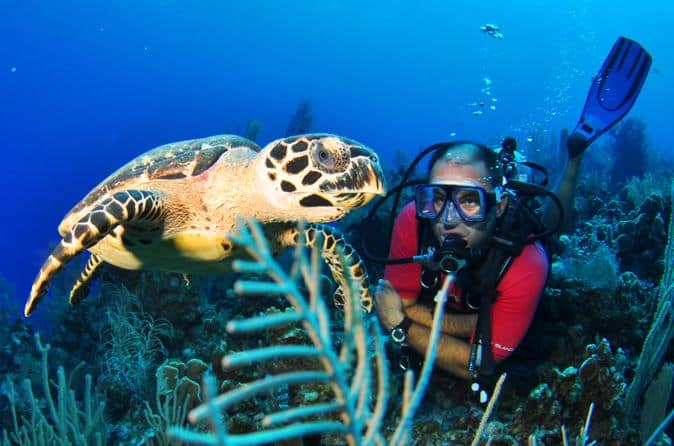 In general, the tourism industry in the Cayman Islands is designed with divers in mind. Of the three main islands, Grand Cayman is where most divers go where you can explore over 50 dive sites allowing you to do virtually all types of diving and is suited for all levels of certification.
Stingray City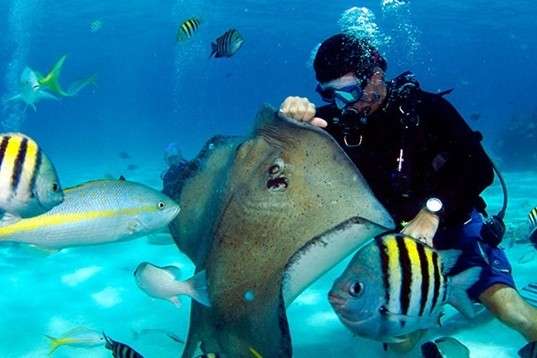 Located 2.5 kilometers (1.6 miles) northwest of the Capital City of George Town is one of the most popular dive sites, not just in the Cayman Islands, but in the Caribbean – the Stingray City which is classified as a sandbar that has been naturally aggregated with southern stingrays that have been accustomed to human presence because of feeding.
Your dive profile in Stingray City is relatively shallow since your maximum depth is just only 6 meters (20 feet) when you reach the sandy seafloor. Many divers who have been diving in this area said that this is really an up close and personal experience with stingrays as they are literally touching and surrounding you. Even if they are stingrays and have the potential to inflict painful wounds via their tail, do not panic as they are not in their aggressive or defensive mode.
Grand Cayman North Wall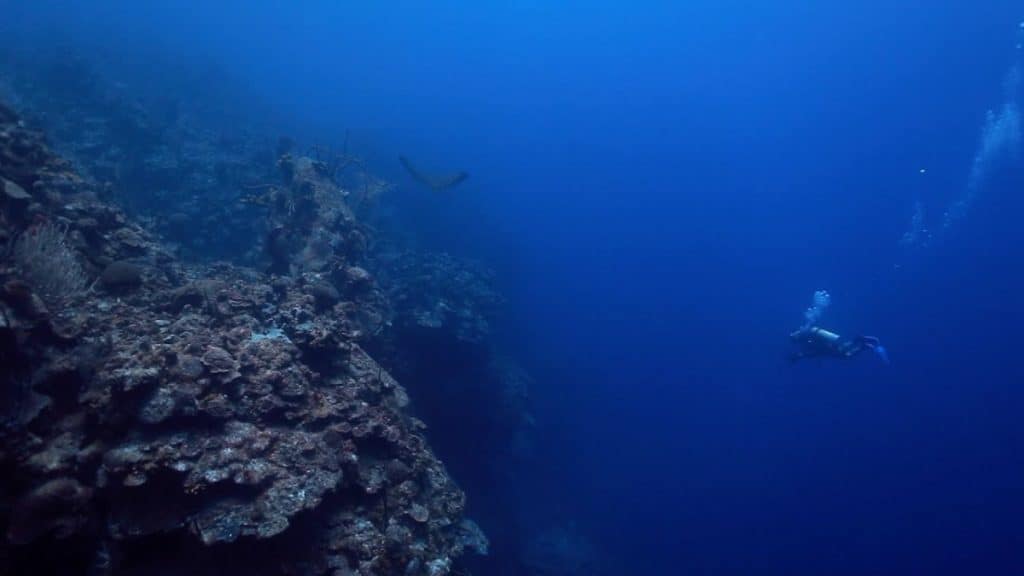 Located near a popular resort is a vertical drop off that is filled with all sorts of marine life – the North Wall. Exploring this site requires you to initially descend to 18 meters (60 feet) deep where the wall starts. While the upper part of the reef is already teeming with corals, it becomes denser as you traverse the vertical limestone where it is now intermixed with sponges and sea fans.
Along with the vertical structures of the wall are small cracks and crevices that have become the refuge of marine critters like crabs, lobsters, moray eels and octopus. Out in the open, spotted eagle rays are often seen swimming in groups of at least 5 individuals and their passing by is often correlated to the flyby of fighter jets in low altitude.
Trinity Caves Grand Cayman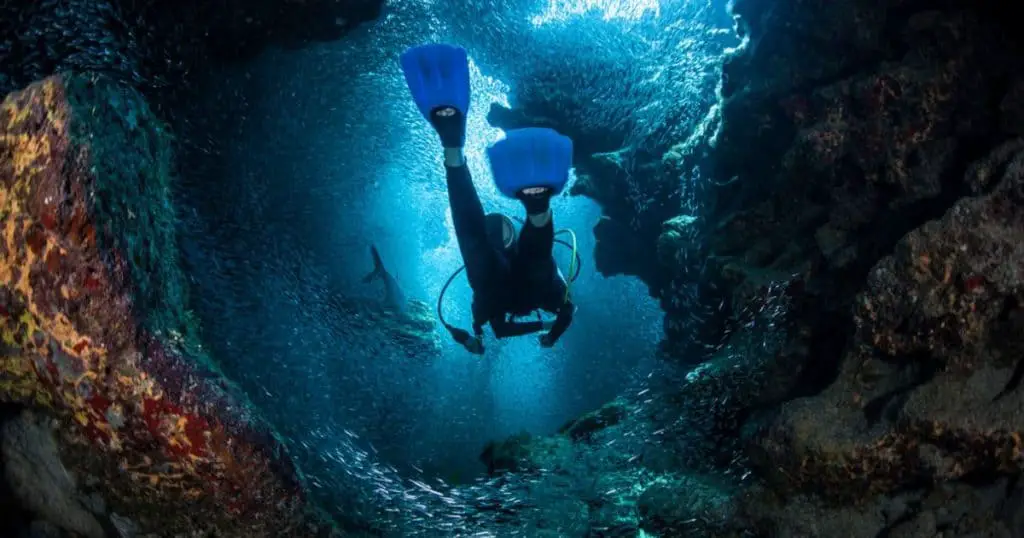 If you are into grotto's or swim-throughs, then you must head out to the west side of Grand Cayman and explore the three long tunnel swim-throughs of the Trinity Caves.
Exploring this site requires you to descend to a depth of 18 meters (60 feet) where the entrance of this elaborate tunnel system starts. As you enter the cave, you will realize that it is not totally dark as it is illuminated by streaking sunlight streaming from overhead cracks and crevices. You will also notice that this tunnel system has a healthy population of whip corals and sponges that are all tall in size.
USS Kittiwake Wreck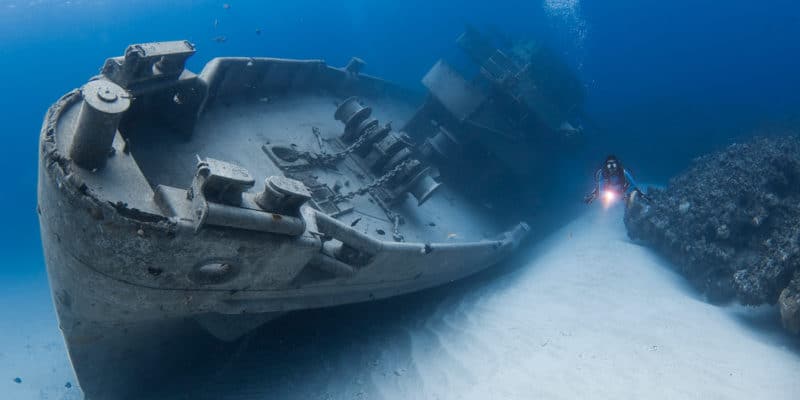 Scuba diving in Grand Cayman is not just only about wall diving. You can also go wreck diving as there are some shipwrecks that can be explored like the remains of USS Kittiwake. Before she was decommissioned in 1994, the USS Kittiwake was a Navy Chanticleer-class submarine rescue vessel.
After being intentionally sunk to become an artificial reef, this former 76 meter (251 feet) long naval vessel now rests at 18 meters (60 feet) deep near the world-renowned Seven Mile Beach. Aside from taking photos at the solid bronze emblem at one of its 5 decks or at the stern with the propeller, penetration can be done with the USS Kittiwake courtesy from multiple sunlit entries and exit points.
Babylon Grand Cayman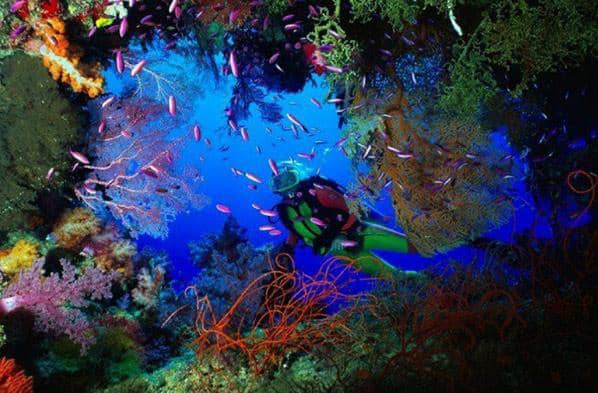 If you want to get rid of the tourist crowd in Grand Cayman and explore a dive site that is remote and that the diver to fish ratio is 1 to a million, then we suggest you head out northwest of Grand Cayman via a Cayman Liveaboard vessel in a site called Babylon.
By descending down to 15 meters (50 feet) deep, you will arrive at what divers call the hanging garden which is a vertical limestone wall filled with black corals, barrel sponges, and purple sea fans. Aside from the coral laden walls of Babylon, your divemaster will usually lead you to a pinnacle where its towering structures are dominated by whip corals.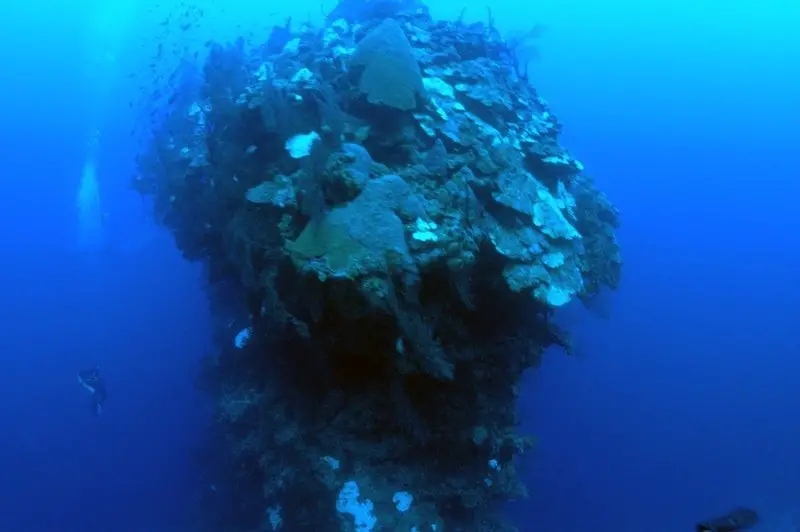 As said earlier, Grand Cayman has over 50 dive sites and we will not leave this section without mentioning other noted dive spots. For deep divers, we highly suggest you explore the elephant-ear sponge laden reef of the Orange Canyon or go cave diving in Bonnie's Arch. For shark diving, we suggest the Maze, Scuba Bowl and the Grouper Grotto which is also filled with lots of good-size groupers. Ghost Mountain Grand Cayman is another great spot for wall diving where you can further reach a protruding limestone that silhouette's like a ghost from afar.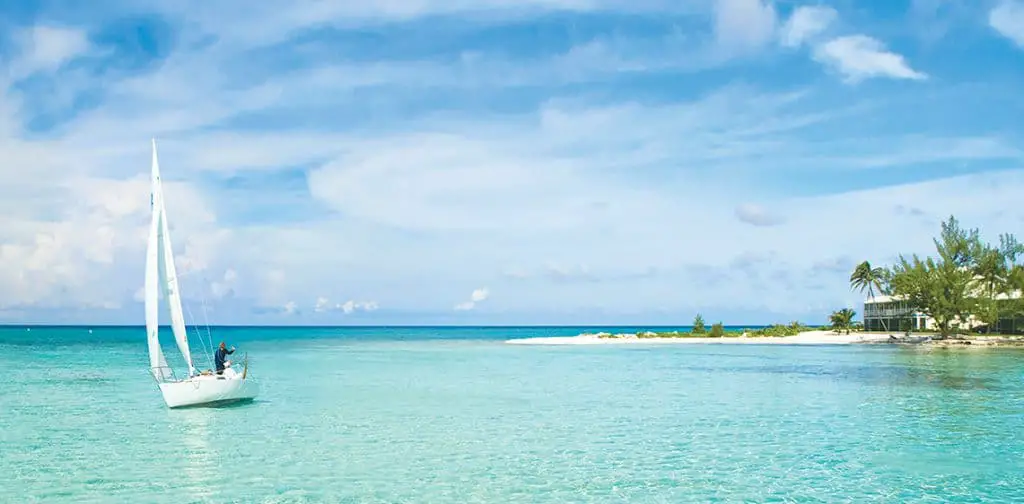 Sidetrip: Grand Cayman is the biggest island and it is where most accommodations and restaurants are located. There's plenty to do if you are not diving. You can go hiking in the Mastic Trail where it has really nice views from the harbors and the beaches. The Pedro St. James National Historic Site is a great place for photography, or you can visit Rum Point for a true Caribbean beach experience. The Cayman Turtle Farm is one of the most visited land attractions on the island.
Little Cayman
Located 133 kilometers (83 miles) northeast of Grand Cayman is its little sister island – Little Cayman. Despite being small measuring only 16 x 1.6 kilometers (10 x 1 mile), tourism is booming and tourism facilities are sprawling especially in South Town. Booming and sprawling are not just words describing the tourism facilities in Little Cayman, but it can also be used to describe its world-class dive sites. Booming in the sense that Little Cayman has over 15 dive sites that have attracted divers from all parts of the globe, and sprawling since all the dive sites are teeming with marine life.
Bloody Bay Marine Park
The main dive spot of Little Cayman is located on the northwest coast in a marine protected area – the Bloody Bay Marine Park. Under its 1986 declaration covering an area of hectares (23 acres) are dive sites that are popular to tourists and divers alike.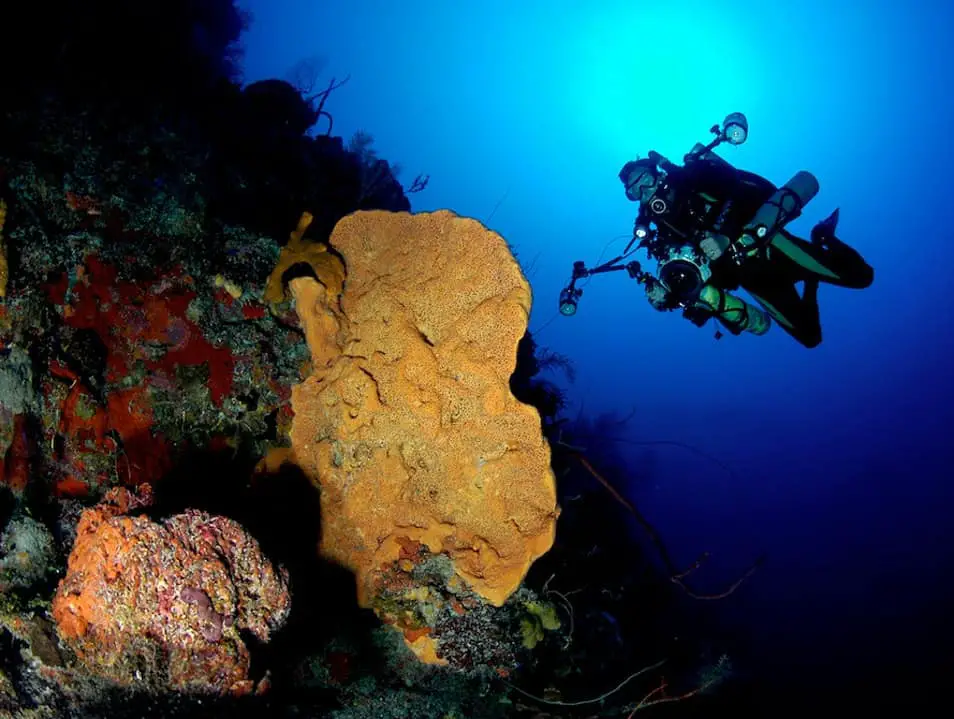 Bloody Bay Wall is considered the epicenter of scuba diving in this marine park. Exploring its underwater habitats allows you to see an incredible reef that starts at 6 meters (20 feet) deep and slowly slopes down towards a vertical limestone wall that drops down up to 1,000 meters (3,300 feet) deep.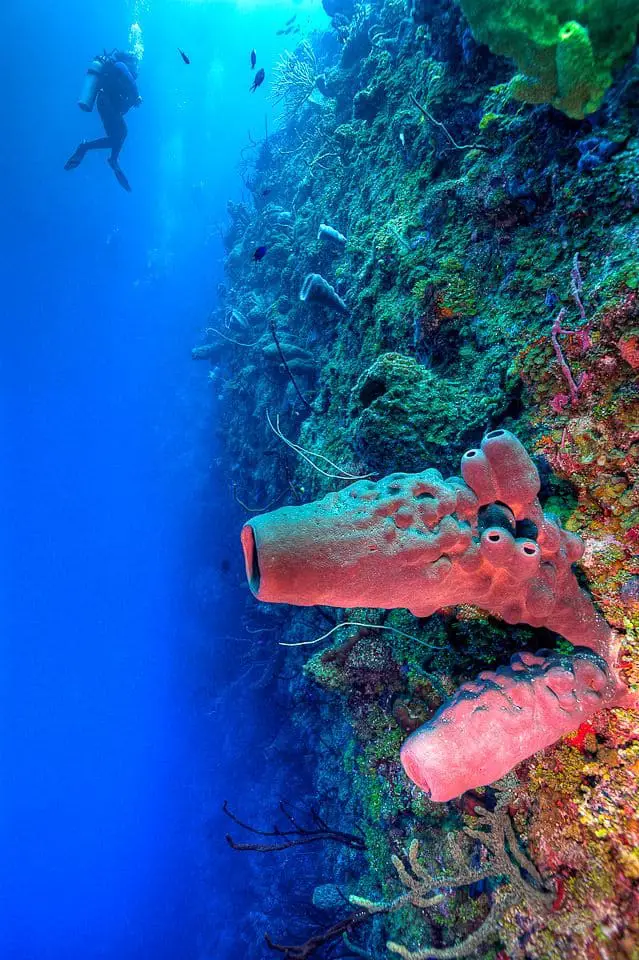 Another great wall diving site in Little Cayman is Joy's Joy. Exploring this site requires you to descend to 10 meters (33 feet) deep where you will arrive at the top portion of the reef. You will then follow a sloping reef up to 25 meters (82 feet) deep where the wall starts and drops down up to 900 meters (2,950 feet) deep. Aside from corals, barrel sponges are sprawling in this vibrant reef that is also filled with tropical reef fish like groupers, butterflyfish, angelfish, moray eels and lionfish which is believed to be an invasive species.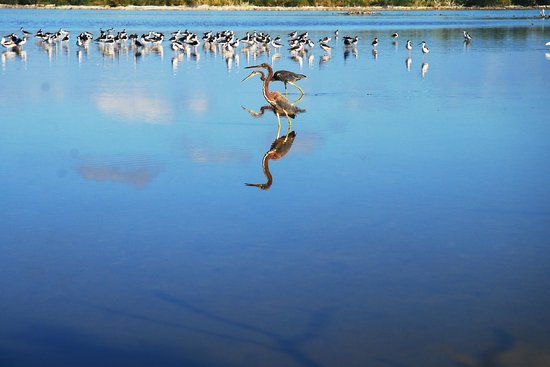 Sidetrip: Visit Little Cayman's Booby Pond Nature Reserve. This 82 hectare (200 acres) protected area is the refuge of the largest red-footed booby population in the Caribbean and is a popular bird-watching site. With regards to transportation, you have to take note that there are no taxis in Little Cayman and the best way to explore the island is by renting a bike.
Diving Cayman Brac
Located 8 kilometers (5 miles) east of Little Cayman is another elongated island that is popular with anglers and scuba divers. Its land area is slightly bigger than Little Cayman with a measurement of 19 x 2 kilometers (12 miles x 1.2 miles). Having a less touristic crowd, Cayman Brac still has several tourism facilities like Cayman Brac Dive Resorts that are scattered along its narrow coast.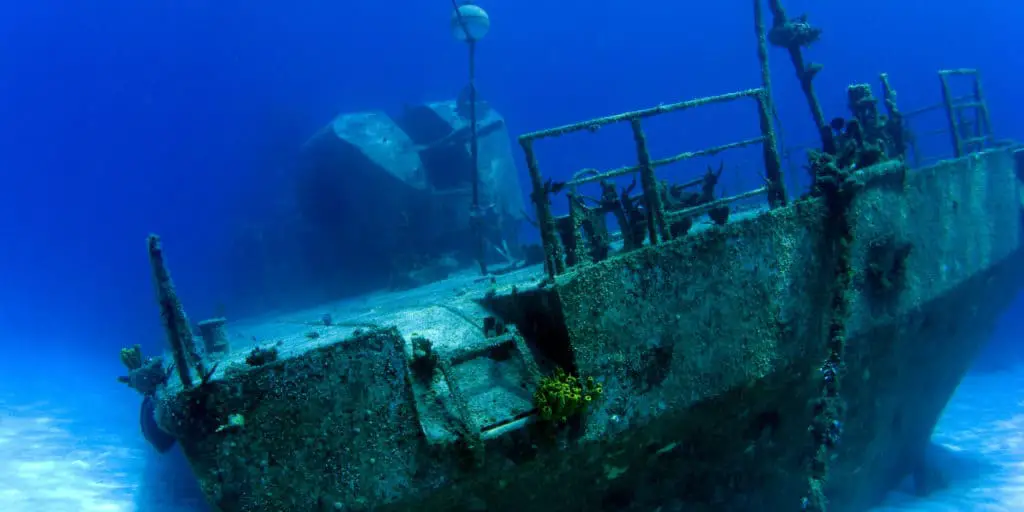 Among the dive sites in Scuba Cayman Brac, the remains of a 100 meter (330 feet) long Russian Koni class frigate is considered one of the best underwater attraction in the Cayman Islands. Originally coined 356, this wreck is now called the M/V Captain Keith Tibbetts after a well-known Cayman Brac politician. This wreck is the only Russian warship that can explore in the Western hemisphere. It now rests in an upright position at a depth of 27 meters (89 feet). Penetration can be done in this wreck courtesy from its numerous entry and exit points that were made before it was intentionally sunk to become an artificial reef.
General Information about the Cayman Islands
Capital city
George Town
Currency
Cayman Islands Dollar (KYD)
Official language
English
Visa Required
No, for a stay of 30 days or less
Electricity Standards
110 V / US
Time Zone
GMT -5
Official tourist information website
www.caymanislands.ky
Points of Interests
Grand Cayman: Snorkeling at Stingray City, visit Dolphin Cove, hiking in the Mastic Trail, Pedro St. James National Historic Site, Cayman Islands National Museum, and the Cayman Turtle Farm

Little Cayman: Salt Rocks Nature Trail, Snorkeling Point of Sand Beach, fishing in Tarpon Lake, visit Owen´s Island, visit the Blossom Village Museum