Located on the southeast corner of the Caribbean Sea in the Leeward Antilles are three neighboring landmasses that form the ABC Islands: Aruba, Bonaire, and Curacao. While they are situated close to one another, they are very different. In Aruba, you can party and gamble in its casinos, at Bonaire you can enjoy the flamingos and Curacao you can lay back and enjoy the layback culture. But diving at Aruba, Bonaire, and Curacao is the one thing they have in common.
On top of sharing a common Dutch colonial history, there is another common characteristic between the islands. All three of them are master innovators in marine conservation, where they have sustained the pristine state of their ecosystem despite drawbacks from their tourism-based economy. With this, the underwater habitats of the ABC islands have become a natural underwater attraction that is considered one of the best diving in the Caribbean. It has drawn the interest of divers worldwide, and a week-long vacation is not enough to fully explore its underwater beauty as there over 100 dive sites to visit.
Diving Conditions in Aruba, Bonaire, and Curacao
Weather in the ABC islands is predominantly warm with annual air temperature ranging from 28 – 37°C (82 – 99°F) and receives little rainfall during its short rainy season that runs from October to December. The best time to go diving in the ABC islands is from September to December, where the rainy season decreases a fraction of the warm temperature, making it conducive for tourists to roam around.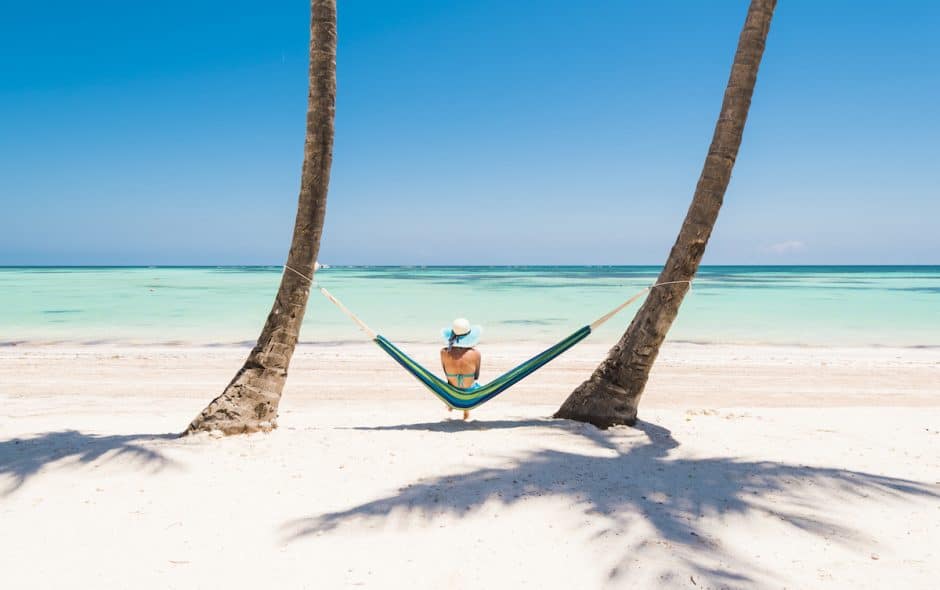 Ranging from 25 – 28°C (78 – 82°F), the waters of the ABC islands are warm year-round making it highly conducive for tropical scuba diving. Visibility is always clear where a 20 meter (66 feet) visibility on a gloomy day is considered normal. Among the types of diving that you can do in the ABC islands are wall diving, drift diving, cave diving, wreck diving, deep diving, and shore diving. In particular, Aruba is known for its wrecks, while Bonaire and Curacao are famous for its marine protected parks.
Diving Conditions in Aruba, Bonaire, and Curacao: at a Glance
Ave. visibility
Aruba: 20 – 30 meters (60 – 100 feet)
Bonaire: 30 meters (100 feet)
Curacao: 20 – 30 meters (60 to 100 feet)
Ave. water temperature
Summer: 27 – 28°C (80 – 82°F)
Winter: 25 – 27°C (78 – 80°F)
Current
Low to Average
Experience
For all levels of certification
Exposure Suit
Rashguard up to 3mm.
Type of diving
Wall diving, drift diving, cave diving, wreck diving, deep diving, and shore diving
Marine life
You'll see fifty-five species of corals, 469 fish species like a southern stingray and nurse shark, and marine invertebrates like the Atlantic pygmy octopus and the Caribbean reef octopus.
Corals
Many
Wrecks
Many, particularly in Aruba
Liveaboard
No, but recommended for diving in Curacao
Best time to visit
September to December
Main diving area
Aruba, Bonaire, Curacao
Best Dive Sites in Aruba, Bonaire, and Curacao
Aruba: Famous for Wrecks
Aruba diving ranks as one of the Caribbean's most popular vacation spots. On top of heavy surf on the northern windward side that creates conditions ideal for sailing and windsurfing, the southern leeward side is dotted with superb beaches, pristine coral reefs and artificial underwater attractions like shipwrecks and plane wrecks.
The Antilla Wreck
Located on the northwestern coast of Aruba are the remains of a 122 meter (400 feet) long German Freighter – The Antilla. Resting at 20 meters (66 feet) deep, the Antilla has broken into two parts due to previous severe weather conditions. This wreck is visible from above, where you can identify the mast and the bridge from the surface. The steel structures are now encrusted with corals and sponges. They have attracted an array of marine life like anemones, lobsters, shrimps, and a long list of tropical reef fish such as angelfish, yellowtail snappers, and bluehead wrasse. Wreck penetration is possible courtesy from multiple holes intended for entry and exit.
Sonesta Plane Wrecks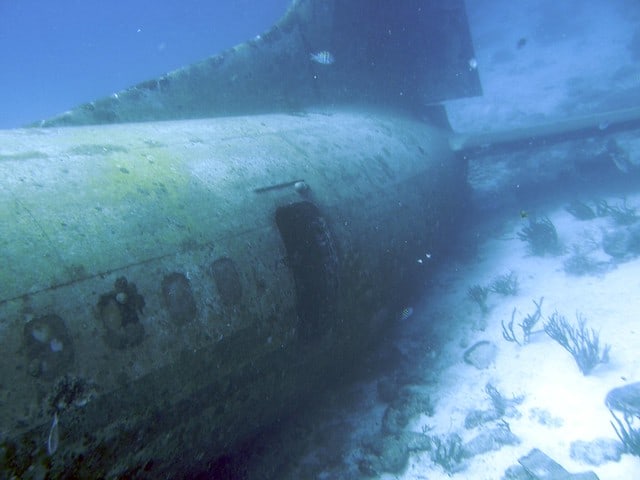 Located on the west coast of Aruba, the resort town of Sonesta holds two plane wrecks that were intentionally sunk to become an artificial reef. Resting near each other are the remains of YS-11 and a Convair 240. The Convair 240 is a 40-seater aircraft that was confiscated during a drug bust in the 80s. The fuselage was broken down into two pieces brought by the damaging effects of Hurricane Lenny last 1999, where the wreck was moved from its 14 meters (45 feet) original depth to 24 meters (80 feet) deep. Just a few meters away is the YS-11, which is a 20 meter (66 feet) long passenger plane.
Other notable scuba dive sites in Aruba are Rocky Beach, the coral laden reefs of Barcadera, the staghorn coral beds of Dantchi's Delight, and the sea fan mounds of Mangel Halto.
Snorkeling in Aruba is also popular. Your premier snorkeling site, located in De Palm Island, is just a few minutes boat ride on the west coast of Aruba. You arrive at the crystal clear waters of De Palm and can go snorkeling along the healthy coral reefs where nurse sharks are often seen.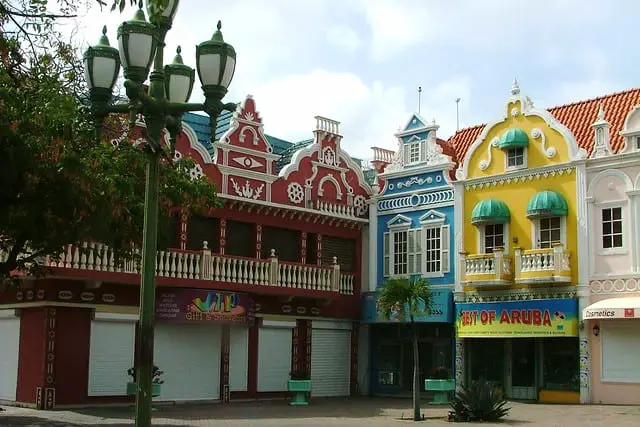 Sidetrip: Visit the picturesque city of Oranjestad and meet (while dining or shopping) guests coming down from cruise ships docking at a nearby port. Go hiking in Arikok National Park, which covers 20% of Aruba's landmass.
Bonaire: Caribbean's First Marine Parks
Of the three ABC islands, Bonaire has the most dive sites numbering at 86, making Bonaire scuba diving very popular in the Caribbean. The surrounding waters of Bonaire are actively protected today and have been for 30 years. As a result, its entire coastline, declared as a marine sanctuary, inspires marine conservation in the Caribbean, especially after creating the first marine park.
But where is Bonaire? Before we proceed, we need to establish geographical bearing so as not to confuse the location of the ABC islands since they are not arranged alphabetically. Of the three islands, Aruba is the westernmost island. In the middle, Curacao, 113 kilometers (70 miles) east of Aruba. Last, the easternmost island Bonaire is 79 kilometers (49 miles) east of Curacao.
The dive sites in Bonaire are divided into two sections based on the Bonaire diving map: Bonaire North and Bonaire South. Over 50 of the 86 dive sites in Bonaire are shore dives, and each site is marked with yellow stones on the side of the road for ease of identification.
Karpata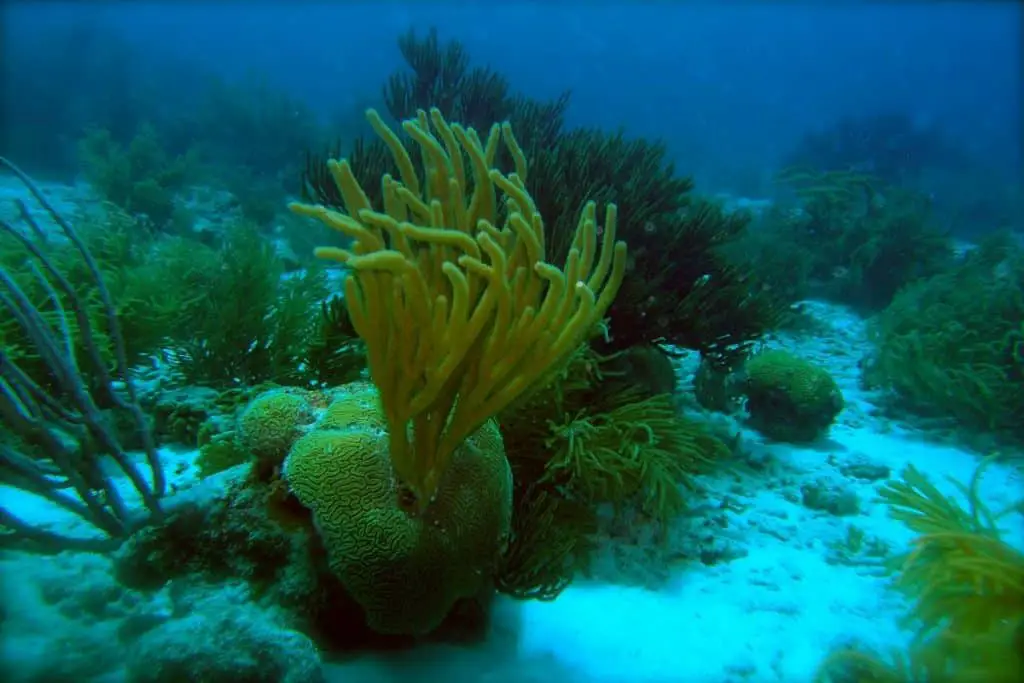 This northernmost dive site of Bonaire is top-rated, aside from the constant mild conditions, it has an impressive reef beneath its waters. Your entry point is a shallow reef at 7 meters (23 feet) deep and gently slopes down toward a sandy bottom at 35 meters (115 feet) deep. As you traverse the reef, you will notice that it is dominated by elkhorn corals with lots of small tropical fish like seahorses taking refuge under its limestone structure. Karpata is also the right spot for marine reptile interaction where you can frequently see sea turtles up close and personal.
Hilma Hooker Wreck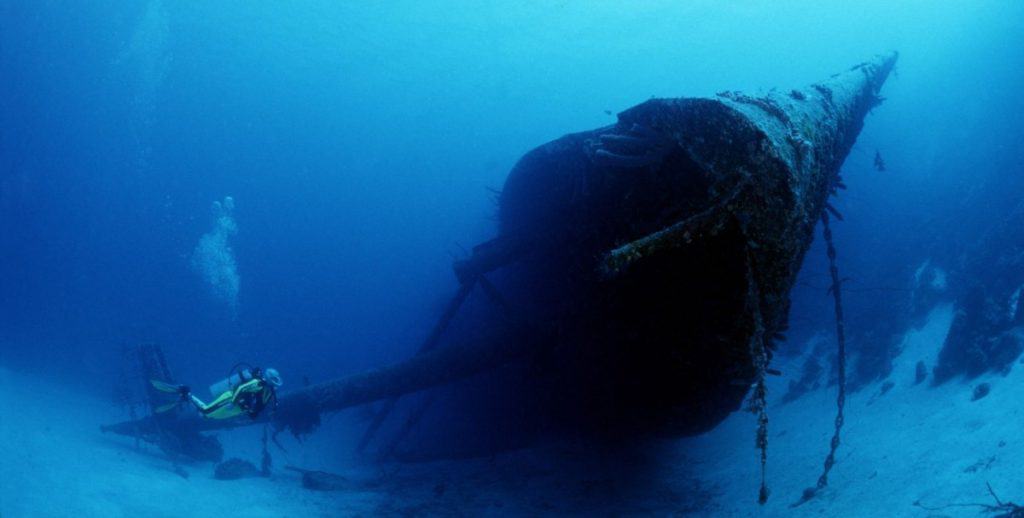 Located in Bonaire South, the Hilma Hooker is a famous wreck diving site in Bonaire. Originally named Midland, this 72 meters (236 feet) long cargo ship was apprehended, confiscated, and sunk in 1984 after its involvement in drug smuggling. She now rests at 30 meters (98 feet) deep in a sandy channel that is bounded by two healthy reefs on the side.
As you enter the water, you will descend in deep blue-colored water, and a dark silhouette at the bottom will signal you that you are near the wreck. The structures are now encrusted with algae, corals, sponges and have attracted a wide array of tropical fish like wrasse, sergeant majors, tarpons, eels, and tilefish. Penetration is possible in this wreck, provided you have proper training and experience.
The Forest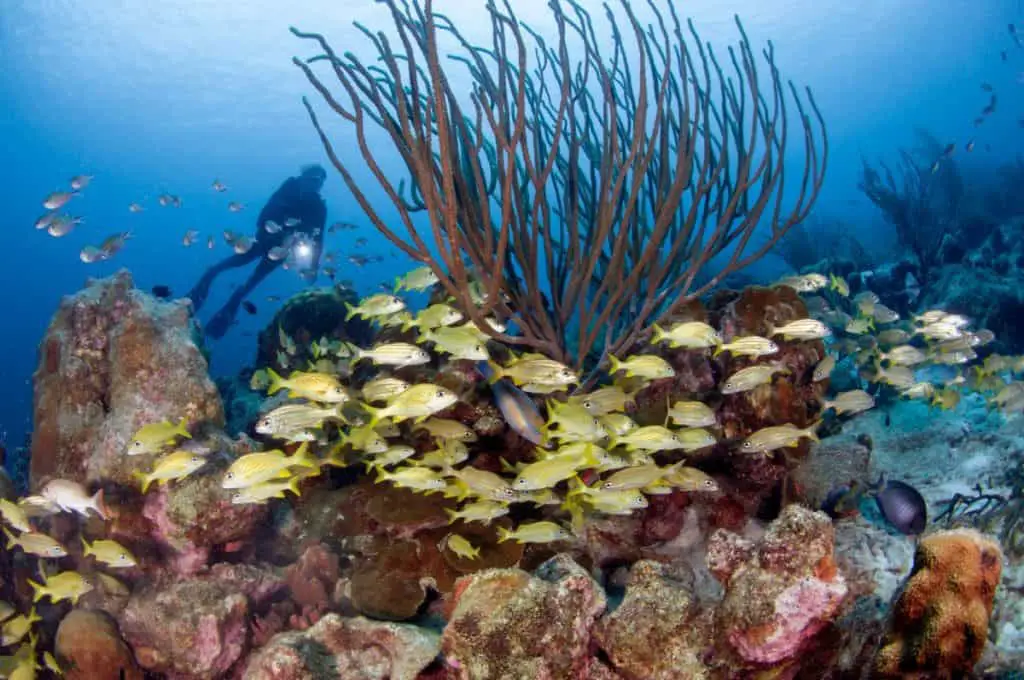 Another popular dive site in Bonaire requires you to take a 10-minute boat ride towards the small island of Klein Bonaire. The Forest is an underwater forest that is characterized by an abundance of soft corals and black corals.
Once you descend and start exploring this site, you will be amazed at how the bright colors of the reef compliments with the illumination of its white sandy bottom, which look more intense with its crystal glorious water setting. On top of sea turtles and eagle rays, the Forest has a signature species: a resident French Angelfish who are accustomed to our presence underwater and will come near to us. At the edge of this reef is a vertical drop off that has become the favorite spot to see triggerfish and barracuda.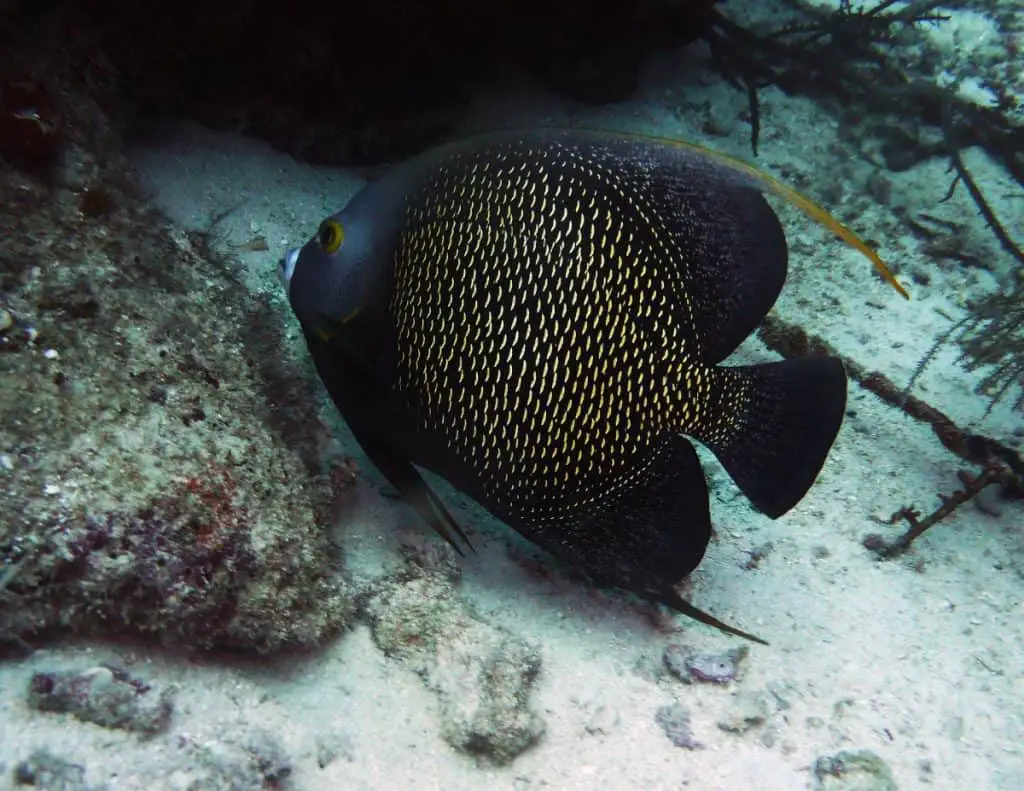 Going back to the resident French Angelfish, they come close to divers, especially after you feed them. However, we wish to inform you that fish feeding is strictly prohibited as prescribed by law in Bonaire.
Other notable dive sites in Bonaire are Boka Bartol, the vertical limestone and lava rock cliffs of Rappel and the bio-diverse reefs of Bari.
Sidetrip: There are a lot of exciting things to do in Bonaire when you are not diving. With bike paths marked by red stones, mountain biking is an excellent way to see the island and get some workout.
If you are looking for Bonaire Resorts, we highly recommend buddy dive Bonaire. The resort has spectacular sunsets, gentle breezes, and crystal clear waters and lies in the middle of a perfect slice of paradise. For the recommended dive shops Bonaire, we endorse VIP Diving Bonaire and Dive Friends Bonaire, which is a chain of 8 dive shops.
Curacao and Banda Abao Underwater Marine Park
At 40 miles long, Curacao is the biggest of the ABC Islands. It has 30 different dive sites that are mostly located on the southern coast and are marked with a dive flag that is painted on a boulder. The dive sites in Curacao are unique since most of them are located in between marine parks such as the Banda Abao Underwater Park. In effect, these dive sites have benefited from the spill-over impact on the conservation efforts made to protect and sustain the marine parks.
Mushroom Forest Curacao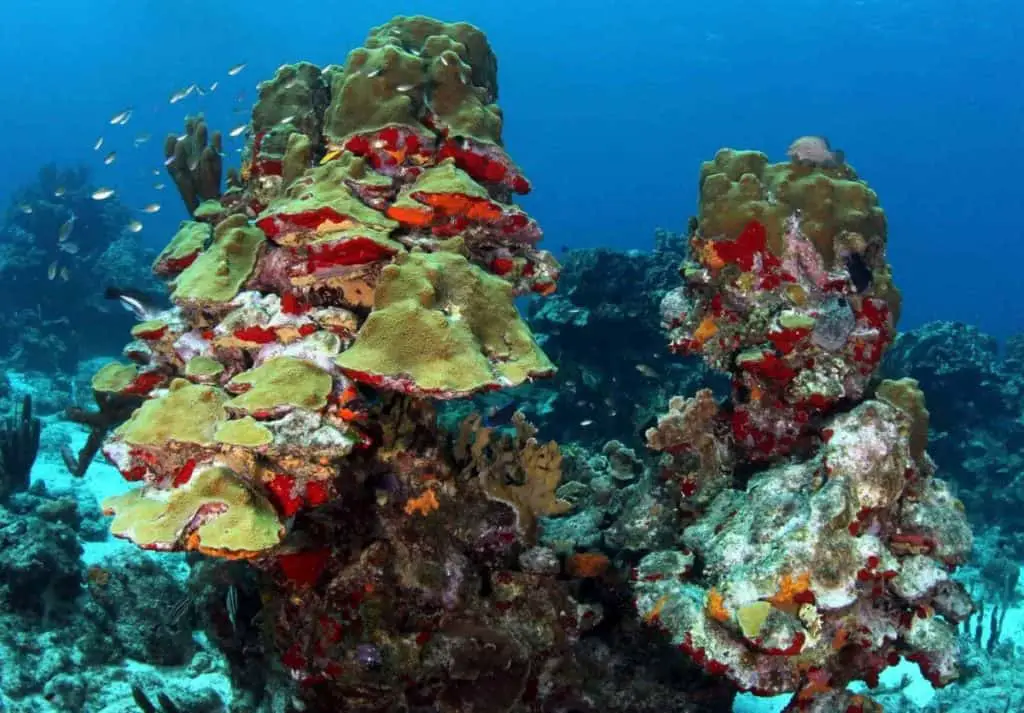 Considered as one of the most popular dive sites in Curacao is a reef that is naturally loaded up with mushroom-shaped corals. Mushroom Forest is a shallow reef that gently slopes towards the seafloor at 36 meters (118 feet). As you descend, you cannot help but notice the dominant population of mushroom corals that are scattered in all parts of the reef. The protruding limestone structures of the mushroom coral is a favorite dropping by point of small schooling fish like the Creole wrasse and blue damselfish. Try to take a peek beneath the protruding limestone structure, and you will be surprised to see more marine life taking refuge like eels, nudibranch, crabs, and shrimps. You might even find a motionless sea turtle if it is your lucky day.
Superior Producer and Tugboat Wreck
There are several wreck diving sites in Curacao, but the Superior Producer and the Tugboat wreck are the most popular. For deep divers, we recommend the Superior Producer. This 50 meters (164 feet) long cargo ship that sank in 1977 is now resting at 30 meters (98 feet) deep in a perfectly upright position. The steel structures of this wreck are already overgrown with corals, sponges, and the circling of schooling fish like barracuda has become an added attraction.
Another wreck diving site in Curacao is the Tugboat that is deemed ideal for newbie divers. Resting at 5 meters (16 feet) deep, exploring the Tugboat wreck will allow you to see an intact structure that is encrusted with sponges and star corals, which are rarely found in a wreck diving site. This wreck sits on top of a sparsely covered reef filled with tropical fish like moray eels, trumpetfish, and parrotfish. Other noted wreck diving sites in Curacao are the Car Pile wreck, which is barge loaded with cars.
Sidetrip: When not underwater, the capital city of Willemstad makes for a great sightseeing tour. Many buildings have been restored, and the Floating Market is exciting. You can also take a peek at the elegant settings yet maintaining the natural blend of several Curacao Diving Resorts. Another option is to take a jeep safari tour or visit the Hato Caves, where in colonial times, slaves who managed to escape used to hide. Guided tours are the best way to explore them to get to know all the stories behind the rock formations.
General Information about Aruba, Bonaire, and Curacao
Capital city
Aruba: Oranjestad
Bonaire: Kralendijk
Curacao: Willemstad
Currency
Aruba: Aruban Florin
Bonaire: Antillean Florin
Curacao: Antillean Florin

US Dollars are accepted in all the three islands
Official language
Dutch, Papiamento, English
Visa Required
No, for a stay up to 30 days
Electricity Standards
110 V / US
Time Zone
GMT -4
Official tourist information website
Aruba: www.aruba.com
Bonaire: www.infobonaire.com
Curacao: www.curacao.com
Points of Interests
Aruba: Archeological Museum, Aruba Historical Museum, Oranjestad City for its Dutch Colonial Architecture, Arikok National Park, De Palm Island

Bonaire: Windsurfing in Lac Bay, hiking in Washington Slagbaai National Park, mountain biking and caving

Curacao: Hato Caves, Willemstad, Floating Market