For its small size, the Costa Rica scuba diving experience efficiently packs plenty of sea life and biodiversity. A mere six-hour drive divides the Pacific and Atlantic oceans, providing such spectacles as scuba diving in coral reefs or swimming with humpback whales. The best 3 dive locations are Coco's Island, Isla del Caño, Islas Murcielago (Bat Islands), and Catalina Islands.
Costa Rica is one of the most popular Central America diving destinations. With Nicaragua to the north and Panama to the south, Costa Rica is sandwiched by the Caribbean Sea and the Pacific Ocean. The country has an area of roughly 31,500 miles, yet it accounts for over 7,000 animal species (California accounts for 6,700). This surprisingly high number makes Costa Rica a hotspot of marine diversity on a worldwide scale and thus offers an outstanding diving experience.
The main diving sites are found in the North Pacific, South Pacific, and South Caribbean. The Pacific coast has some of the best diving due to the seasonal climatic and oceanographic fluctuations. The effect of the wind-induced coastal upwelling in the dry season is characterized by the presence of colder, denser water, rich in nutrients. This attracts an abundance of fish and other predators. The Caribbean Coast, on the other hand, is warmer and saltier than in the Pacific, presenting good conditions for the growth of coral reefs and mangroves.
The PADI Costa Rica page has a great Map of Costa Rica Scuba diving sites. That page also has some good info showing what are the best times of the year to book your scuba vacation considering water temperature and the amount of rain. If I were you, I would visit Costa Rica between the months of December and April. This is the dry season: better visibility, calmer seas, easy colorful diving, among other benefits of the summer.
Water temperatures in Costa Rica oscillate between 25C/77F and 30C/85F between the dry and rainy season. The dry season is between December and April, and the rest of the year is usually rainy. Visibility during the dry season in most places is 10-30mts/30-90ft, usually, be better than the rainy season which is cut by half. The reason for rainy season visibility not being so great is that the rivers bring in sediments and fertilizers from the mainland into the ocean. Excess fertilizers mean more plankton in the water, and well, sediments are sediments.
Diving the Costa Rica North Pacific Coast
The Papagayo Gulf in the Guanacaste province has more than a dozen inshore dive sites. Dive sites can be accessed from Playa Tamarindo or Playa del Coco, both beach towns with professional diving operations that are very well equipped. The popular dive sites at the Papagayo Gulf are Punta Argentina and Punta Gorda.
Punta Argentina has a mostly volcanic rock substrate; this site is good for small marine life such as harlequin shrimp, sea horses, and frogfish. Punta Gorda is a good site to see the spotted eagle rays and cow nose rays. Catalina Island is the site to go if you want to see the giant manta and whitetip reef sharks, while at Bat Island (Isla Murciélago) there's a very good chance you'll spot bull sharks, some of them up to 11 ft long. Both Catalina and Bat Islands can be challenging dive sites due to strong currents and strong winds. Also, some of the sites here are deep (30mts/100ft or deeper).
The North Pacific is one of the most developed areas in terms of tourism, both in hotel accommodations and fun activities:  canopy rides, wildlife observation boat rides (Tempisque and Corobicí Rivers), hiking, horseback riding, tubing and mud spas are available.
Diving at Bat Islands – Islas Murcielagos
Many experienced divers say that Bat Islands are the second-best dive site after Coco's Island in Costa Rica. If you had to choose one dive site on your Costa Rica dive vacation, make it Bat Islands and Bat Islands – the home of the Bull Sharks.
Bat Islands are inside the Santa Rosa National Park and was named a UNESCO World Heritage site in 1999. Bat Islands is adventure diving for serious divers. The main dive areas include Bahia Culebra, Catalina Islands, Cuajiniquil, El Jobo, and Bat Islands. The best time to dive is between May and October. You'll find charters typically run from May to September. During dive season, water is crystal blue and warm.
Sites are 30m/90ft deep on average, the moderate experience is a must, you'll require PADI Advanced Open Water certification, and at least 30 logged dives. Prices per day range between $225 and $250 depending on the number of dives and equipment you'll rent.
Bat Island is one of the most popular Costa Rica scuba diving spots. Among the best dive sites here include:
The Big Scare Dive Spot
Here you'll get to see a large number of Bull Sharks and Giant Pacific Manta Rays. There is no feeding involved. Whales, Dolphins and other Manta Rays are also commonly found here as well as tropical fish, corals, and sponges. This is a good place for night dives as well.
Bajo Negro Dive Spot
Under the waters of Bajo Negro, you'll see schools of tropical fish in large numbers, a backdrop of colorful corals and sponges, manta rays and other marine life.
Scuba Diving Catalina Islands
Catalina Islands offers over 12 mesmerizing coastal diving sites. If you love caves, arches, and amazing corals, this is the place for you. Catalina Islands is famous for experiencing dives with dozens of Giant Pacific Mantas, especially between December and May. You will also get to see White Tip Reef Sharks, Eagle Rays, Devil Rays, Cow Nose Rays, Turtles, Dolphins, Moray Eels, Puffer Fish, and giant schools of Jacks and Grunts.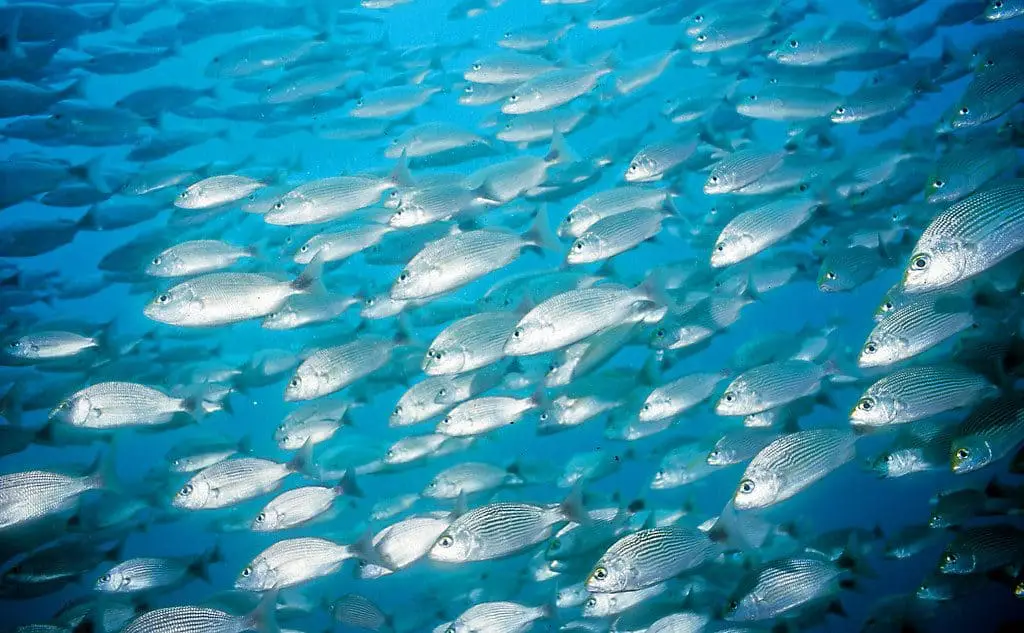 Catalina Islands are a small group of volcanic rocks situated 30km/20miles off the coast of Playas del Coco. Here, there are large quantities of plankton which attract 8 different species of Manta Rays like the Spotted rays, Eagle rays, devil rays, Diamond Stingrays, Southern Stingrays, and round stingrays.
If you visit between August and September, you'll be lucky to see Humpback whales come inshore the islands to give birth. These cetaceans like to hang around the dive boats and divers. It is magical to listen to their whale song while you hang around them.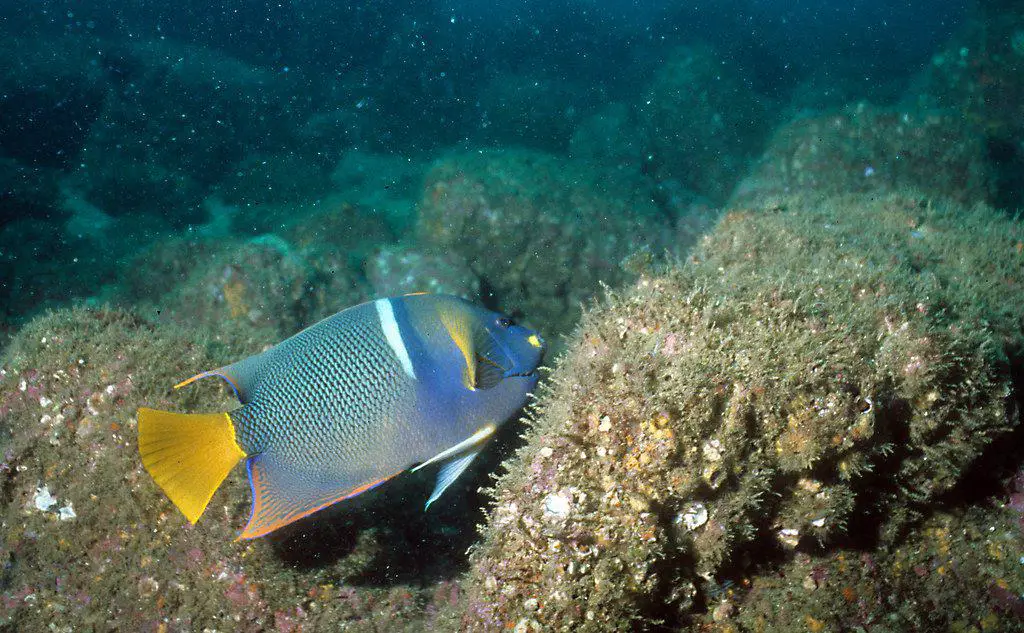 Diving spots at Catalina Islands offer experiences for all levels of divers. The price for a 2-day dive is about $100, add an extra $25-$50 depending on what diving equipment you need to rent. Diving at Catalina Islands is on my wishlist of Costa Rica scuba diving adventures.
Diving Costa Rica's Mid Pacific Coast
Some of Costa Rica's nicest beaches are located in the mid-pacific region. Here you'll find many luxurious houses for short- and long-term rentals. though not as famous as some of the other regions mentioned in this post, the Mid Pacific offers some of the best Costa Rica scuba diving one day tours,
Herradura – new divers favorite
This is one of the newer spots divers are visiting, offering dives for all skill levels. The most popular attraction here is the Giant Oceanic Mata Ray during the months between December and May.
Diving Tortuga Islands
Near this island is one of the best shipwrecks for scuba diving in Costa Rica. There are three sunken ships: Franklin Chang Diaz, Colonel Alfonso Monge, and Caroline Star.
Diving Manuel Antonio National Park in Quepos
Manuel Antonio has been mentioned in many travel magazines and sites as one of the top 10 most beautiful beaches in the world. It is one of Costa Rica's most adored treasures as a National Park. If you are planning to scuba dive here, make sure you book in advance as some of the sites require permission from the government. Here are some of the most popular dive spots:
Light House Rock
Light House Rock is a cave diving spot located inside the Manuel Antonio National Park. You'll find volcanic formations with caverns and caves. Great place for new divers as the waters are warm and calm.
El Acuario
This is one of the shallower dive sites at 6-15mts/18-45ft deep. There are rock formations with a sandbar that runs between them. As the name in Spanish suggests, you get to see countless tropical colorful marine life. Make sure you empty your camera's memory before this dive.
Isla Largo
This island has great sites to dive all around it. You'll get to see caverns and other rock formations that are home to numerous varieties of marine life.
Scuba Diving Puntarenas
Not a place for scuba dive for sure, but if you are planning to dive several spots in the Pacific Coast, including Coco's Island, then this is a great place to choose as a base. Puntarenas is your gateway to most of the pacific sites in Costa Rica.
Scuba Diving Costa Rica's South Pacific Coast
Costa Rica's Peninsula de Osa is simply breathtaking. The area's main diving site is Caño Island, just off Drake Bay. One of the recommended sites as a liveaboard dive trip. The island has an average visibility of 50 ft. This is another must have experience in the Costa Rica scuba diving menu.
Scuba diving Cano Island
Caño Island is one of the unknown and unspoiled marine reserves on the planet. It is suggested you dedicate a few days to this site as there are plenty of experiences you will not want to miss. Caño Island is a national park and marine reserve.
Between January and mid-February, you are likely to see humpback whales and killer whales migrating down from California, a simply awesome experience. The site often has strong currents, so it is not recommended for beginner divers.
In general, you'll be able to spot massive schools of tropical fish, Eagle Rays, Manta Rays, Turtles, and Barracuda, playful Dolphins, and various types of sharks – including Bull Sharks, Whitetips, and if you are lucky the huge Whalesharks and Hammerheads.
If you are visiting please note that since 2013, the Costa Rica government is very strict with the limits in the Cano Island Park, make sure you do your reservations in advance. The island does not have toilets, you are not allowed to eat on the island, nor walk the trails.
Prices to dive at Caño Island range between $150-$200 per day depending on the number of dives, equipment and the boat you take there.
Bajo Diablo Dive Spot
One of the best dive sites there is Bajo del Diablo. It presents at times strong currents, rocky pinnacles, and valleys between them. Hundreds of snappers and grunts can be found alongside whitetip reef, hammerheads, and grey nurse sharks. Canyons are filled with jacks, snappers, barracudas, puffers, parrotfish, moray eels, and sharks. You will also see fan corals and black corals.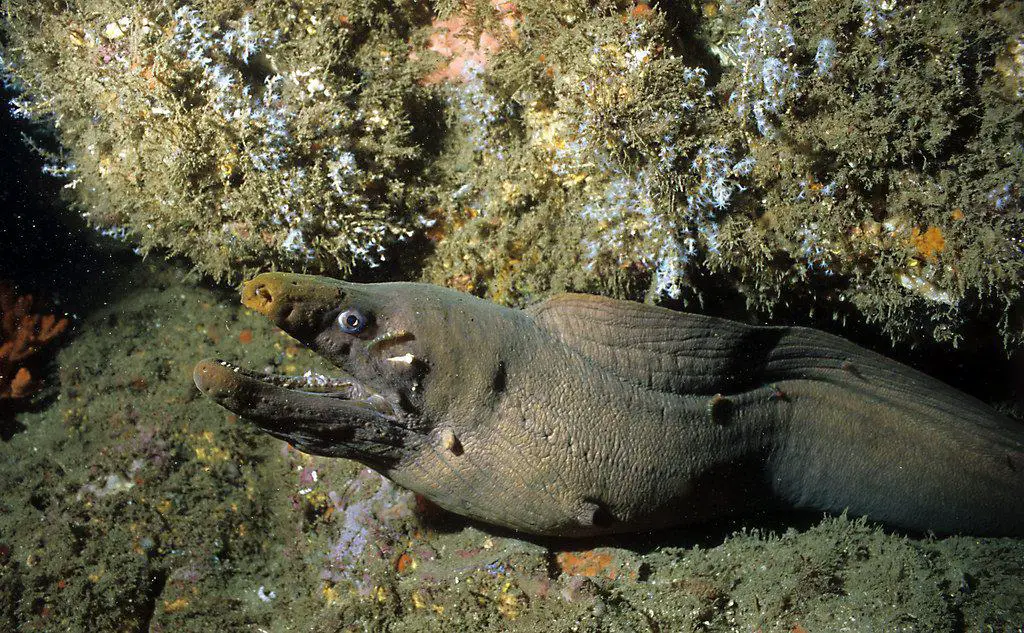 Barco Hundido (Sunken Ship)
Spoiler alert – there is no sunken ship here. The Barco Hundido, another dive site at Caño Island you will see blue-spotted jacks and almaco jacks. The depth of this dive is 15-30mts/50-70ft. The dive is apt for beginners as it is calm with several rock formations with plenty of fish that come and go as you stay floating in one spot. You'll also get some sharks, mantas, Moorish idols and large schools of fish. Excellent opportunity for great photography.
Shark Cave
This is a shallow dive known for the white tip sharks and coral formations.
Coral Garden
Yet another shallow dive featuring hard coral, tropical fish. As you might guess another good place for novice divers and night dives.
Paraiso
This dive is about 20mts/60ft deep and requires an intermediate level. In this dive you'll see schools of jacks, snappers, barracudas will pass by you and sharks in numbers.
Diving Costa Rica's South Caribbean
The Puerto Viejo area in the South Caribbean hosts the only true coral reef ecosystem in the country, so most of the diving is done on shallow reefs close to the shore where you'll find plenty of small fish, sponges, gorgonians, crabs, lobsters and fan coral. The maximum depth at this site is 45 ft., so it´s great for beginners.
The best times to dive here are between March to early May, and from mid-August to mid-November. Next, to Puerto Viejo are Punta Uva and Punta Mona, some of the best dive sites with healthy coral communities, as well as midnight parrotfish and the occasional nurse shark.
About a mile off Punta Uva, the wreck of the cargo ship "Fenix" (Phoenix), is also an exciting dive. Puerto Viejo has a strong Afro-Caribbean cultural heritage embodied in its music and cuisine. This is one of the best Atlantic dives in Costa Rica. Coral reefs stretching to Panama filled with myriads of reef and fish.                      
Scuba Diving Coco's Island
Coco's Island deserves its blog post as it is just an incredible dive site, and probably by far the most desired Costa Rica scuba diving trip for many experienced divers.
Located 550km/340 miles southeast of the port of Puntarenas, halfway to Galapagos' Islands, Coco's Island was inscribed as a World Heritage Site in 1997. Access is only available via liveaboard, and there are a few ships that run diving trips commercially including Undersea Hunter, Sea Hunter, and the Okeanos Aggressor.
Coco's Island is the world´s largest uninhabited island. Coco's is rated as one of the top 10 diving spots in the world. The island's underworld is covered with reefs and marine life. Here you can experience over 20 dive sites, you will probably do 3-4 dives per day. Of the 20 dive sites at Cocos Island, Bajo Alcyone and Dirty Rock are the most famous. Beginners should dive Dirty Rock; advanced divers can try Bajo Alcyone.
You can find colonies of scalloped hammerhead sharks, silky sharks as well as Mobula rays, hawksbill turtles and big eye jacks – over 300 species of fish, 25 endemic lines the striking, rosy-lipped batfish. You might even see whale sharks during the months between May and August, and year-round humpbacks, pilot whales and dolphins.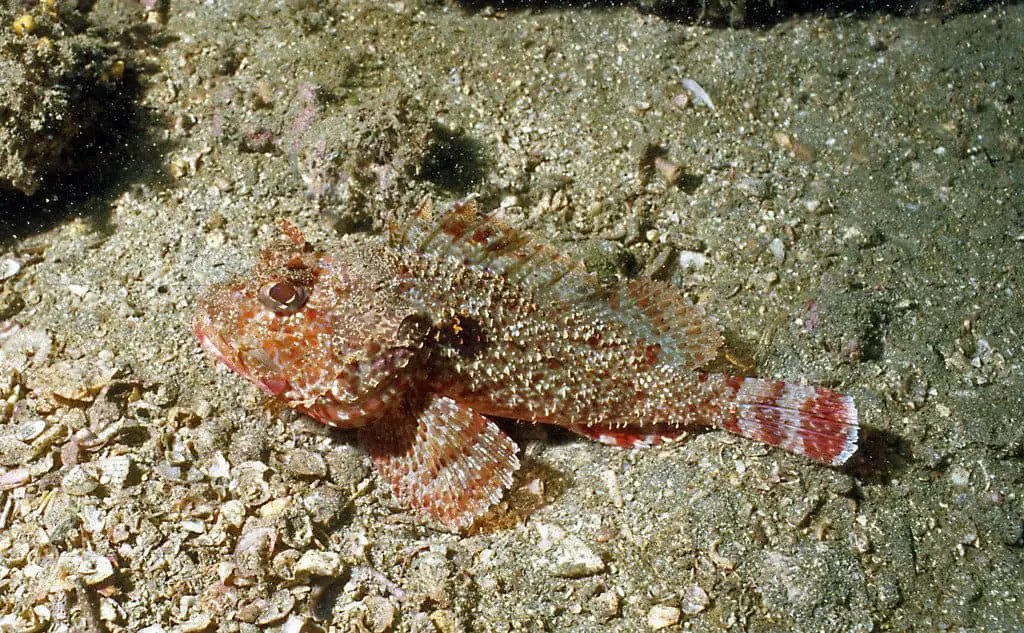 Best time to go diving at Isla del Coco is between the months of May and November where water is 33c/93F to 27c/82F and rains almost daily. You can dive using a 3-5 mm long wetsuit.
This unknown and unspoiled marine reserve has rain throughout the year and in these rainy periods, the seas are much rougher. Two drier spells occur during the year, the longest from January through May, and another from September to mid-October.
The island has a history of pirates, whalers, Tongan slaves, and German adventures. On land, you will also find it's a place offering adventure and endemic species to see, like Cocos Island Cuckoo.
Diving costs for Cocos Island scuba diving vary depending on the luxury of the liveaboard and the number of dives you chose to do per day, but ranges are between $350-$500 per day. Keep in mind the trip to get to Coco's is about 32-36 hours. You will require to have at least 50 logged dives and be a Certified Open Water diver.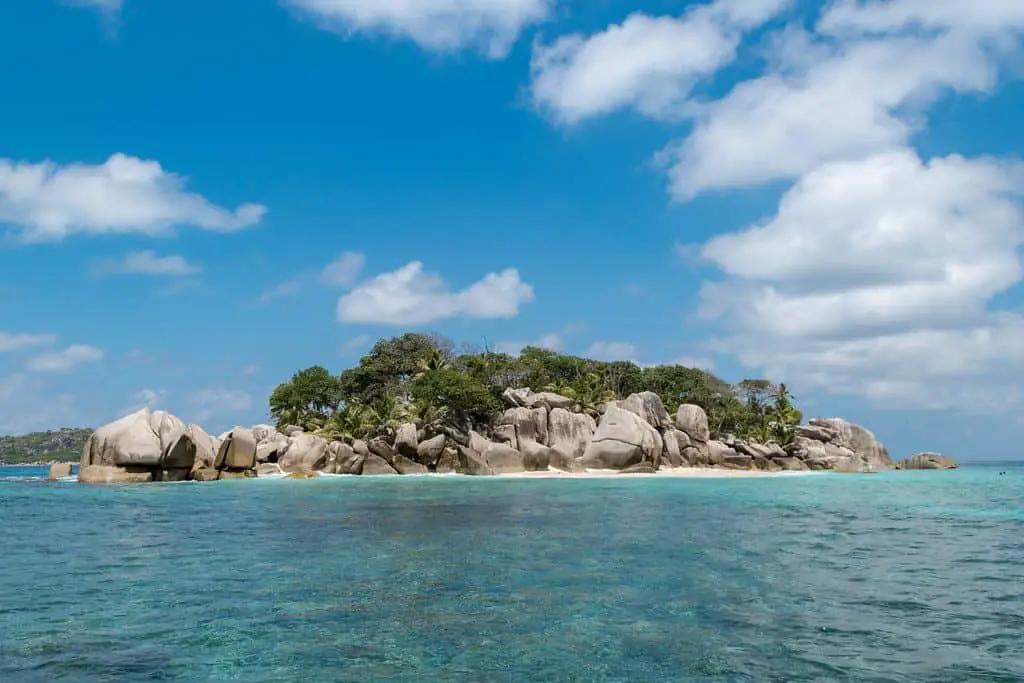 These are some of the best dives Coco's Island has to offer:
Manuelita Coral Garden (often the first dive in a trip to Cocos)
depth of 6-21 meters/20-70ft
black and white tip sharks, turtles, eagle rays, hammerheads, and even the occasional tiger shark
night dive here boasts massive schools of white tip sharks weaving through coral formations in search of food
Bajo Alcyone
Best for scalloped hammerhead sharks
25mts/82ft atop an undersea mountain
Dirty Rock
rock pinnacles and volcanic boulders
hammerhead sharks, silkies, eagle rays, schools of jacks and random appearance of whale sharks
Silverado
Shallow dive 13mt/40ft off the coast of the island
Silvertip reef sharks
Submerged Rock
It is a dive on a submerged rock, flat-topped pinnacle
colorful scenery and a small arched swim through manner of tropical, tuna, hammerheads, Mobula rays, pregnant white tip sharks with their miniature offspring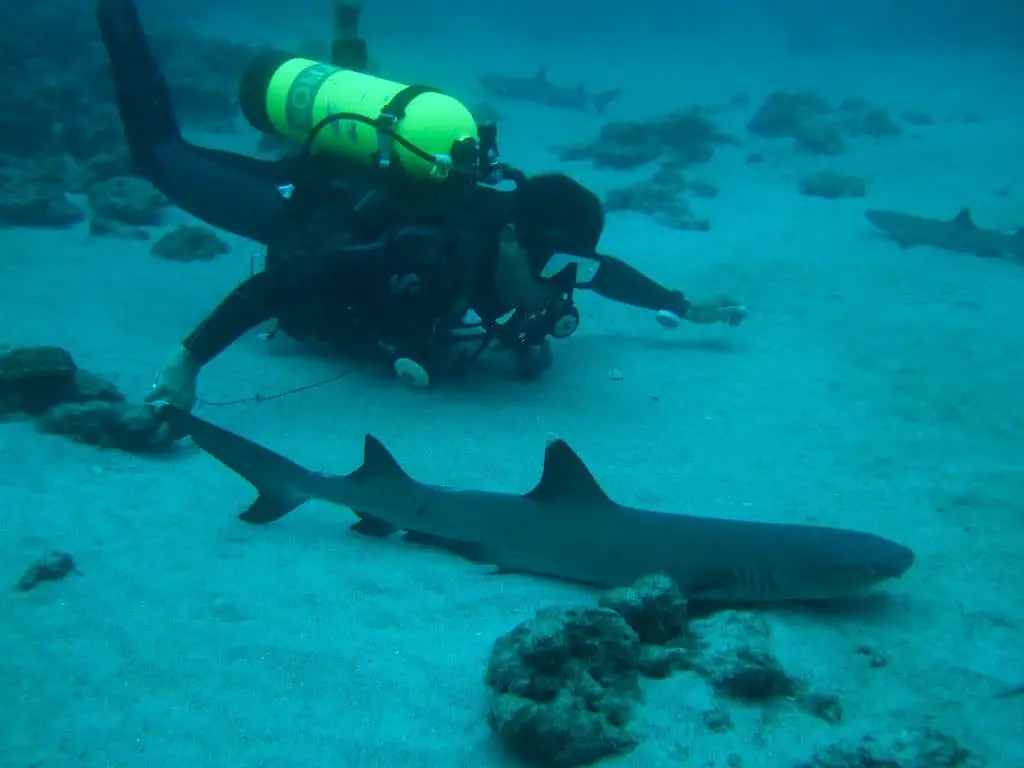 Conclusion
Costa Rica scuba diving offers dives for most levels of PADI certifications. There are plenty of dive tour operators that offer courses from learning how to dive all, all the way to advanced, specialty, and rescue courses.
Liveaboards for the best dive sites in Costa Rica like Coco Island, Guanacaste Bat Island and Catalina Islands, Cano Island can range between $3,000 to $6,000 per trip of 8-12 days. But there are plenty of one-day dives all around the country that will cost you $150-$200 per day that offer an incredible view of colorful marine life, reefs, and shipwrecks.
Ready to book your Costa Rica Diving Vacation?