Commonly tagged as the Country of Football (Pais do Futebol), the sport of soccer is very popular in Brazil. Its popularity is brought by the availability of facilities, training, and promotion of the sport to its young generation. The sport of scuba diving is also popular in Brazil where its popularity is brought by the geologic features of the country allowing it to be widely enjoyed, not just by locals, but also to its visiting tourists.
Brazil is the largest country and the main tourist destination in South America. This Portuguese speaking country has over 7,403 kilometers (4,600 miles) of coastline where it has high biodiversity. On land, this biodiversity is best exhibited in the wetlands of Pantanal and the Amazon Rainforest. However, Brazil's epitome of biodiversity is not just seen on land, but it is amplified in its underwater ecosystem and you can only see this if you go scuba diving.
Diving Conditions in Brazil
Brazil covers a vast expanse of land with varied topography and has a wide range of weather conditions. But generally, in the coastal areas, it has a tropical climate. It has 2 pronounced seasons, namely: the wet season (that runs from December to March in the central zone and October to March in the southern regions) and the dry season from May to September.
The best time to go diving in Brazil is from April to June. During these months, you can experience warm water ranging from 23-25°C (73-78°F) and clear waters with visibility running from 10-20 meters (33-66 feet). Except on its west coast where it is land-locked (border shared by Venezuela, Colombia, Peru, Bolivia, and Paraguay), the dive site sites of Brazil are concentrated on the northeast, east and southern coast where you can go reef diving, shore diving, cave diving, and wreck diving.
Diving Conditions in Brazil: at a Glance
Ave. visibility
10-20 meters (33-66 feet)
Ave. water temperature
23-25°C (73-78°F)
Current
Average to strong, depending on the region
Experience
For all levels of certification
Exposure Suit
3-5mm
Type of diving
Reef diving, shore diving, cave diving and wreck diving
Marine life
Seasonal: Humpback whales (July to November) and Right whales (July to November)

Endemic: Brazilian snapper, dark fin jawfish, bar tail jawfish, lesser guitarfish, gray parrotfish, greenback parrotfish and flathead porgy
Corals
Some
Wrecks
Some
Liveaboard Brazil
No, but recommended for Fernando de Noronha Archipelago
Best time to visit
April-June
Main diving area
Fernando de Noronha, Rio de Janeiro and Santa Catarina
Best Dive Sites in Brazil
Fernando de Noronha Islands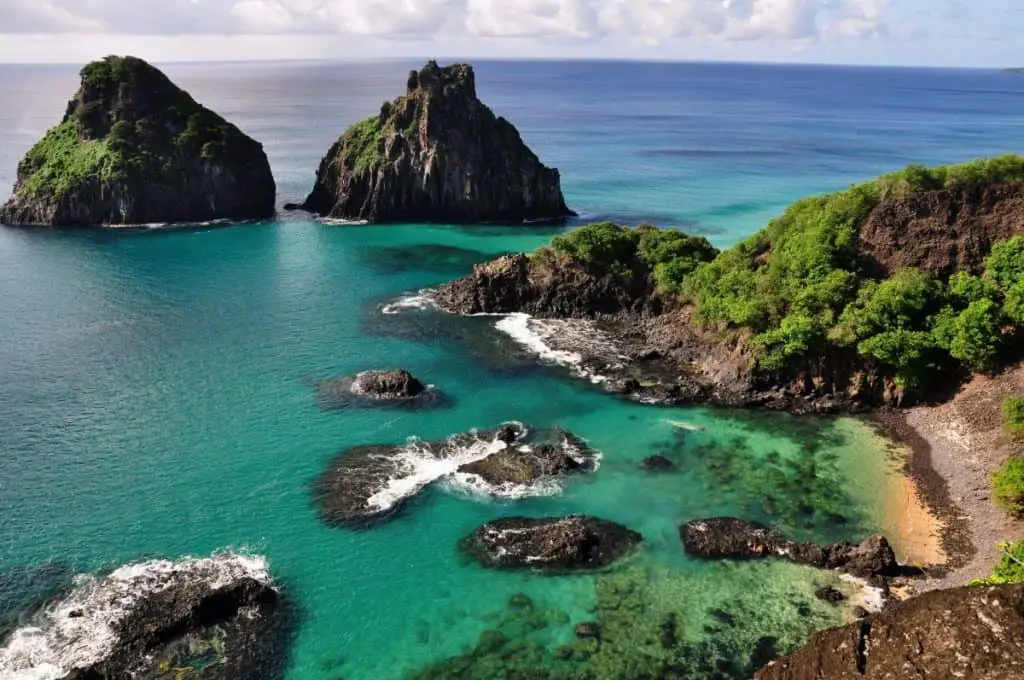 Fernando de Noronha Brazil is a volcanic archipelago situated 2,148 kilometers (1,335 miles) northeast of Brazil's Capital City of Brasilia. This UNESCO World Heritage Site is a national marine park that is composed of 21 islands and islets that has a jagged coastline and diverse ecosystem.
Ilha do Meio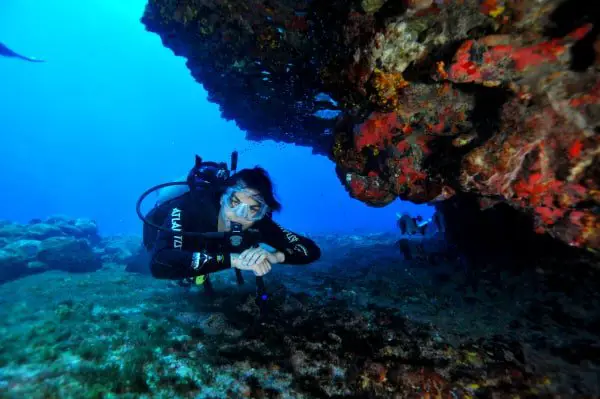 Located at Rata's Channel, Ilha do Meio is an island where its underwater attraction features 2 interesting caves. While this site has a maximum depth of 30 meters (98 feet), the caves are found at 16 meters (52 feet) deep. Instead of having a tunnel structure, the caves in Ilha do Meio are large depressions along the wall that allows you to go shallow penetration.
Pedras Secas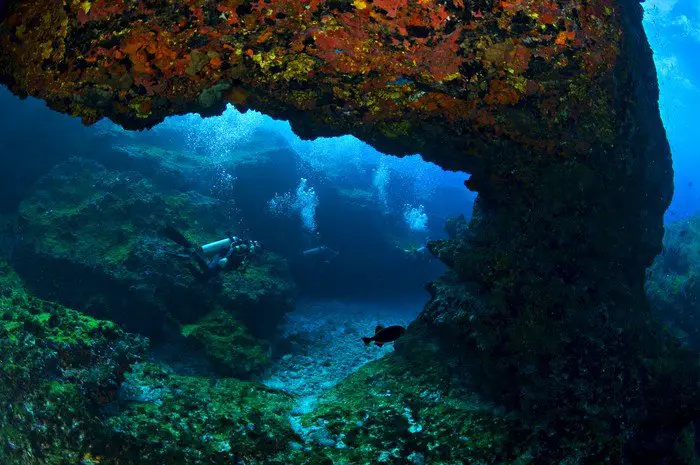 Situated on the northern coast of Noronha, Pedras Secas features caves and passages that resemble a labyrinth. You can explore this site by descending to an average depth of 14 meters (46 feet) and see that the structures are partly covered with corals, algae, and barnacles. Some of the cave residents that you can see in Pedras Secas are green sea turtles, triggerfish, lobsters, shrimps, crabs, and eagle rays. This is also one of the best spots to do shark diving in Brazil where nurse sharks are often seen resting in the internal structures while hammerhead sharks are patrolling the outer sections of the cave.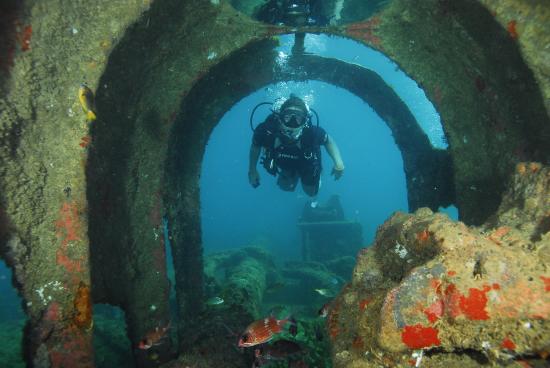 Other noted diving sites in Fernando de Noronha are the Naufragio do Porto wreck and Ressureta where its reef is exposed to current and is known as a drift diving site.
Liveaboard Brazil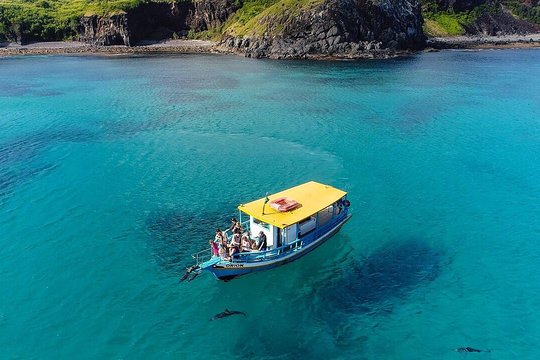 Since Fernando de Noronha is situated 350 kilometers (217 miles) offshore from Brazil's northeast coast, signing up with a liveaboard is highly recommended. These custom-built vessels will take you to most of the diving spots in Fernando de Noronha where you can comfortably prepare your equipment and relax after the dive. Further, since the offshore islands of Noronha are considered a breeding ground for spinner dolphins, these vessels also allow you to go dolphin watching. If it is your lucky day, you might even see a superpod which is composed of over 600 dolphins.
Scuba Diving Brazil Rio Janeiro
Based on the spectacular view provided by the Christ the Redeemer Statue that sits on Mount Corcovado, you will immediately have the impression that scuba diving is a big hit in Rio de Janeiro and that your bucket list can easily be filled as it has a long list of dive sites.
Angra dos Reis Scuba Diving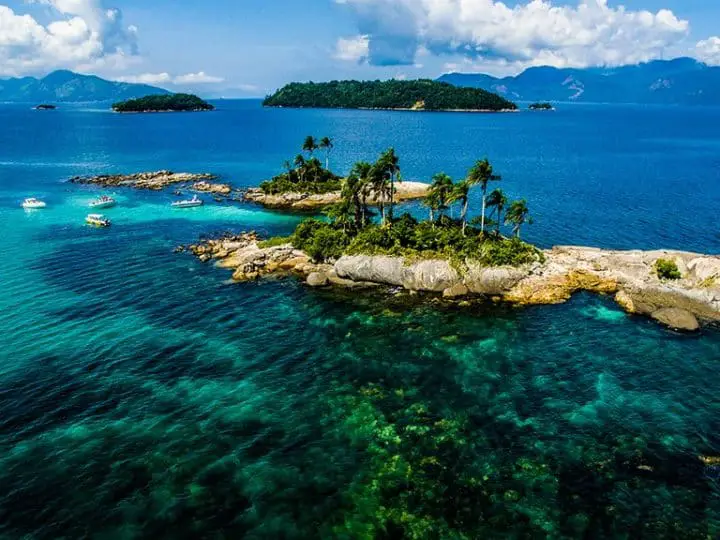 151 kilometers (71 miles) southwest of Rio is the picturesque Angra dos Reis. Dotted along its beautiful coastline are 365 islands, each having a thick forest, steep coastline and a dive site.
Located close to Angra dos Reis harbor channel is Parcel do Coronel. Diving in this part of Brazil will take you to go diving in a narrow passage. Your entry point is either on the surface buoy or navigation light. You will then descend to the sandy bottom at 12 meters (39 feet) deep and swim along the 600 meters (1,968 feet) long passage that is bordered by a vertical limestone wall on both sides.
You can go wreck diving in Angra dos Reis and explore the remains of Pinguino. This former 50 meter (164 feet) long cargo vessel that sunk in 1967 is now resting at 13 meters (43 feet) deep. While the visibility is not good around Pinguino, taking a closer at its structure allows you to see a highly elusive reef fish – the seahorse.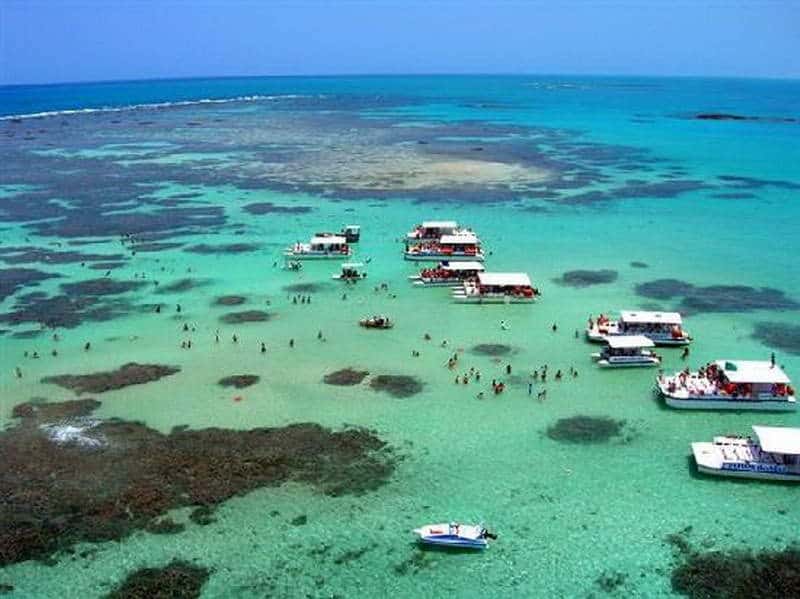 Other noted diving spots in Rio de Janeiro are the newbie-friendly reefs of Arraial do Cabo Diving and Ilha Grande Scuba Diving which is considered the largest island in Rio. If you have time, you can explore Brazil's north coast dive sites like the tropical lagoons of Maragogi Brazil and the marine protected areas of scuba diving in Fortaleza Brazil.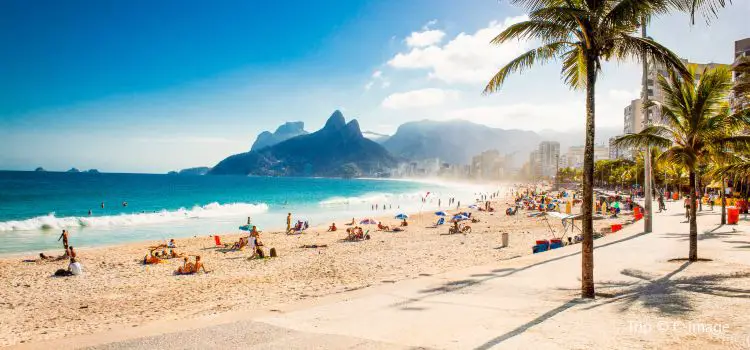 Sidetrip: You should never leave Rio de Janeiro without visiting the historic Ipanema Beach and Copacabana Beach.
Santa Catarina
Occupying the southern coast of Brazil, Santa Catarina is a small state that is known for rural tourism and one of the activities being promoted is scuba diving. Bombinhas and Florianopolis are the points of access to the region's best dive sites.
Arvoredo Island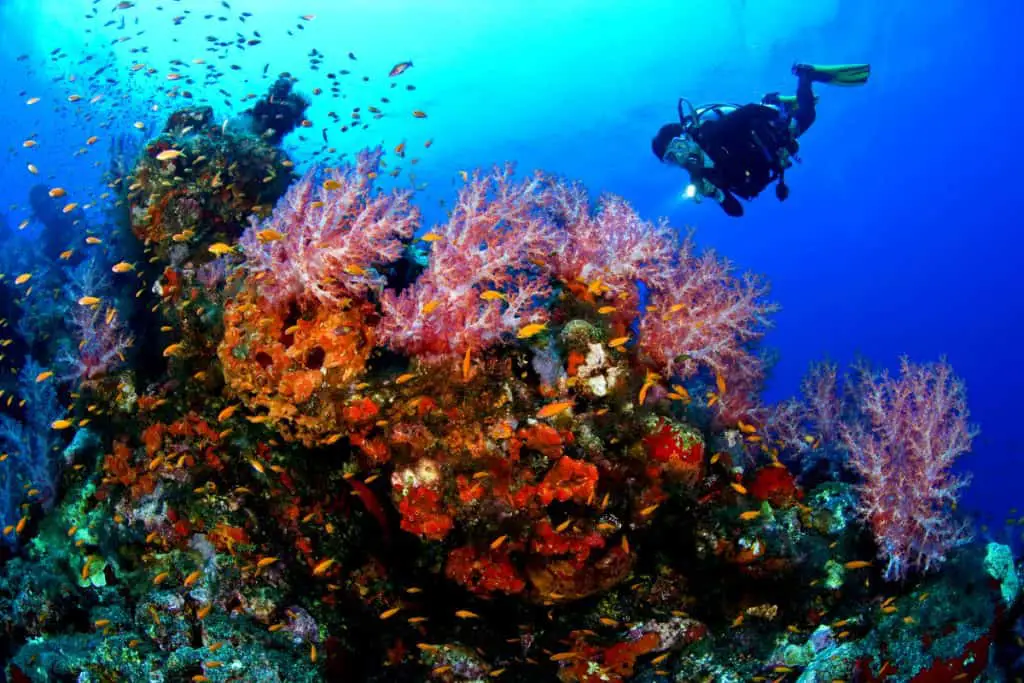 Arvoredo Island is a biological reserve created in 1990 which covers an area of 17,104 hectares (42,260 acres). The dive spots are concentrated on the west and south coast of the island and it is known for its abundance of marine life where you can see southern stingrays, hawksbill sea turtles, hairy blennies, groupers, anchovies, and whiting fish.
Located on the west coast of Arvoredo island is the cove of Saco do Capim. This dive spot is known for its healthy population of zoanthids where it dominates the shallow sections of the seafloor. If you explore further out of the cove, you will arrive at the remains of the Granada wreck. This former commercial fishing vessel is badly damaged and that its debris can be found littered underwater. Nevertheless, this is a good spot to see seahorses. If you wish for a marine reptile interaction, then head south of Saco do Capim in Baía das Tartarugas where it has become a refuge for sea turtles. You can also see a large school of bass. If you want to go deep diving while riding along with mild current, we highly recommend you proceed to the southern coast of Arvoredo Island in a place called Ponta Do Farol. You can descend down to 40 meters (131 feet) deep and explore a reef that is encrusted with soft corals and loaded up with Atlantic groupers. If you happen to be in Ponta Do Farol from July to November, then you are at the right time to see Right whales.
Note: Arvoredo Island is a biological reserve and has restrictions on diving and you need a permit to explore its underwater environment. With this, we highly suggest you sign-up with a guided dive tour with Aquatrek and Patadacobra since they have a standing permit to go diving on the island.
General Information about Brazil
Capital city
Brasilia
Currency
Real (BRL)
Official language
Portuguese
Visa Required
Yes
Electricity Standards
110V /60 Hz in most states while some use 220V
Time Zone
GMT -2
Official tourist information website
www.braziltour.com
www.braziltravelinformation.com
Points of Interests
Fernando de Noronha: hiking in Farol trail, surf Cacimba do Padre and island hopping

Rio de Janeiro: Ipanema Beach, Copacabana Beach and Maracana Stadium

Santa Catarina: Floripa Canal and Campeche Island