Argentina, the second-largest country in South America, is a beautiful tourist destination famous for steak and wine, tango and soccer fever. Argentina scuba diving has the best whale watching in the world in the Valdes Peninsula Marine Reserve, a UNESCO World Heritage Site, and Puerto Madryn are surrounded by elephant seals, sea lions, and penguins. Orcas swim close to the beach trying to feed on seals. Mar del Plata has some of Argentina´s most beautiful beaches and great underwater fauna like algae forests among wrecks. Lake diving is also possible in Bariloche. First-class diving can be found in Patagonia, Córdoba, Santa Fé, La Pampa and Buenos Aires.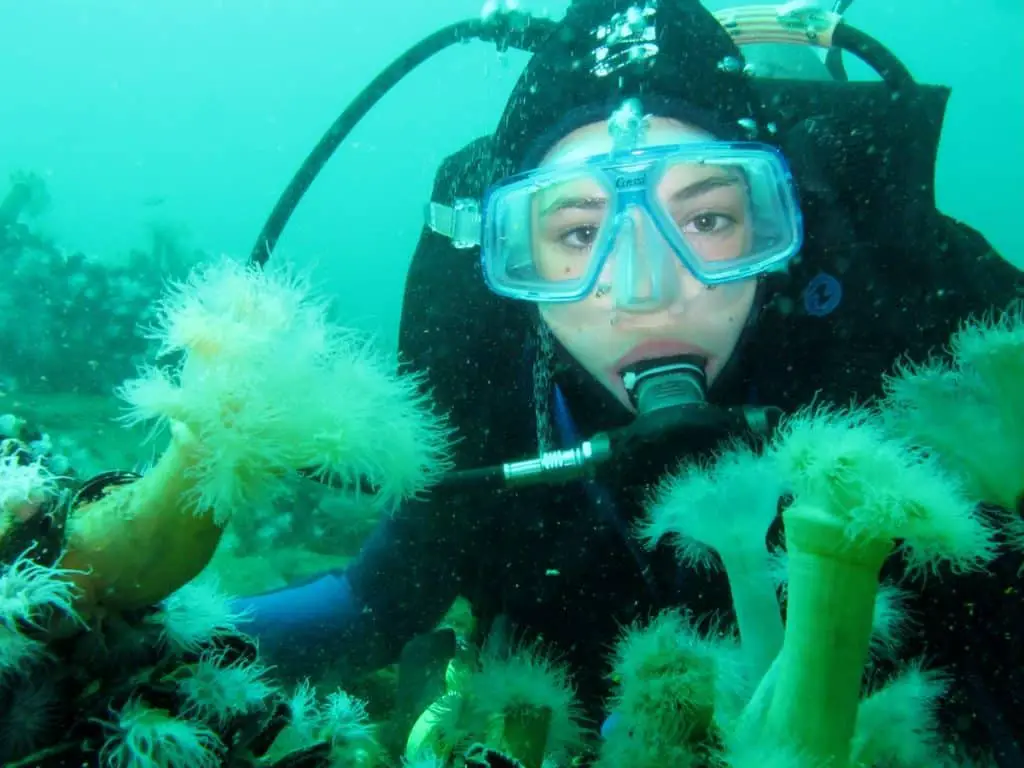 Argentina Climate
The climate in Argentina is warmer and drier to the north and colder to the south. Patagonia has cool summers and cold winters. Water temperature reflects this change, water temperature is 64°F (18°C) in the summer and 35°F (2°C) in the winter. Cold waters have the best visibility, up to 50 ft. (15 m.)  December to March is the best time to dive in Argentina, especially Patagonia.
Diving Mar del Plata in the Fishing Banks
Close to Córdoba and Buenos Aires, both big cities and big tourist destinations, Mar del Plata's best dive sites are in the Fishing Banks. The Aquarium is not only a dive site but also a marine biology park; a perfect place for a family outing. Both the fish dives and shark dives are highly recommended.
Diving Córdoba Fresh Water Lake
The diving in Córdoba is all freshwater lake diving and there are interesting dive sites like Piedras Moras Dam, underneath is the old town called El Salto, where you will be able to dive through bridges, house frames, and an English architecture building.
Mar de Plata is a prime resort area with 17 km. of beaches, colonial architecture, restaurants, shopping, and nightlife.
Diving Patagonia
Scuba diving in Patagonia offers good visibility and incredible encounters with marine mammals. All the dive sites are accessible by boat. Puerto Madryn is a very popular tourist destination in Argentina and has spectacular wildlife. It is considered the scuba diving capital of the country. The underwater flora and fauna are incredible, and the ability to interact with wildlife, especially sea lions and dolphins makes this area a must for divers. Between May and October, you will find the migrating whales.
Patagonia offers about 15 different dive sites. From Puerto Madryn, you can drive to the Punta Loma Nature Reserve and organize a sea lion dive. More than 1200 whales visit Punta Valdes from July to November. There are several dive centers in Peninsula Valdes that offer whale dives. Please be very observant of the regulations given for diving with whales. The Punta Este dive site has a colorful sand bar with huge anemones, salmon and sea bream and the strange chanchita de mar, found only in South America.
The Albatros wreck is a wonderful dive site, an 86 ft. (27 m.) the long fishing boat sunk for scuba practice, it has very colorful incrustation and invertebrates. The Folias wreck is a classic 224 ft. (70 m.) the fishing ship that sank in the early '80s and still very intact. You cannot visit this Argentinean region without going to watch the penguins! At Tombo Natural Reserve you can find the biggest colony on earth of Magellanic penguins.
Argentina Scuba Diving Information
Average visibility
Low in Las Pampas, 12 to 25 ft. (4 to 8mt) 48 ft. (15m.) in Patagonia.
Current
Low to Average
Experience needed
For all levels
Wetsuit needed
7mm and drysuit in the winter.
Type of diving
Wall: yes
Drifting: yes
Caves: yes
From the shore: no
Marine life
Humpback whales (July to November), orca whale, southern right whale (August to November) lemon fish, sea breams, anchovies.
Coral
Some
Wrecks
Some
Liveaboard only
No, but recommended for Patagonia.
The best period to visit
December to March
Average water temperature
64°F (18°C) summer/35°F (2°C) winter